Celebrities have a penchant for tattoos, often opting for large and eye-catching designs. While some might view their ink as a ploy for attention, many celebrities actually have tattoos that hold deep personal significance, representing pivotal moments, important relationships, and cherished memories (even of pets). In fact, it's rare to find a celebrity without at least one tattoo, and some have amassed over 50. We've compiled a collection of 50+ imaginative celebrity tattoos to spark your own inspiration.
Emilia Clarke
Emilia Clarke has undoubtedly earned a place in our hearts through her unforgettable portrayal of Daenerys Targaryen in the popular television series, Game of Thrones. The character is known by a litany of impressive titles, including "Mother of Dragons," which became the most significant of them all. In a fitting tribute to the show's legacy, the actress had a tattoo inked onto her wrist in 2018, featuring her three beloved dragons, Drogon, Rhaegal, and Viserion. This isn't the only tattoo on her body, though; she also has a bumblebee tattoo, paying homage to her character, Louisa Clarke, in the drama film, Me Before You.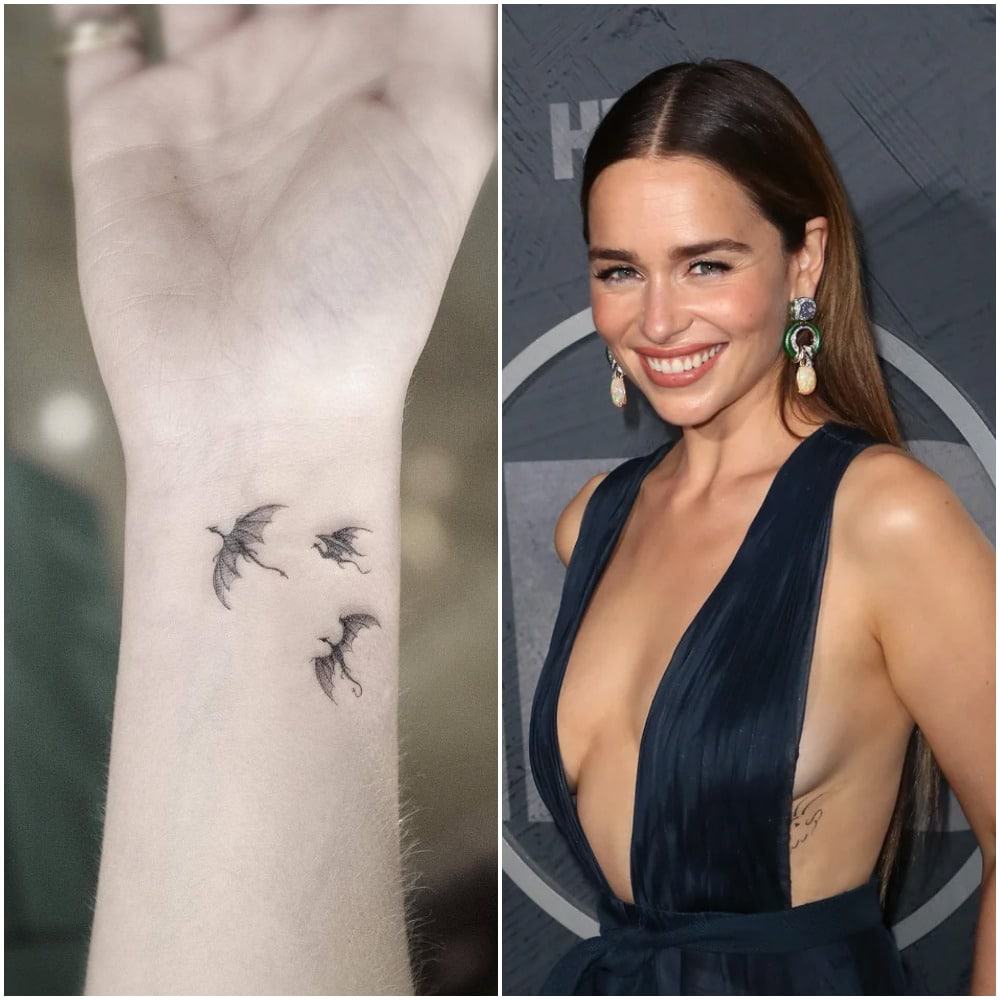 Emilia Clarke's tattoos are not just superficial adornments but represent her deep personal connections to her characters and the stories they embody. Her tattoos serve as a permanent reminder of her artistic journey, her growth, and her profound experiences. Clarke's tattoos are a testament to her passion for her craft, and they showcase her appreciation for the characters that she has brought to life. They symbolize the hard work, dedication, and love that she has invested in her performances, and they serve as a constant source of inspiration to the many fans who admire her work.
Angelina Jolie
Though she has been out of the public eye in recent years, Angelina Jolie was once one of Hollywood's most talked-about actresses, thanks in large part to her tumultuous personal life. Though it may be easy to forget now, Jolie was previously married to actor Billy Bob Thornton in 2000, and the couple was the subject of much media attention. While their relationship was not as idolized as Jolie's later partnership with Brad Pitt (with whom she was dubbed "Brangelina"), the couple didn't shy away from the spotlight. In fact, Jolie even got a tattoo of Thornton's name and a Chinese dragon underneath it, a popular trend in the early 2000s. Though the couple ultimately parted ways, the tattoo remained a permanent reminder of their love and commitment.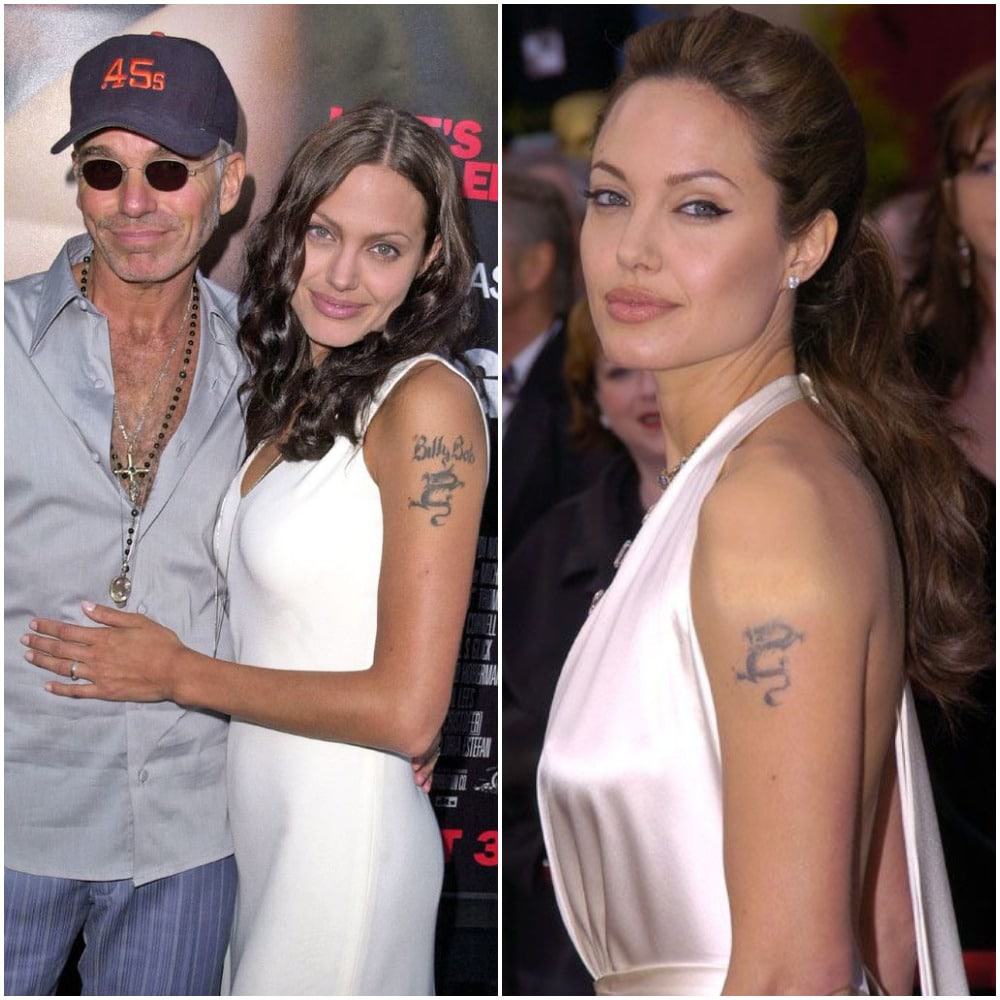 After the couple's split, Jolie opted to remove the tattoo of Thornton's name from her skin, though she wasn't able to remove it completely. She ultimately decided to cover it up with a new design, which now adorns her arm. Jolie's decision to cover up the tattoo serves as a reminder that our bodies are a canvas, and that tattoos can be powerful symbols of our experiences and emotions. In Jolie's case, the tattoo represented a moment in time, a relationship that was once important to her. Though the relationship may have ended, the tattoo remains a testament to the love that she once shared with Thornton.
Justin Bieber
Justin Bieber is no stranger to tattoos; in fact, the young singer has so many that he may have lost count of how many he has. It's clear that he has a passion for the art of tattooing, and this is a sentiment that is shared by his wife, supermodel Hailey Baldwin. What's particularly noteworthy about Bieber's tattoos is the meaningful messages that they convey, and one recent tattoo stands out in particular. In 2017, Bieber got the phrase "Better at 70" tattooed on his upper thigh, and he shared the image on Instagram, explaining the significance behind the ink. For the young superstar, the tattoo represents the idea that there is always room for improvement, no matter how old you are. By reflecting on his past mistakes, Bieber has come to understand that it's never too late to change and strive to become the best version of yourself.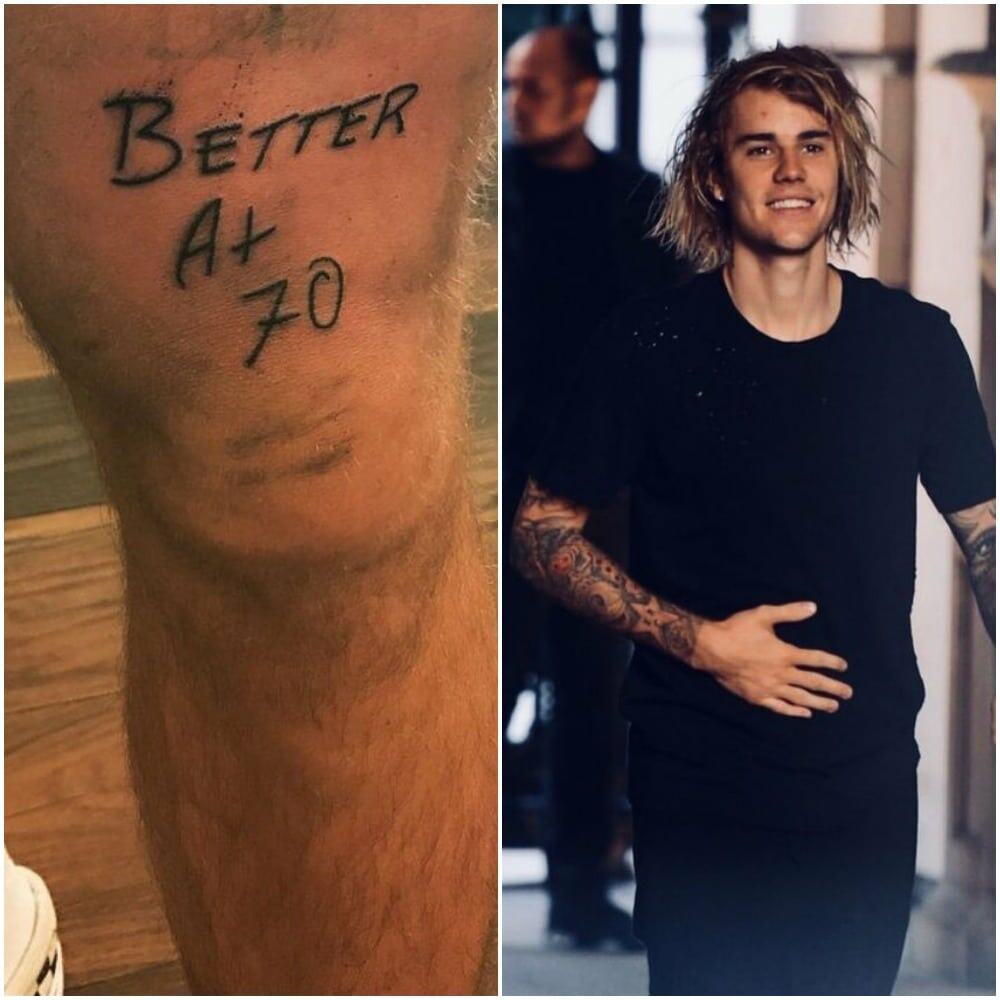 Bieber's "Better at 70" tattoo serves as a powerful reminder that we are all capable of change and growth, no matter how old we are. It is a testament to the idea that self-improvement is a lifelong journey, and that it is never too late to start working towards your goals. The tattoo also showcases Bieber's willingness to be vulnerable and open about his struggles, and to use his platform to spread positivity and inspire others to be their best selves. It's a refreshing message in a world that often values youth and perfection, and it shows that the journey to self-improvement is one that is worth taking at any age.
Miley Cyrus
Many celebrities have chosen to immortalize their pets in the form of tattoos, and Miley Cyrus is no exception. The singer has long been a fan of tattoos, and her body art serves as a visual representation of her experiences and emotions. Three of her tattoos are dedicated to her dogs, whom she clearly adores. The first dog tattoo she received was in honor of her late dog, Floyd. The tattoo features Floyd's face, along with a speech bubble that reads, "with a little help from my fwiends." This touching tribute is located underneath her armpit and serves as a constant reminder of the special bond that she shared with her furry friend.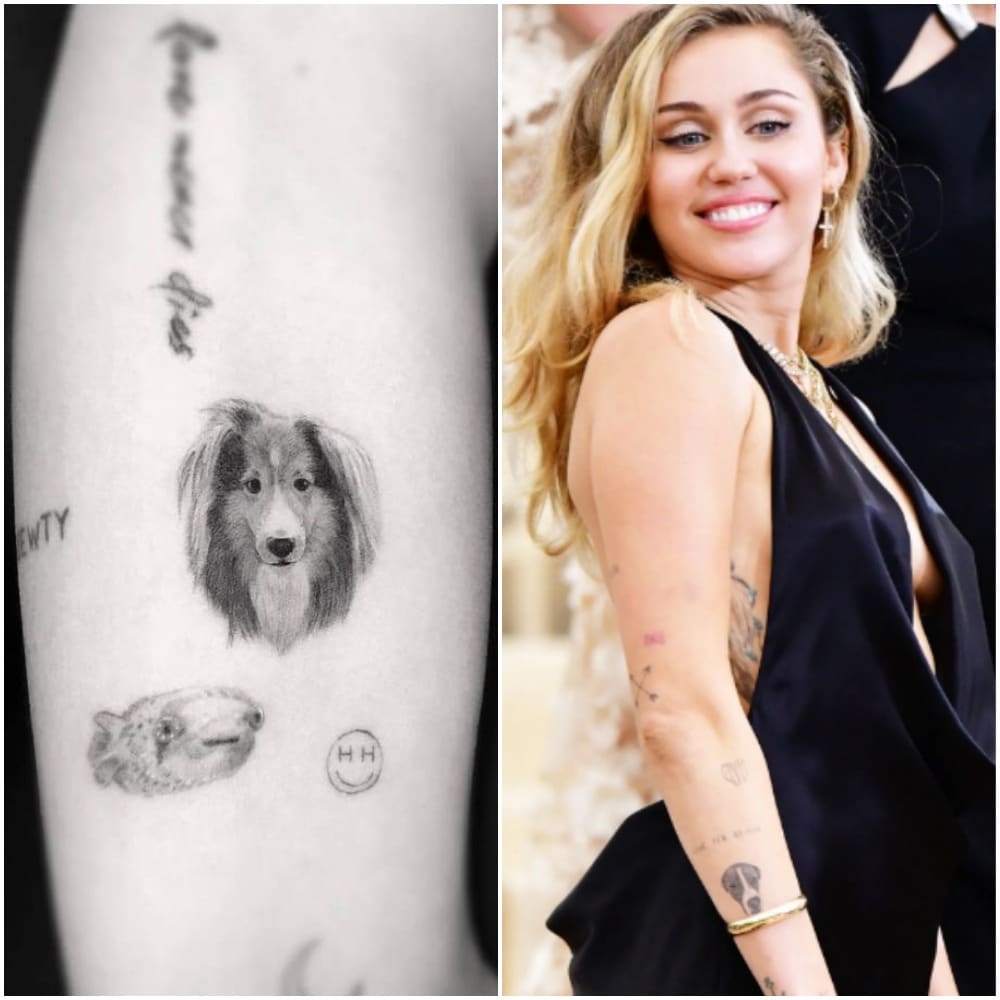 After Floyd's passing, Miley adopted a sheepdog named Emu, who quickly became a beloved member of her family. Three years later, Miley decided to get a tattoo of Emu's likeness on her arm, alongside a picture of her deceased fish, Pablow. With over twenty tattoos covering her body, ranging from tiny designs to larger pieces, it's clear that Miley has a deep appreciation for the art form. Her tattoos, especially those dedicated to her pets, demonstrate her love for those closest to her and serve as a reminder of the precious moments they shared together.
Lady Gaga
Lady Gaga's journey to stardom has been a remarkable one, beginning as a bar singer in New York and skyrocketing to become a household name in both the music industry and Hollywood. Along the way, Gaga has collected an impressive array of tattoos, each one commemorating a special moment or person in her life. Her ink tells a story of her artistic evolution, showcasing her passions and the people who have influenced her.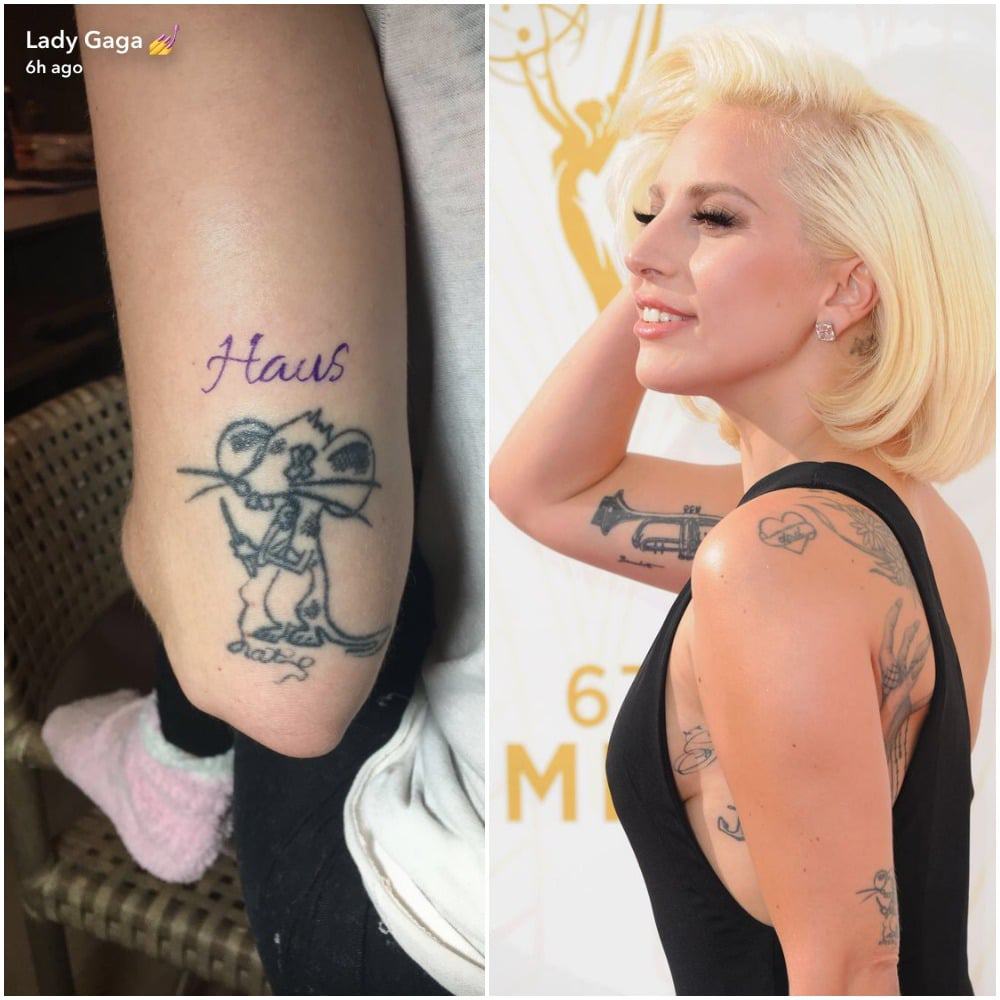 Some of Gaga's tattoos are dedicated to her singing career, such as her "Mother Monster" tattoo, a nod to her devoted fans who affectionately refer to her as their "Mother Monster." Another tattoo reflecting her career is the Haus tattoo, which sits above a mouse drawing that is dedicated to her sister. Haus of Gaga is the name of the singer's creative team, responsible for her iconic outfits and controversial image. Gaga also has a famous trumpet tattoo, a tribute to jazz legend Tony Bennett, with whom she collaborated on an album. Each tattoo represents a unique aspect of Gaga's journey, and together they serve as a visual testament to her artistic vision and creative spirit.
Demi Lovato
Demi Lovato is another musician who has a deep appreciation for tattoos, with around 30 designs adorning her body. While many of her tattoos are small and subtle, there is one in particular that stands out: a giant lion face on her hand that is hard to miss. While the singer has not explicitly explained the meaning behind this tattoo, it's not hard to guess. Lovato is a firm believer in strength and empowerment, as evidenced by many of her songs. She sees herself as a fighter, and she encourages her fans to be strong and confident in their own lives. The lion, as a symbol of strength and courage, perfectly embodies this ethos, making it a fitting and powerful tattoo for the talented artist.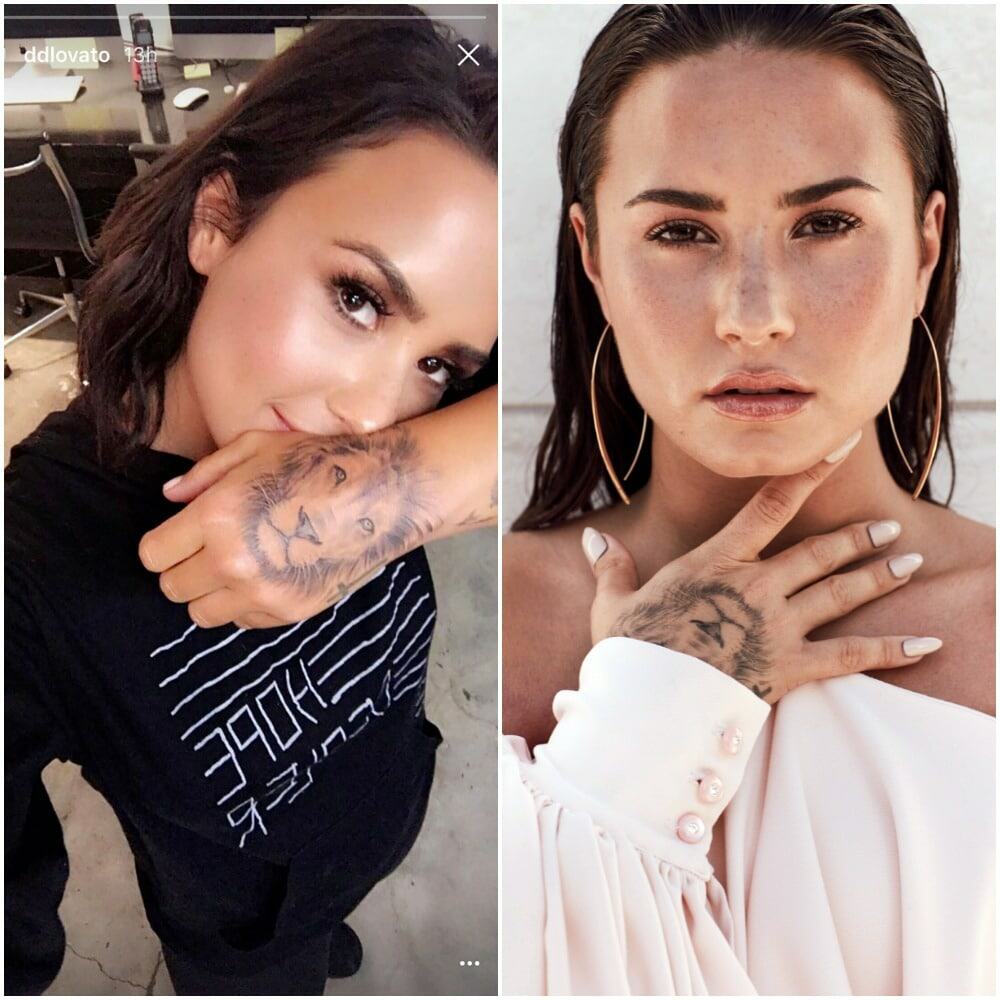 Furthermore, the singer has a song titled "Lionheart," which further reinforces the idea that the lion tattoo represents strength and resilience. Additionally, Lovato's zodiac sign is Leo, which could have also played a role in her decision to get the tattoo. Overall, the lion tattoo serves as a powerful symbol of Lovato's personal journey and serves as a source of inspiration for her fans, reminding them to be strong, courageous, and resilient, just like a lion.
Sophie Turner
Sophie Turner, the actress who famously portrayed Sansa Stark on Game of Thrones, has a tattoo collection that is both extensive and meaningful. Unlike many celebrity tattoos that seem to be purely for aesthetics, Turner's ink serves as a reflection of her personality and the people and experiences that are important to her. With 13 tattoos and counting, it's clear that Turner has a deep appreciation for the art form, and her body art serves as a visual representation of her journey.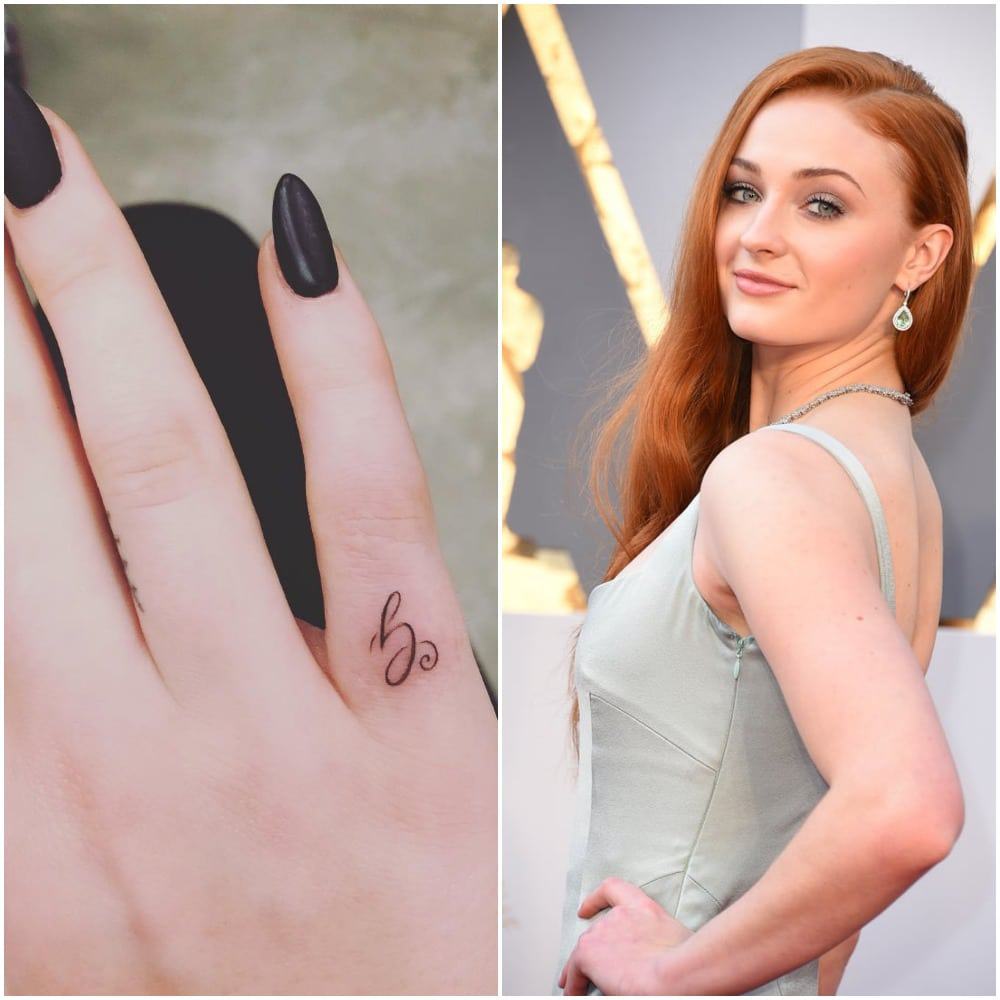 Three of Turner's tattoos are dedicated to her breakthrough role as Sansa Stark, while three more represent her family. For example, the pinkie finger tattoo of the letter "g" was dedicated to her grandfather, a touching tribute to someone who clearly held a special place in her heart. It's worth noting that Turner's husband, Joe Jonas, also has a tattoo in honor of his grandfather, further highlighting the deep connection that the couple shares. Overall, Turner's tattoos are a testament to her individuality and the unique experiences that have shaped her life. Each one tells a story, and together they serve as a powerful reminder of the importance of self-expression and individuality.
Justin Bieber
Justin Bieber is known for his extensive tattoo collection, and his most recent addition, a neck tattoo of a long-stemmed rose, has raised eyebrows among both his parents and his fans. Created by the renowned celebrity tattoo artist Dr. Woo, the tattoo features intricate details that showcase the artist's skill. However, fans have been left speculating about the meaning behind the tattoo, with many believing that it alludes to Bieber's past relationship with singer Selena Gomez. Some have even suggested that the letter "s" is hidden within the design of the rose, further fueling rumors about the tattoo's significance.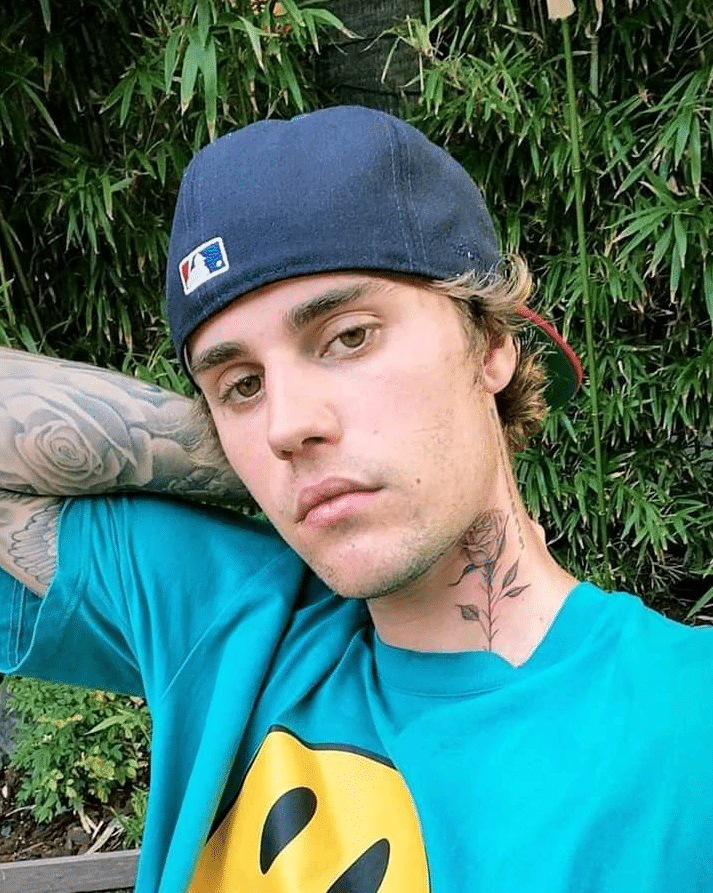 While it's unclear whether or not the tattoo is actually a tribute to Gomez, it's clear that Bieber's body art serves as a reflection of his personal journey and the people and experiences that have shaped his life. Whether it's a nod to a past love or simply a beautiful piece of art, the rose tattoo showcases Bieber's appreciation for the art of tattooing and his willingness to take risks when it comes to expressing himself through his body art.
Dwayne Johnson
Dwayne Johnson, also known as The Rock, has led a multifaceted career as a retired professional wrestler, former football player, accomplished actor, producer, and businessman. While he is perhaps best known to some as a WWE star, others may recognize him from his successful acting career. In addition to his notable accomplishments, The Rock is also famous for his impressive physique and extensive tattoo collection.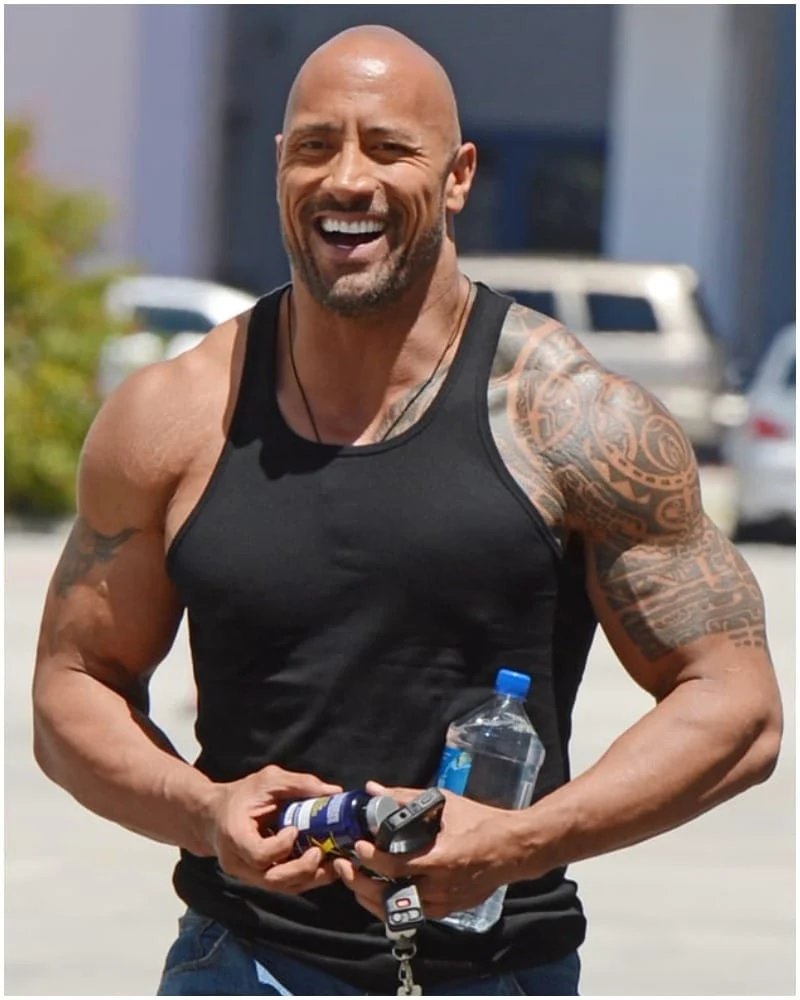 Despite the perception that his tattoos are simply a way to match his tough-guy image, each of The Rock's tattoos holds personal significance. One of his most famous tattoos is a bull on his right arm, which some might view as tacky. However, for The Rock, the bull represents his intense love for the things in his life, such as his family. The fierceness in the bull's eyes is a representation of this love, and the bull's horns symbolize "relentless energy and forward progress." Overall, The Rock's tattoos serve as a visual representation of his personal journey and the values that have shaped his life, demonstrating his commitment to self-expression and individuality.
Jessica Alba
Jessica Alba, a renowned actress, has a number of tattoos, although unlike many other celebrities, she prefers to keep her body art private. One of her first tattoos was the Sanskrit word for "lotus," a flower that symbolizes spiritual beauty. During a 2016 appearance on The Late Show with Stephen Colbert, Alba finally revealed the reason for getting this particular tattoo.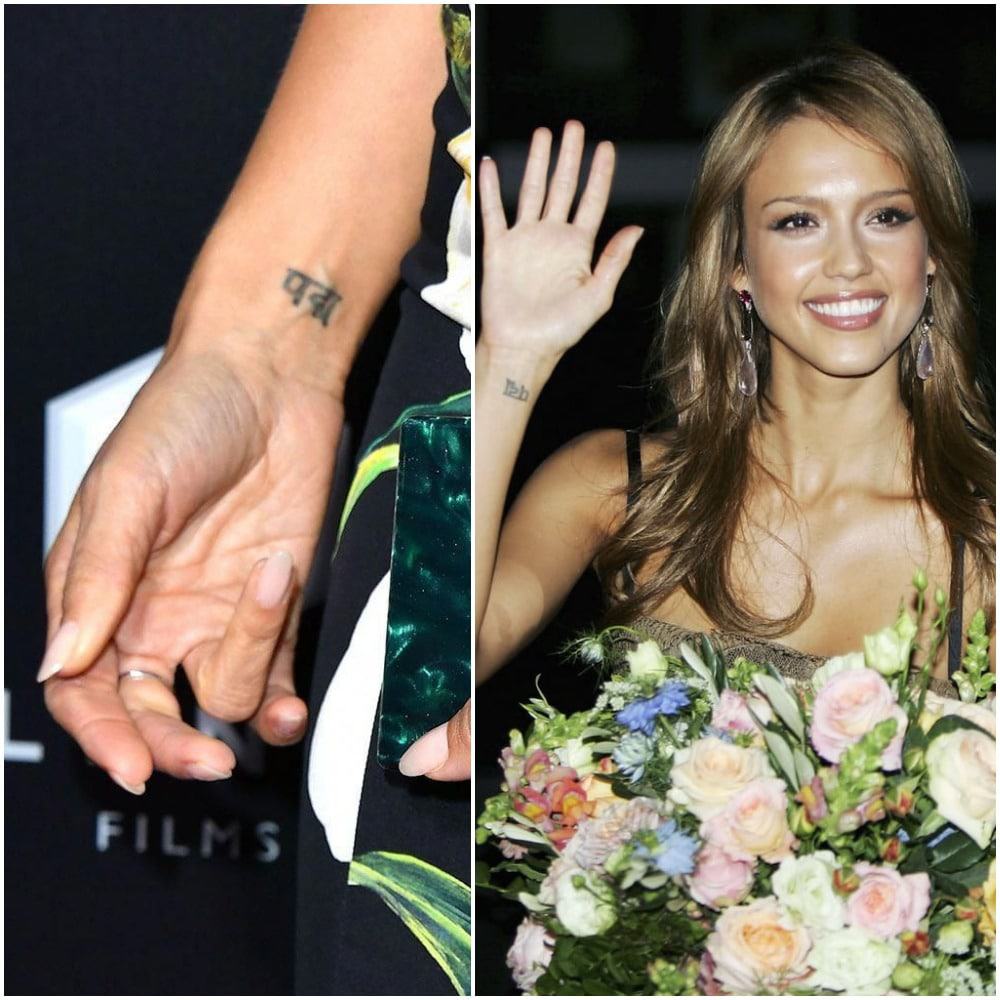 The actress explained that she had just broken up with her boyfriend, who happened to be a celebrity, although she refused to reveal his identity. Alba felt a sudden urge to get a tattoo, partly as a rebellious act, since her boyfriend was anti-tattoos. For Alba, the lotus symbolized a sense of self-discovery and personal growth following the breakup. Through this tattoo, she found a way to represent her journey and celebrate her newfound independence. Alba's story serves as a reminder of the powerful way that tattoos can represent important moments in our lives, and how they can serve as a visual reminder of our personal growth and evolution.
Megan Fox
Megan Fox, the famous actress known for her roles in Transformers and other popular movies, has several tattoos, but one of her most famous and talked-about is her Shakespeare quote tattoo. This tattoo, which she often shows off at red carpet events with open-back dresses, features a quote from the famous play King Lear. In Victorian Gothic letters, the quote reads, "We will all laugh at Gilded Butterflies."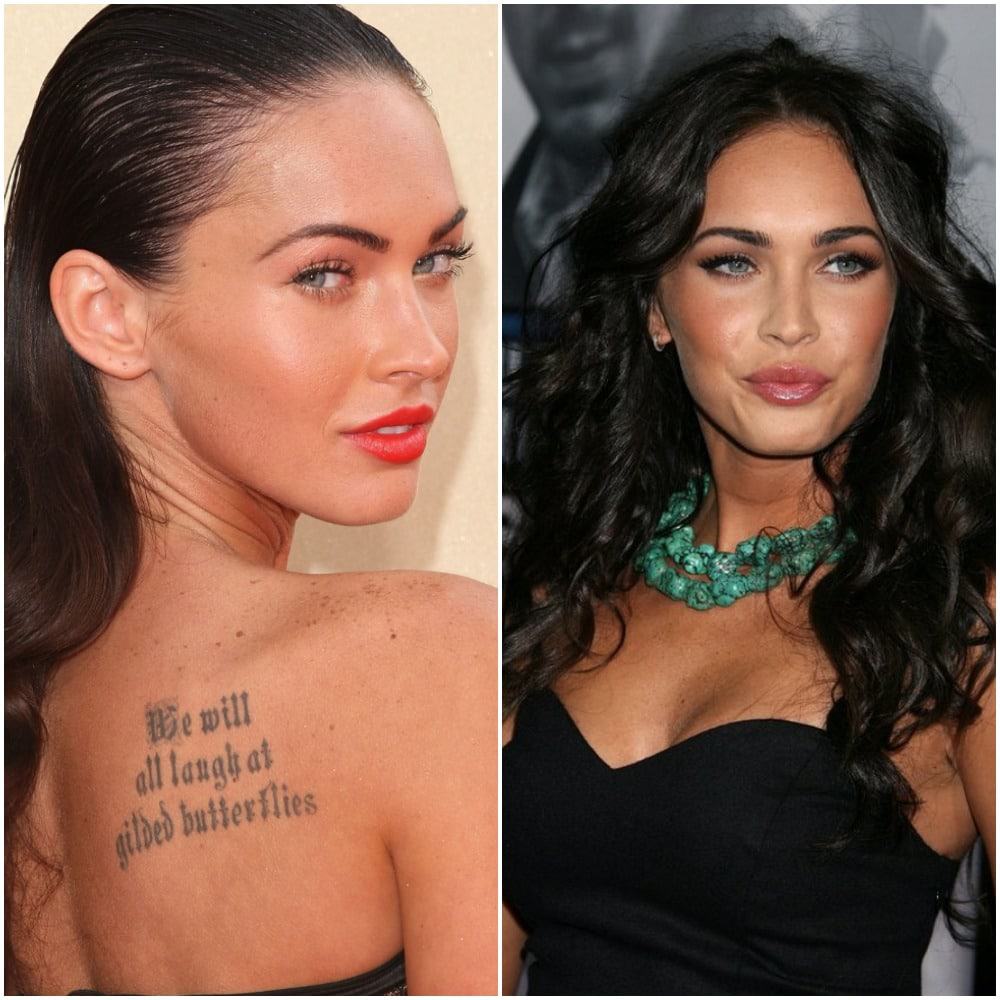 For Fox, this quote reflects her attitude towards life and serves as a reminder to stay true to oneself. She has altered the original quote slightly, which reads, "so we'll live, And pray, and sing, and tell old tales, and laugh At gilded butterflies." The message behind the quote is that wrapping something in gold doesn't make it valuable or beautiful, but only gives it a false appearance that ultimately destroys its true essence. In this way, Fox's tattoo serves as a powerful reminder to stay true to one's inner beauty and to value what is truly valuable in life.
Drew Barrymore
Drew Barrymore has been acting since she was just seven months old when her mother took her to audition for a dog food commercial. She made her film debut at the age of five in the horror film Altered States and later starred in the popular science-fiction movie E.T. the Extra-Terrestrial. Her career has continued to flourish since then, with numerous successful projects in both film and television.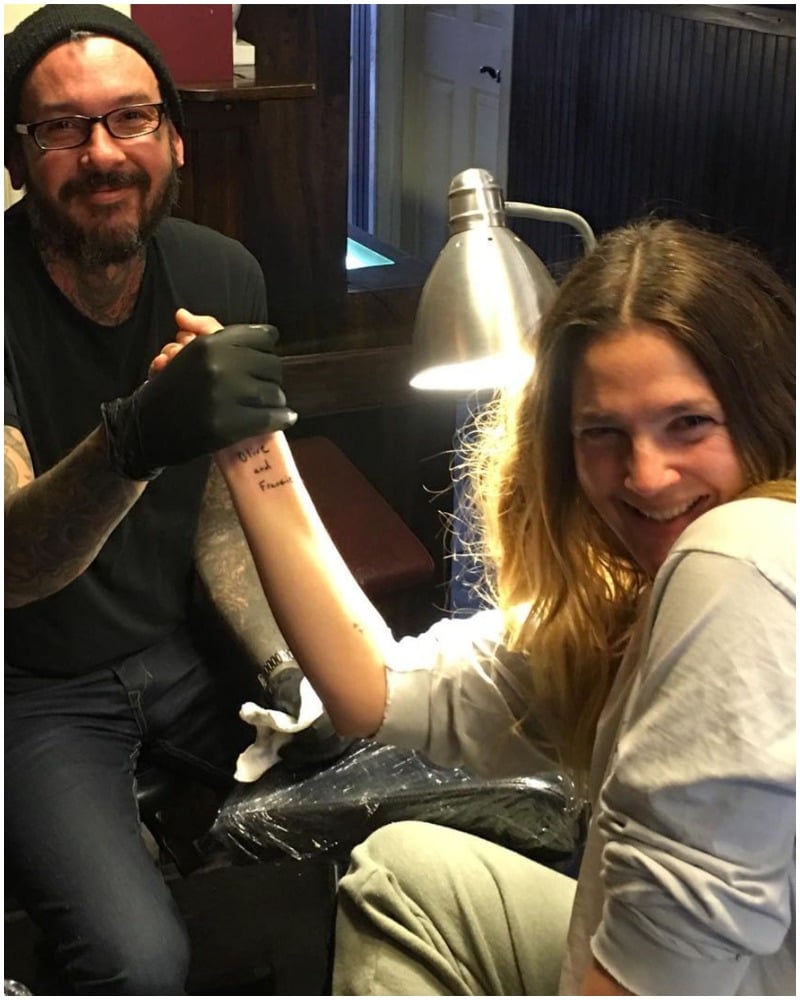 During the nineties, Barrymore was known as Hollywood's "bad girl," and her rebellious phase was frequently covered by the media. The actress has a number of tattoos that serve as reminders of those years and all the significant moments of her life. She has around twenty tattoos in various locations, from her lower back to her belly and arms. One of her most meaningful tattoos is the one she got in 2016 of her daughters' names, Olive (7) and Frankie (6). This tattoo serves as a constant reminder of the love and joy that her children bring into her life, and it's a touching tribute to the importance of family. Overall, Barrymore's tattoos serve as a visual diary of her journey and the significant moments that have shaped her life and career.
Eminem
Eminem, one of the world's most popular rappers, is known for his tough-guy image and provocative lyrics. However, his music also reflects the many challenges he has faced in his life, including a difficult childhood and personal struggles. In addition to his impressive vocal skills, Eminem is also known for his extensive tattoo collection, which holds personal significance to the artist.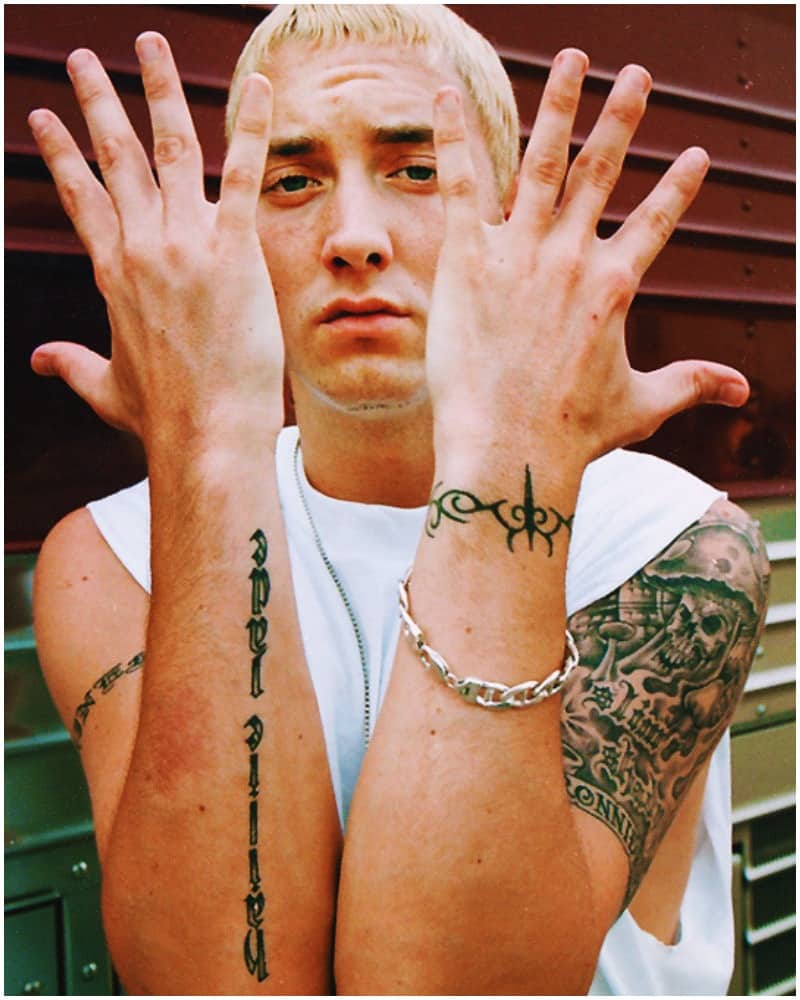 On his right arm, he has a tattoo of his daughter's name, Hailie Jade, which he got on the day she was born in 1995. This tattoo is a touching tribute to the importance of family in Eminem's life. He also has the word "proof" tattooed on the inside of his arm as a tribute to a deceased friend. Overall, Eminem's tattoos serve as a visual representation of his personal journey, his life experiences, and the meaningful relationships he has formed along the way.
Kaia Gerber
Kaia Gerber, the 19-year-old daughter of supermodel Cindy Crawford, is following in her mother's footsteps by becoming a top model in her own right. Like many models of her generation, Gerber has developed a love for tattoos, often opting for small, delicate designs. Her collection of tattoos has grown quickly since getting her first in 2018, and she now has at least eight tattoos that we know of.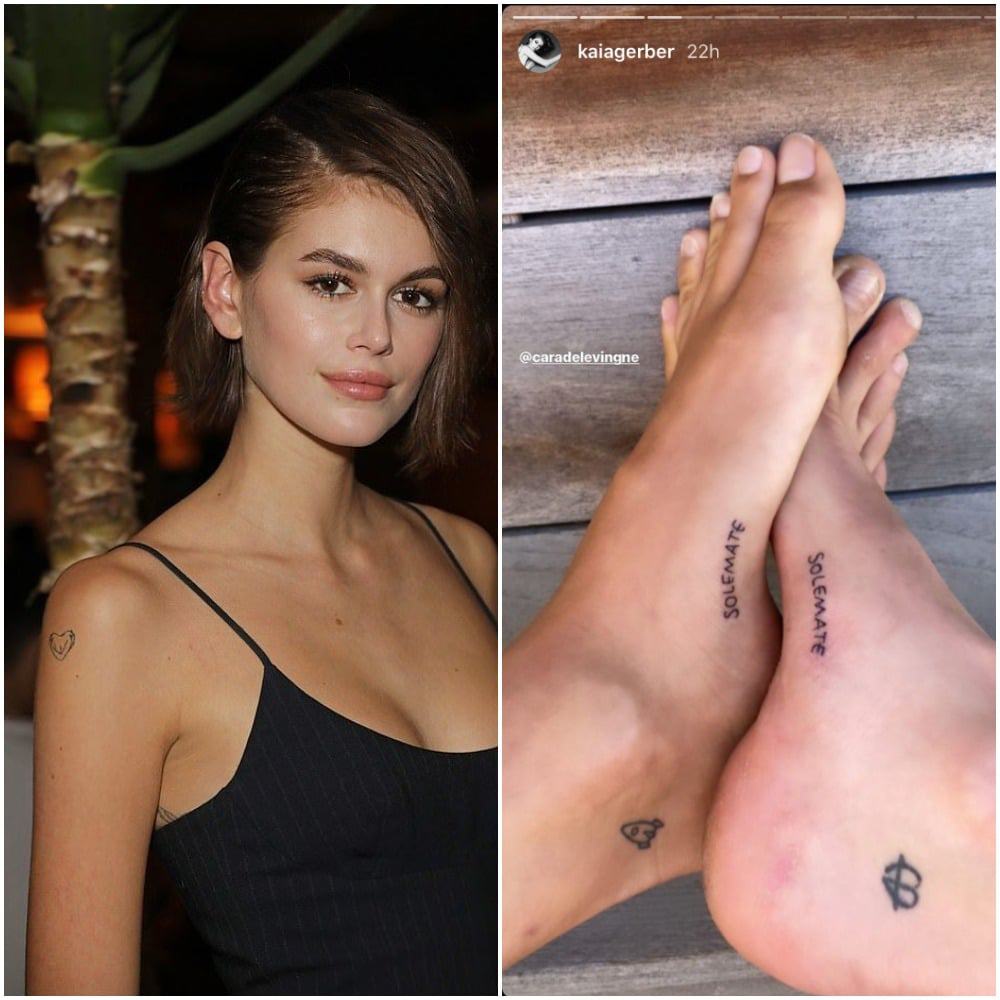 Some of Gerber's tattoos include her middle name "Jordan" in elegant letters on the inside of her bicep, the words "I know" on her outer wrist, a recreation of a Picasso drawing on the inside of her arm, and a matching tattoo with her good friend Cara Delevingne of the word "solemate" on her feet, which cleverly plays on the words "soul" and "sole." These tattoos not only add to Gerber's unique look as a model but also serve as personal expressions of her individuality and creativity.
Ryan Gosling
Ryan Gosling may not seem like the type to have a tattoo, but as this list shows, tattoos are for everyone. For Gosling, his tattoo of choice is a monster's paw that resembles a poorly drawn cactus. The La La Land star follows the belief that a tattoo should be something that makes you laugh, rather than something with deep meaning.
Although the tattoo may not be particularly meaningful or aesthetically pleasing, it reflects Gosling's playful personality and sense of humor. It's refreshing to see a celebrity embrace the idea of tattoos as something that doesn't have to be serious or profound, but rather a fun and lighthearted expression of one's individuality.
Miley Cyrus
Miley Cyrus is known for her sentimental tattoos, and her relationship with Australian actor Liam Hemsworth was no exception. In 2016, the couple was still together and Miley decided to get a tattoo as a sweet tribute to her then-boyfriend.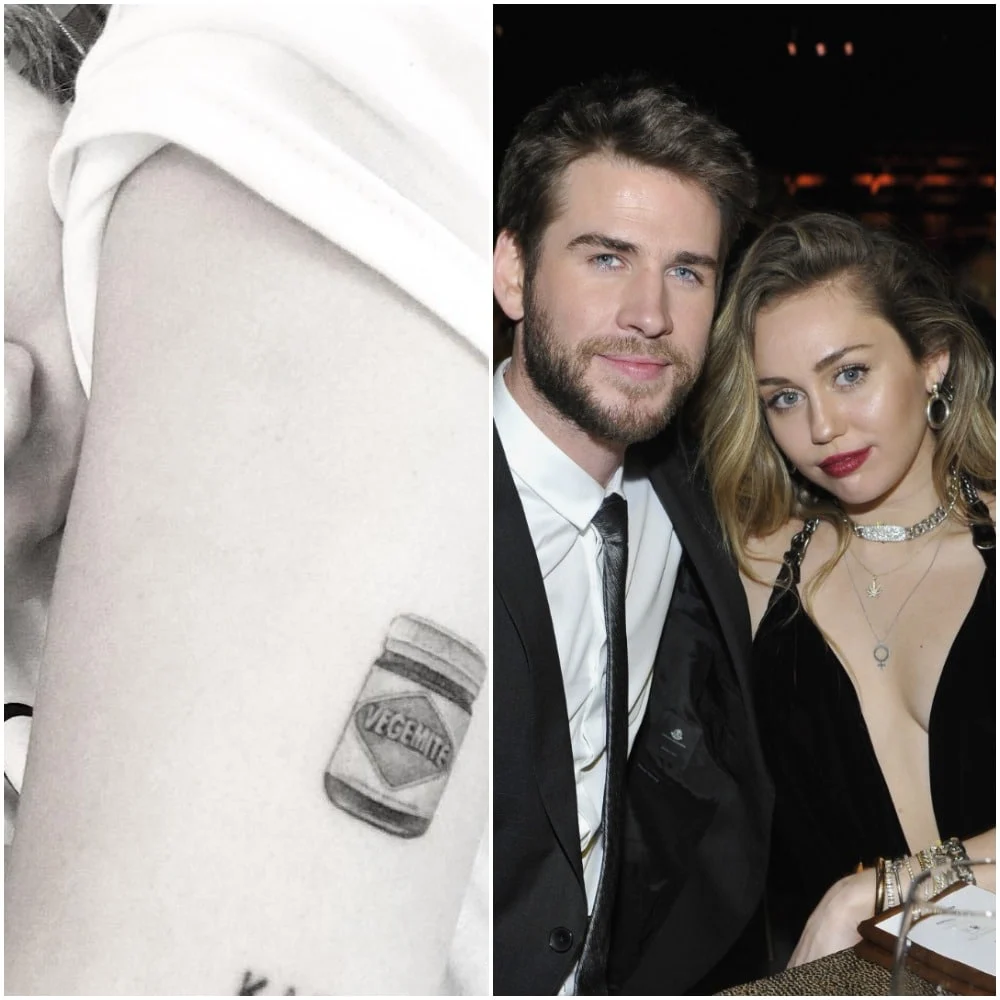 Rather than getting his name or face inked, which she deemed too tacky, Miley opted for a drawing of the infamous Australian condiment, Vegemite. This spread was Hemsworth's favorite, and he even had a similar tattoo on his leg. Despite the couple's eventual divorce, Miley has chosen to keep the tattoo as a reminder of an important period in her life and a significant relationship. It is another example of how tattoos can hold personal meanings and memories, even after the relationship has ended.
Cara Delevingne
Supermodel and actress Cara Delevingne is famous for her numerous tattoos, and one of her most striking pieces of body art is the set of eyes on the back of her neck. She got the tattoo from the famous tattoo artist Keith McCurdy, also known as Bang Bang, who has inked many other celebrities. The eyes are drawn in black ink, and they look like they are staring out from the back of her neck.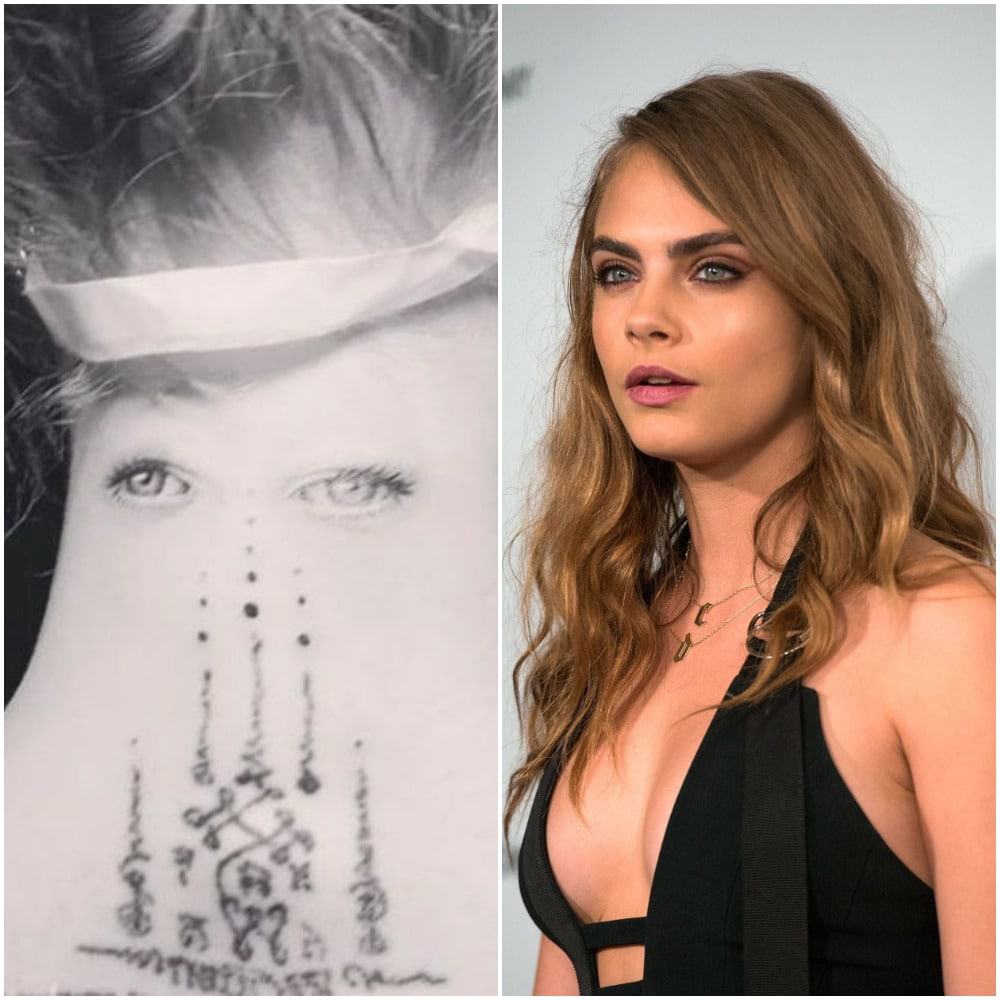 Delevingne is known for her unique fashion style and her strong views on various issues. The eyes on her neck represent her belief in seeing the world from different perspectives, which can help us better understand each other. She has said in interviews that she thinks it's important to look beyond our own experiences and try to see things from other people's point of view. The tattoo is a powerful symbol of her commitment to empathy and understanding, and it's no wonder that it has caught the attention of so many people.
Hailey Baldwin
Hailey Baldwin, the American model, has a large number of tattoos that are mostly tiny and subtle. One of her most intriguing tattoos is the diamond tattoo she received on the night of the 2019 Oscars. Baldwin even missed her red carpet appearance to get the ink, which was done by JonBoy, a popular celebrity tattoo artist in New York. Interestingly, her husband, Justin Bieber, also has a diamond tattoo, so it's possible that her ink is a tribute to him.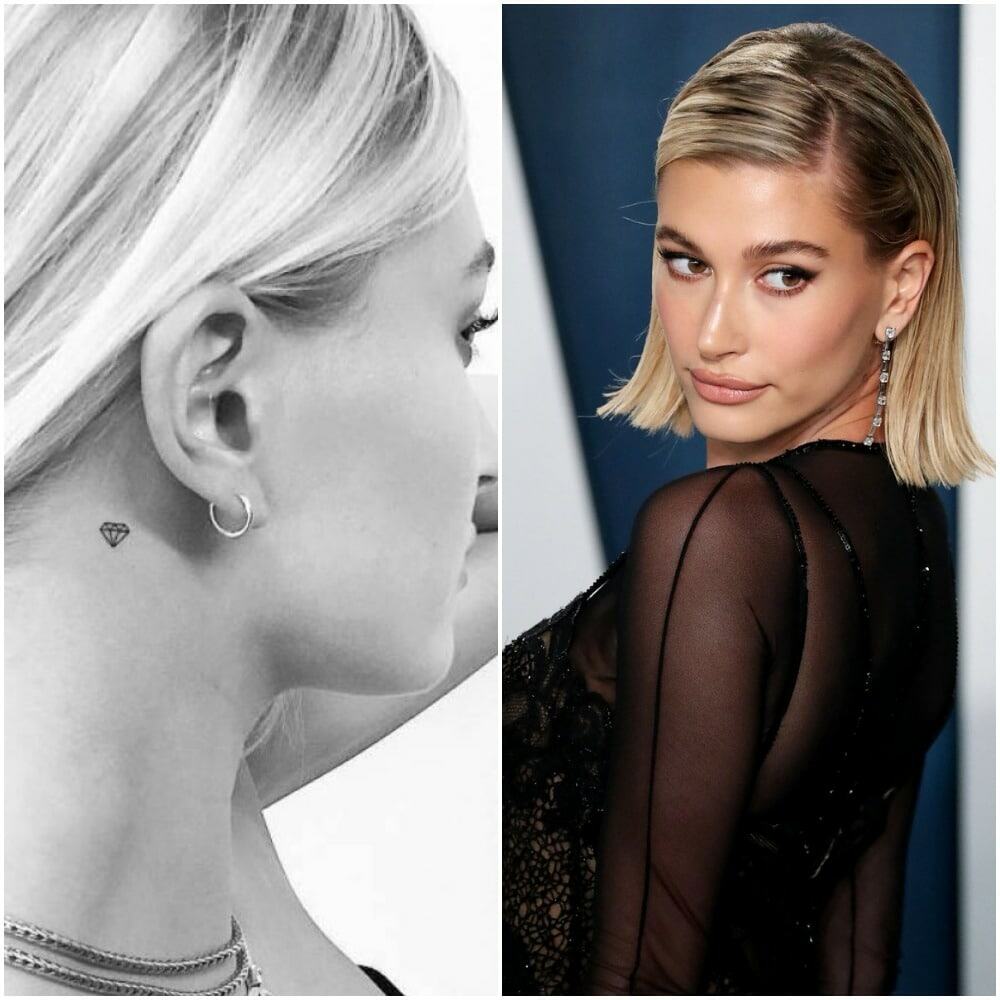 JonBoy is known for his signature fine-line tattoo style, which is perfect for small, delicate designs, and Baldwin has many of these types of tattoos all over her body. Some of her other tattoos include a heart on her collarbone, the word "lover" on her neck, and a tiny "B" on her finger. Despite not having as many tattoos as Bieber, Baldwin's collection is just as impressive and shows that she has a love for body art.
Lena Dunham
Lena Dunham, known for her controversial personality both on and off-screen, has added to her reputation with a new tattoo on the back of her head. The tattoo reads "sick" in rope-like letters, which has caused a stir among fans and critics alike. While some admire Dunham's courage in owning her chronic illness, others have criticized the tattoo for reducing her identity to her condition.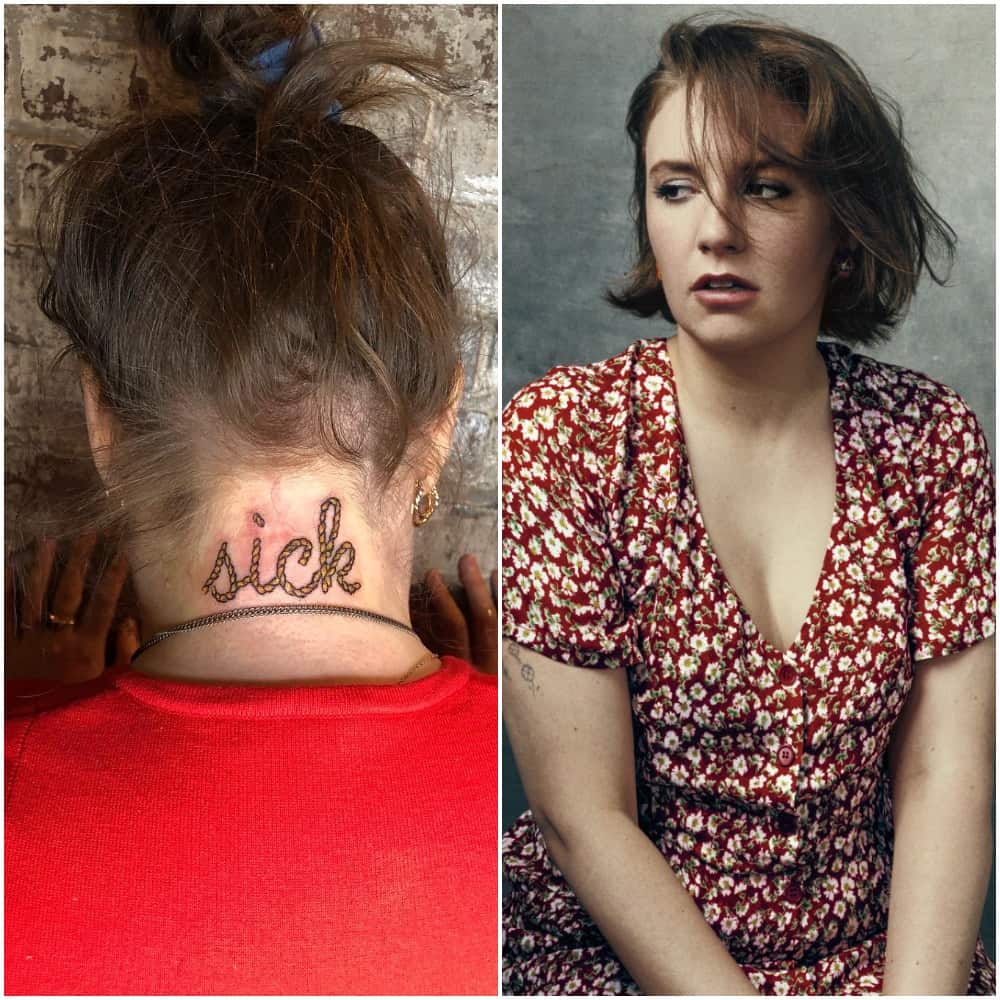 Dunham has been battling her illness for some time and has been very open about her struggles with it. The tattoo appears to be a way for her to embrace her illness and to take control of it. However, the design and placement of the tattoo have sparked various interpretations, including the possibility that the rope-like letters symbolize the hold that her illness has on her. Regardless of the controversy, Dunham remains unapologetic and true to herself, as she continues to use her platform to raise awareness and advocate for those with chronic illnesses.
Zac Efron
Although not all celebrity tattoos are silly or whimsical, Zac Efron's "Yolo" tattoo certainly falls into the category of trendy and lighthearted. In the early 2010s, "Yolo" became a popular catchphrase that encouraged young people to live in the moment and take risks, which appealed to those looking for an excuse to be reckless.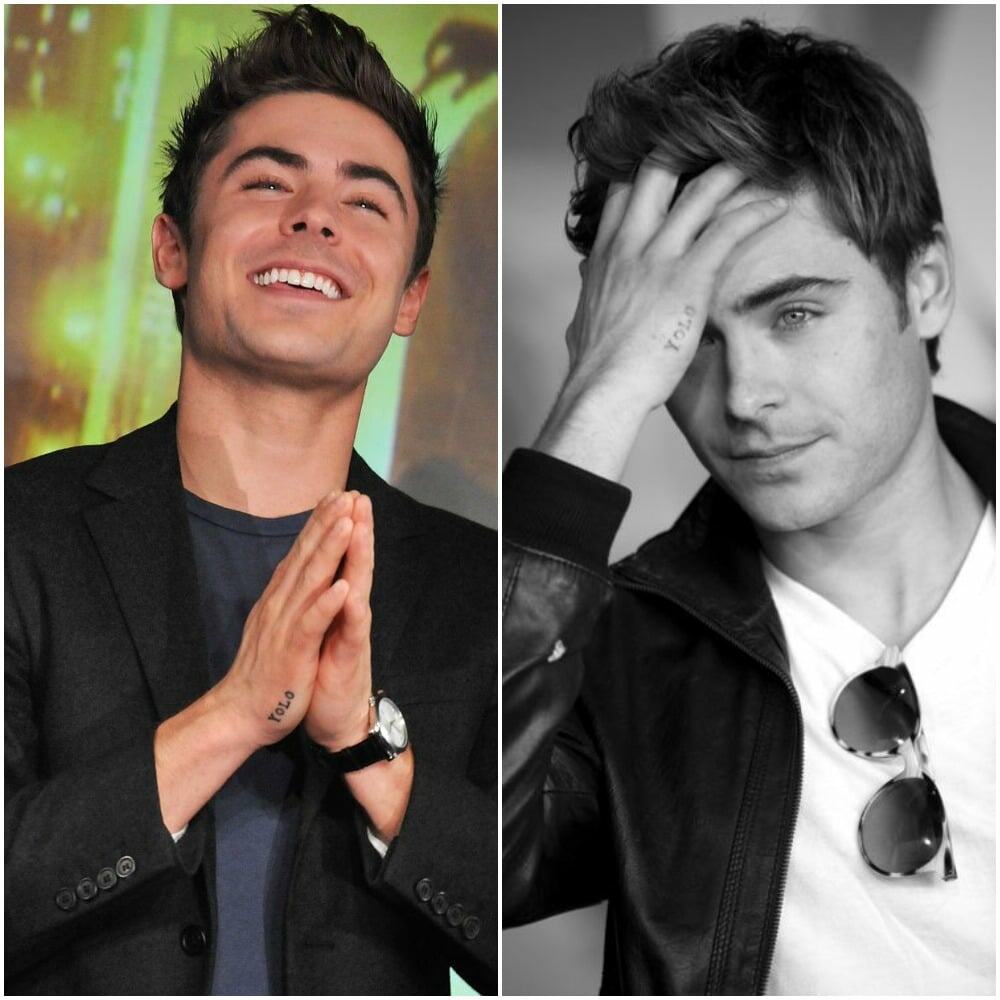 In 2011, Zac Efron got the motto inked on his hand, which drew attention to his carefree, youthful persona. While the tattoo was not particularly meaningful to him, he went along with the trend and embraced it with gusto. However, after a few years, Efron realized that the tattoo was a bit too much, and he ultimately decided to have it removed. Nonetheless, the "Yolo" tattoo remains a part of his legacy and is a reminder of his playful and adventurous spirit.
Paris Jackson
Paris Jackson, daughter of the late music legend Michael Jackson, is a big believer in tattoos. She sees her 50+ tattoos as a form of art and a way of expressing her feelings, and many of her tattoos are intricate and meaningful. One of her recent and most striking tattoos is the seven Chakras running down the length of her chest, which represent spiritual energy points.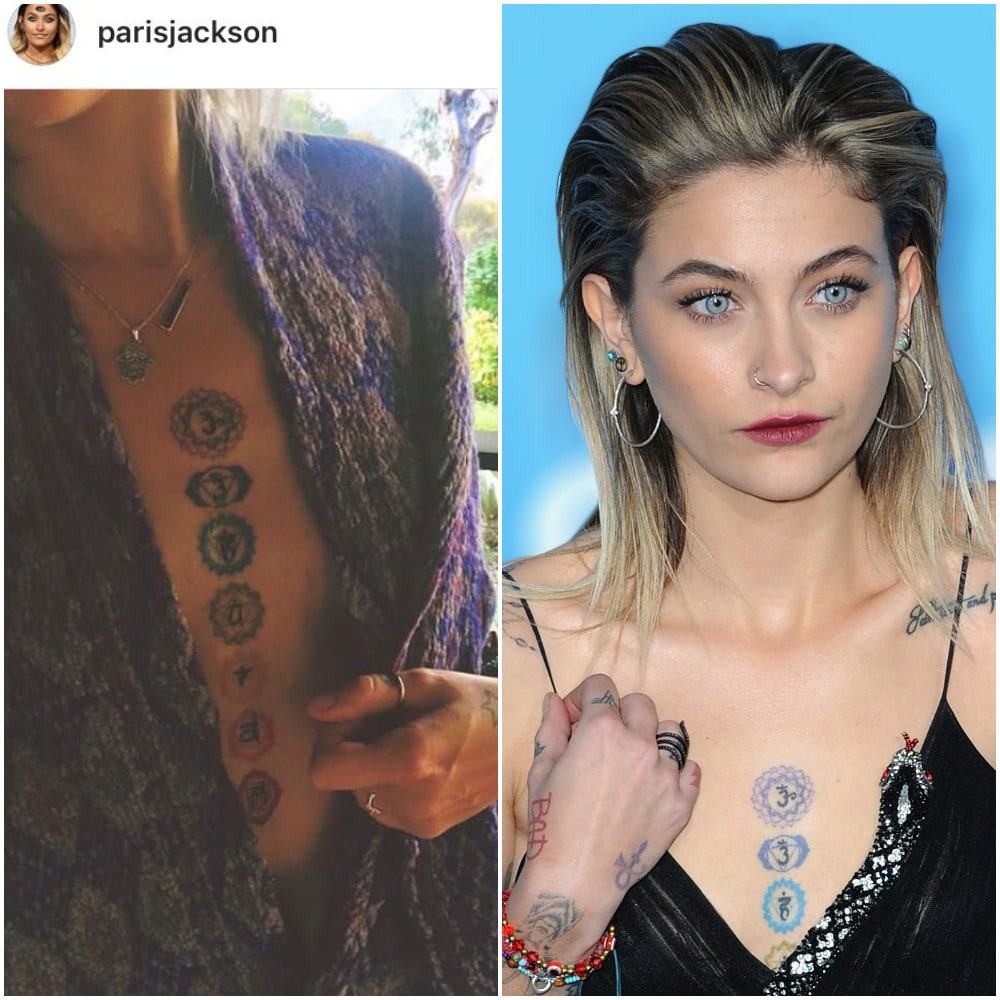 Paris has also dedicated at least three of her tattoos to her late father. She has the cover of her father's famous album "Dangerous" inked on her arm, including her father's eyes and iconic curl. Additionally, she has tattoos of her father's nicknames for her, "Applehead," on her foot and "Queen of My Heart" on her wrist. These tattoos serve as a beautiful tribute to her father and their special bond.
Scarlett Johansson
Actress Scarlett Johansson, known for her versatility in acting, has a collection of eight tattoos, which is relatively small for a celebrity. She is quite discreet about the meaning behind her tattoos, but one of her oldest and most notable tattoos is a drawing of a lamb on her back. However, it is now overshadowed by her recent back tattoo, a sprawling vine of roses that she proudly displays on every red carpet event.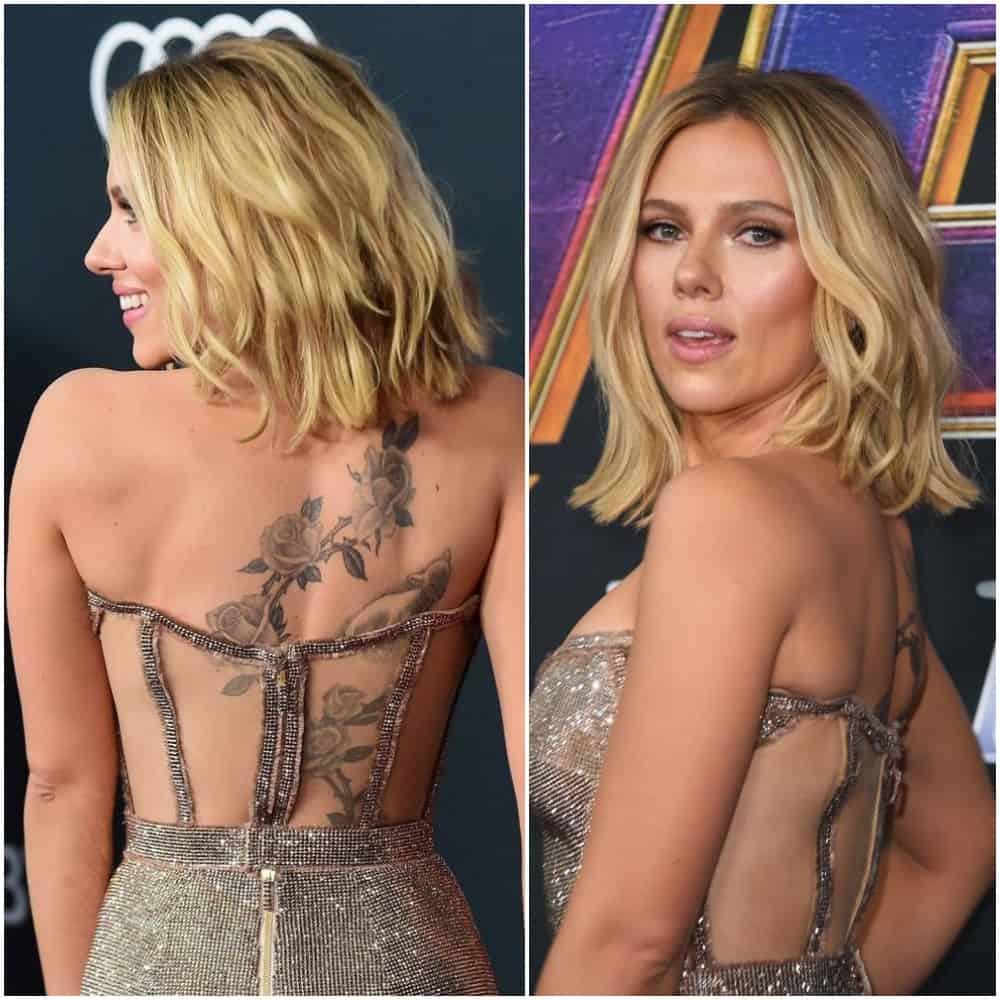 It is widely believed that the roses represent her four-year-old daughter, Rose, whom she shares with her ex-husband Romain Dauriac. Unlike the rose tattoo, which has an apparent meaning, fans are still left wondering about the significance of her lamb tattoo. While lambs typically represent innocence, the true meaning behind Johansson's tattoo remains unknown
Zayn Malik
Zayn Malik is known for being a former member of the popular boy band One Direction, and for his successful solo career in the music industry. Along with his musical achievements, the singer is also recognized for his highly publicized relationship with top model Gigi Hadid, which has been the topic of many headlines. One of his tattoos, a portrait of Hadid's eyes on his chest, is dedicated to their relationship.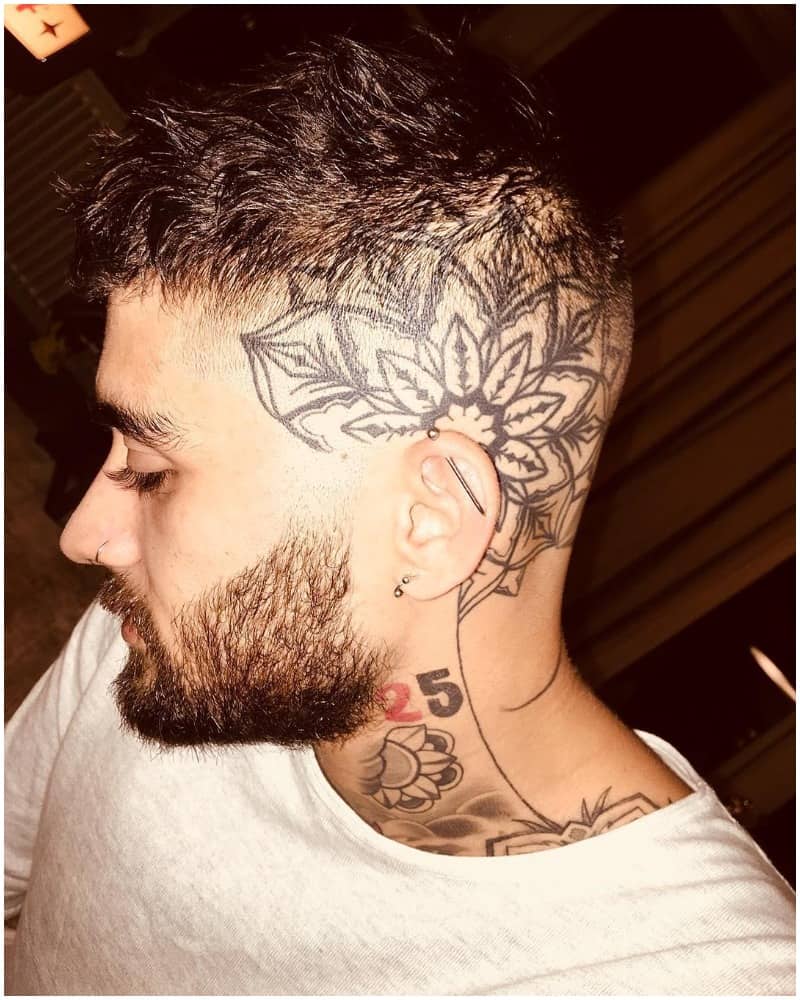 In 2018, Malik added a new tattoo to his extensive collection, a floral pattern that spans from his neck to the side of his head. While the new tattoo received mixed reviews from fans, with some disliking it and stating that he should know when to stop, Malik's tattoos are ultimately personal expressions of his art and creativity.
Lady Gaga
Lady Gaga's love for tattoos is well-known, and each one of her body art is a reflection of her personality. The famous singer added another tattoo to her collection in 2016, right after the Grammy Awards. The new ink was a tribute to one of her all-time favorite artists, David Bowie.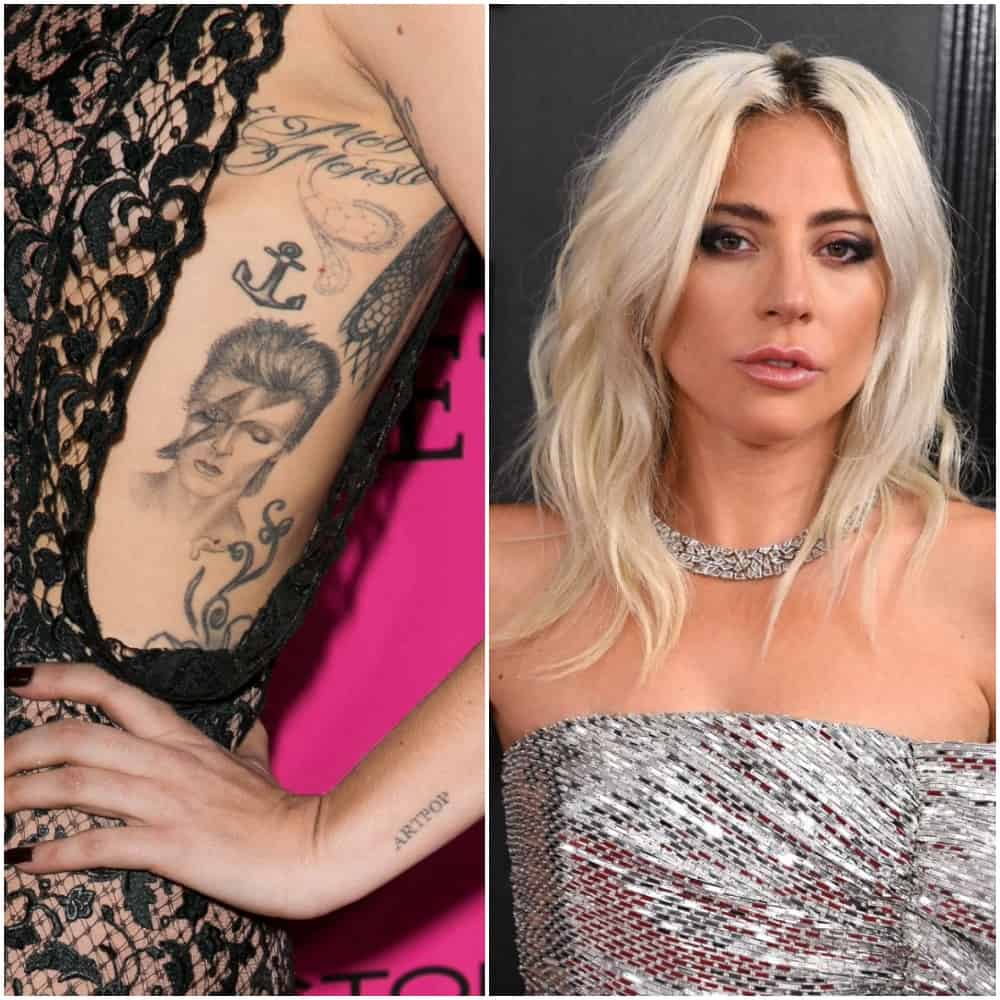 The tattoo features a portrait of Bowie on her side, and Gaga got it just in time for her tribute performance to the music legend at the Grammy Awards. Mark Mahoney, a well-known celebrity tattoo artist, was responsible for this intricate and detailed portrait. Bowie was a huge inspiration for Gaga, and this tattoo was a way for her to honor the musician's legacy and the impact he had on her life and career.
Chiara Ferragni
Chiara Ferragni has established herself as a leading influencer, with an impressive social media following of over 24 million. Her tattoos reflect her unique personality and creativity, with each of them carrying a special meaning. For instance, she has a tattoo of a lightning bolt on her left wrist, which is a tribute to her astrological sign, Sagittarius. In addition to this, she has a tattoo of the word "blonde" on her right arm, which is a nod to her signature blonde hair.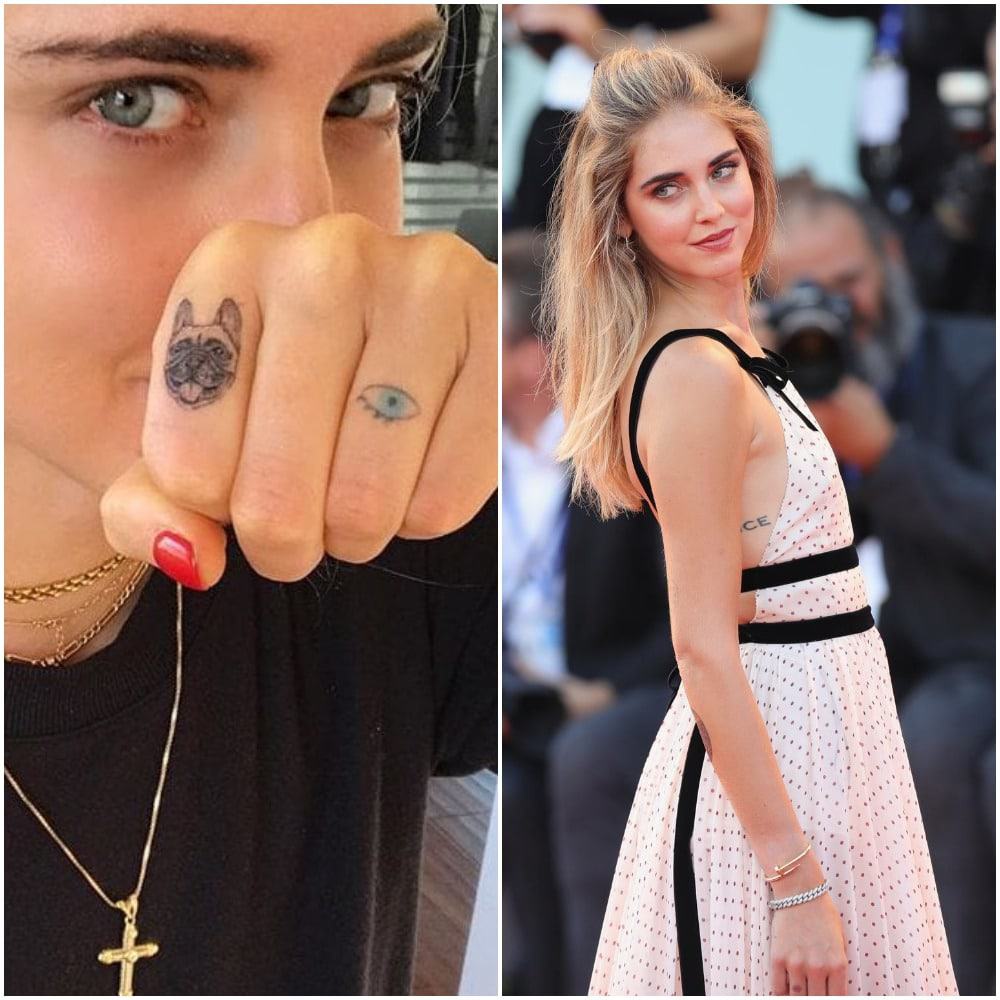 Another notable tattoo is a large angel tattoo on her back, which she got in honor of her late cousin. The tattoo features an angel holding a baby, and serves as a tribute to her cousin who passed away at a young age. Ferragni also has a tattoo of her son's name, Leone, on her left forearm. It's evident that her tattoos are not only a form of self-expression, but also hold a significant place in her heart.
Kendall Jenner
Despite Kim Kardashian's negative stance on tattoos, her younger sisters Kendall and Kylie Jenner have their own small and discreet tattoos. Kendall Jenner has a small white dot tattoo on her finger, and a tattoo on the inside of her bottom lip that reads "meow". In an interview, Kendall admitted that she got the second tattoo while under the influence of alcohol.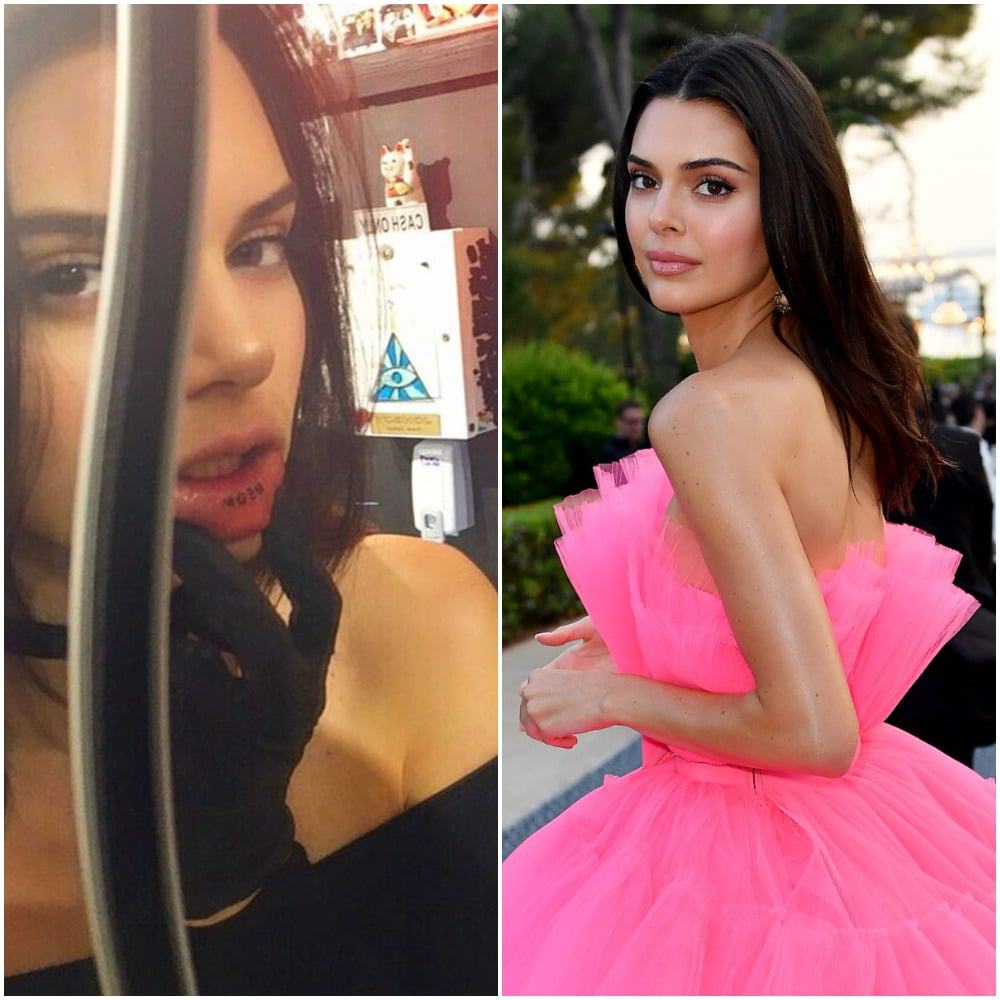 Kylie Jenner, on the other hand, has a few more tattoos, including a tiny red heart on the back of her arm, a small word "sanity" spelled phonetically on her hip, and her grandmother's name "Mary Jo" on her bicep. While the Kardashians are known for their extravagant lifestyles, it seems that when it comes to tattoos, the sisters prefer to keep it simple and subtle.
Chrissy Teigen
Chrissy Teigen, a model and TV host, is well known for prioritizing her role as a mother above all else, which is reflected in her most recent tattoo. On her forearm, Teigen has the birth dates of her loved ones, including her parents, husband John Legend, and their children, Luna and Miles. This meaningful tattoo serves as a constant reminder of the people she loves and values most in her life.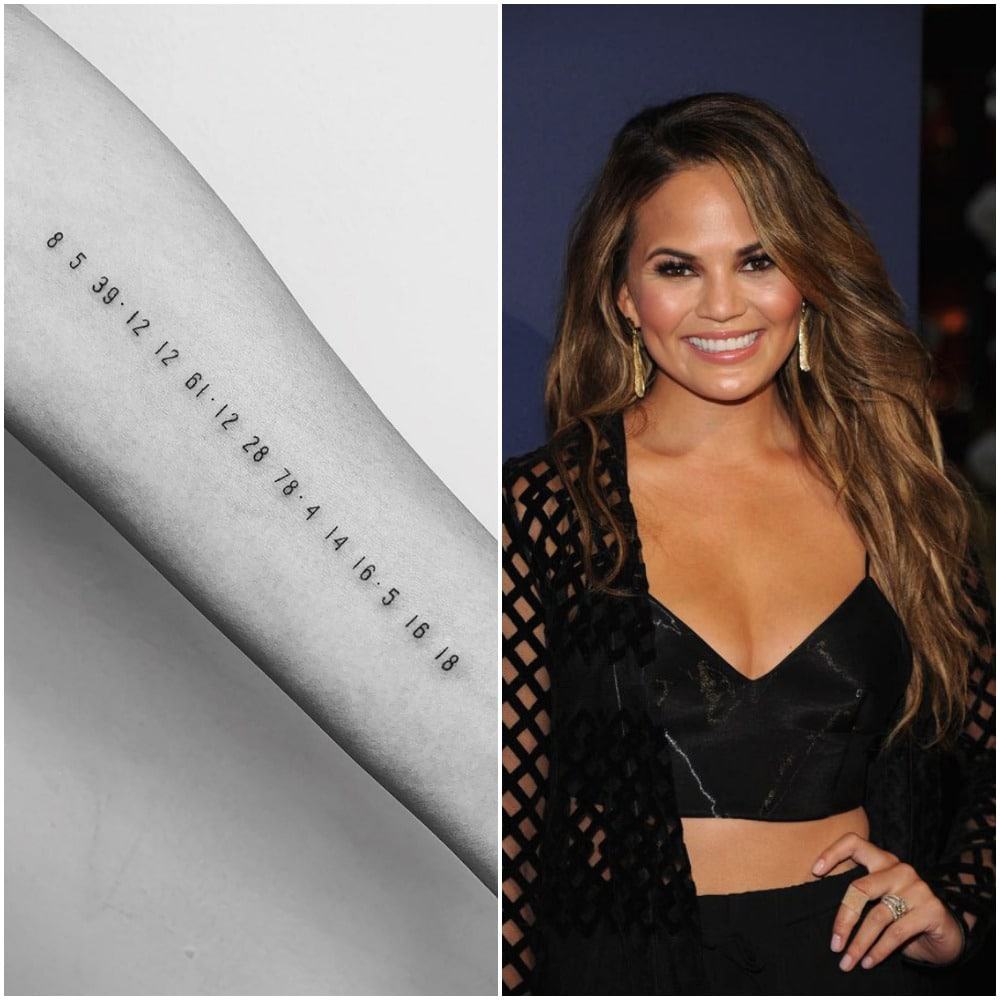 Teigen also has a couple's tattoo that she got with her husband, and it seems to have opened the door to her desire for more ink. She jokes that her tattoos make her a "cool mom," and that's how she now refers to herself. It's clear that her love for her family is deeply ingrained in her, and her tattoos serve as a beautiful way to honor and cherish those closest to her.
Hilary Duff
Actress and singer Hilary Duff's "Take Fountain" tattoo is one of the more perplexing tattoos on this list, but it certainly has an interesting backstory. Duff got the tattoo in 2017, and while it may seem like a random phrase, it actually has a secret meaning for the actress. The words "take fountain" are a reference to a quote by Hollywood legend Bette Davis, who advised aspiring actors to take Fountain Avenue in Hollywood if they wanted to avoid the crowds and make it to auditions on time.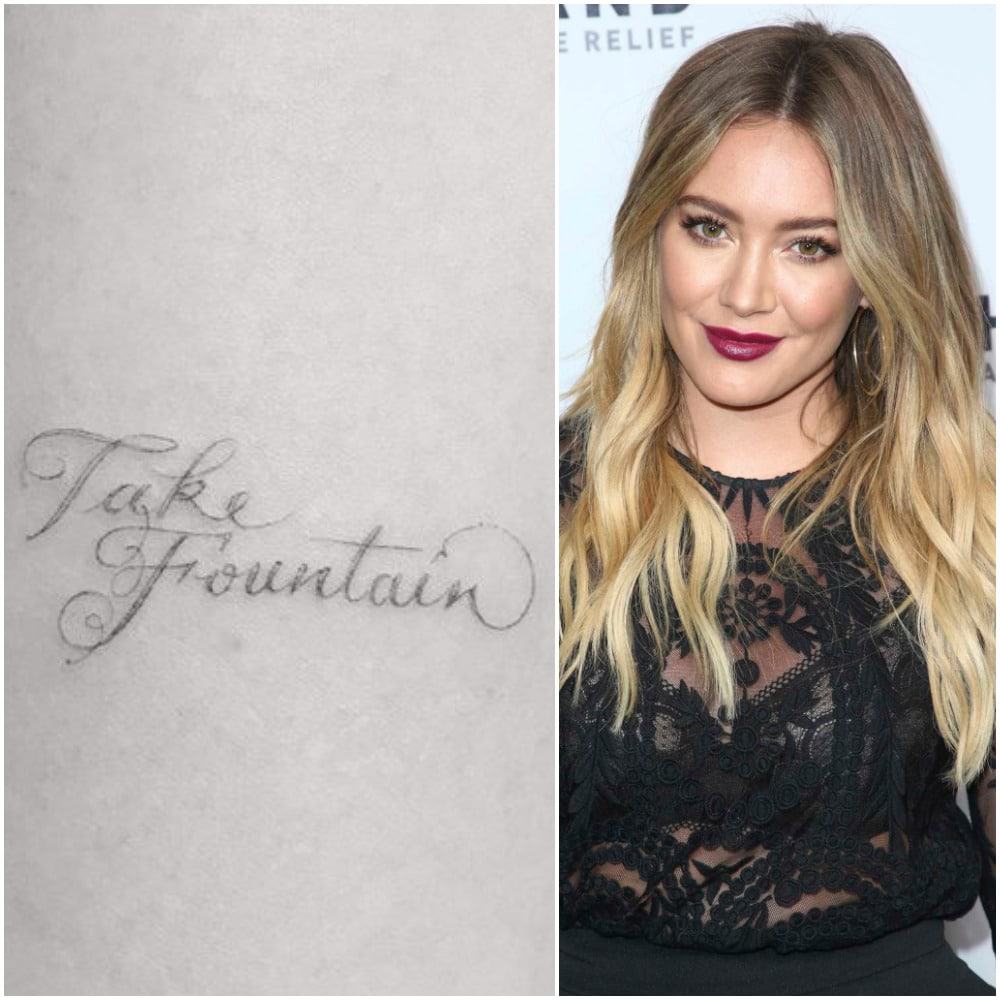 While this tattoo may not have the same emotional significance as some of the others on this list, it's a fun and quirky tribute to a Hollywood icon. And as Duff herself has said, not all tattoos need to have a deep meaning – sometimes it's just about having a little bit of fun and expressing yourself in a unique way.
Kaley Cuoco
Kaley Cuoco, widely known for her role as Penny on the popular sitcom "The Big Bang Theory", has a tattoo that she deeply regrets, much like her character on the show. Cuoco was married to former tennis player Ryan Sweeting from 2013 to 2016, and to commemorate their love, the actress got a tattoo of Roman numerals representing the date of their wedding. Unfortunately, their relationship ended in divorce, leaving Cuoco with a permanent reminder of a failed marriage. However, instead of having the tattoo removed, she chose to cover it up with another tattoo – a moth – because it was the only design big enough to conceal the original ink.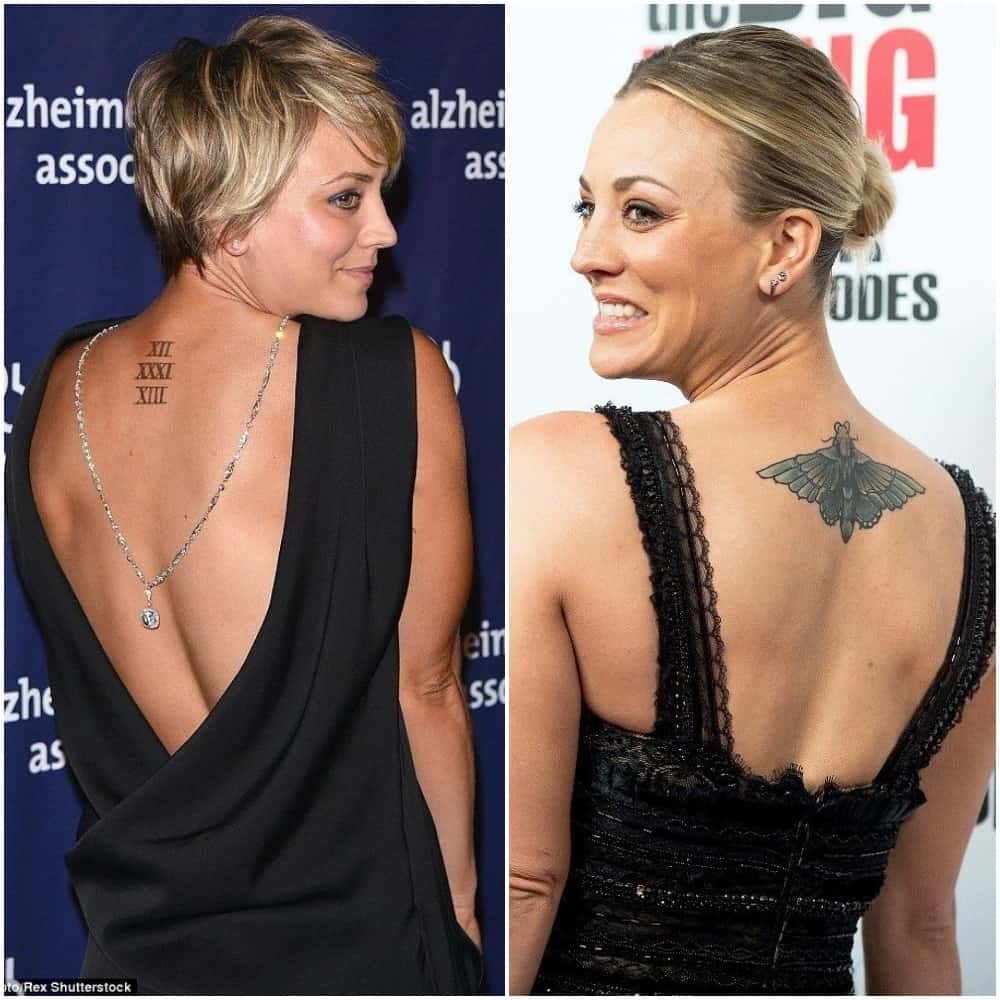 Despite the initial regret of her previous tattoo, Cuoco is still a fan of body art, and has several other tattoos, including a large one on her back of a moth with a skull in the center. She has also expressed interest in getting matching tattoos with her husband, Karl Cook, whom she married in 2018, showing that tattoos can still have significance even after a regretful experience.
Angelina Jolie
Angelina Jolie has never been a stranger to tattoos, but after her divorce from actor Billy Bob Thornton, she started to remove some of her old ink. One of these tattoos was on her left arm, where she used to have a Chinese dragon and the name of her former husband. However, after removing the old tattoos, she decided to cover the spot with something new, and something that represented a far more important part of her life: her children.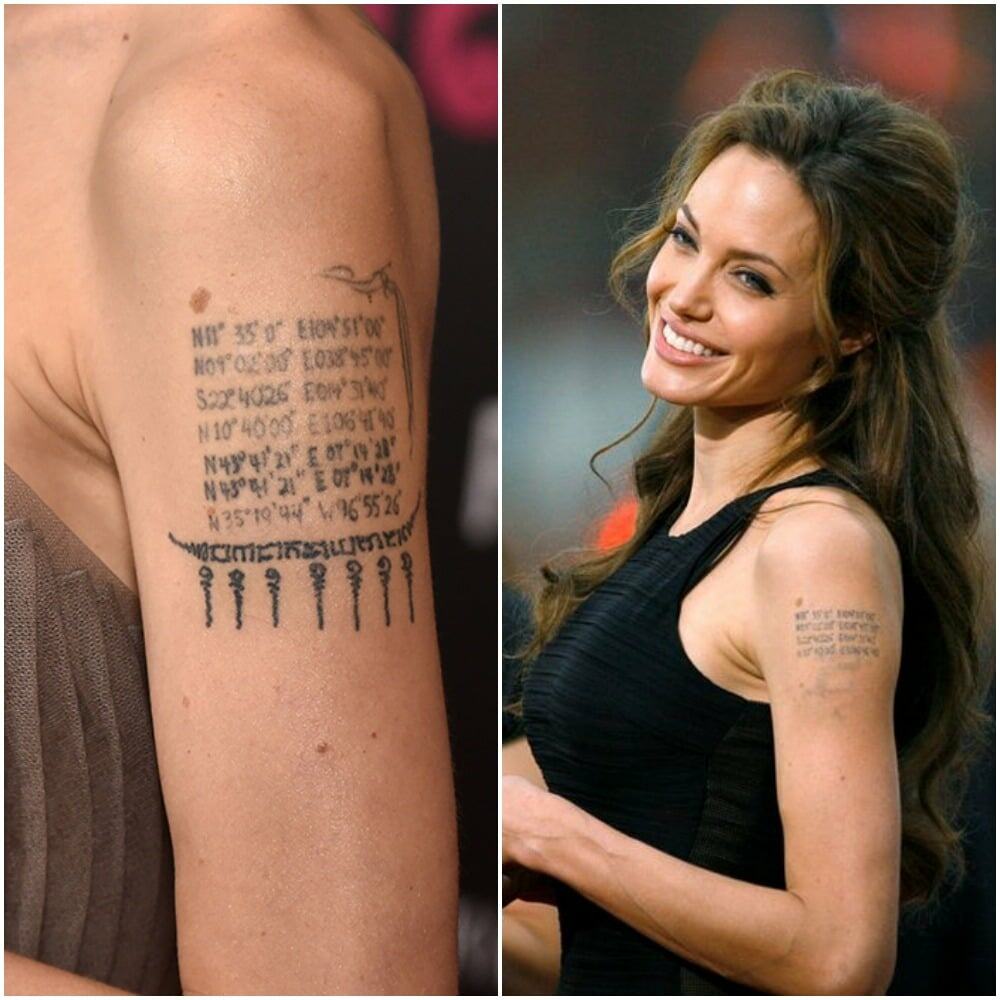 The new tattoo on her arm is a set of geographical coordinates, which represent the birthplaces of her children. As a mother of six children, three of whom are adopted, Jolie's tattoos have taken on a new meaning. Her decision to use the coordinates of her children's birthplaces shows her love and dedication to her family. She later added a seventh set of coordinates, representing the birthplace of her ex-husband, Brad Pitt. The tattoo is a permanent reminder of her love for her children, and a tribute to the special places that have been important in her life.
Joe Jonas
Joe Jonas, the lead singer of popular bands Jonas Brothers and DNCE, has an impressive collection of over 20 tattoos, all of them minimalistic and understated. Although they may be easy to overlook, they hold deep personal meanings for the singer. It's not clear whether his wife, actress Sophie Turner, influenced his love for tattoos, but it's evident that they share a mutual fondness for body art.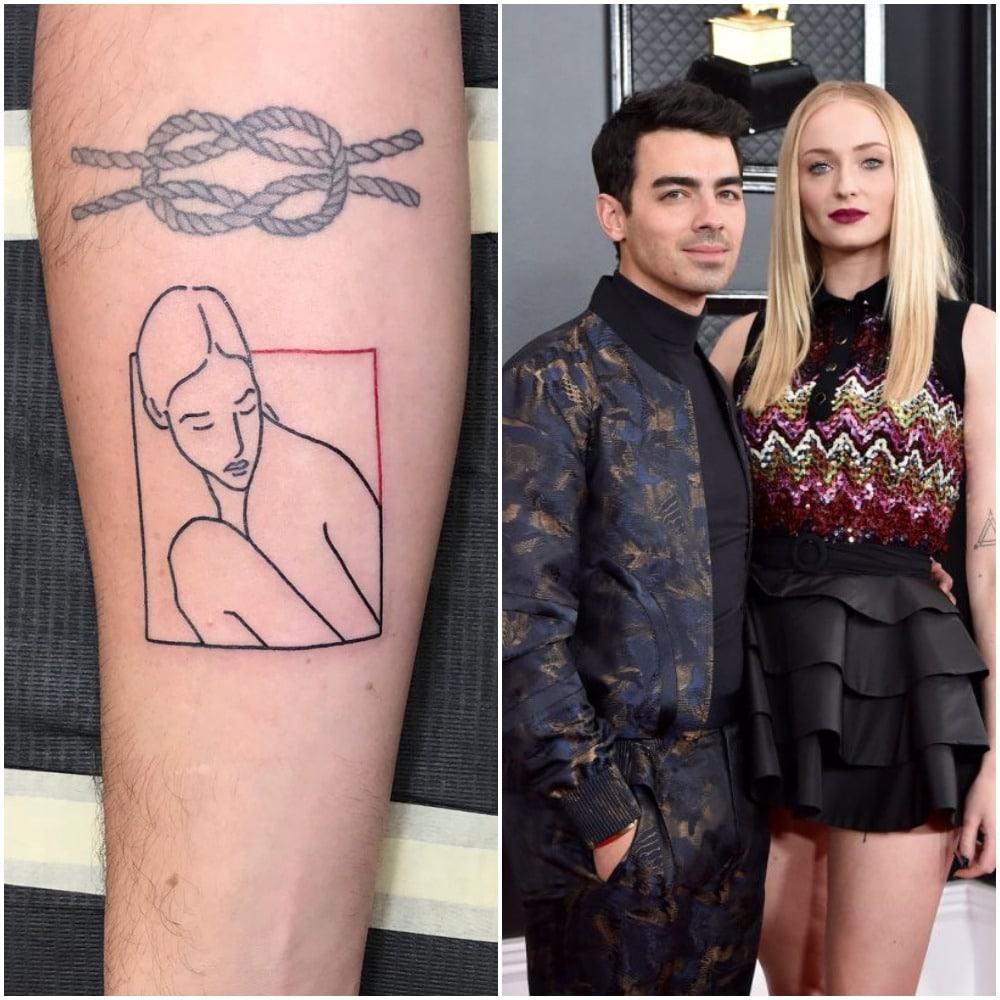 One of Jonas' earliest tattoos is a rope knot, representing his family: the two ropes symbolize his parents, and the four ends signify his siblings. In 2018, he added a woman tattoo beneath the knot, leading fans to speculate that it was a tribute to Turner. However, Jonas clarified that the tattoo was just a random drawing by his tattoo artist, Curt Montgomery, and not a portrait of his wife.
Sophie Turner
Sophie Turner, the actress who played Sansa Stark in the popular HBO series Game of Thrones, has quite the collection of tattoos. One of her most striking pieces of body art is a tattoo on her thigh, which has similarities to a tattoo her husband, Joe Jonas, has. Interestingly, both tattoos were done by the same tattoo artist, Curt Montgomery, and were inked in the same year.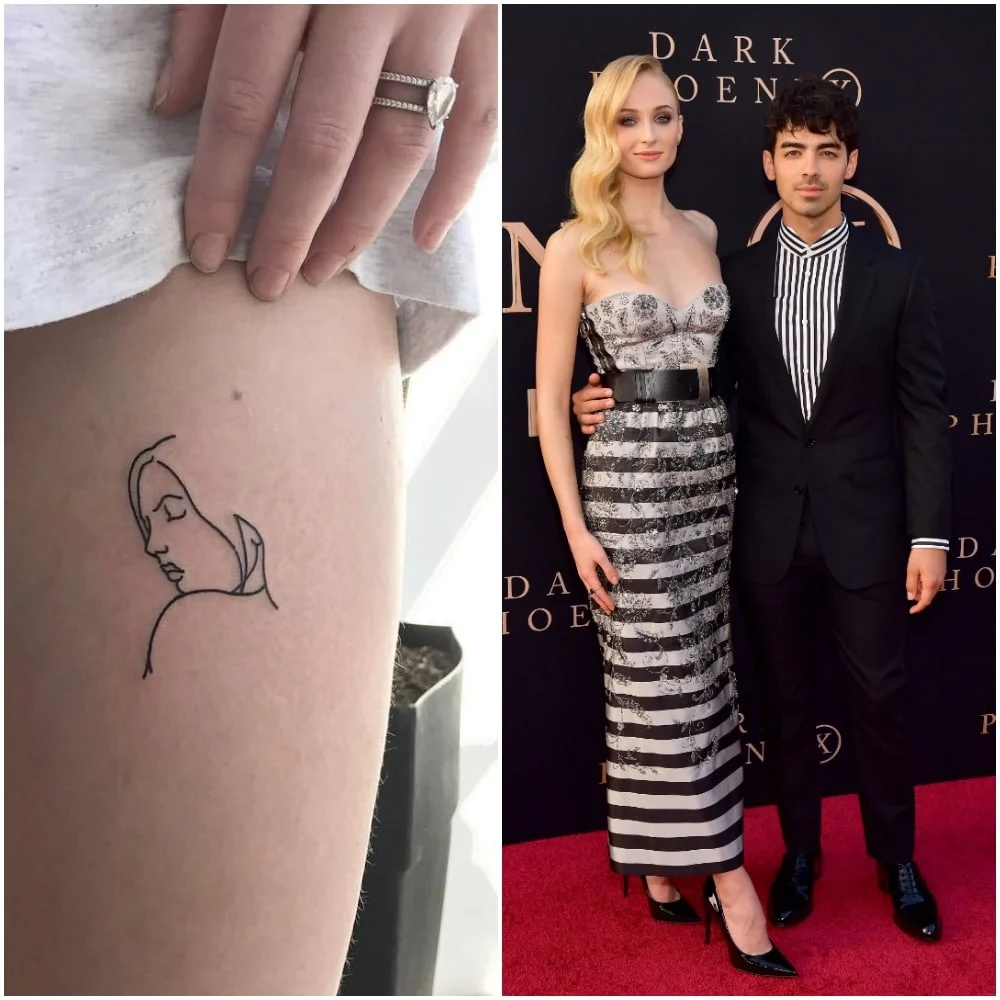 Despite speculation from fans, Turner and Jonas have denied that their tattoos have any special meaning. Some fans had theorized that the tattoos were portraits of Sansa Stark, but the couple has insisted that this isn't the case. While the meaning behind the tattoos remains a mystery, there's no denying that they are beautiful pieces of body art.
Cara Delevingne
Cara Delevingne, the renowned supermodel and actress, is known for her extensive collection of tattoos. One of her most impressive pieces of body art is an elegant, dainty elephant tattoo which she received from the famous L.A. celebrity tattooist, Dr. Woo, in 2016, just before the premiere of the blockbuster Suicide Squad. The elephant tattoo is the fourth animal tattoo in her collection and adds to her growing list of tattoos.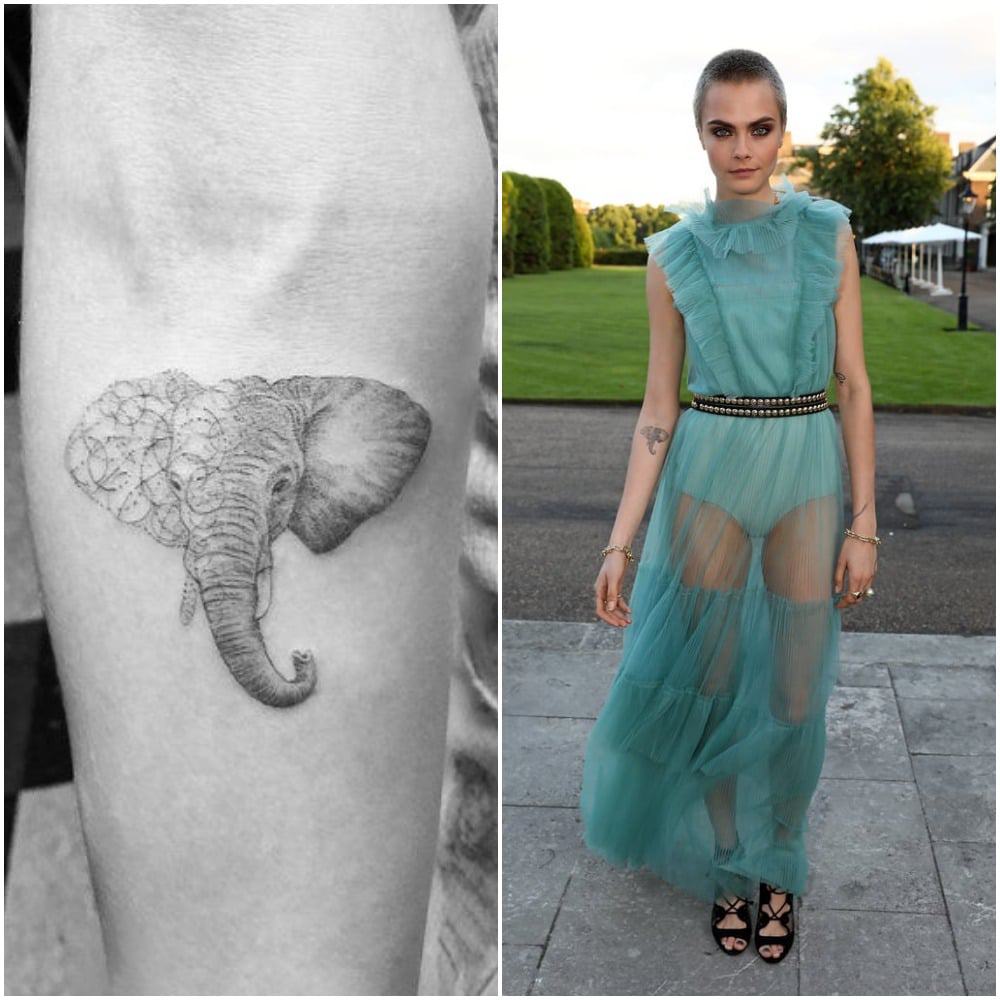 In addition to the elephant, Delevingne's tattoo collection includes a famous lion on her finger that symbolizes power and strength, a white dove that represents peace, and a wasp tattoo whose symbolism remains unclear. Dr. Woo is responsible for most of these tattoos, as he is the go-to artist for the model and many other celebrities when they're in L.A. The high level of artistry that goes into these tattoos has made Dr. Woo one of the most sought-after tattoo artists in the industry.
Justin Bieber
Justin Bieber, the Canadian pop star, has added another tattoo to his extensive collection. This time, it's a set of laurel leaves inked around his neck. While he hasn't shared the significance behind this tattoo, it's widely believed that the Greco-Roman symbol represents victory. Some fans speculate that the laurel leaves may signify Bieber's triumph over his past mistakes and failures. This aligns with the message behind his "Better At 70" tattoo, which symbolizes his commitment to personal growth and learning from his experiences.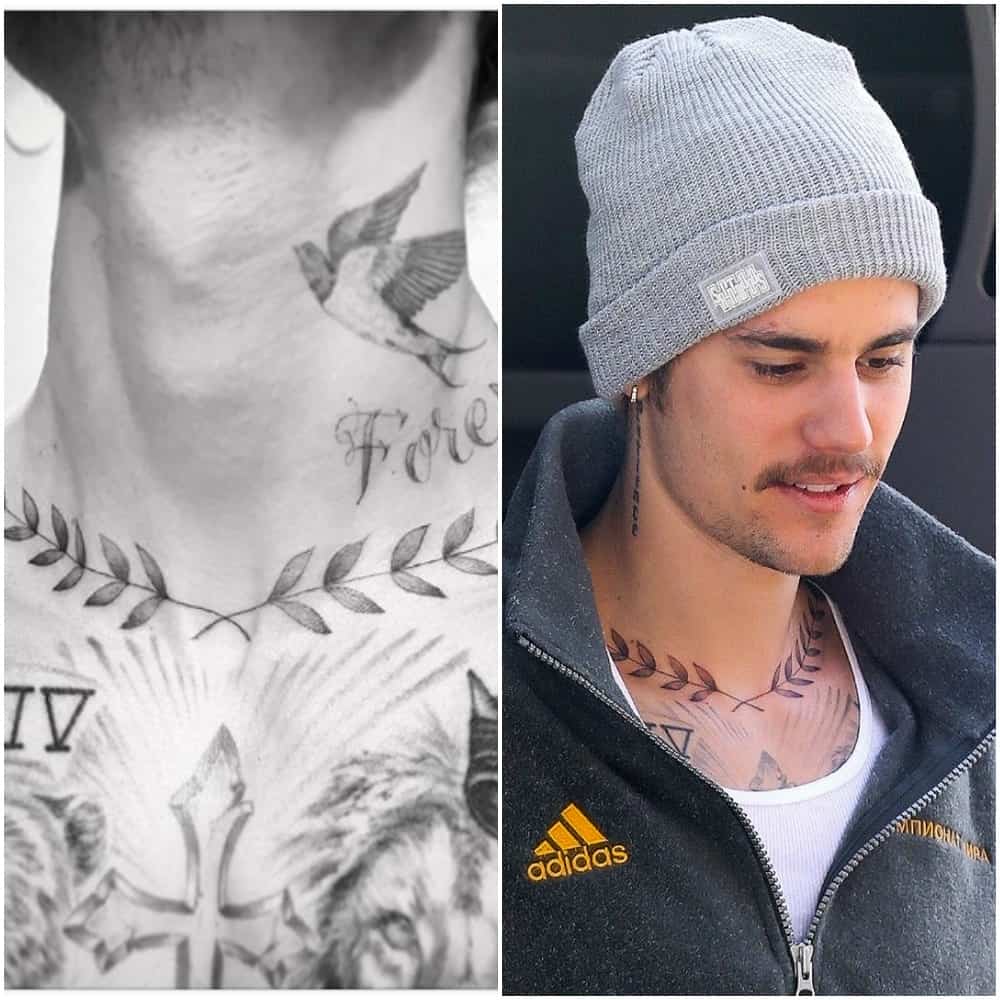 Bieber's docuseries, released earlier this year, delves into the struggles and tribulations he's faced throughout his career. In light of this, it's possible that the laurel leaves tattoo is a visual reminder to keep moving forward, despite past setbacks. The laurel wreath is a time-honored symbol of achievement, commonly associated with the Olympic Games, and was used to crown victorious athletes in ancient Greece. For Bieber, the tattoo may serve as a personal emblem of resilience and determination.
Jennifer Aniston
Jennifer Aniston is known for her classic beauty and elegant style, which may not scream "tattoo enthusiast" to many. However, the award-winning actress actually has two small tattoos in hidden spots, which she prefers to keep low-key. Her first tattoo is a touching tribute to her late dog, Norman, with his name inked on her foot.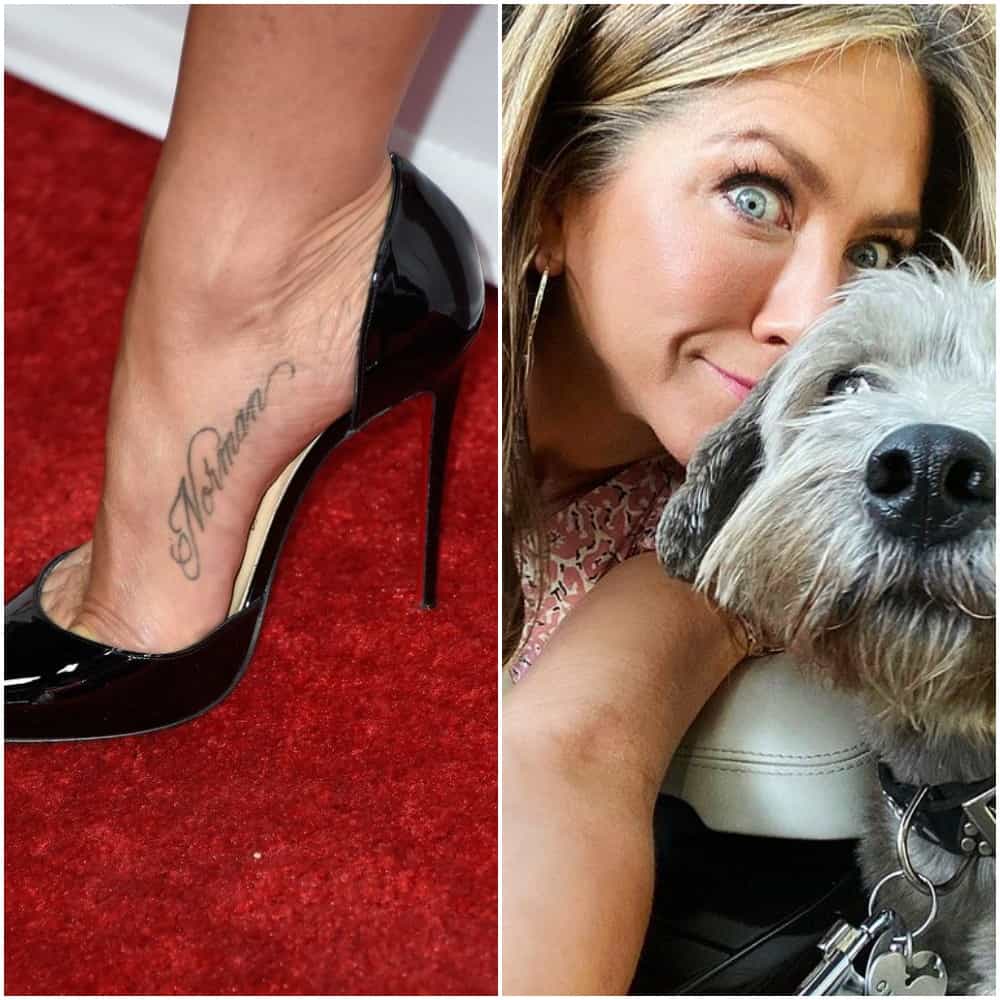 Aniston has always been a devoted pet lover and considers her dogs as family. When Norman, her beloved Welsh corgi-terrier mix, passed away, she got the tattoo in his memory. The actress also reportedly has another small tattoo on her wrist, but she usually covers it with makeup or bracelets, so fans have not been able to see it clearly. Aniston once mentioned that she was never really interested in getting tattoos and is not as adventurous as her ex-husband, film director Justin Theroux, who is a tattoo enthusiast.
Dax Shepard
Celebrities have been known to opt for tattoos as a permanent way of expressing themselves or paying homage to the people or moments they hold dear. This seems to have inspired a trend of getting tattoos on the wedding ring finger, which, for some, is a more lasting commitment than a physical ring. One such celebrity who has followed this trend is actor and comedian Dax Shepard, who decided to pay tribute to his wife, Kristen Bell, in a unique way.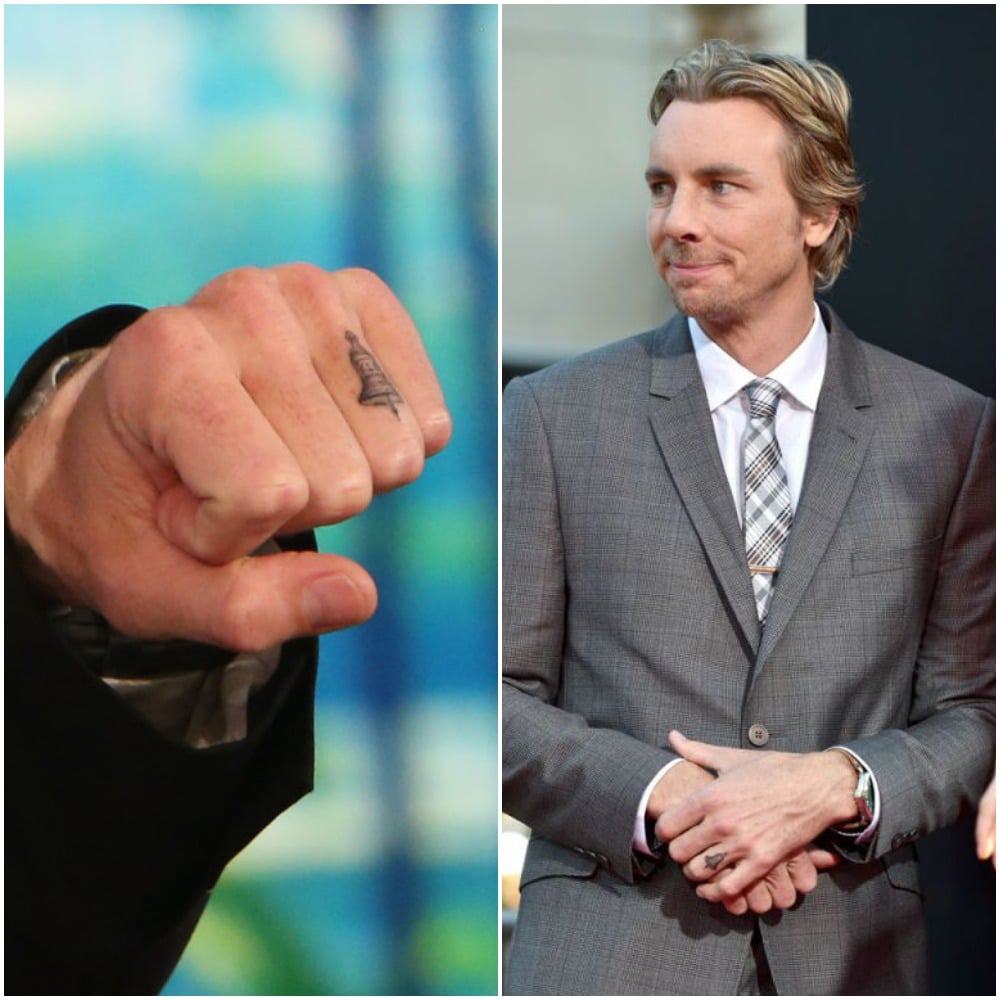 The couple has always been known for their quirky and light-hearted personalities, and Shepard's tattoo is no different. Rather than getting Bell's name inked on his finger, he opted for a tiny bell tattoo, a symbol of his affection for his wife. The actor revealed that Bell's name was simply too long to fit on his finger, but this tattoo was a perfect way to show his love and commitment to her. It's a romantic gesture that showcases the couple's humor and their unique way of expressing their love for each other.
Emma Stone
Emma Stone's tattoo is a heartfelt tribute to her mother and the Beatles' song, "Blackbird." The tattoo features a blackbird with bird feet on her wrist. Emma's mother loves the song and it has also become one of Emma's favorites. The tattoo represents the joy of her mother's recovery from cancer and the importance of family.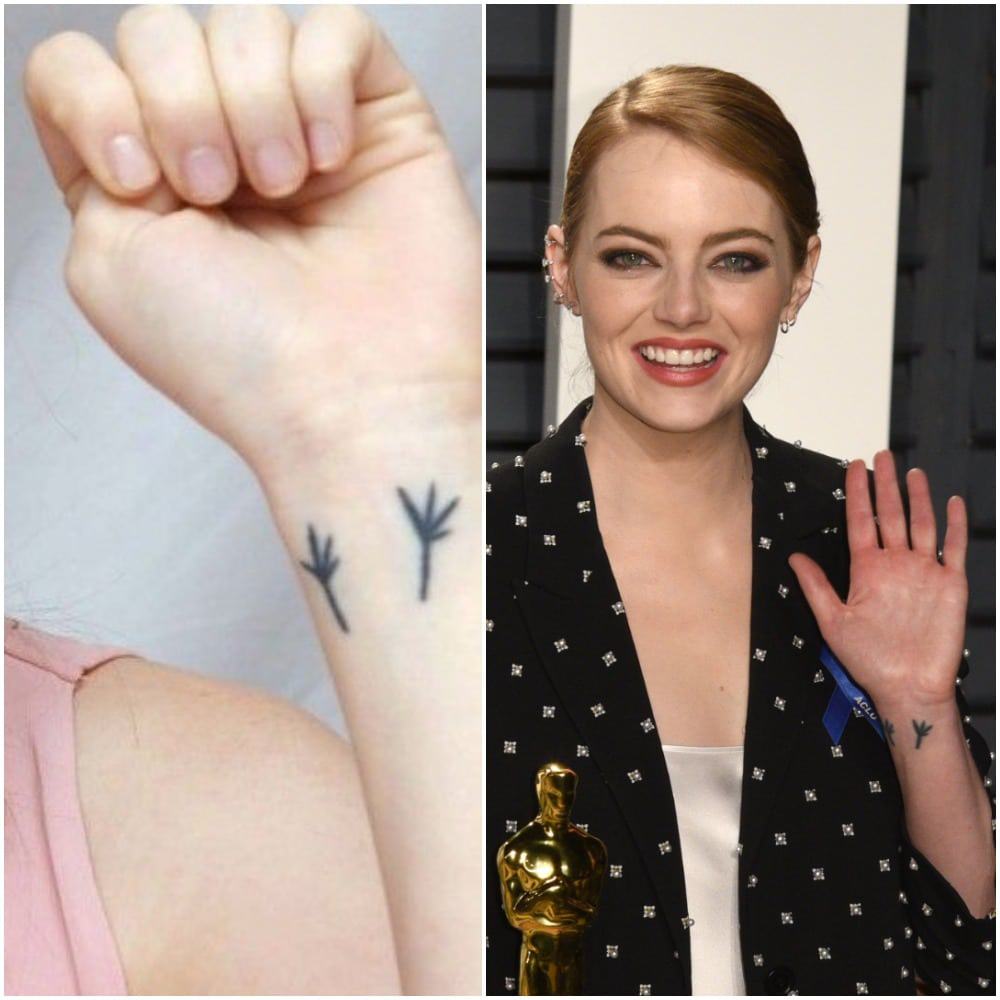 To make her tattoo even more special, Emma reached out to Paul McCartney, one of the song's writers, asking him to draw the bird feet for her. He not only drew them, but also added the words "Blackbird singing in the dead of night" to the drawing. Emma was thrilled with the personalized touch and now has a beautiful reminder of her mother's strength and love for music.
Demi Lovato
Demi Lovato's "me" tattoo may seem self-absorbed, but it actually conveys a crucial message. While we've already mentioned the singer's lion tattoo, which represents bravery and strength, this tattoo, despite its small size, holds an even more significant meaning.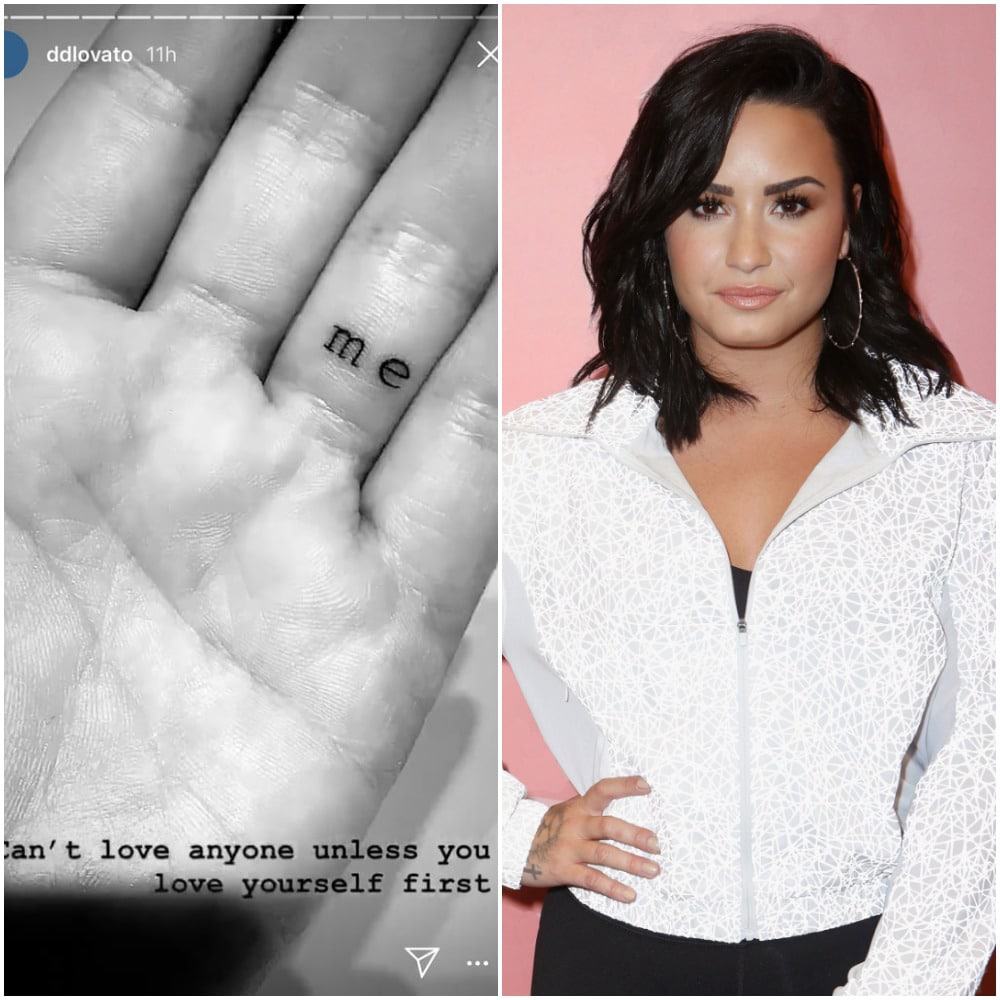 According to the singer, life is too short not to get the tattoos you want, which explains why she never hesitates to get inked. In 2019, she had the word "me" inked on the inside of her finger and shared a photo of her new tattoo with a candid message: "You can't love anyone unless you love yourself first." The tattoo serves as a reminder to prioritize oneself, even in the face of society's pressure to put others first. Demi's "me" tattoo encourages self-love, which is essential for maintaining healthy relationships and mental well-being.
David Beckham
David Beckham, the famous soccer player, is known for his extensive collection of tattoos, numbering over 50 and possibly even more. From his children's names to his wife Victoria's name in Sanskrit, Beckham's tattoos are diverse and meaningful. One of his more notable tattoos runs down the side of his torso and features Chinese characters that translate to, "death and life have pre-determined appointments; riches and honor are from heaven."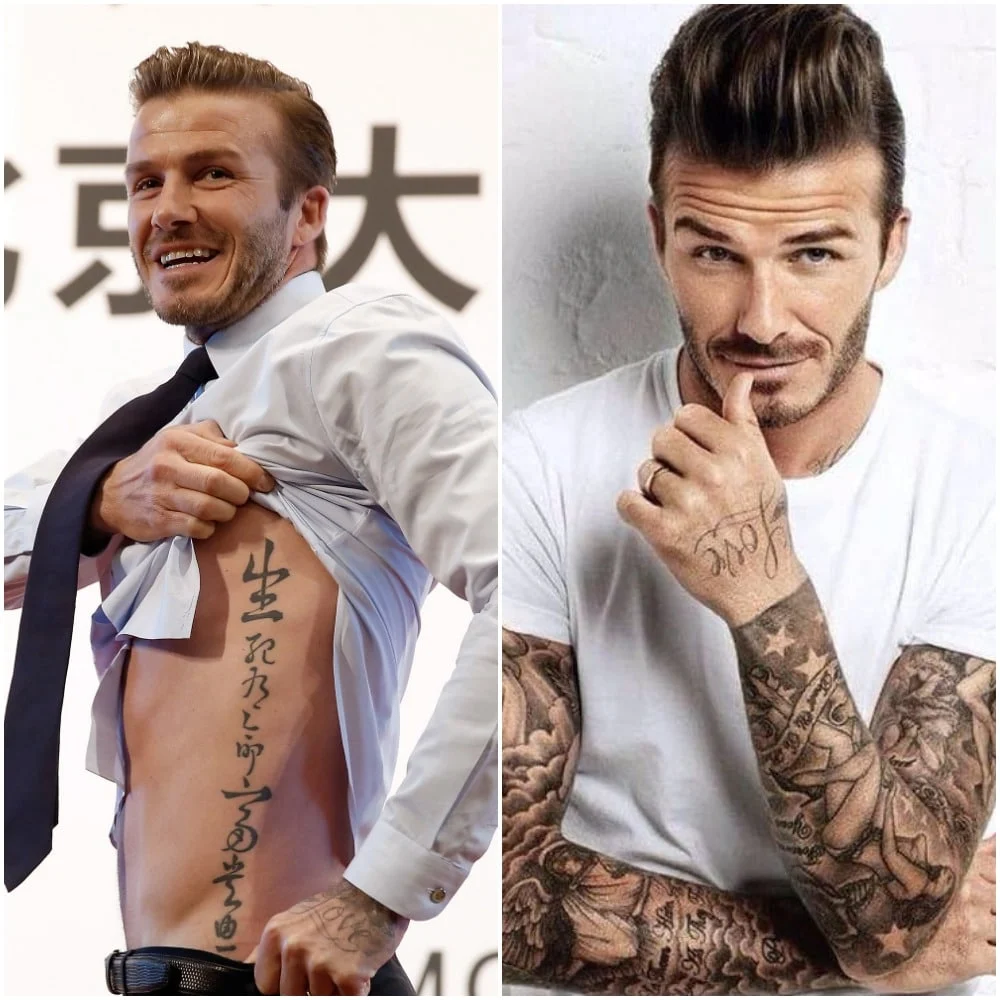 This tattoo is based on a famous Chinese proverb and highlights Beckham's interest in Asian culture. The former athlete also has a tattoo of Jesus Christ on his side and an angel on his back, which represent his religious faith.Beckham's tattoos have not only become a part of his personal style but also inspired many fans to get inked themselves. His tattoos are not only visually stunning but also represent significant aspects of his life and beliefs.
Dakota Johnson
Dakota Johnson, known for her role in the Fifty Shades franchise, is not your typical Hollywood star. She is notoriously private and strives to keep her personal life away from the public eye. This is why there isn't much verified information about her numerous tattoos, leaving fans with only speculations. However, we do know that the actress has at least 10 tattoos, varying in location and size.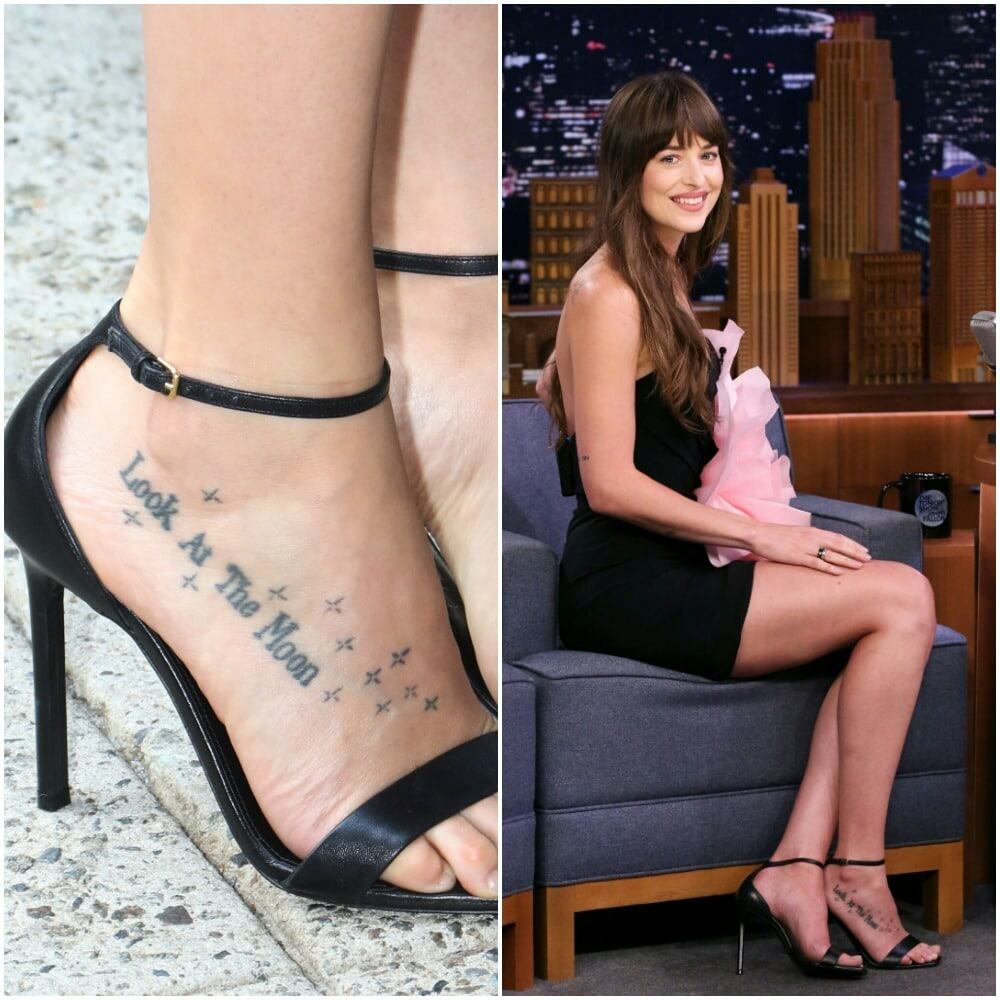 One of her more notable tattoos is on her foot and reads "Look At The Moon," surrounded by tiny stars. While the meaning behind this tattoo is unclear, unlike some of her other tattoos, which seem to hold significant meaning, fans speculate that she got this one purely for aesthetic reasons. Judging by its faded appearance, it could be one of the first tattoos Johnson received.
Ed Sheeran
Ed Sheeran is known for his impressive tattoo collection, which features over 60 different designs covering his body. Despite his gentle demeanor, the English singer-songwriter is a big fan of tattoos and isn't afraid to show off his ink. While some of his tattoos hold special meanings, others are more lighthearted and whimsical.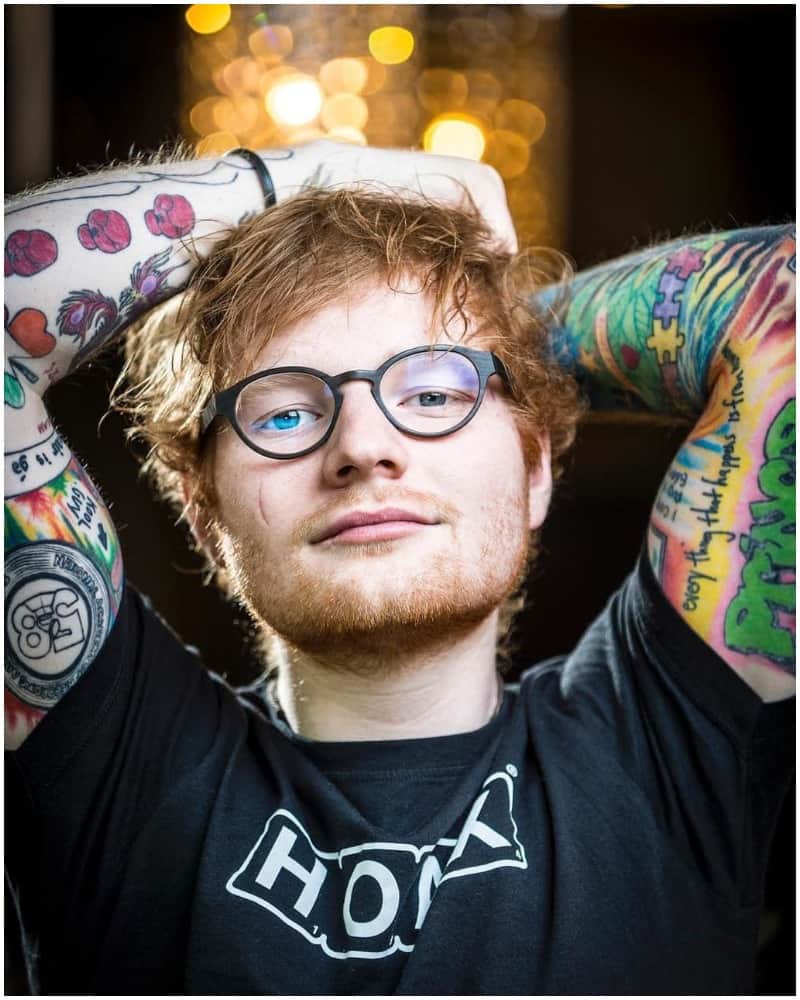 Some of Sheeran's most famous tattoos include a Heinz ketchup bottle on his arm, a teddy bear on his bicep, and a large lion on his chest. He also has a tattoo of Pingu, the beloved animated penguin from the children's TV series. In addition to these designs, he has several intricate sleeves featuring a variety of images, including a giant tree, a castle, and various religious symbols. Sheeran has also been known to add new tattoos to his collection as a way of commemorating milestones in his career and personal life.
Kesha
Kesha never ceases to amaze her fans with her surprising tattoos. At the 2016 Billboard Music Awards, the pop singer left everyone in awe with her emotional cover of Bob Dylan's "It Ain't You, Babe" – a significant deviation from her usual music style. During the same night, she surprised her fans yet again with her latest ink, two palm tattoos.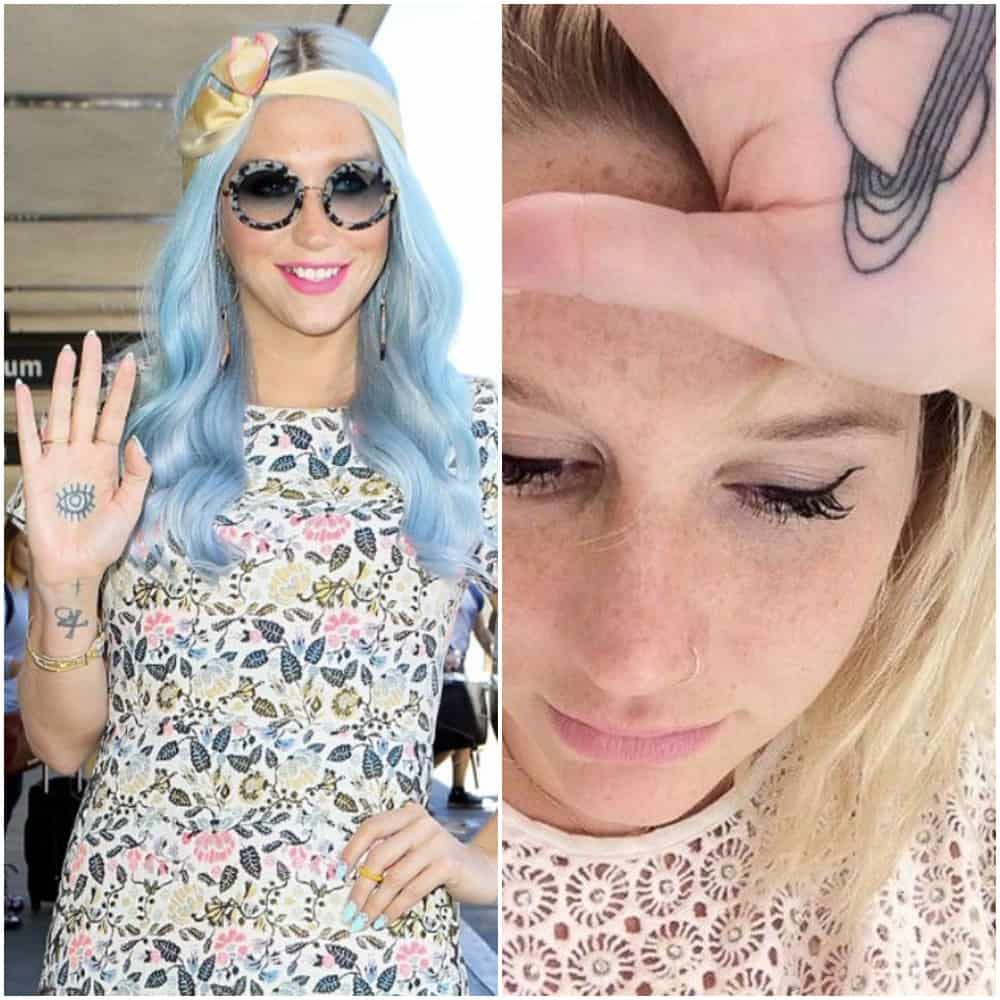 On her right palm, Kesha has a 'evil eye' symbol. This symbol is commonly used in Western cultures and is believed to protect against bad luck and supernatural evil forces. Her left palm also has a unique tattoo – a delicate ink of the planet Saturn. The tattoo might be a reference to the mythology behind the planet – Saturn represents boundaries, limitations, and the passage of time, making it a significant and symbolic addition to Kesha's tattoo collection.
Rihanna
Rihanna has amassed a notable collection of tattoos over the years, with each one serving as a story or reminder of her life experiences. One of her most recognizable tattoos is a series of stars inked on her back. Originally starting as a few stars on her neck, Rihanna later expanded the design to include more descending stars at the famous Bang Bang tattoo studio in New York City.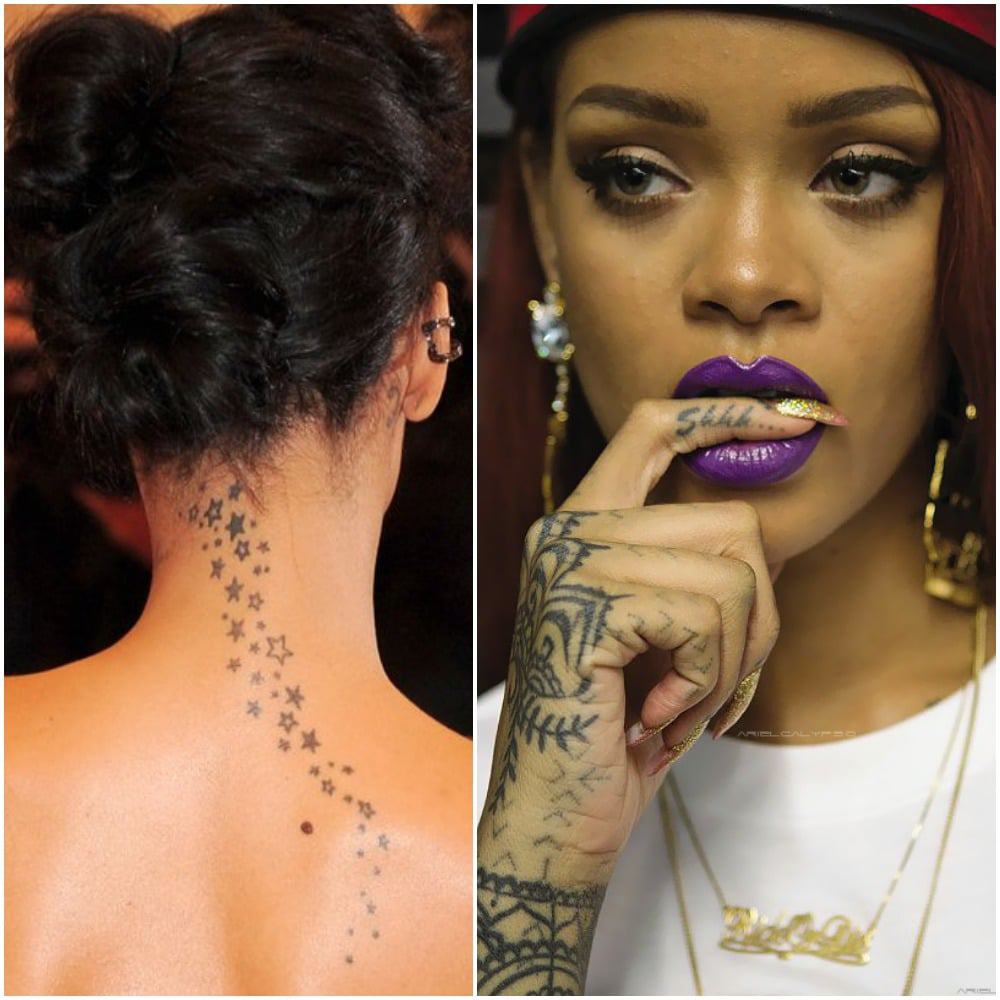 Another prominent tattoo of the pop icon is a star etched on the inside of her ear, which she got on a whim while spending time with a childhood friend. Additionally, her "Shhh…" tattoo on her index finger has become one of her most iconic inkings, which she shares with other celebrities such as Lindsay Lohan and Lily Allen. The meaning behind this tattoo is not fully known, but it has been speculated to represent the importance of privacy and keeping secrets.
Lana Del Rey
Lana Del Rey is not known for showing off her tattoos, unlike some other celebrities. Most of her tattoos are only known to her fans. However, one tattoo that is difficult to miss is the "Paradise" tattoo on the outside of her palm. The singer has said that this tattoo is very special to her, which is probably why she decided to give it a place of honor on her body.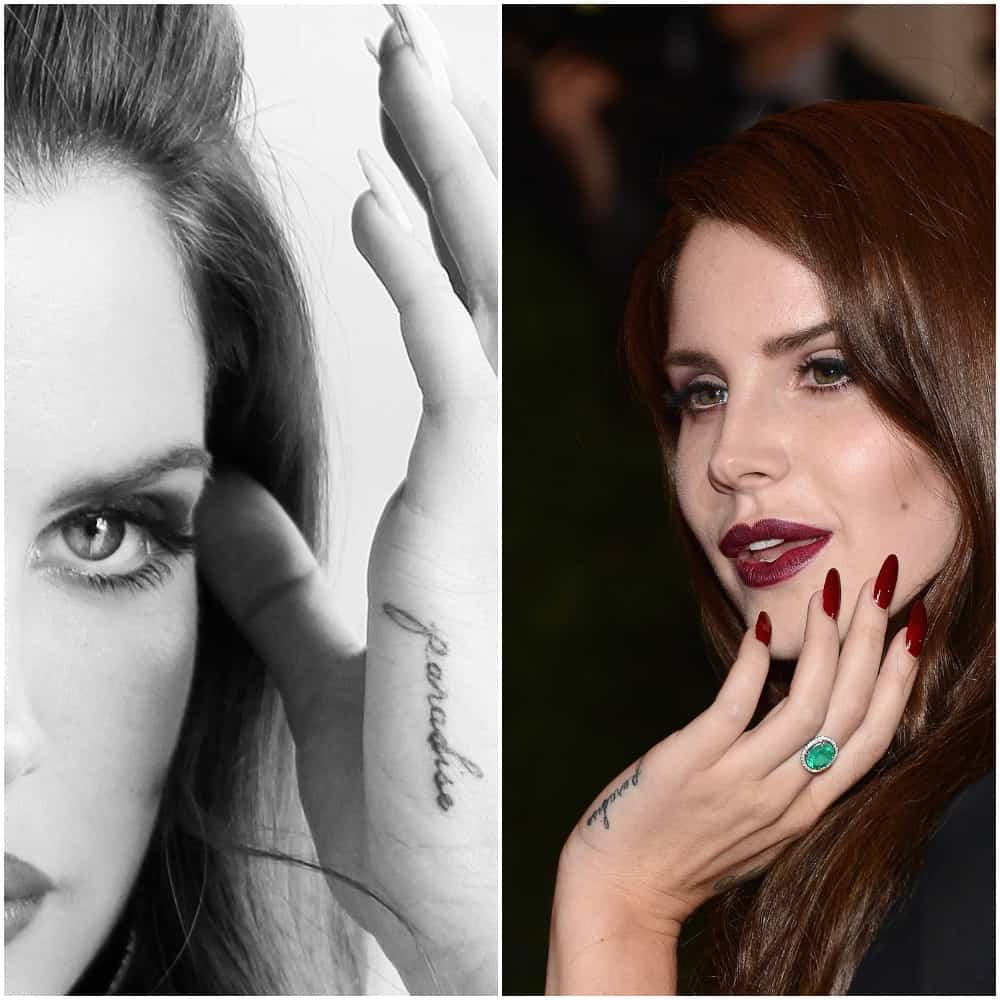 In addition to the "Paradise" tattoo, Lana Del Rey has several other tattoos on her hands. On the inside of her ring finger, she has the words "die young" written in cursive letters. On the inside of her left hand, she has the phrase "trust no one," which may seem morbid, but it's a reminder to her to be cautious in life. She also has the names of her two favorite authors, Whitman and Nabokov, tattooed on her arm as a reminder that life can be great.
Lea Michele
Lea Michele's coffee cup tattoo, which might seem like just another trendy tattoo, actually holds a special meaning for the actress. The Glee star got the tattoo on the inside of her finger in 2016 as a tribute to her late grandmother. The tattoo depicts a coffee cup, and according to Michele, her grandmother wasn't a typical grandmother, but a cool one, and was the one who first allowed her to drink coffee at the age of eight.
After getting the tattoo, Michele shared a photo of it on Instagram with the caption, "I lost my beautiful grandma this week… She wasn't your typical grandma… She never made pie or knit me a sweater. But she was my grandma and I loved her." It's clear that the tattoo is a meaningful way for Michele to remember her grandmother, and serves as a reminder of the special relationship they had.
Johnny Depp
Johnny Depp is a famous actor known for his diverse range of roles in Hollywood, from Jack Sparrow to Edward Scissorhands. Along with his illustrious acting career, Depp is also famous for his vast tattoo collection that spans his entire body.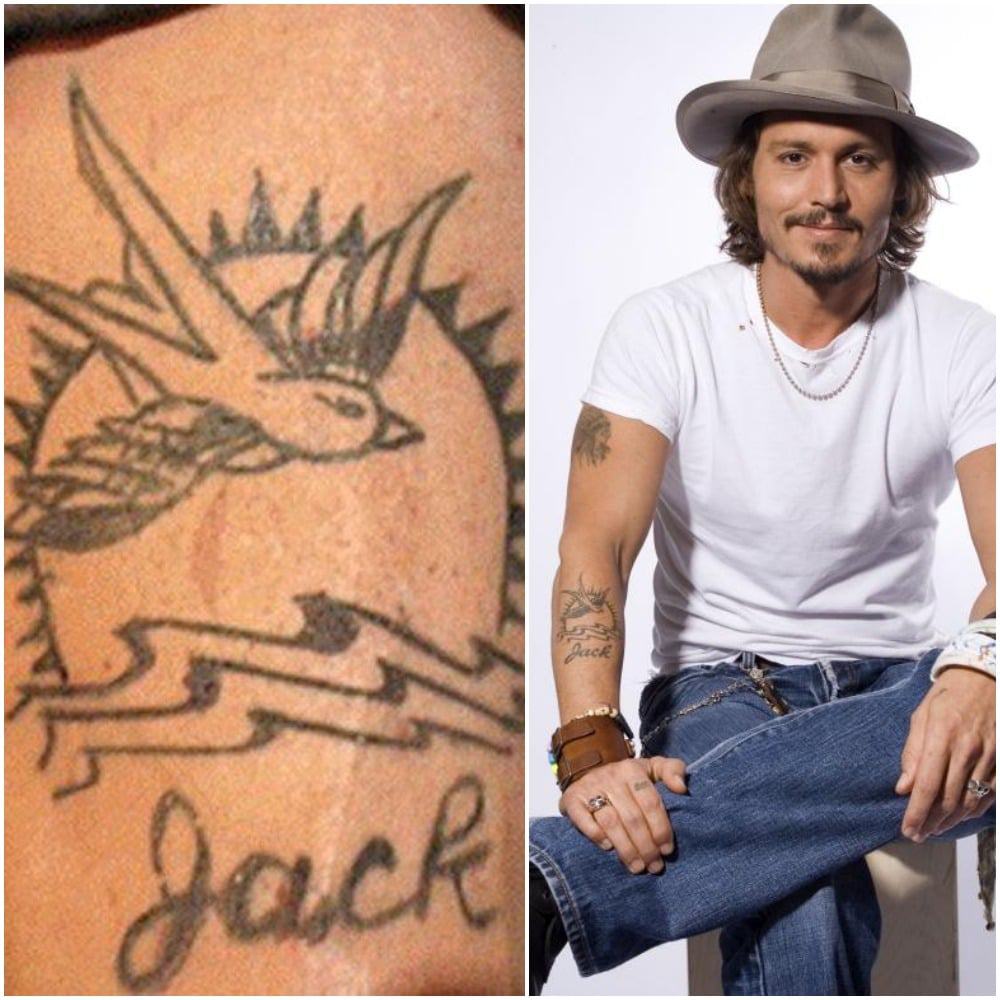 It's not uncommon for actors to get tattoos that reflect their most meaningful roles, and it's no surprise that at least one of Depp's 37 tattoos is a tribute to Jack Sparrow, one of his most memorable characters. Depp has a sparrow inked on his arm in honor of his Pirates of the Caribbean character, which he has played in five movies. In addition to his Jack Sparrow tattoo, Depp has various tattoos of his family members, including his mother, his son, and his daughter. Other tattoos that Depp has on his body include a Cherokee Indian chief, a skull, and a snake.
Ariana Grande
With a total of 52 tattoos, Ariana Grande is known for her extensive ink collection. The singer received most of her tattoos in the past two years, with a total of 37 new tattoos during that time. While four of her tattoos were originally couple's tattoos she got with her ex-fiancé, comedian Pete Davidson, Grande had them altered or covered with other designs after their split.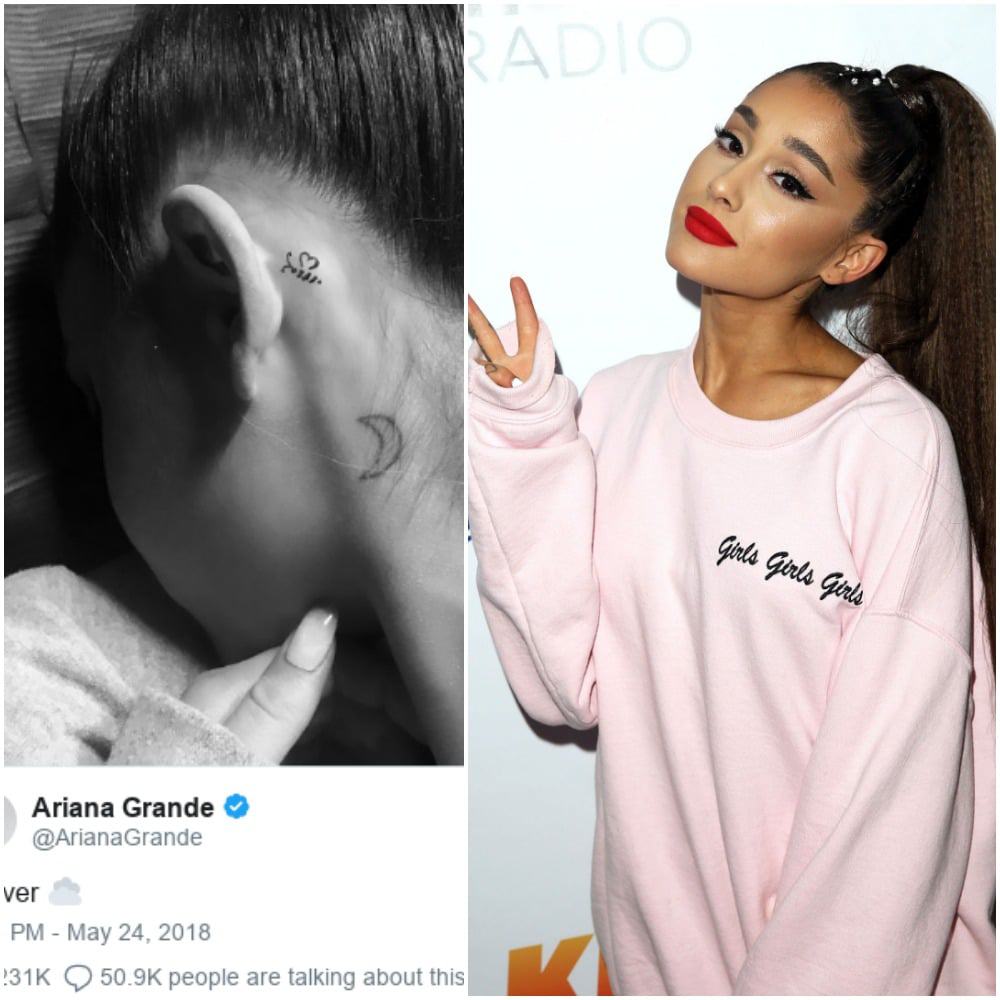 One of Grande's most iconic tattoos is a half moon on her neck, which she got in honor of her album "Dangerous Woman." Originally, the album was supposed to be named "Moonlight," and the tattoo was a way for the singer to commemorate that period of her life. Another recent addition to her collection is a small bumblebee tattoo behind her ear, which she got in memory of the 2017 Manchester Arena bombing and its 22 victims. The bee is the symbol of Manchester, and the tattoo is a touching tribute to the city and those affected by the tragedy.
Ben Affleck
Many were surprised to learn that actor Ben Affleck has a large back tattoo, depicting a Phoenix rising from the ashes. Affleck's tattoo generated controversy and garnered unwanted attention from fans and the media. In 2019, during a guest appearance on the Ellen DeGeneres Show, Affleck was bombarded with questions about his tattoo, which made its first appearance back in 2015. He revealed that he got the tattoo while going through his divorce from actress Jennifer Garner. Despite the negative comments from the public, Affleck defends his tattoo, claiming that he loves it.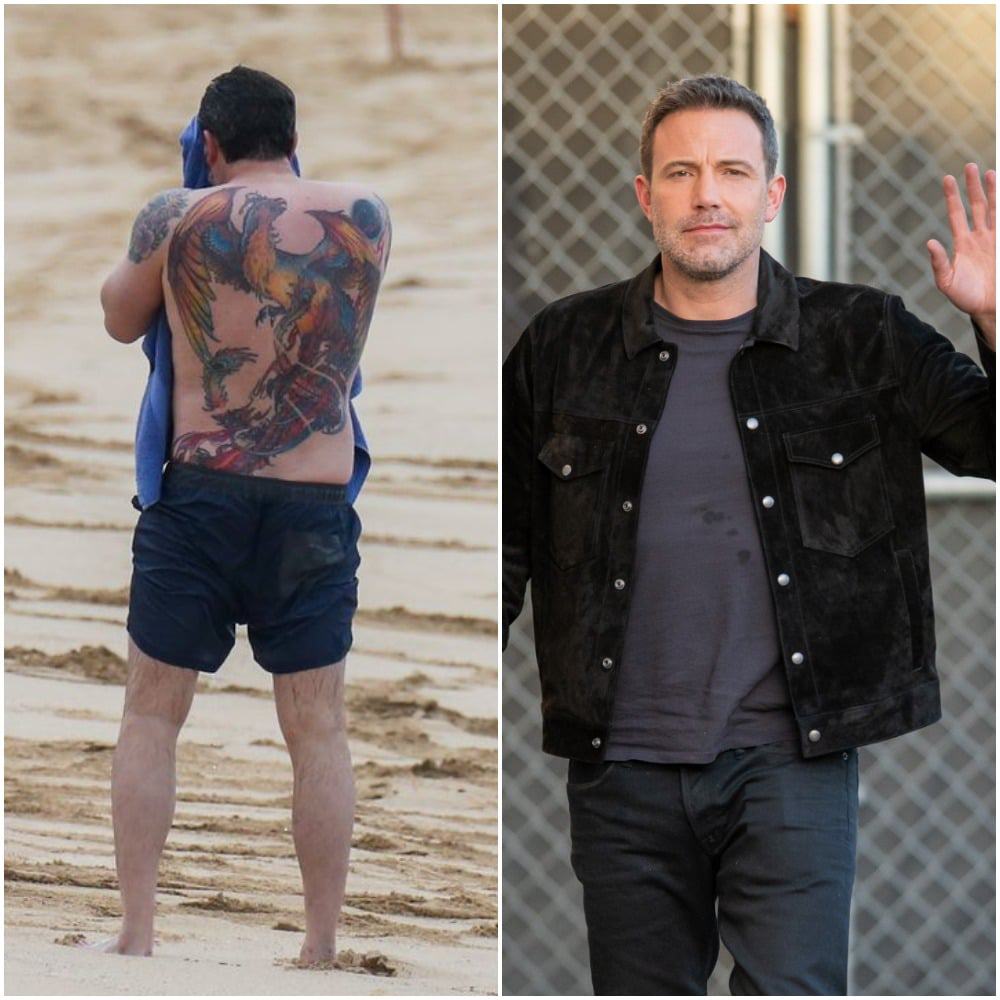 This massive tattoo is a representation of Affleck's inner strength and the idea of rising from the ashes after facing hardships. It may also serve as a reminder of his personal growth and ability to overcome difficult times in his life. Although he has faced criticism for the tattoo, Affleck remains unapologetic, and it has become a part of his personal brand.
Halsey
Halsey, the renowned singer, songwriter, and tattoo enthusiast, has a vast collection of ink that has been a source of fascination for her fans. While some might consider her tattoos to be ostentatious, each one holds a significant meaning for her. However, there is one tattoo that stands out – her upside down horseshoe tattoo.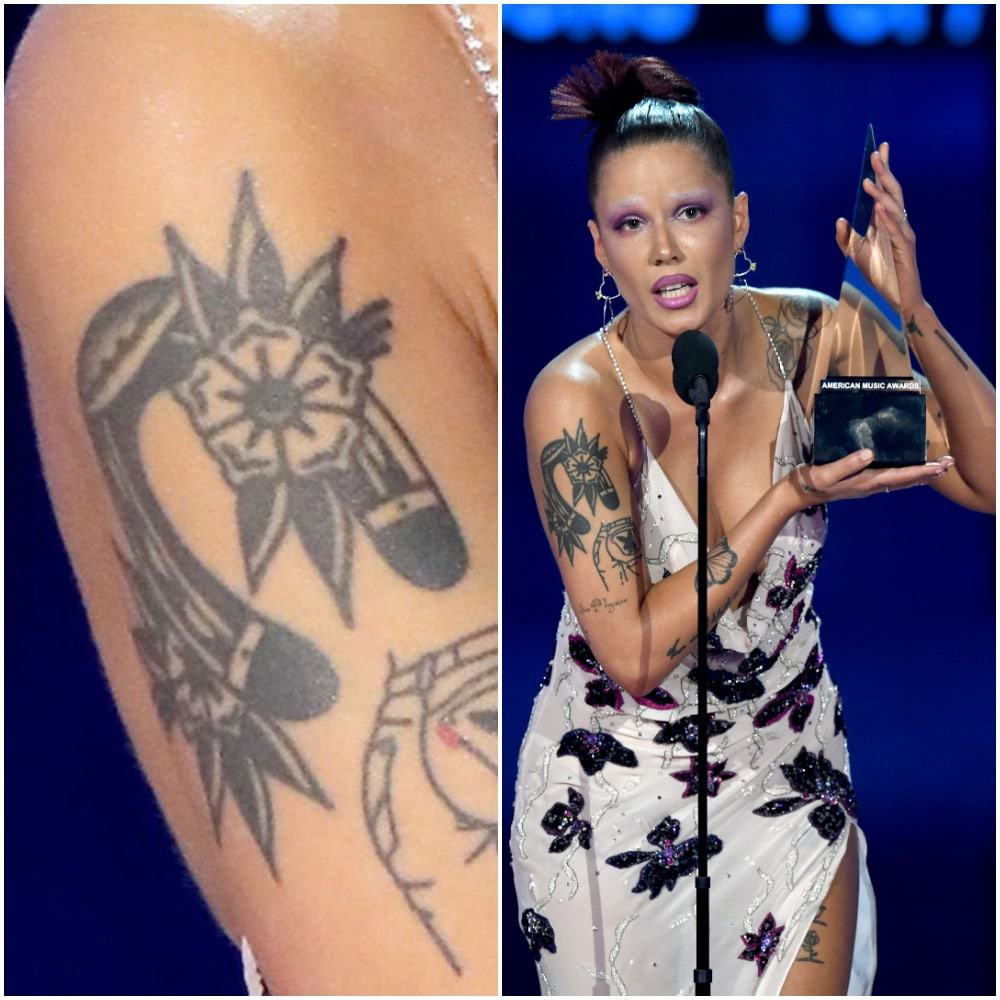 The horseshoe tattoo is a popular symbol of good luck in tattoo culture. However, Halsey's horseshoe tattoo is an inverted version, which typically represents bad luck as it appears as if the luck is pouring out. The singer revealed that the reason for this unconventional design was to signify that she doesn't need luck to succeed in life. The tattoo serves as a reminder that her achievements are a result of her hard work, perseverance, and dedication, rather than mere luck. Halsey's horseshoe tattoo has become a significant symbol of her independent spirit and her unwavering determination to succeed on her terms.
Jackson Rathbone
Jackson Rathbone, known for his role in the Twilight saga, has a unique tattoo on his calf that cannot be ignored. The tattoo features a Heinz tomato ketchup bottle, which has left many people wondering about its significance. As it turns out, Rathbone got the tattoo as a result of a bet he made with a friend. The loser of the bet had to get a tattoo of the other's choice, and Rathbone ended up on the receiving end of this unusual tattoo.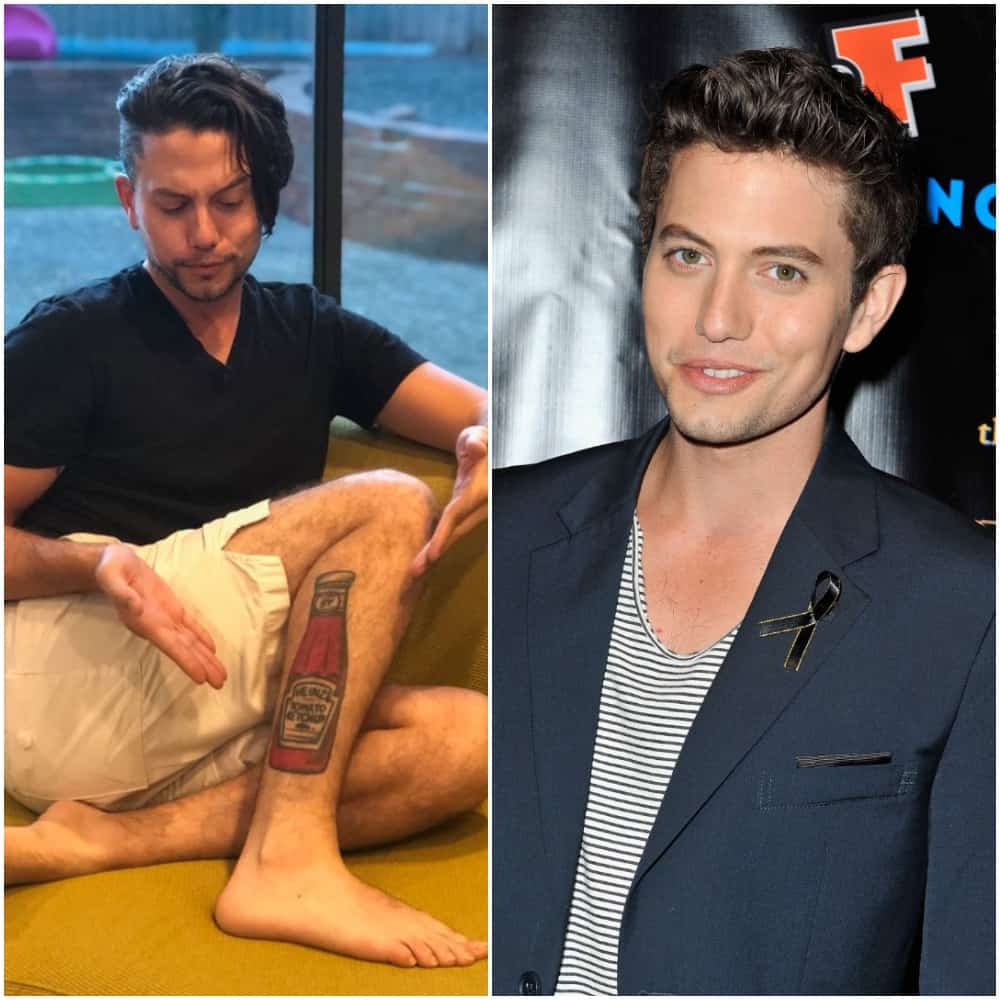 Although ketchup may seem like an odd choice for a tattoo, Rathbone is not alone in having a quirky celebrity tattoo. Model Cara Delevingne has a tattoo that says "Bacon," and actress Ashley Benson has "French fries" tattooed in French. However, Rathbone's Heinz ketchup bottle tattoo is definitely one of the most unusual tattoos out there.
Sophie Turner and Joe Jonas
Sophie Turner and Joe Jonas, the famous power couple, have a special matching tattoo of their beloved late dog, Waldo. This tattoo is one of two they share, the other being a couple's tattoo inspired by the iconic Disney movie Toy Story. The couple got the tattoos as a way of commemorating their love for each other and their shared experiences.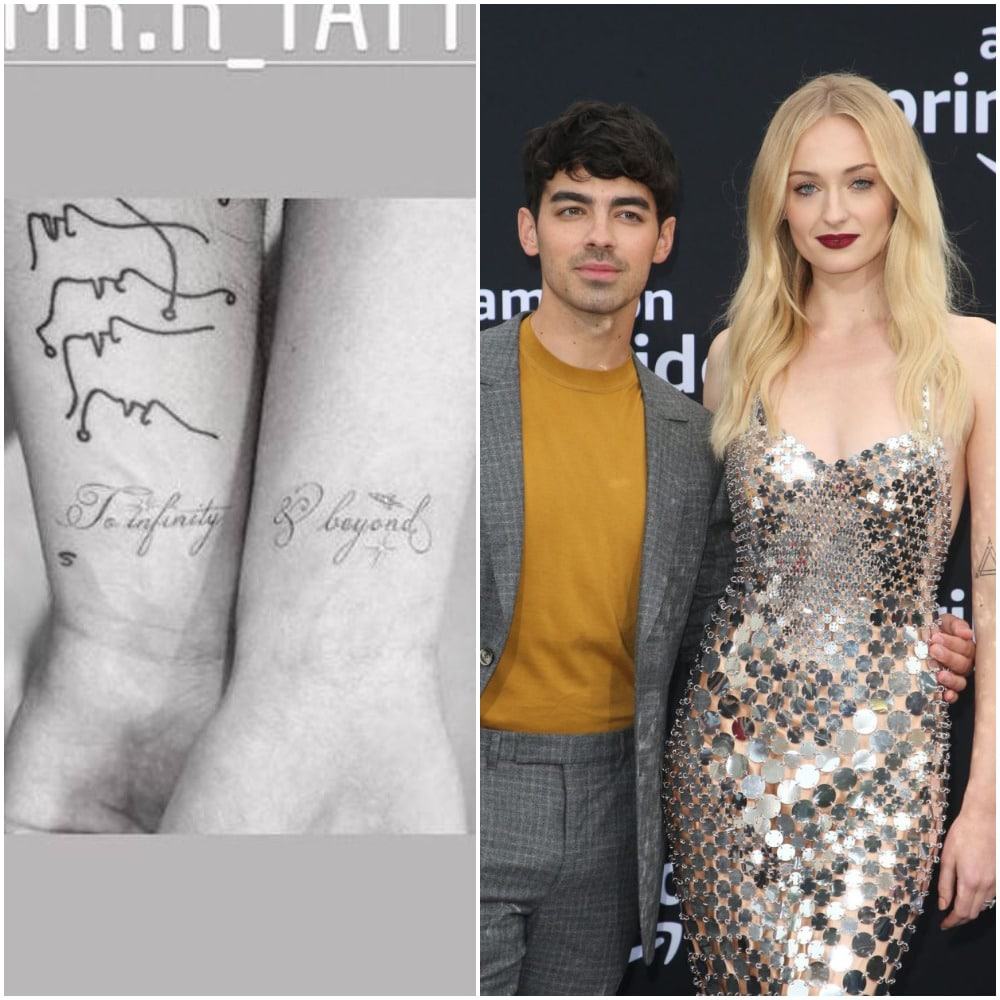 The Toy Story inspired tattoo has the famous Buzz Lightyear quote, "to infinity and beyond" split between them, with Joe's tattoo reading "to infinity" and Sophie's reading "and beyond." The couple's tattoo was done around a year after their engagement and is a symbol of their love and commitment to each other. The Waldo tattoo, which they both have on their arms, is a new addition to their collection and serves as a reminder of their beloved pet that they tragically lost.
Chanel Iman
Chanel Iman's illustrious career as a model has been nothing short of impressive, having realized her childhood dream at the young age of 12. Her career soared to even greater heights when she became one of Victoria's Secret Angels, and she was widely regarded as one of the world's top models in the early to mid-2000s.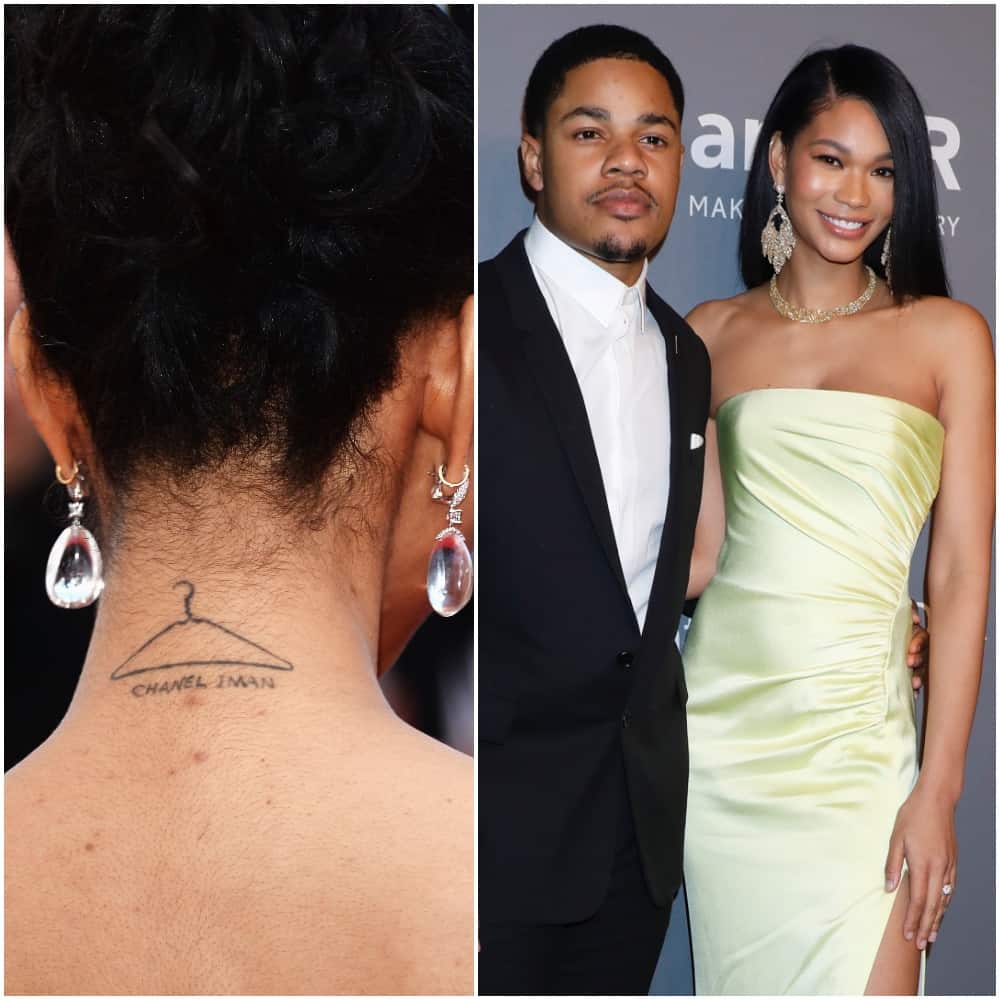 It's only fitting that the supermodel has a tattoo that pays homage to her passion for fashion. To commemorate this, Iman has a tiny hanger tattoo on the back of her neck with her name underneath it. The placement of the tattoo on the back of her neck is an ideal spot as it can easily be concealed by wearing her hair down, yet it's still a visible reminder of her love for the industry that made her a household name.
Bella Thorne
Bella Thorne, the American actress who rose to fame playing CeCe Jones in the Disney Channel sitcom Shake it Up, is building an impressive collection of tattoos. With a dozen already, most of her tattoos are small and delicate, which makes her latest tattoo debut all the more striking. In 2019, the actress posted a photo on Instagram that revealed a detailed, intricate tattoo of two women, which covers her entire arm, from her shoulder to her palm, and spreads across her elbow.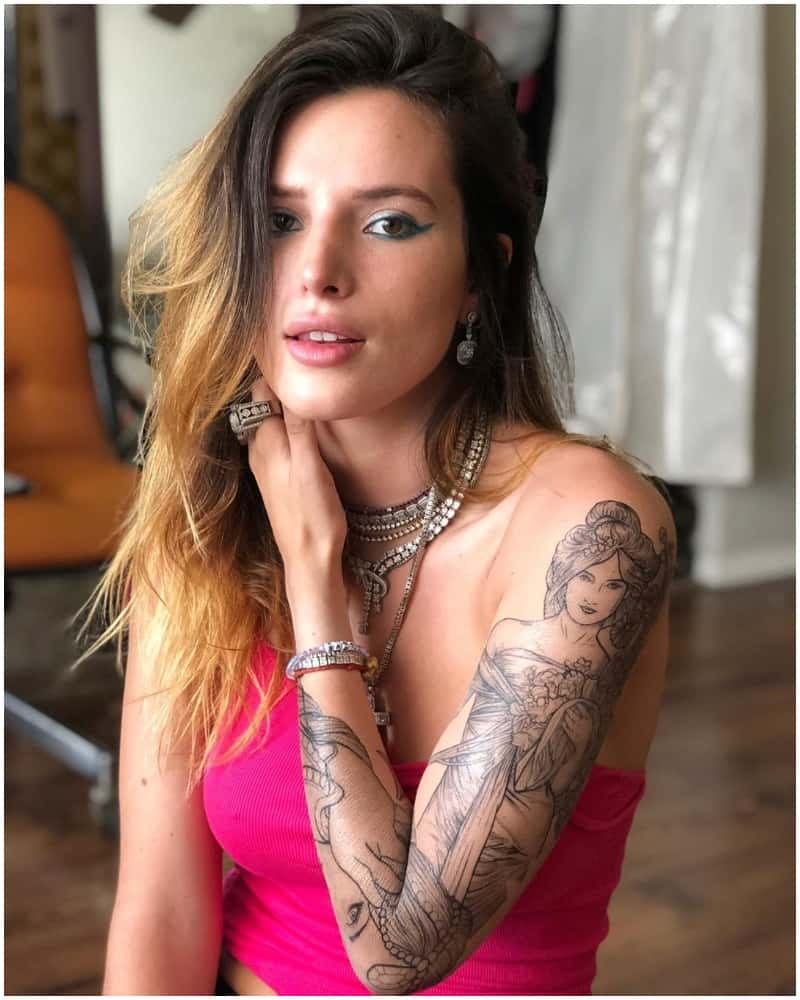 Although the actress didn't explain the meaning behind the tattoo, she captioned the post with the words "hi new me," which generated speculation among her fans. Some of them believe the tattoo might not be permanent ink, but we will have to wait until Bella hits the next red carpet to see if it's still there. Either way, this new tattoo shows that the actress is not afraid to push the boundaries of her ink collection and experiment with larger and more complex designs.
Jonah Hill
Siblings can share a bond like no other, and actor Jonah Hill and Lady Bird star Beanie Feldstein are no exception. In fact, they are surprisingly close, and support each other's careers in any way possible. To further demonstrate their affection for each other, Hill got a tattoo with his sister's name and a reference to her role in the Broadway play, Hello, Dolly!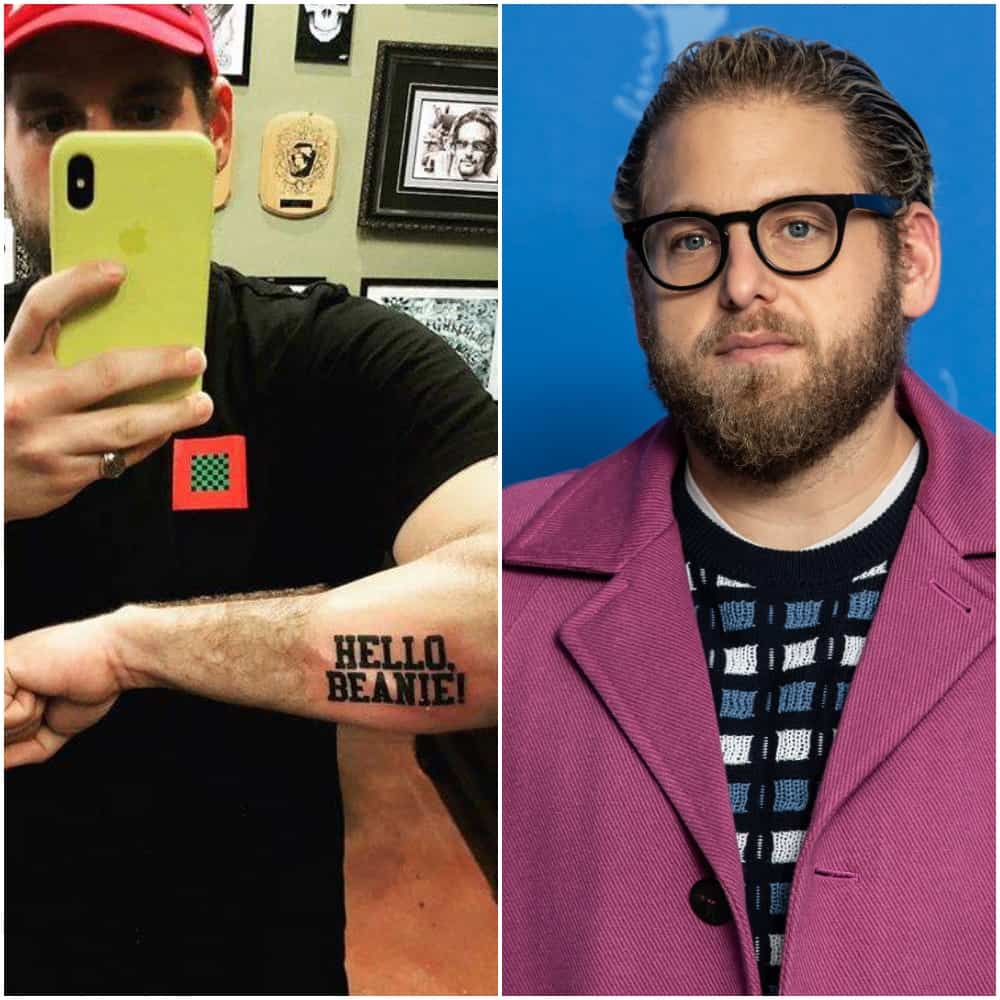 This act of support comes as no surprise since the siblings have been each other's biggest cheerleaders from the beginning. Hill has proudly worn a sweatshirt that reads, "Beanie's Brother," and the pair frequently share photos of each other on social media with the sweetest captions. The tattoo is just another reminder of the close relationship they share, and we can't help but admire their bond.
Ariana Grande
Ariana Grande has recently added a new tattoo to her extensive collection, and it's one that shows off her love for the Pokemon franchise. The pop star has been a long-time fan of the anime and video game series, having grown up watching the animated show. Her new tattoo features the character of Eevee, a beloved Pokemon that has the unique ability to evolve into various other Pokemon.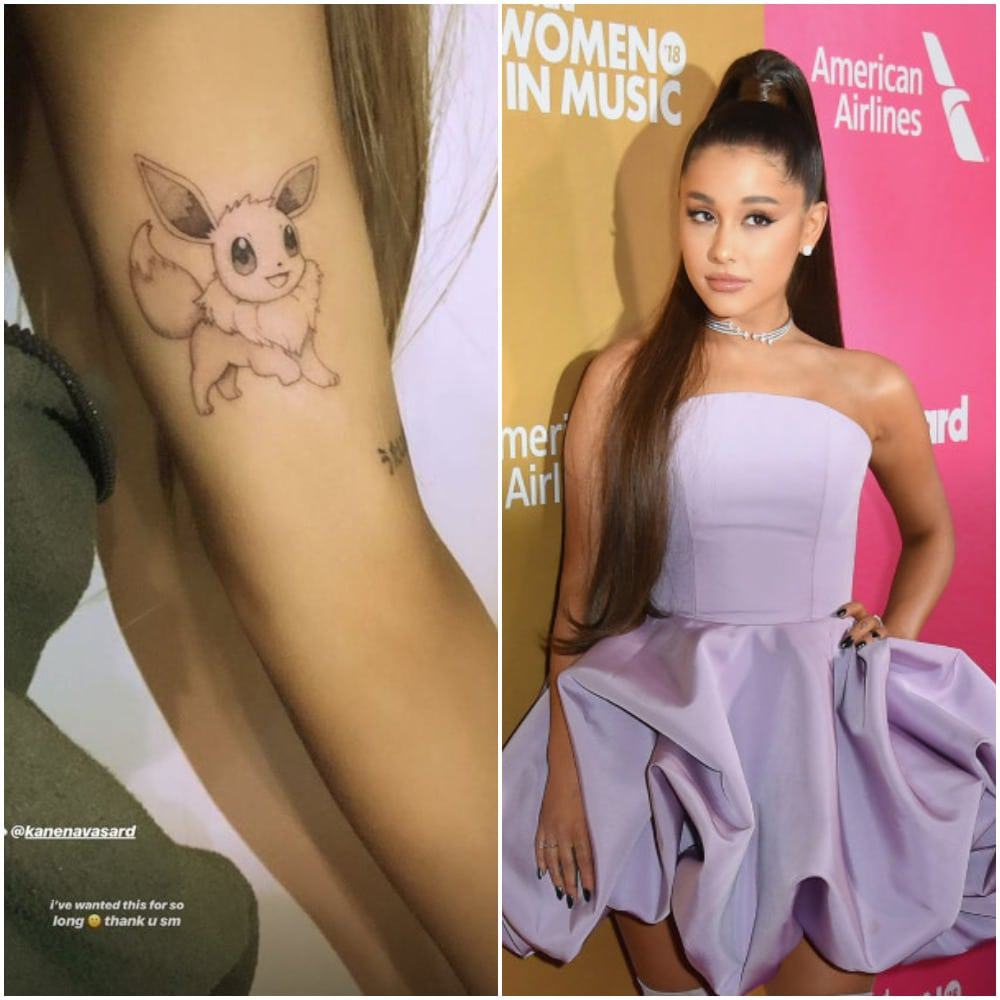 The tattoo, which is located on the inner part of her arm, shows a cute and colorful illustration of Eevee with its ears perked up and eyes wide open. Fans of the franchise have speculated that the tattoo might represent the idea of transformation and evolution, which is a recurring theme throughout the Pokemon series. It's clear that the singer is proud of her new ink and her continued love for the franchise.
Selena Gomez
Selena Gomez, the popular American singer and actress, celebrated the start of a new year by adding a new tattoo to her collection. Known for her love of body art, Selena's latest ink pays homage to her latest album, Rare. The tattoo is situated underneath her ear and close to her jawline, and the word "Rare" is written in the same font as the cover art of her album.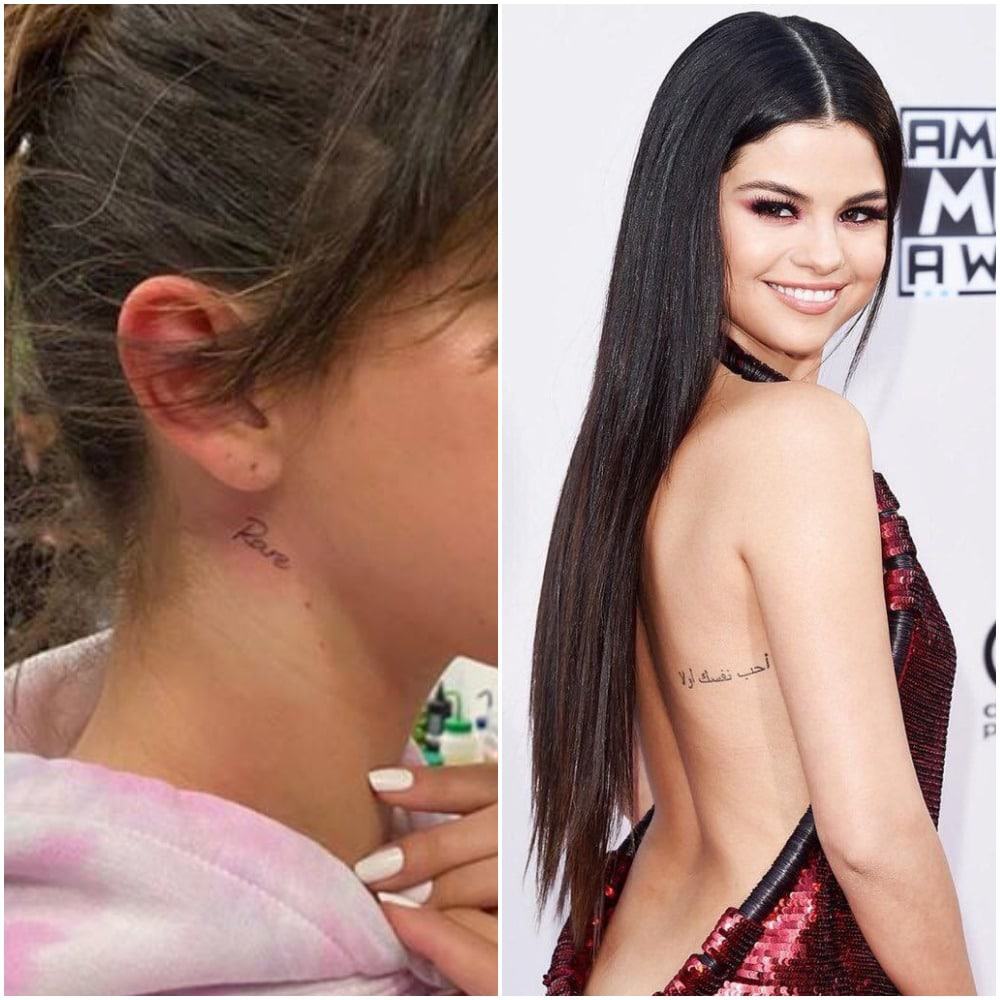 The mastermind behind Selena's delicate tattoo is Keith Scott, the renowned tattoo artist behind the famous Bang Bang Tattoo studio in New York City, where many celebrities have received their ink. The singer revealed that she has always struggled with self-esteem and confidence issues, but the album title has helped her to feel stronger and more confident. For Selena, this tattoo is a constant reminder of her strength and resilience, and a symbol of the journey that led her to where she is today.
Brooklyn Beckham
It's no secret that David Beckham is famous for his tattoo collection, but it appears that his eldest son, Brooklyn Beckham, is following in his father's footsteps and beginning to amass an impressive ink collection himself. In fact, Brooklyn's very first tattoo was a nod to his father, with him getting the same image of a Native American chief that his father also has inked onto his body – and he even got it done at the same tattoo parlor!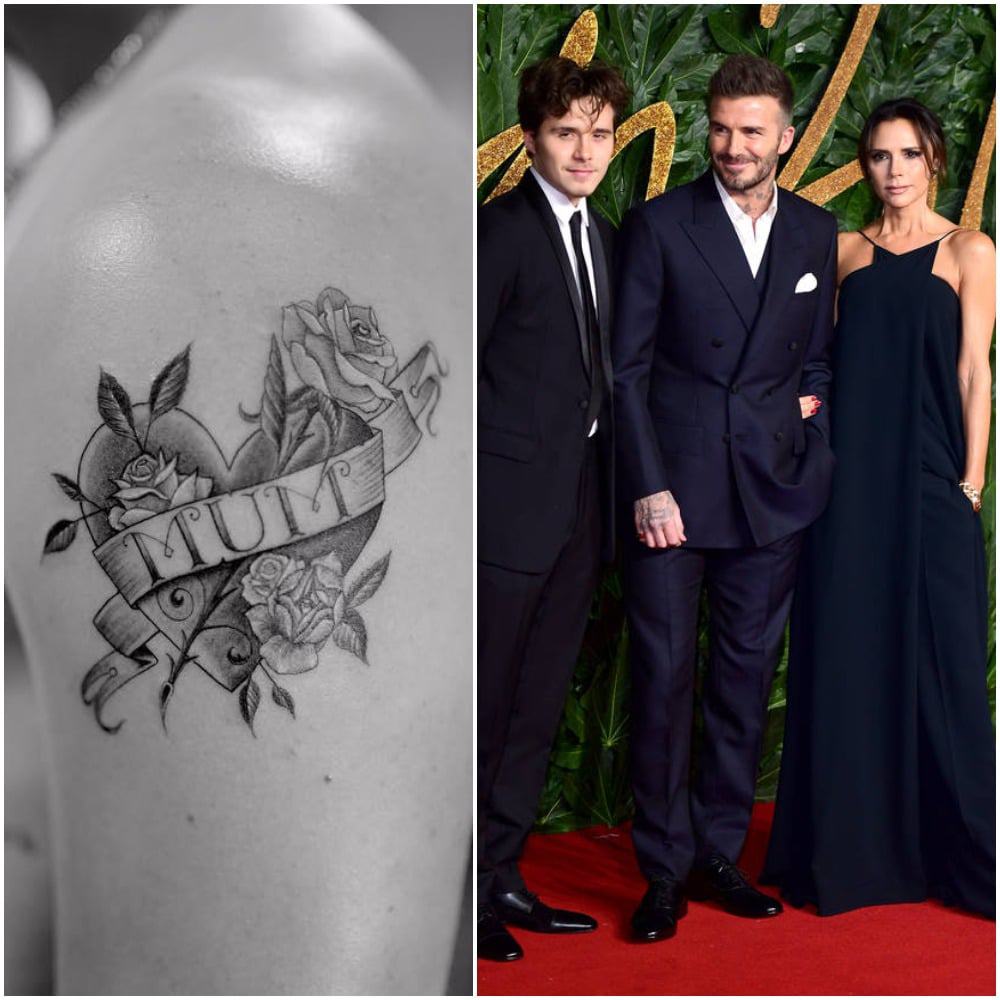 Brooklyn also has another tattoo in honor of his father – the numeral 7 inked onto his finger, which was David's jersey number during his football career. Interestingly enough, that's also the name of Brooklyn's younger sister, who was named after her father's jersey number. However, one of Brooklyn's most famous tattoos was dedicated to his mother, Victoria Beckham, the former Spice Girl. In 2018, Brooklyn got the word "mum" inside a rose-embellished heart tattooed on his arm, as a loving tribute to his mother.
Kelly Osbourne
Kelly Osbourne, the singer and actress, has a significant and poignant tattoo on her head. The word "Solidarity" etched in capital letters holds a special meaning to her, and it symbolizes her support for an important cause. The actress got this tattoo to honor and remember the victims of the mass shooting at a gay nightclub in Orlando that took place in 2016.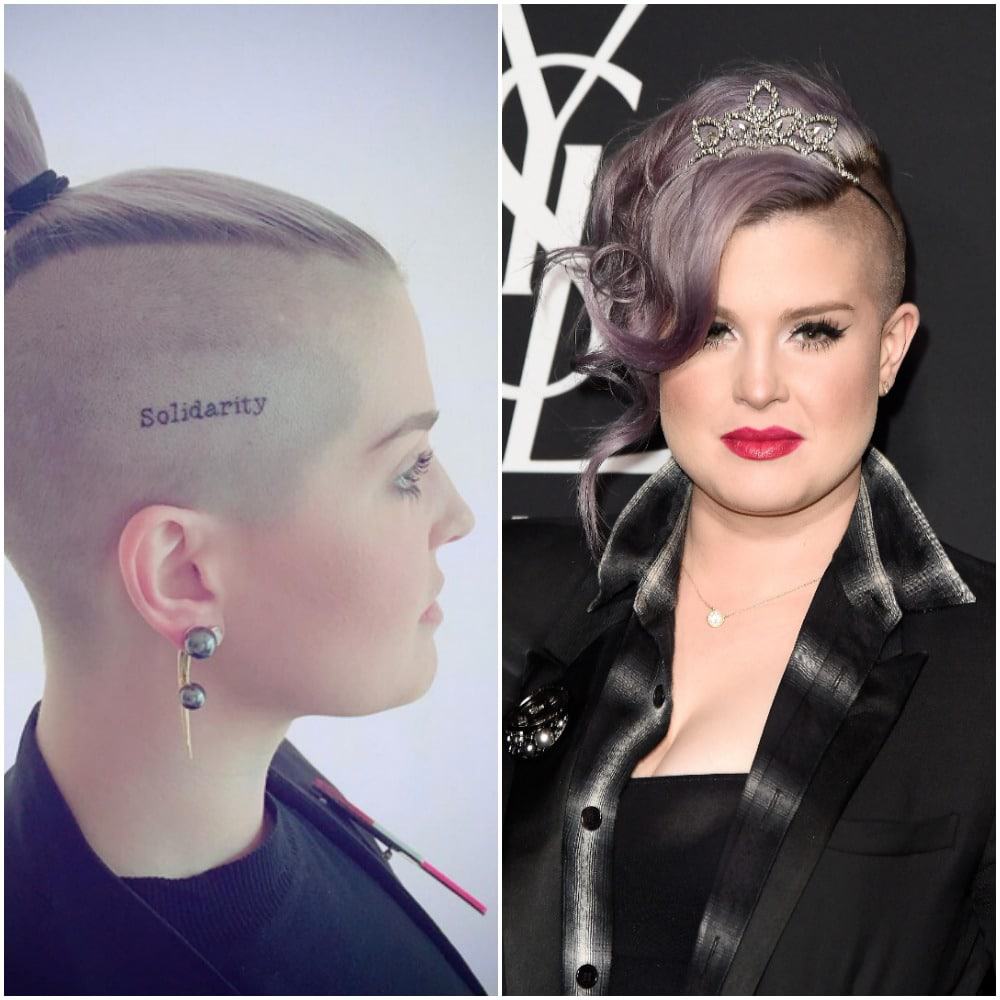 This tragic event shook the nation, and many celebrities wanted to show their support and express solidarity with the community. In a heartfelt post on Instagram, the singer shared a photo of her new tattoo and wrote, "the tragedy in Orlando devastated me and reminded me that every moment of our lives is precious. Every human is precious." Osbourne's tattoo is a reminder that love and support are essential in times of tragedy, and it's a tribute to the victims and their families who were affected by this senseless act of violence.
Dakota Johnson
Actress Dakota Johnson has a back tattoo that has piqued the curiosity of fans due to its mysterious nature. The large design has garnered attention from the public, particularly because it required the actress to be covered in layers of body makeup while filming certain scenes for the movie Fifty Shades Darker. Although Johnson has not revealed the meaning behind any of her tattoos, fans have speculated that the bird motif on her back is a tribute to her grandmother, actress Tippi Hedren, who starred in Alfred Hitchcock's classic film, The Birds.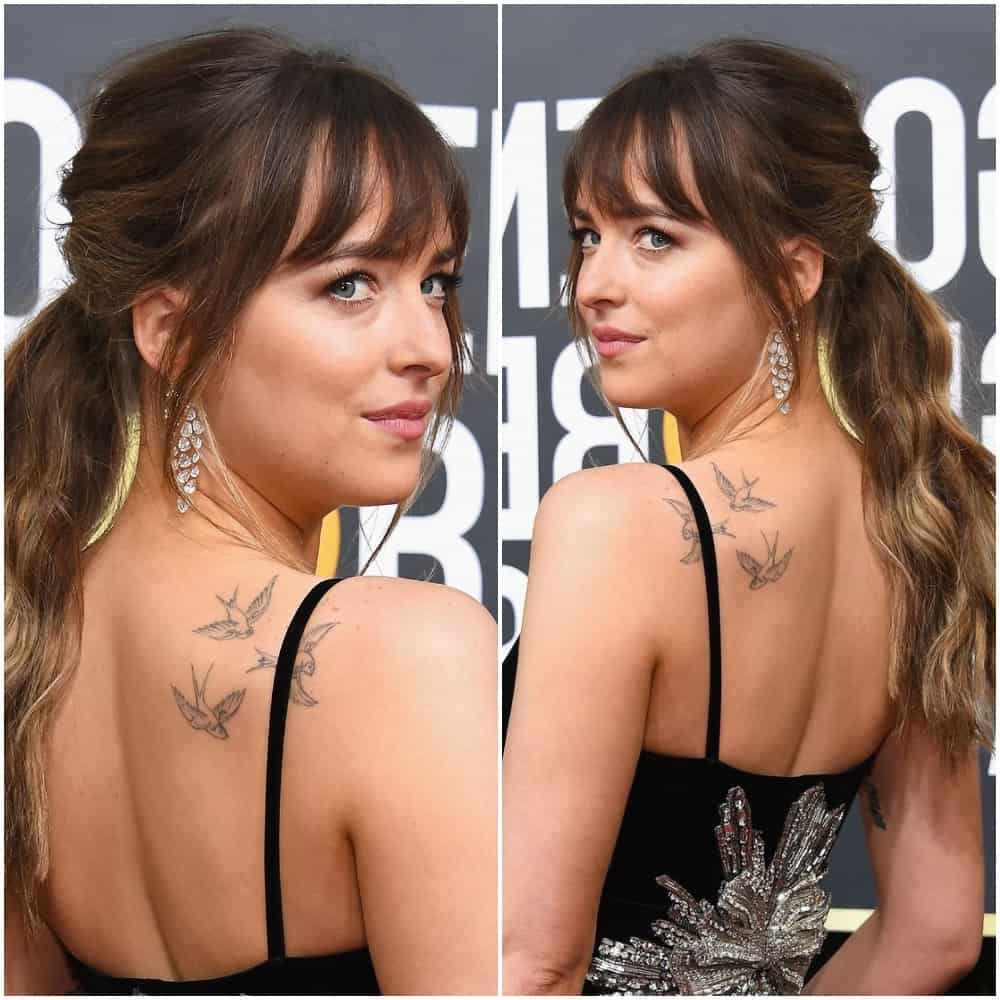 Hedren is known for her iconic role in the horror-thriller, which tells the story of a small California town where birds of all kinds start attacking people. As a well-known actress and model herself, Johnson may have chosen the bird design to pay homage to her grandmother's acting legacy. Despite the rumors, the true meaning behind Johnson's tattoo remains a mystery as she has chosen to keep the significance of her body art private.
Lady Gaga
Lady Gaga's extensive tattoo collection includes a delicate rose tattoo with the words "la vie en rose" that deserves special attention. This tattoo, which she received in late 2019, is a reference to the famous song by Edith Piaf, which has a special meaning for the singer. This is the song she performed in the critically acclaimed movie A Star Is Born. The tattoo is a tribute to the successful movie and her role as Ally, which was crucial in determining that Gaga was the right person to play the role opposite Bradley Cooper in the film.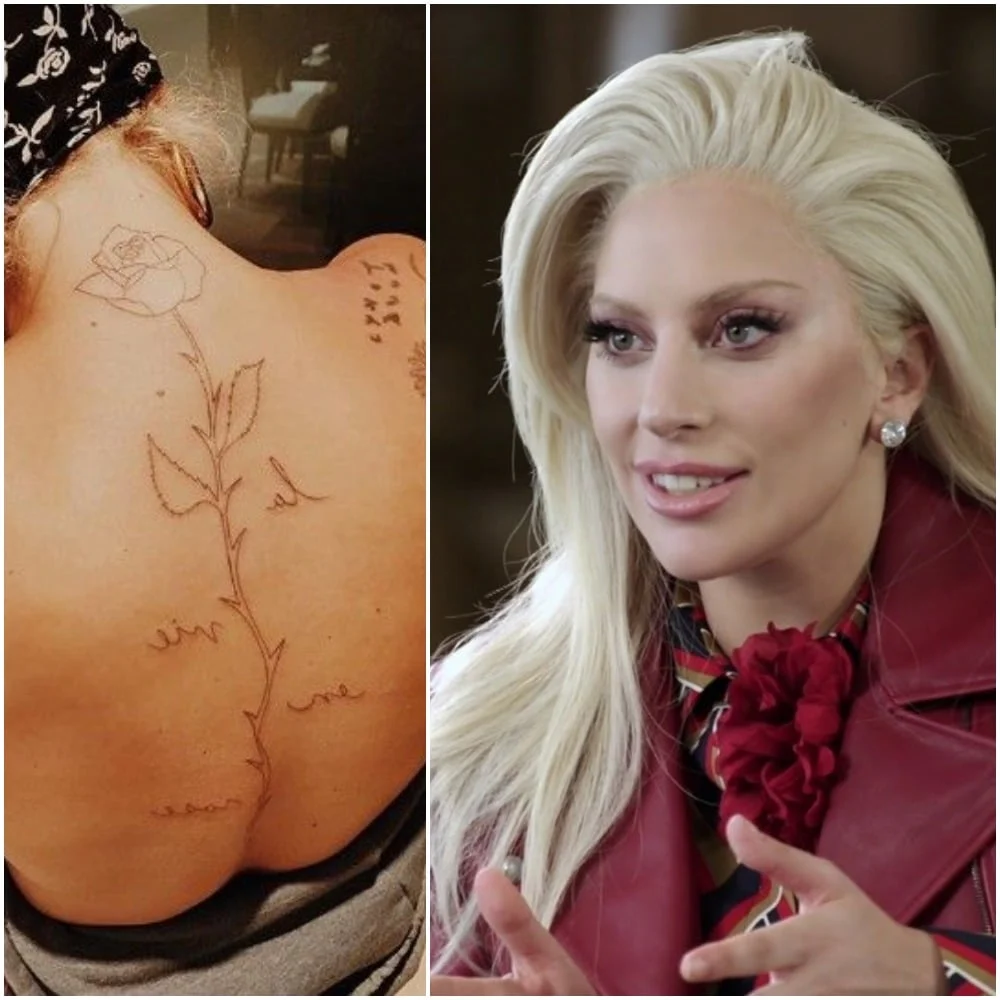 The phrase "la vie en rose" translates to "life in rosy colors," and it represents the joy and optimism that Gaga experienced during the filming of A Star is Born. The tattoo is located on her back, just above her spine. It's a beautiful and delicate design that incorporates a black and white rose with the words "la vie en rose" in cursive writing. This tattoo is a perfect example of how Gaga uses body art to express herself and commemorate important moments in her life and career.
Busy Phillips
In 2019, Busy Phillips, an actress and talk show host, proudly posted a picture of her new tattoo online. The tattoo, a simple illustration of a figure skater with the words "f*ck 'em" above, generated a lot of buzz on social media. Fans expressed their admiration for the design and the message behind it.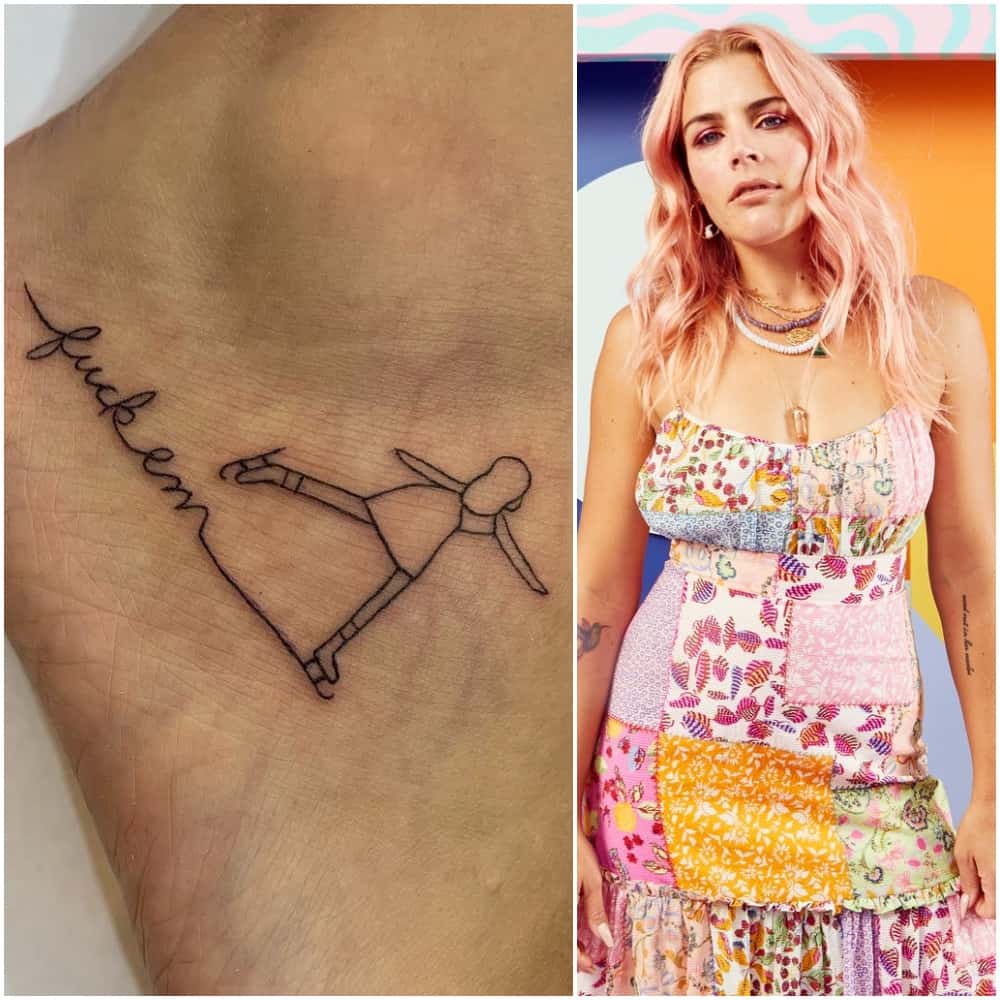 However, not all comments were positive, and some criticized the tattoo for being inappropriate for a mother of two daughters. They also questioned how she would explain the tattoo to her children. Phillips responded by saying that she tells her children that the tattoo represents words to live by. Despite the criticism, the actress stood by her decision to get the tattoo and the message it conveys.
Shawn Mendes
Shawn Mendes is a Canadian singer and songwriter who gained popularity in 2013 by showcasing his musical talent on the social media app, Vine. Over the years, he has amassed a collection of tattoos that has piqued the interest of his fans. While his collection may not be as extensive as some of his peers, his tattoos still manage to turn heads.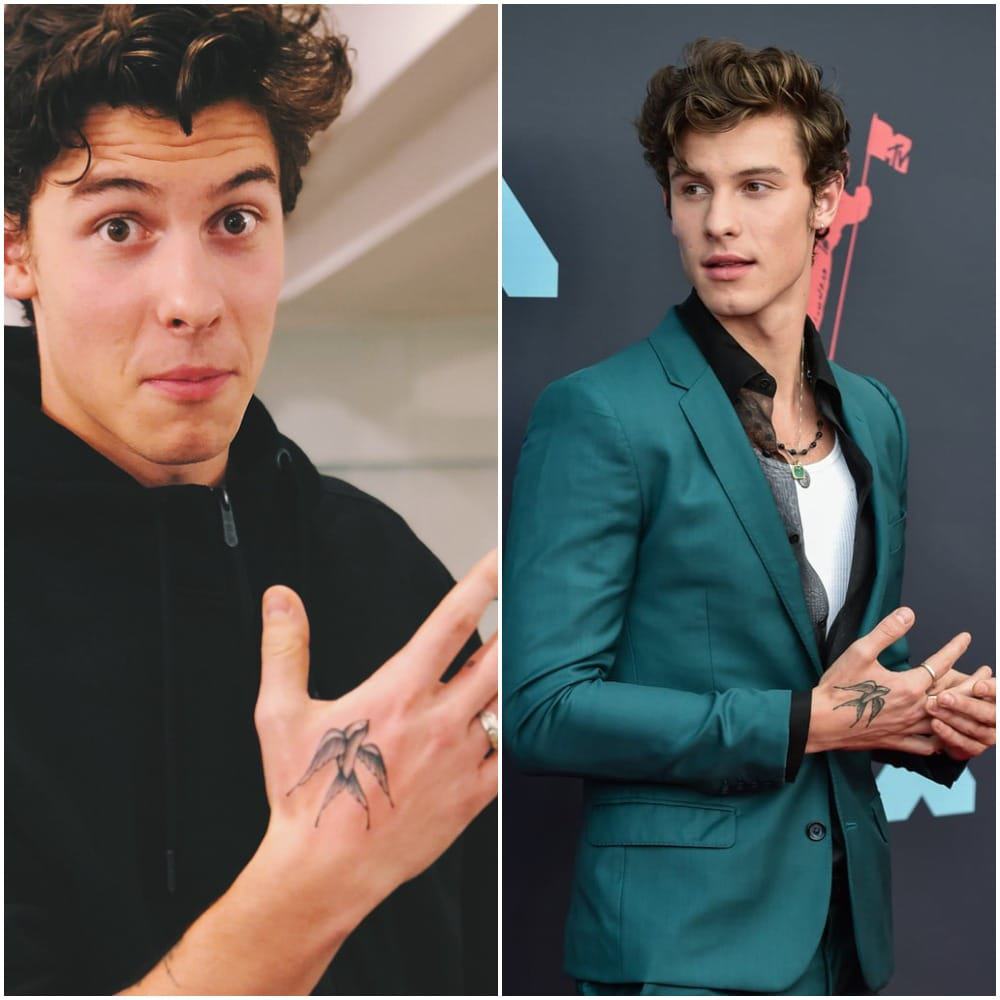 One tattoo that has garnered attention is the sparrow tattoo on his hand. This particular tattoo is difficult to miss and its significance is unknown. However, the sparrow is commonly associated with traveling, as sailors used to get a sparrow tattoo before embarking on long journeys. Another tiny tattoo that he has is the number 8, located inside his finger. Mendes got this tattoo with Hailey Baldwin during their relationship and it is believed to be his lucky number.
Ariana Grande
In January 2020, at the Grammys, fans of Ariana Grande noticed a new tattoo peeking out from under her long opera gloves. It was a delicate butterfly tattoo, which excited her fans. However, it turned out that this was just the beginning of a new tattoo. A couple of months later, the singer revealed a photo of the complete tattoo – two full butterflies on her arm. As we already know, this is an addition to Grande's ever-growing tattoo collection. She already had more than 50 tattoos, and her tattoo artist revealed in an interview that she usually doesn't plan her tattoos ahead of time and instead likes to get them spontaneously.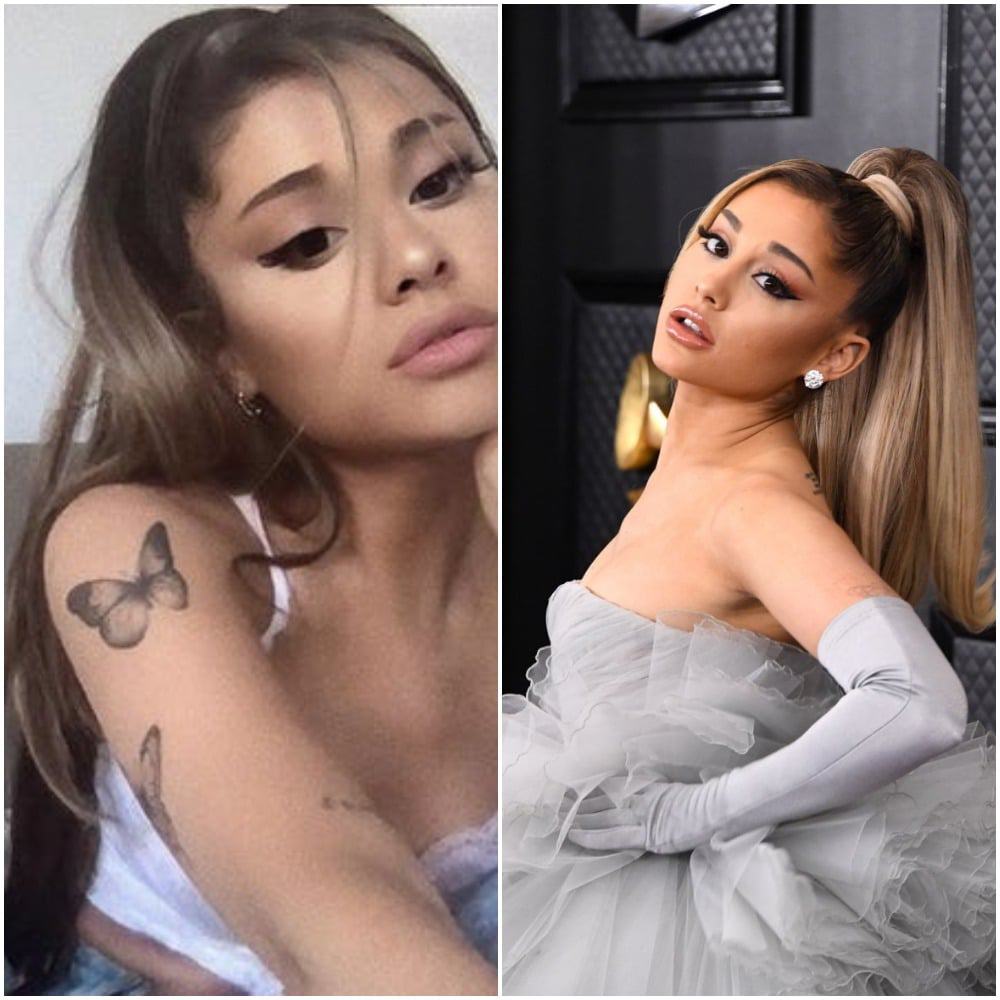 The butterflies on her arm were designed by her favorite tattoo artist, Dr. Woo, and reportedly took several hours to complete. The tattoo features one butterfly facing up and another facing down, with swirling lines that connect them. The tattoo artist said in an interview that the design was inspired by Grande's song "Get Well Soon," which she wrote in honor of the victims of the Manchester bombing. The song's lyrics say, "They say my system is overloaded," and the swirling lines of the tattoo represent that idea.
Zoë Kravitz
Zoë Kravitz is a multi-talented celebrity who has an eye for tattoos, and her collection of ink designs is simply awe-inspiring. She started her love affair with tattoos when she was 18 years old, and today, at the age of 31, she has over 60 tattoos that are simply stunning.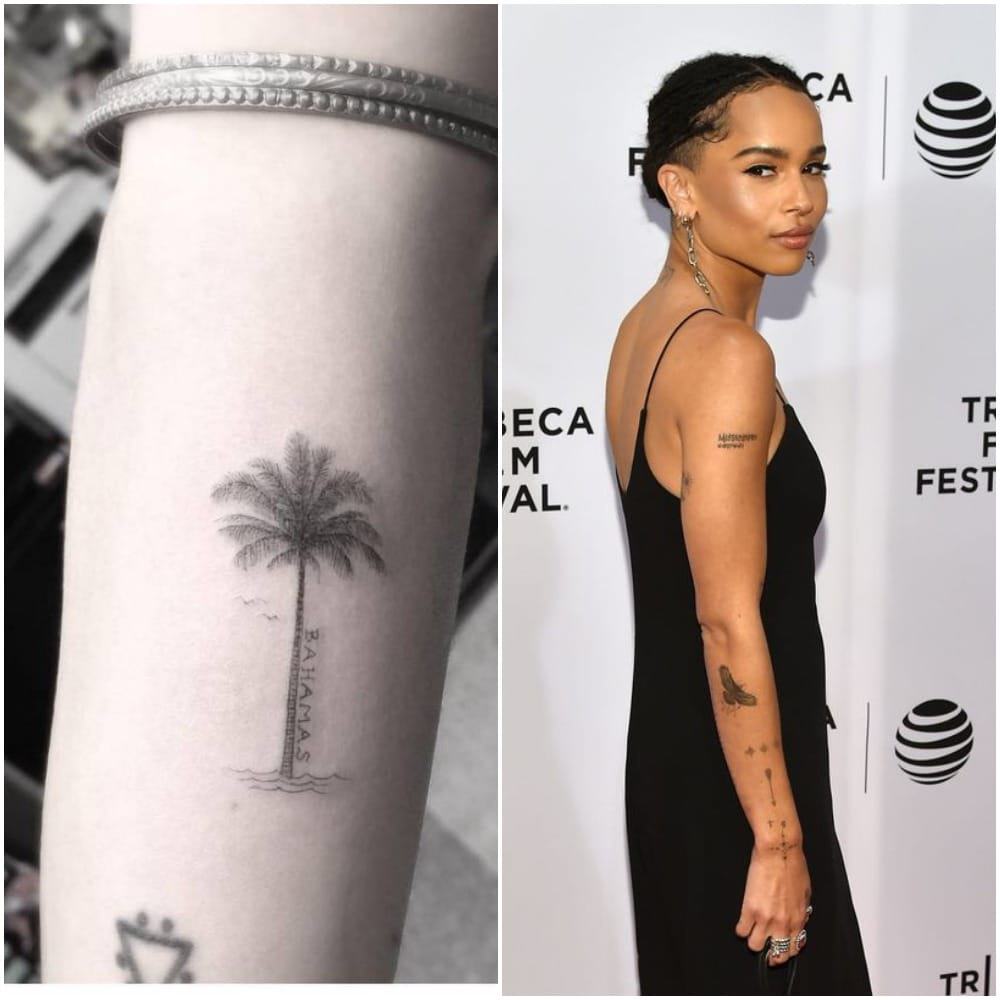 One of the most exquisite designs in her collection is a delicate palm tree with the word "Bahamas" inked underneath. While a palm tree tattoo is a common design, Zoë's is truly unique and stands out from the rest. She got the tattoo at the famous tattoo artist, Dr. Woo's studio. The tattoo holds special meaning for the actress as the Bahamas is the birthplace of her grandmother, and she holds a special place in her heart for the magical place. The tattoo is a perfect tribute to her roots and serves as a reminder of the importance of family.
Katy Perry
Katy Perry is not just a music icon, but also an avid fan of tattoos. Her tattoos are well-known for their bright and playful designs, perfectly representing her cheerful personality. For instance, she has a smiling strawberry tattooed on her foot, a red and white peppermint on her ankle, and even Hello Kitty's face on her finger.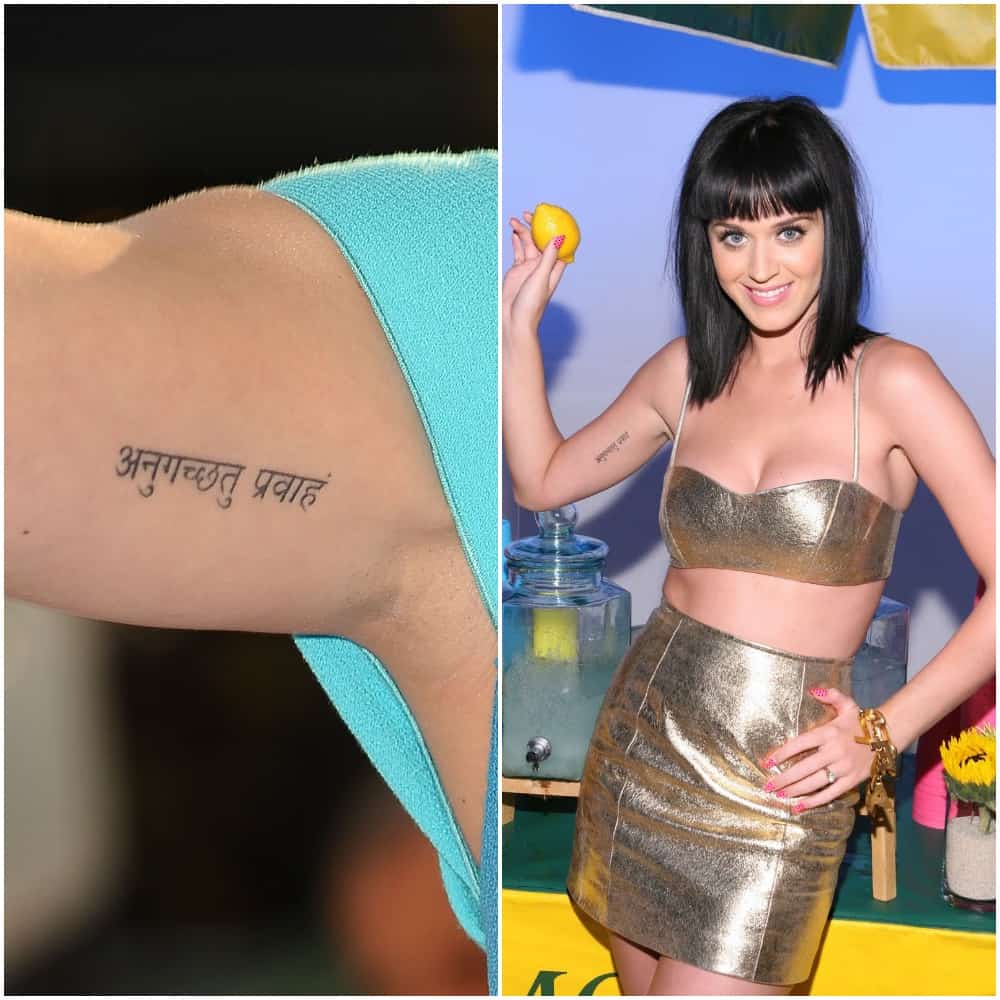 However, Perry's tattoo collection also includes a more meaningful design – Sanskrit letters saying "Go with the Flow" on the inside of her bicep. This tattoo was a couple's tattoo that she got with her ex-husband, Russell Brand, who has a matching tattoo. The couple received this tattoo after a trip to India that inspired them to embrace the message of the phrase, reminding them to go with the flow in life.
Hailey Baldwin
Hailey Baldwin, a model and television personality, began her tattoo journey with this roman numerals tattoo, which is still one of her favorites. She got it from one of New York's most prominent tattoo artists, JonBoy, who credits Hailey for introducing him to other celebrity clients, such as Justin Bieber and Kendall and Kylie Jenner.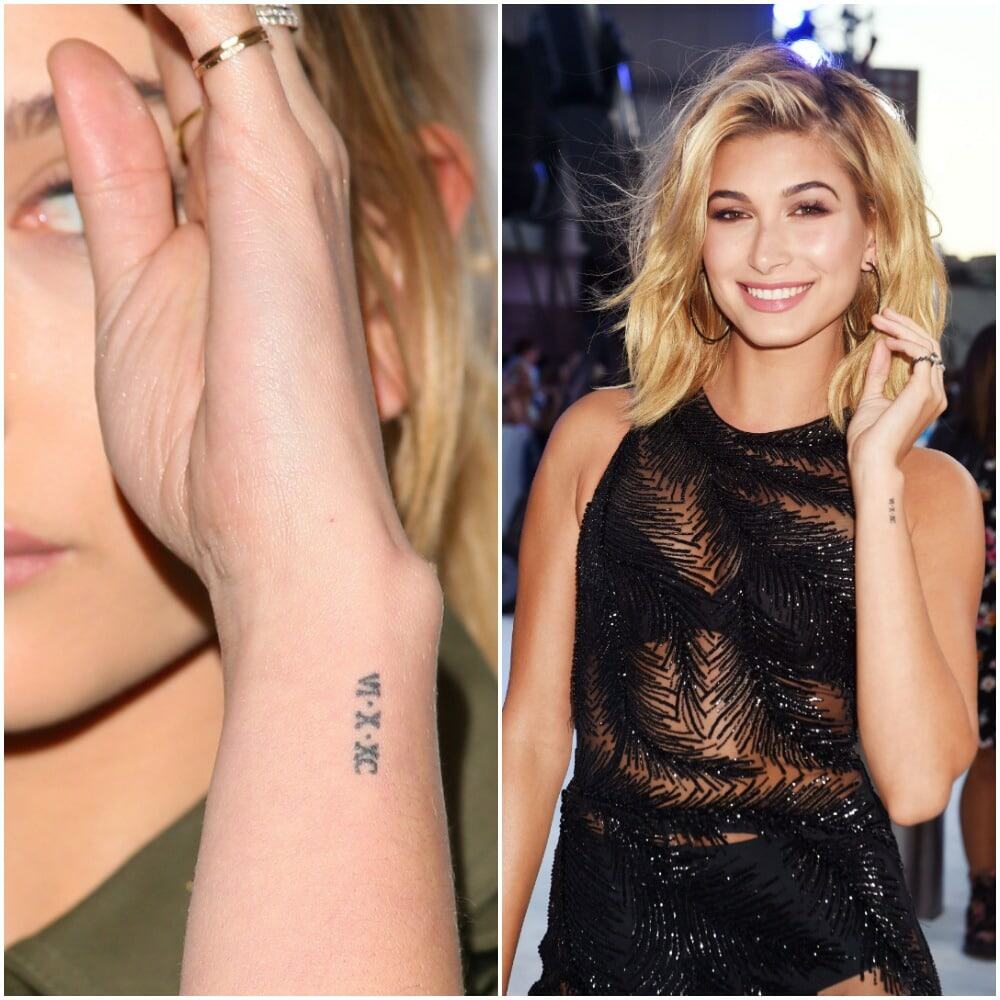 The tattoo features the date of her parents' wedding, a date that holds a significant meaning for her. But this isn't the only tattoo that pays tribute to her family. Hailey also has her family name, "Baldwin," tattooed on the inside of her finger. She got this tattoo alongside her cousin, Ireland, who is Alec Baldwin's daughter. The two got matching tattoos at JonBoy's studio, further showcasing the importance of family to Hailey.
Miley Cyrus
Miley Cyrus is known for her extensive collection of tattoos, and one of her most noteworthy ones is her "be kind" tattoo. The tattoo is split between her two hands, with "BE" on her right hand and "KIND" on her left hand, and has become a symbol of her advocacy for social equality and justice.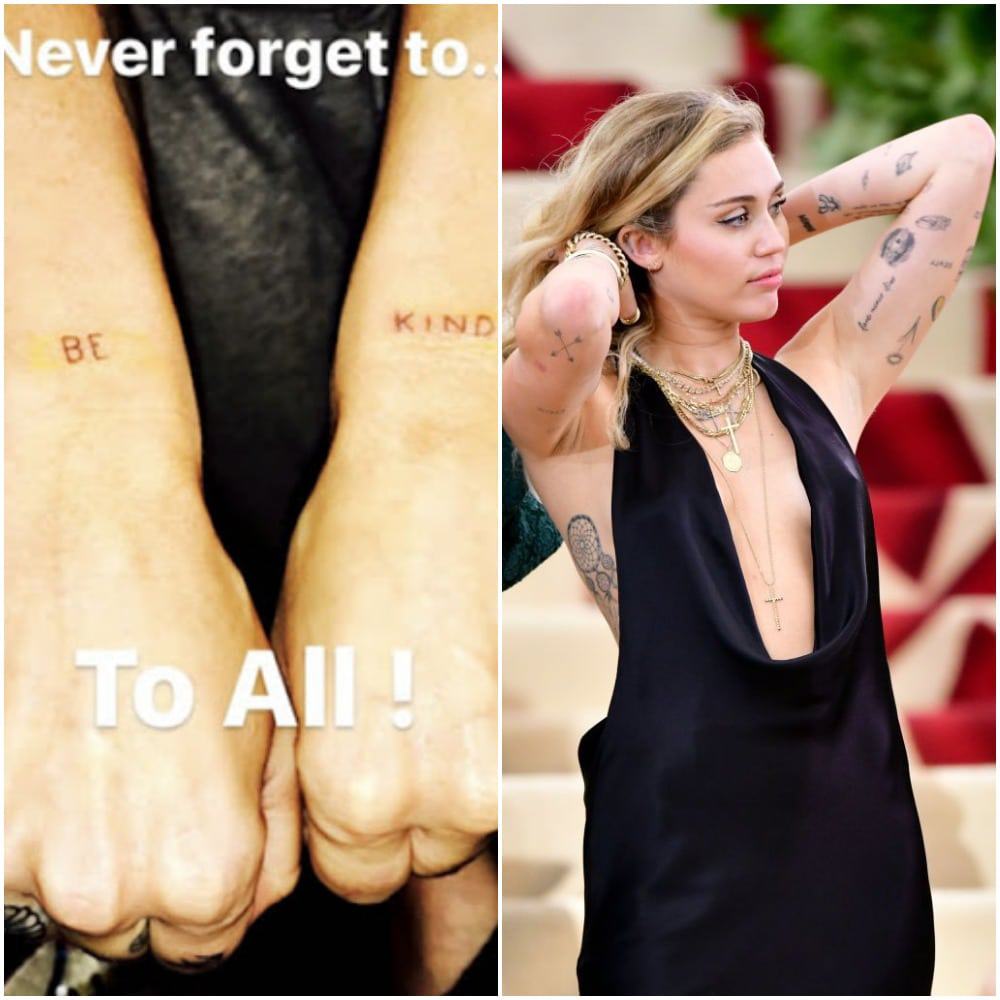 Cyrus got the tattoo in 2017 and shared it on social media with the caption "Never forget to be kind to everyone," a message that resonates deeply with her personal beliefs and activism. As an advocate for LGBTQ+ rights and other social justice causes, Cyrus uses her platform to spread awareness and encourage others to make positive changes in the world. Her "be kind" tattoo serves as a reminder to herself and her fans to approach others with empathy, compassion, and respect.
Rihanna
Jennifer Aniston is not the first celebrity who comes to mind when we think of tattooed stars, unlike Rihanna. The multi-talented singer is known not only for her chart-topping hits, but also for changing Hollywood's perception of beauty and inspiring us with positive body image messages. And when it comes to tattoos, Rihanna is definitely an inspiration.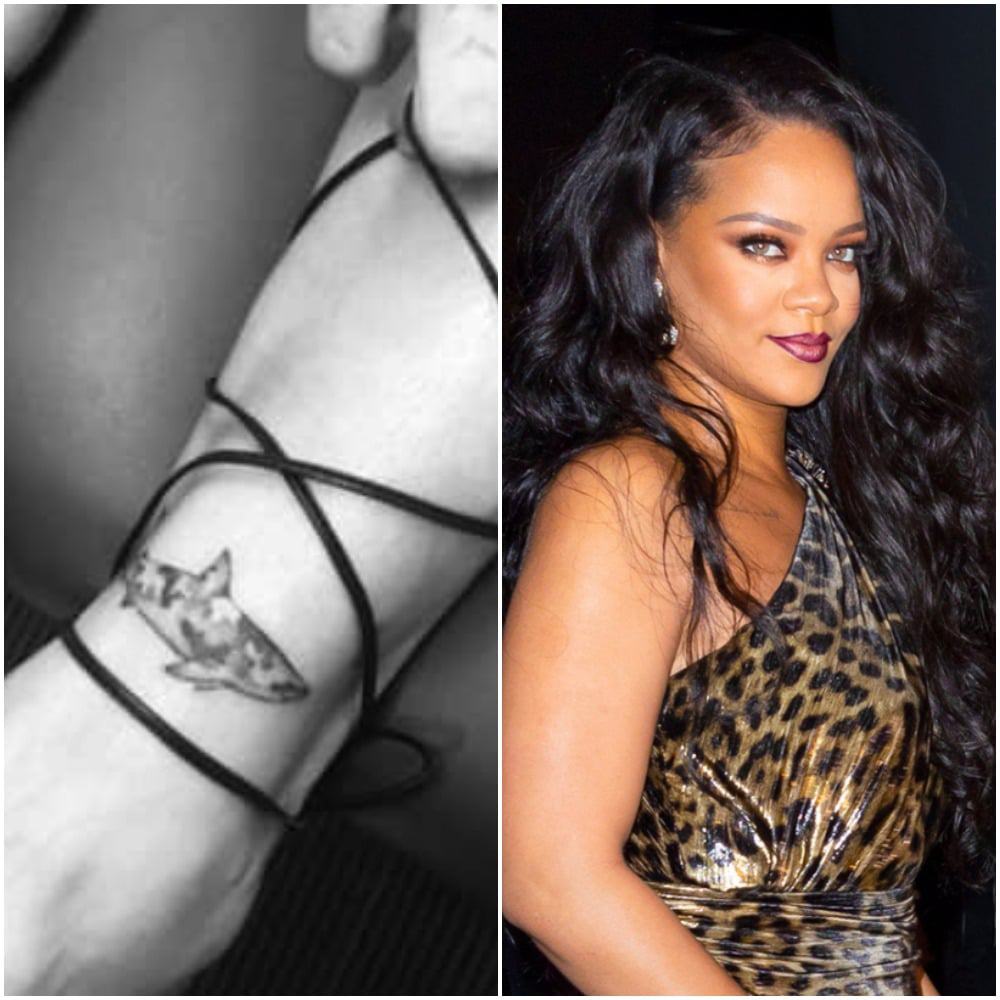 One of Rihanna's most standout tattoos is the camouflage shark tattoo. Not only is it unique in design, but it also holds a supposed special meaning. The tattoo, created by renowned NYC artist Bang Bang, was debuted in 2016, and fans speculate that it was inspired by a romantic night the singer spent with recording artist Drake at an aquarium. Just before the tattoo's debut, Drake shared a photo of the two holding a stuffed toy of a camouflage shark, which is why many believe the tattoo is a tribute to that special moment.
Lucy Hale
Lucy Hale, best known for her role in the popular TV show Pretty Little Liars, has a growing tattoo collection that is often overlooked due to its minimalistic nature. With at least 10 tattoos to her name, most of them hold a significant meaning to her. Some of her tattoos are matching with her sister, while others are matching with her on-screen sisters from Pretty Little Liars.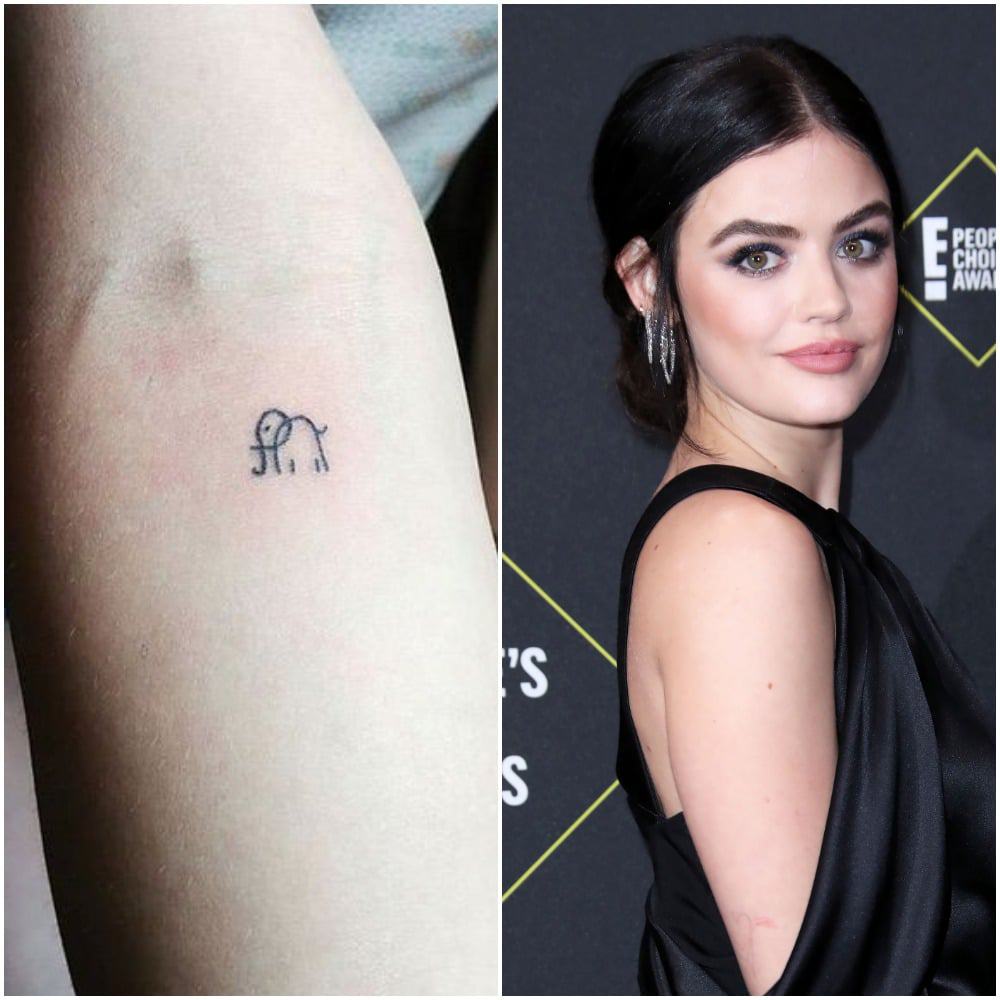 One of the actress's most charming tattoos is of a dainty elephant, which was inked on her trip to Cambodia. Although the elephant symbolizes her visit to the country, she also admits that she got it mainly for aesthetic reasons. While some of her tattoos might hold a more personal meaning, it is refreshing to see someone get inked for the sheer joy of it.
Pete Davidson
Pete Davidson, a popular comedian from Saturday Night Live, boasts an impressive collection of over 100 tattoos (although the exact number is unknown). However, the sheer quantity of tattoos doesn't necessarily equate to the quality of the designs. Among his many tattoos, there are a few notable ones that stand out.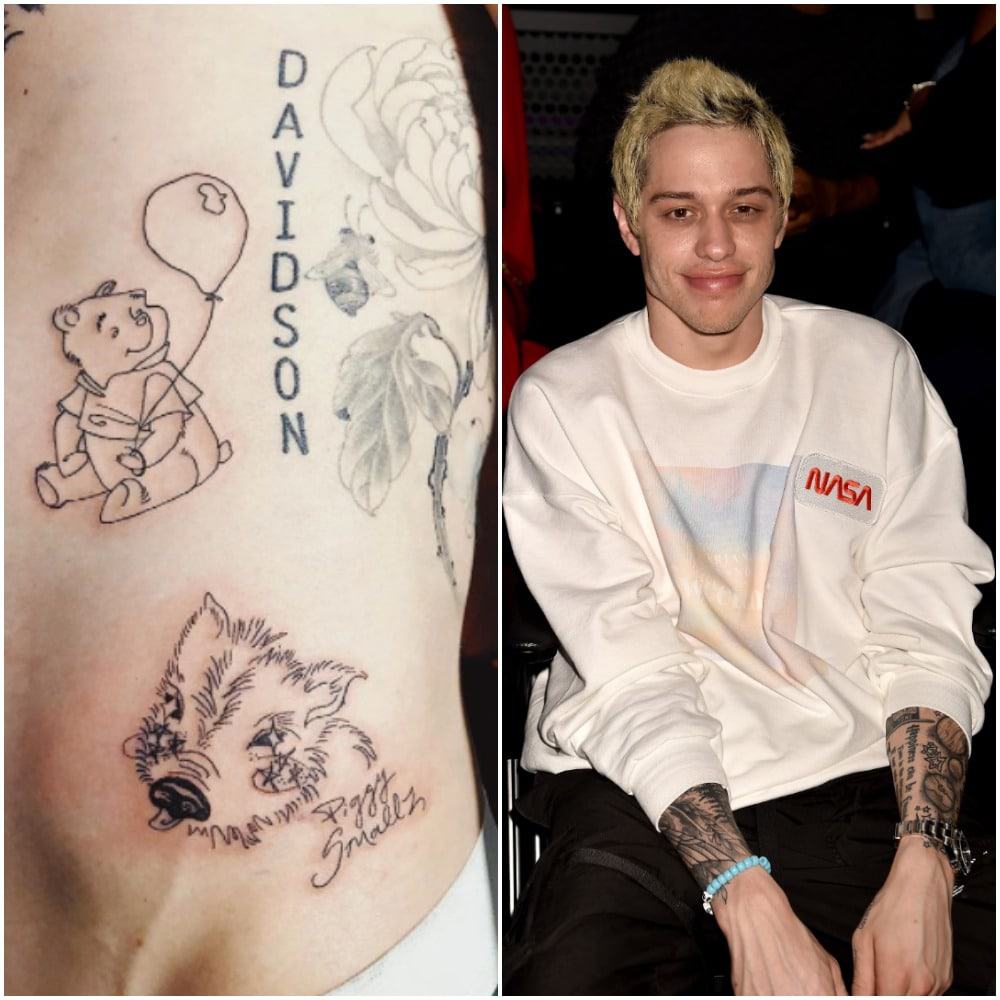 One of his more well-known tattoos is a portrait of Ruth Bader Ginsburg, a former Supreme Court Justice. He also has two large tattoos of a unicorn and a wolf, as well as ink commemorating Willy Wonka, the Deathly Hallows symbol from the Harry Potter series, and a tattoo of his family name in capital letters. He even has a Winnie the Pooh tattoo, which he got as a tribute to his late father, who passed away on September 11, 2001. While some of his tattoos may be more for fun or aesthetic purposes, others hold deeper meaning and serve as touching tributes to important people in his life.
Rita Ora
Rita Ora is known for her striking tattoos and has at least 25 designs on her body, including a Sanskrit writing, her sister's name, a small heart, a star, the Sagittarius sign, and the letter "R." However, one particular tattoo stands out from the rest – the ballerina. The elegant ballerina in mid-twirl is quite different in shape and size from most of the singer's tattoos. Although it's one of her most beautiful designs, it also has a special meaning. Contrary to popular belief that ballerinas are gentle and fragile, being a professional ballerina requires a lot of hard work, as well as physical and mental strength.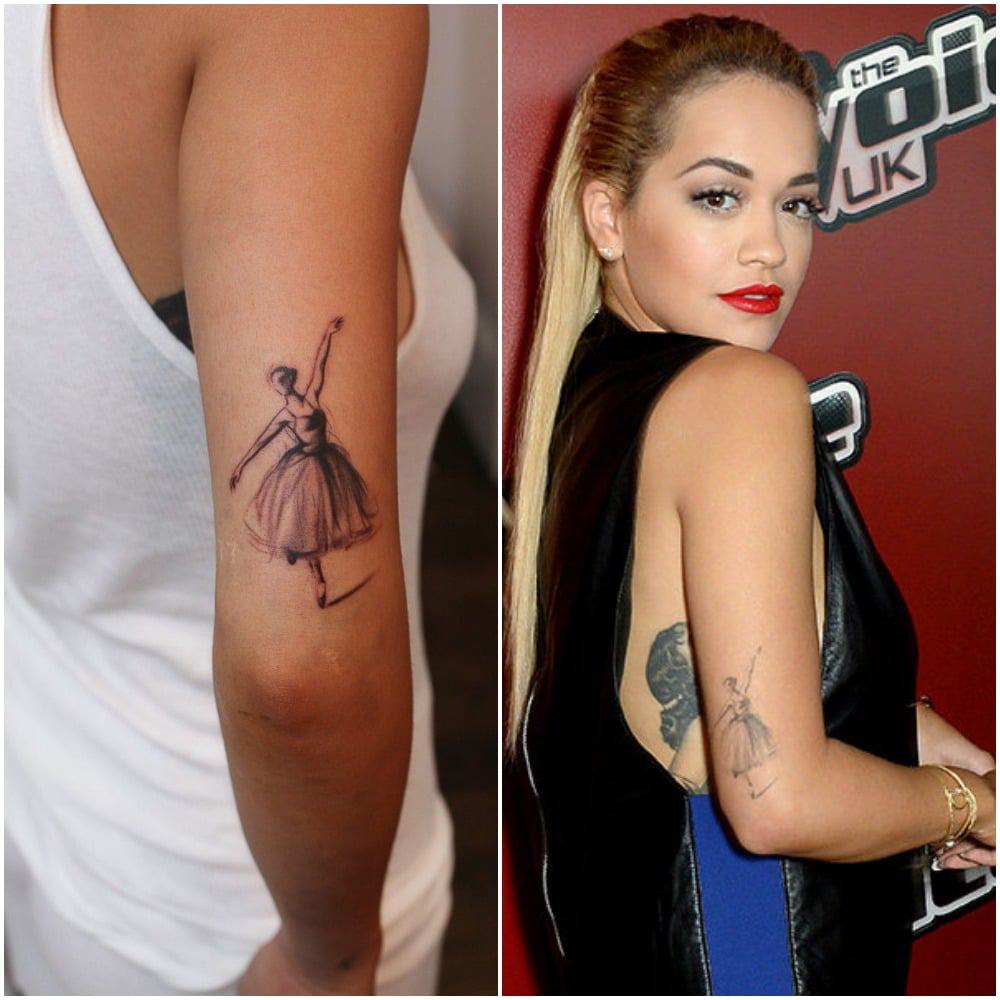 The tattoo is said to be inspired by Rita Ora's mother, who is a former ballerina. Ora has often spoken of her admiration for her mother's strength and determination, and the tattoo is a tribute to her mother's grace and resilience. The ballerina tattoo is a reminder to Ora to stay strong and persevere in the face of challenges, much like her mother did during her time as a professional ballerina.