In today's world, there's an ever-growing appreciation for crafting and creating unique items by hand. This resurgence in "Do It Yourself" or DIY projects have been fueled by the widespread availability of tutorials, videos, books, and blogs that provide step-by-step instructions for transforming ordinary objects into functional and beautiful masterpieces. The internet has made these resources easily accessible, sparking a newfound interest in DIY culture.
This increased engagement in DIY projects is due to more than just the convenience of online resources. Many people have found that these activities offer a cost-effective way to personalize their surroundings, encouraging creativity and resourcefulness. Furthermore, DIY projects can serve as educational opportunities for children, helping them develop problem-solving skills and a strong sense of intuition. With these benefits in mind, we've compiled a list of more than 40 inspiring DIY projects from across the internet, hoping that these innovative ideas will motivate you to embark on your creative journey. So grab your pencils, hot glue, crafting supplies, and dive into the DIY possibilities!
1. Elevate Your Home Decor with Simple
Materials Achieving stylish and elegant home decor doesn't have to break the bank. You can create stunning wall art using everyday materials, as the accompanying image demonstrates. You can craft a visually appealing masterpiece that enhances your living space with just a few supplies, like spray paint, leaves, and a frame.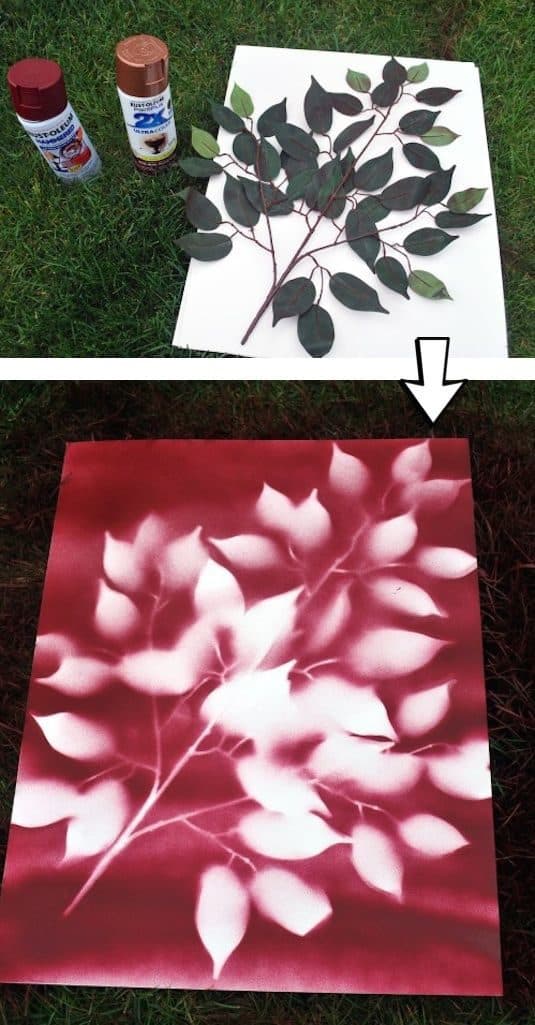 The beauty of this DIY project lies in its adaptability. You can modify the materials and design based on your preferences, proving that art doesn't have to come from high-end sources. Often, the everyday items we encounter daily hold the potential for extraordinary creations. So, unleash your inner artist and transform these simple elements into beautiful wall art.
2. Transforming the Ordinary into the Extraordinary
At first glance, it might be hard to imagine that a collection of glass bottles can be repurposed into a gorgeous flower centerpiece. However, with creativity and basic supplies like tape and paint, you can quickly turn these everyday items into elegant vases, as illustrated in the accompanying image.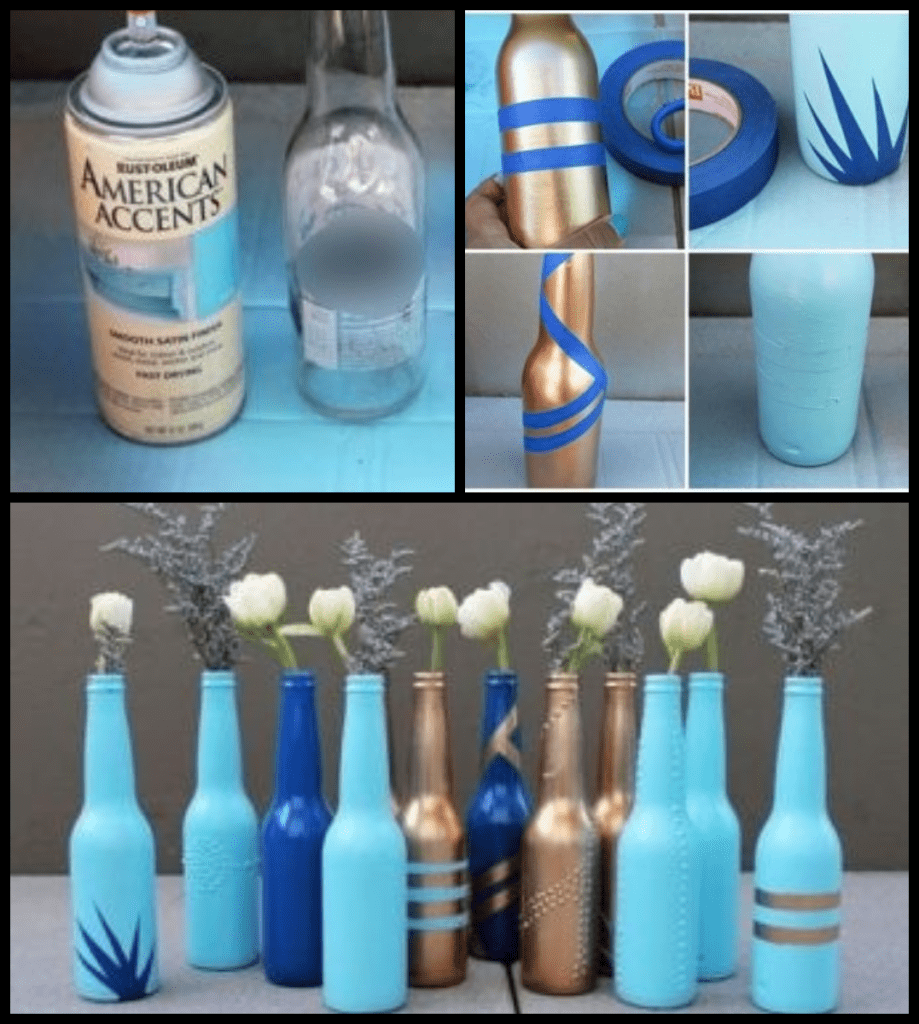 This DIY project challenges your artistic skills, as painting on unconventional materials like glass bottles requires ingenuity. But with endless possibilities in color combinations and patterns, the results can be awe-inspiring. Once completed, these upcycled glass bottle centerpieces could easily be mistaken for professionally crafted flower vases, adding a touch of sophistication to any space.
3. Combine Paintings, Photos, and Memories for a Unique Display
Achieving a timeless wall art display can be a manageable investment. With some creativity and basic materials, you can create a unique, personalized piece that reflects your style and memories. Using a painted frame, photos, clothespins, and twine, this DIY project showcases how simple elements can form an elegant and versatile display.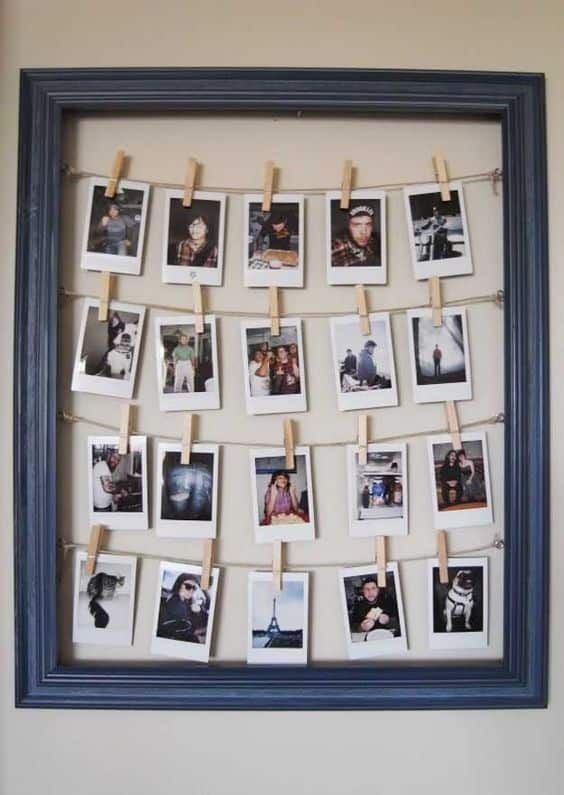 What sets this wall art apart is its adaptability. You can easily rearrange or swap out the photos, giving your space a refreshed look whenever you desire. Embrace the beauty of simplicity and create a custom art display that evolves with your life and experiences.
4. Encourage Healthy Eating and Enhance Your Space
Integrating this open fruit shelf into your home promotes healthier eating habits and adds a touch of sophistication to your walls. This clever storage solution is crafted from a wooden base and metallic frames, making it an affordable and straightforward project.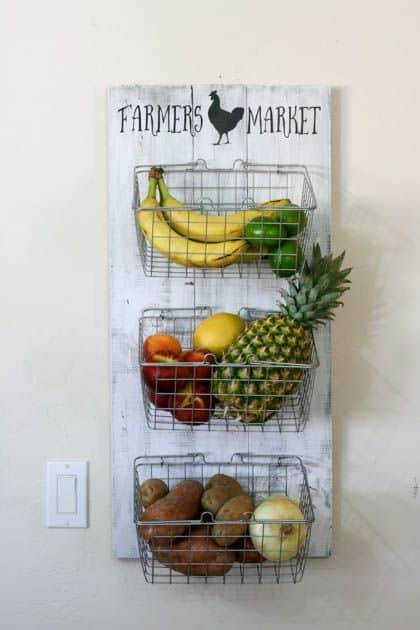 The open design of this fruit shelf offers more than just aesthetic appeal. It allows you to easily monitor the freshness of your fruits, ensuring you're consuming them at their best. This practical and stylish shelf can be completed in under an hour with suitable materials, transforming your kitchen space with minimal effort.
5. Transforming Discarded Storage into Stylish Side Tables
DIY projects offer endless opportunities for creative expression, limited only by the materials, time, and imagination you're willing to invest. One such project demonstrates how old drawers can be given a new lease on life by transforming them into chic side tables.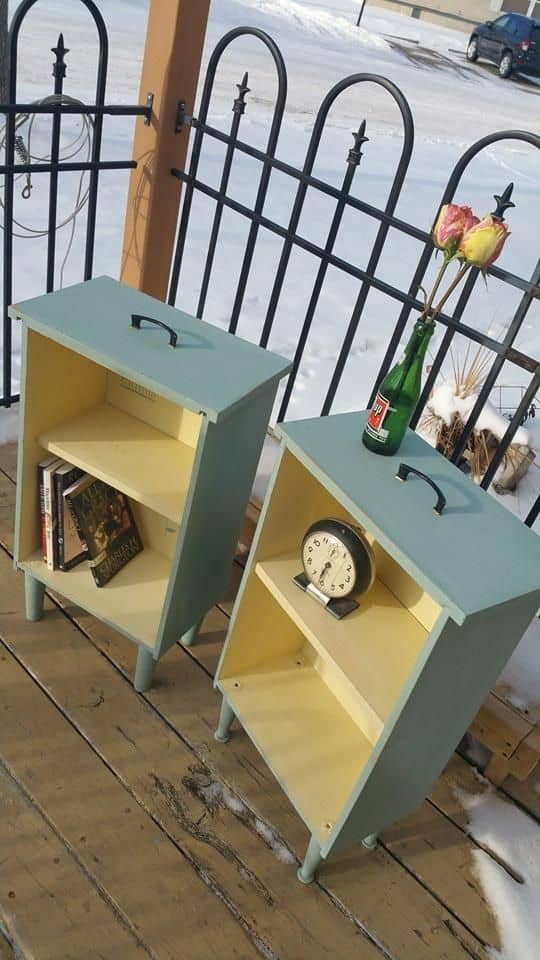 By removing the wooden fronts, these once-utilitarian items take on a fresh, modern look that enhances any space. This innovative upcycling project not only repurposes unwanted materials but also results in portable and refined side tables, perfect for adding a touch of style and functionality to your home.
6. Upcycling Thrift Store Finds for a Tidier Home
Inadequate storage is a common challenge for many households, whether due to limited space or ever-growing collections of belongings. A trip to your local thrift store can offer a budget-friendly solution to this problem, as demonstrated by these repurposed drawers turned into unique storage spaces.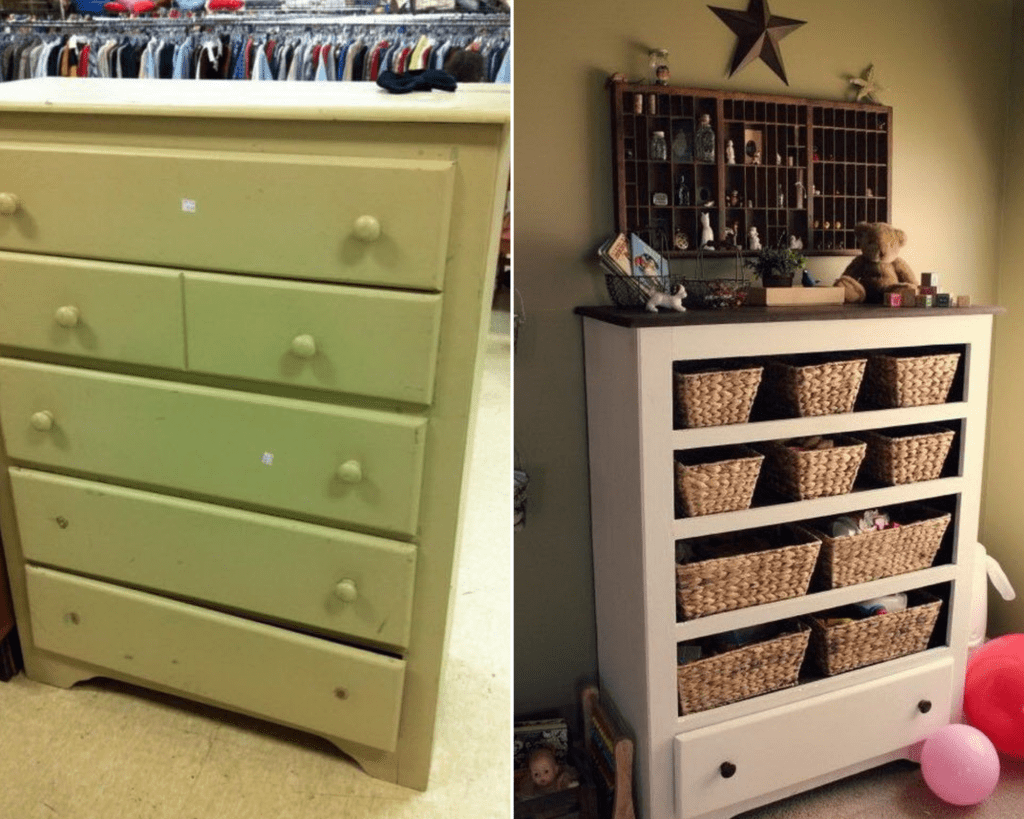 One key advantage of these DIY storage units is their ease of maintenance. You can quickly clean or replace worn-out components, which means you can source affordable, previously unwanted drawers and give them a new purpose. Incorporating these inventive storage solutions into your home can optimize space, reduce clutter, and maintain a tidier living environment.
7. A Creative Solution for Hanging Garments
This fascinating DIY project showcases the boundless potential of creativity. You can create a functional and visually appealing clothes rack for your home by repurposing an old ladder. To get started, you only need two brackets, paint, and some essential tools to smooth the wood and secure any loose nails.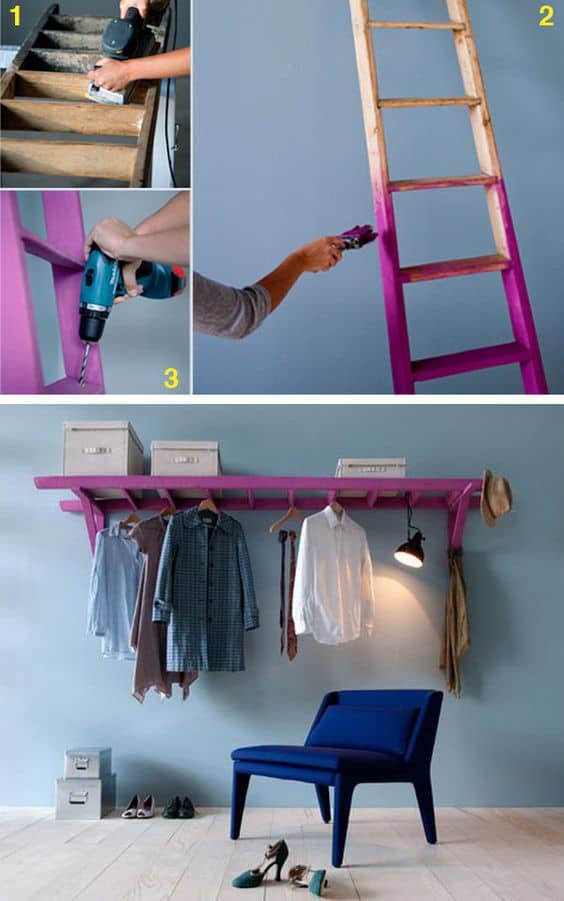 Each ladder rung is a convenient spot for hanging clothes, while the top can be used for additional storage. This innovative project breathes new life into a new ladder and provides a practical and stylish solution for organizing your wardrobe.
8. A Book Lover's Dream DIY Project
This DIY project is a must-try for those who enjoy reading in a snug, inviting space. The creator transformed them into a brilliant armchair and bookshelf combination by repurposing wooden pallets for a makeshift bed.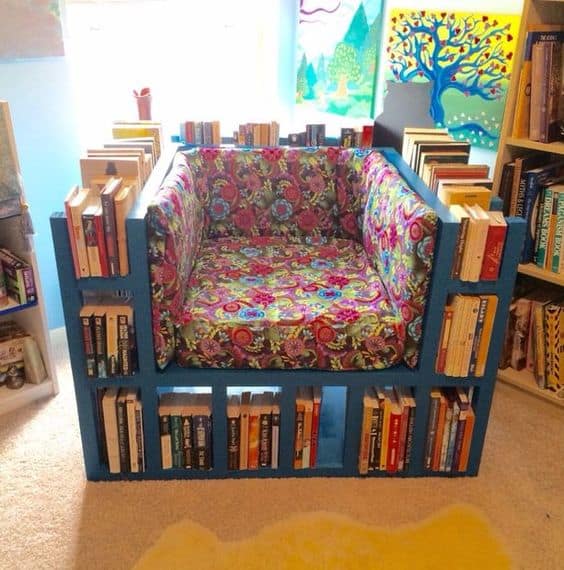 What makes this project exceptional is the designer's innovative use of space. While the central area provides a cozy and comfortable seating spot, the surrounding structure is cleverly filled with books, maximizing storage without compromising aesthetics. This creative endeavor is perfect for book lovers seeking a relaxing and organized space to indulge in their literary passions.
9. A Fun and Creative Way to Serve a Classic Party Treat
Jell-O shots, a delightful blend of alcohol and gelatin, are famous for cold, sweet treats at adult gatherings. In this inventive twist, a hollowed-out watermelon is a unique serving vessel for these colorful concoctions.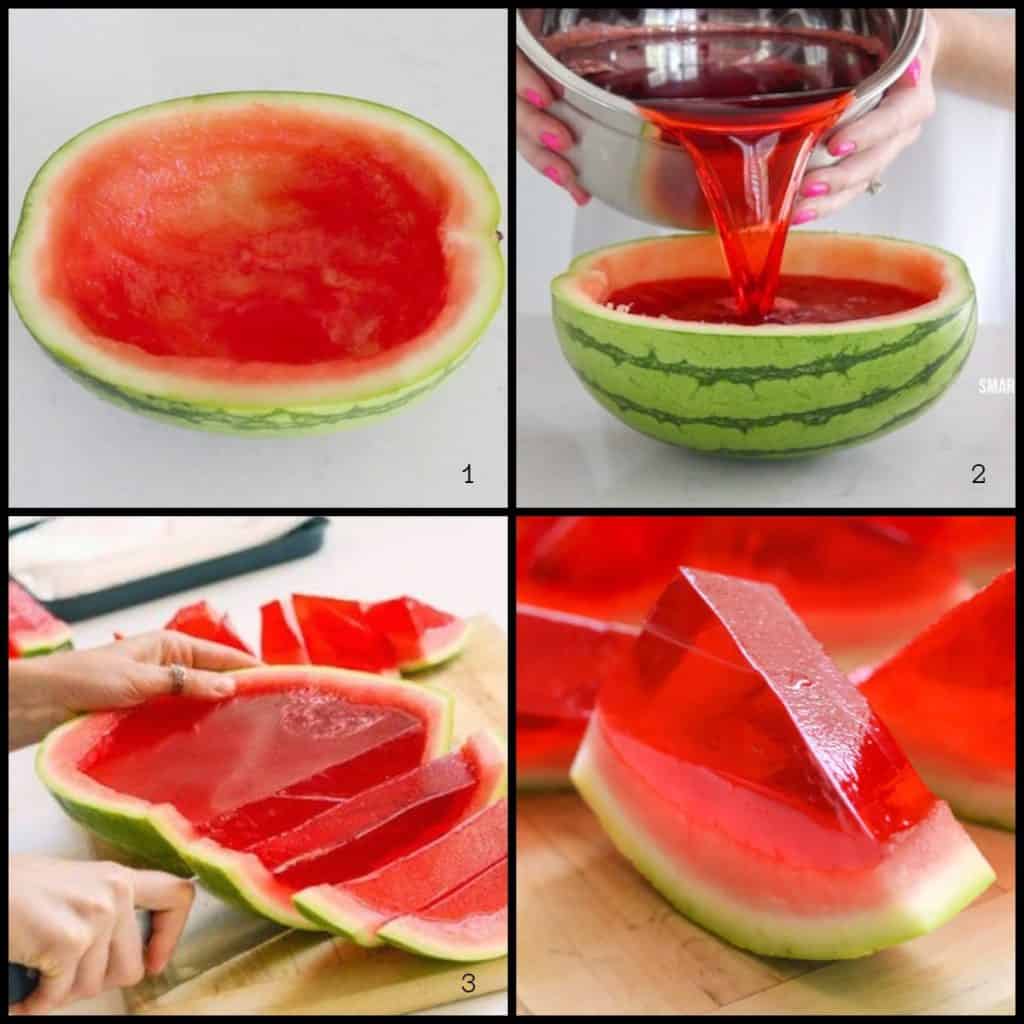 The modern gelatin shot has an interesting origin story, as Tom Lehrer invented it as a clever way to smuggle alcohol into a military base during a Christmas party. Since then, Jell-O shots have gained widespread popularity and can now be found at parties around the globe. This creative watermelon presentation adds a touch of fun and novelty to an already festive treat.
10. Repurpose Empty Pill Bottles for Peace of Mind
Instead of discarding empty pill bottles, consider transforming them into a hidden key storage solution. You can create a discreet and secure hiding place for a spare key with just a tiny rock, an empty pill bottle, and some glue.
To achieve this, glue the rock to the pill bottle's lid, which will help camouflage the container among other stones. Once the rock is securely attached, place the key inside the bottle for safekeeping. This innovative upcycling project helps reduce waste and provides a practical and unassuming storage option for your spare keys.
11. Crafting a Sustainable Cork Rug
Repurposing Wine Corks for Eco-Friendly Home Decor Cork, an impermeable material harvested from the remarkable cork oak tree, boasts several impressive qualities. Its ability to regenerate its bark after harvesting makes it a highly renewable resource, while its elastic and fire-retardant properties add to its versatility.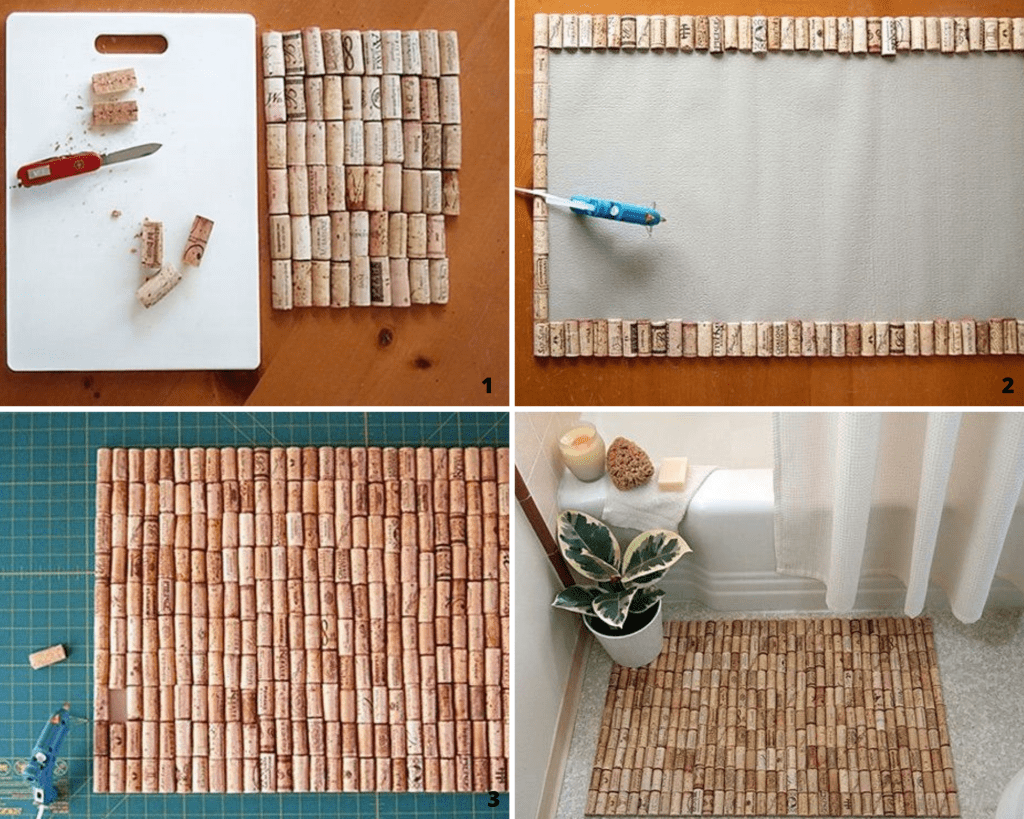 These features make cork ideal for various uses, including wine bottle stoppers. If you've accumulated a collection of wine corks, consider repurposing them into a unique and sustainable rug. This innovative DIY project not only adds a touch of eco-friendly charm to your home but also showcases the incredible potential of cork as a material.
12. Timeless Handprint Wall Art
Creating Cherished Family Memories with Simple Materials Preserving cherished memories doesn't have to involve expensive materials or complex techniques. This heartwarming DIY project demonstrates how handprints from all family members, including pets, can be transformed into a beautiful, lasting wall art display.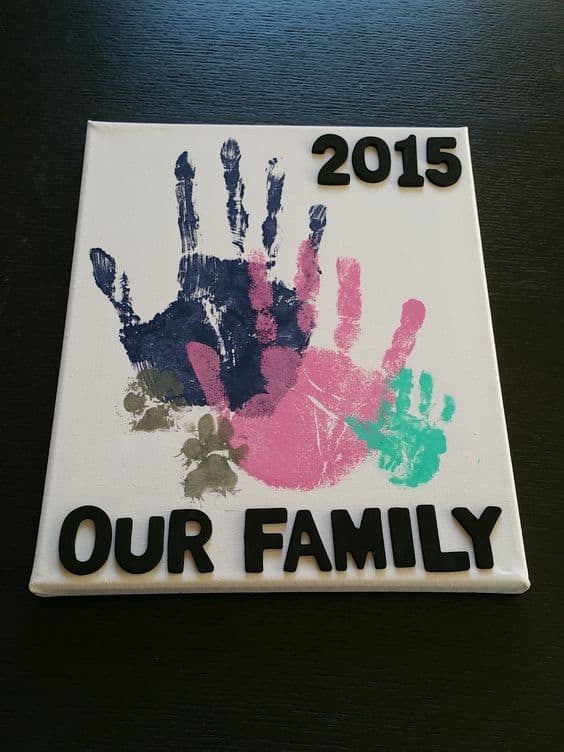 The beauty of this project lies in its simplicity and accessibility. With just a canvas and some paint, you can create a tangible reminder of your loved ones that can be cherished for years. As time goes on, you can even update the display with new handprints, capturing the growth and evolution of your family in a truly personal way.
13. A Functional and Affordable Solution for Backyard Poultry
Raising chickens or rabbits in your backyard offers numerous benefits, including access to fresh, affordable eggs and the joy of having friendly pets as companions. However, allowing these animals to roam freely may only sometimes be feasible, making a practical and cost-effective coop a necessity.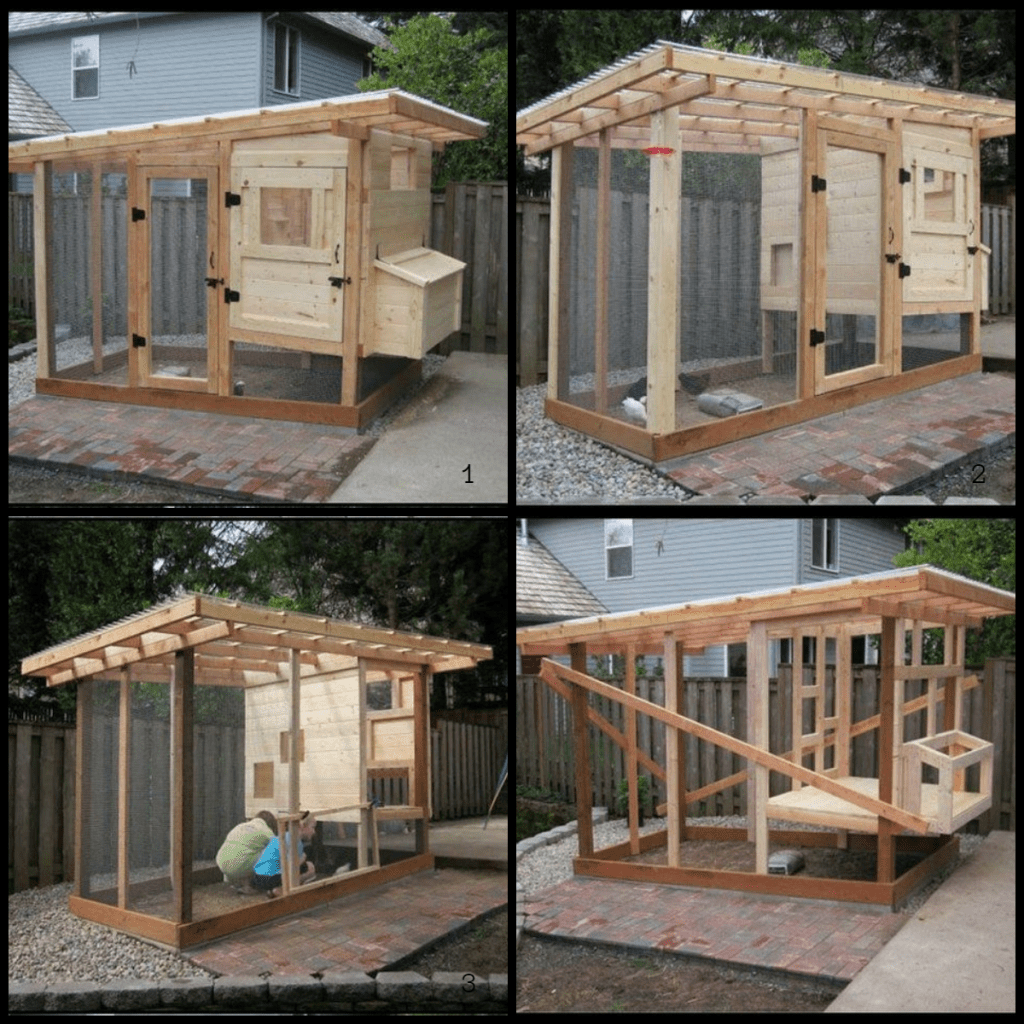 Constructing a simple chicken coop like the one shown here requires only a few basic materials, such as pallet wood, nails, roofing sheets, and carpentry skills. While your enclosure need not be elaborate, it should provide a safe and comfortable environment for your animals, meeting their needs and ensuring their well-being.
14. An Adorable Bobby Pin Storage Solution
Bobby pins tend to scatter and clutter your space if not stored properly. Repurposing empty Tic Tac containers offers a creative and convenient solution for keeping your bobby pins organized and easily accessible.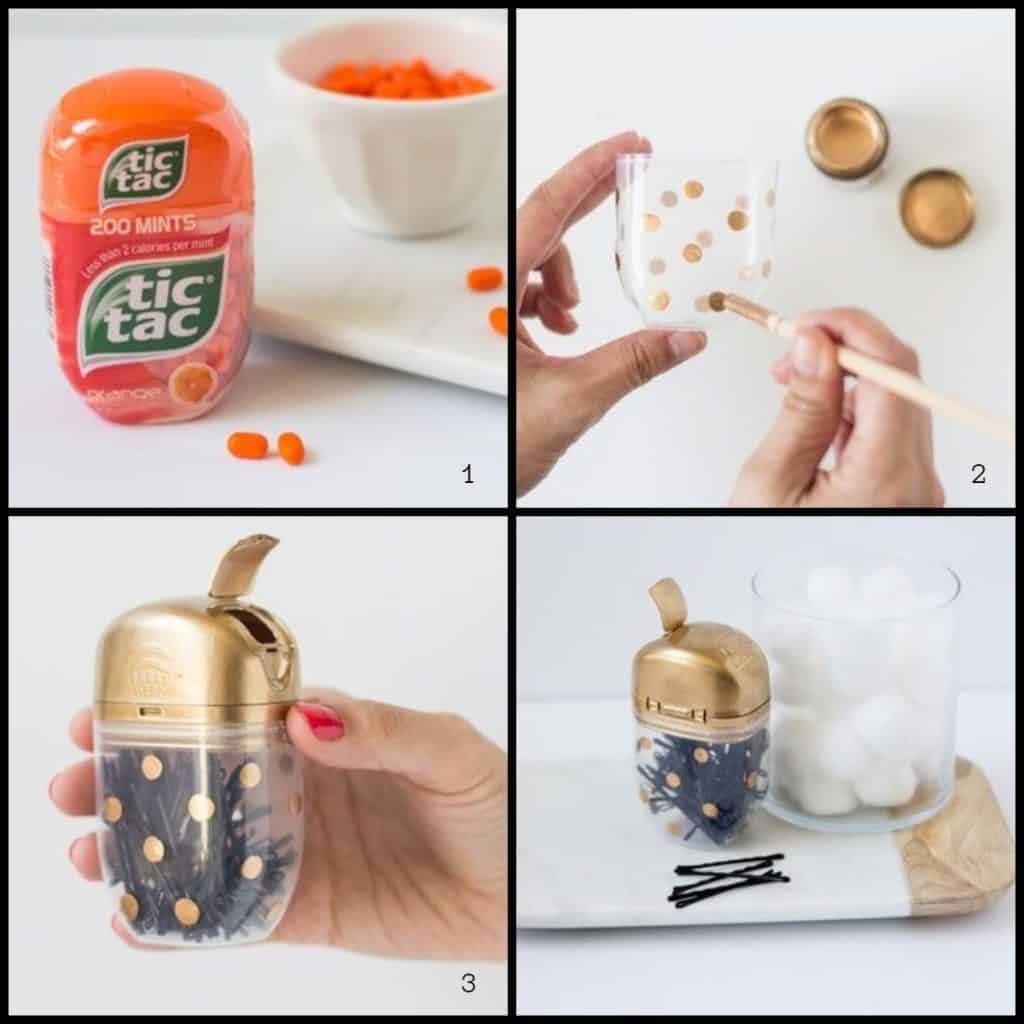 The flip-action hinged lid on most Tic Tac mint containers makes it an ideal storage option for bobby pins. This simple DIY project serves as a reminder that even seemingly insignificant household items can be transformed into valuable and practical solutions with creativity and ingenuity.
15. Create Lasting Memories with a Simple DIY Project
This DIY enthusiast demonstrates building a charming and durable tree swing in under an hour, providing endless outdoor fun for years. You'll need a small piece of wood for the seat and a sturdy rope to construct your own tree swing.

First, locate a tree with a strong branch supporting the swing. Next, securely fasten the ropes around the tree branch and the seat, ensuring they are tight and safe for use. With these simple steps, you'll have created a delightful addition to your outdoor space for everyone to enjoy.
16. A Creative Solution for Organizing Garage Items
While cabinets traditionally store office files or books, they can also be repurposed to accommodate garage items when space is limited. Follow these steps to convert an office cabinet into a versatile garage storage unit.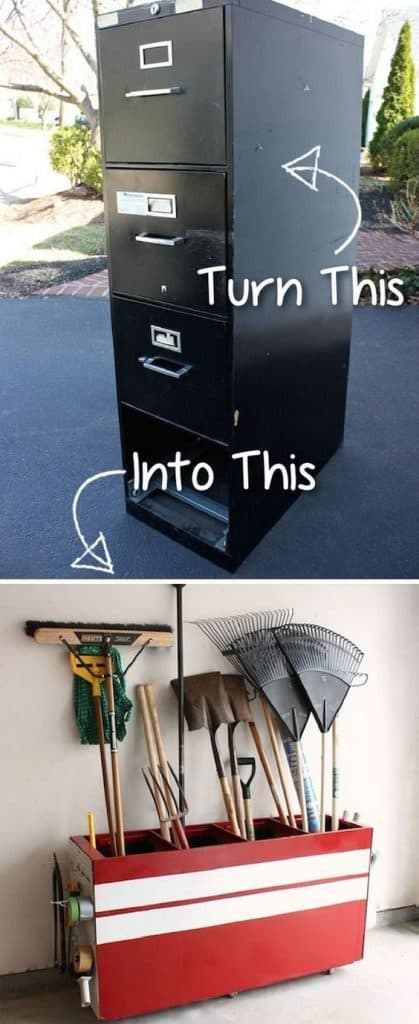 Begin by removing each drawer from the cabinet and laying it down horizontally. This creates ample space within each partition to accommodate more oversized items such as rakes and shovels. Additionally, you can attach nails or hooks to the sides of the cabinet for hanging smaller items. This innovative storage solution demonstrates the flexibility and potential of repurposing everyday items for new purposes.
17. Personalized Heart Sharpie Mug
A Delightful DIY Gift with Minimal Artistic Skill Required Creating a heartwarming, personalized mug is a simple and endearing project that requires little artistic talent. You can design a charming heart-shaped motif that looks professionally made with just a few supplies, such as oil-based Sharpie paint, contact paper, a plain mug, and a paint pen.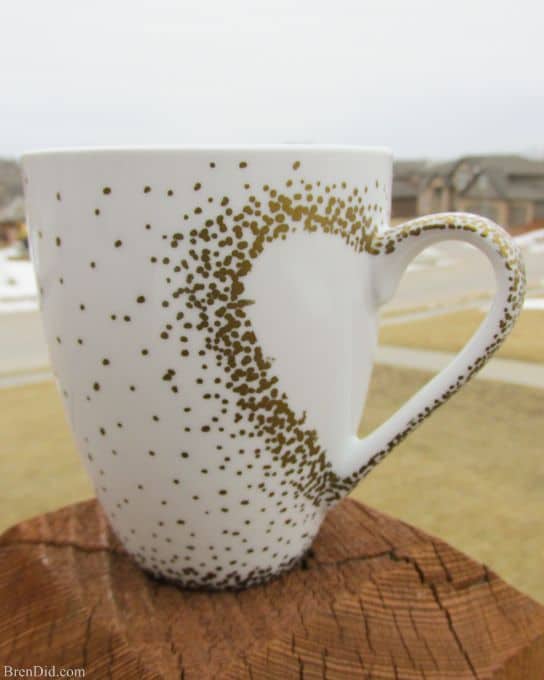 This heart Sharpie mug demonstrates that even those with limited artistic skills can produce eye-catching, custom-made pieces with the help of basic materials and a touch of creativity.
18. Stunning Spray Paint Transformation
Breathing New Life into Everyday Items Embracing the DIY world means exploring spray paint's versatility. This unique project showcases how an ordinary collection of containers can be transformed into a stylish and cohesive home office set with a simple coat of paint.
The key to achieving a sleek, high-end appearance lies in the careful application of spray paint, instantly elevating the aesthetic of mundane items. By repurposing and revitalizing everyday objects, you can create beautiful and functional pieces for your home while saving money.
19. A Unique and Artistic Twist on an Everyday Item
Explore the unexpected versatility of nail polish with this innovative DIY project. In addition to adorning your nails, you can use nail polish to create stunning marbled mugs that rival high-end designs. The process is surprisingly simple and yields impressive results.

Pour a generous amount of nail polish onto a plate, then dip a plain white mug into the colorful mixture. The marbled effect is created as the polish adheres to the mug's surface. Be prepared to let your creation dry for a while, but the final result will be well worth the wait.
20. Revitalizing Old Furniture on a Budget
Many outdated household items can be given new life with creativity and a touch of paint. Refurbishing old furniture not only saves money by repurposing existing pieces, but it also provides an opportunity to showcase your artistic talents. This transformed nightstand serves as a prime example.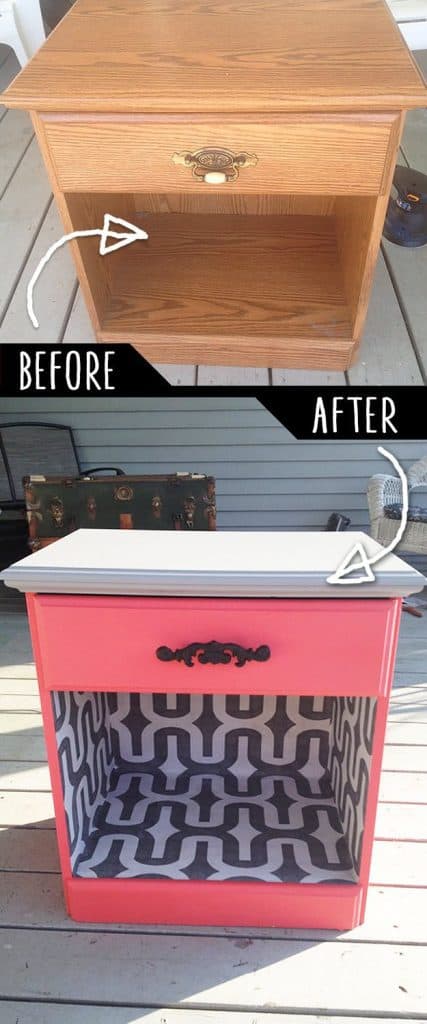 The DIY enthusiast breathed new life into the nightstand with a few simple steps: changing the inner frame and color and repainting the top surface. The most impressive part? The entire makeover cost only eight dollars, proving that some ingenuity can go a long way in revitalizing old furniture.
21. Crafting a Handy Phone Holder from Washi Tape and Paper Rolls
Believe it or not, you don't need to invest in expensive phone holders to enjoy hands-free music or video streaming. You can create a unique and colorful phone holder tailored to your tastes with just a few everyday items, like washi tape and a paper roll.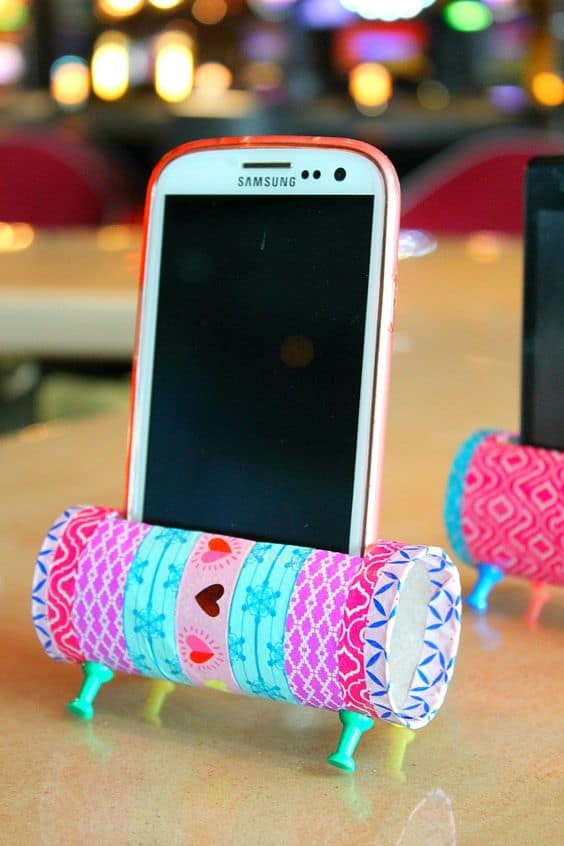 Start by gathering a paper roll and some vibrant washi tapes. Wrap the recordings around the roll to create a personalized design. Be sure to make the holder sturdy enough to support the weight of your phone, and you'll have a functional and stylish accessory in no time.
22. A Professional Look on a Budget
Successful DIY projects rely on a keen sense of color coordination and an eye for aesthetics. The beautiful combination of brown and gray in this project revitalized a small shelf and gave it a polished, professional appearance. There's no need to spend a fortune on store-bought items when you can repurpose furniture from flea markets and secondhand shops.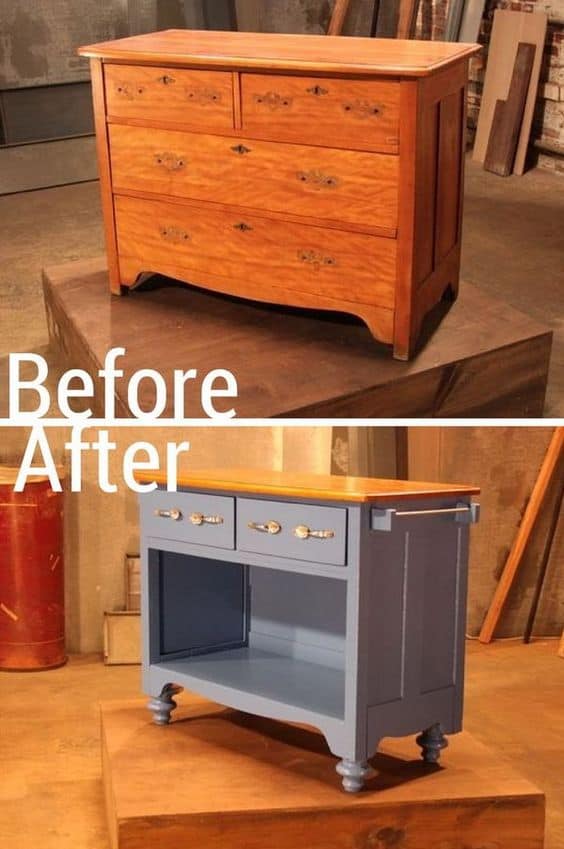 With some creativity and basic supplies, you can transform these pieces into high-end products. The impressive makeover of this shelf proves that with the right touch, even a simple DIY project can look like a professionally crafted piece.
23 Creative Wall Art with Sharpie Pens
Sharpie pens are known for their water and fade-resistant properties, making them perfect for creating colorful and long-lasting wall art. With the wide range of colors available, you can easily craft a vibrant masterpiece that adds character to your living space. You can involve your children in this fun and creative activity.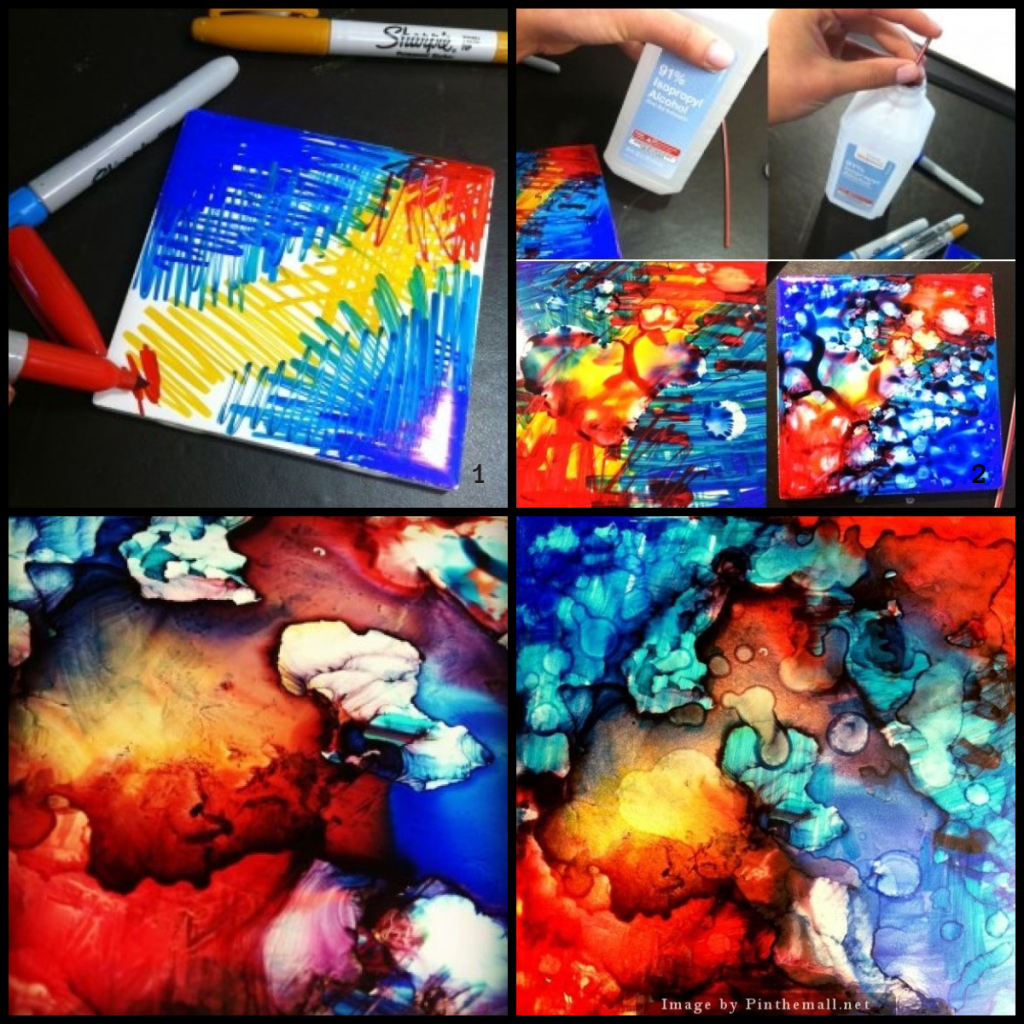 Art is a personal expression, so there's no need to worry about whether your creation looks organized or "perfect." As long as it speaks to you and brings joy to your space, your Sharpie wall art will be a unique and meaningful addition to your home.
24. Crafting a Cozy Flameless Fire Pit
During the holiday, fire pits create a warm, inviting atmosphere that enhances the festive mood. However, not every home has a safe space for an open flame. That's where a flameless fire pit comes in! This simple yet attractive project is made from everyday household items and can be easily customized.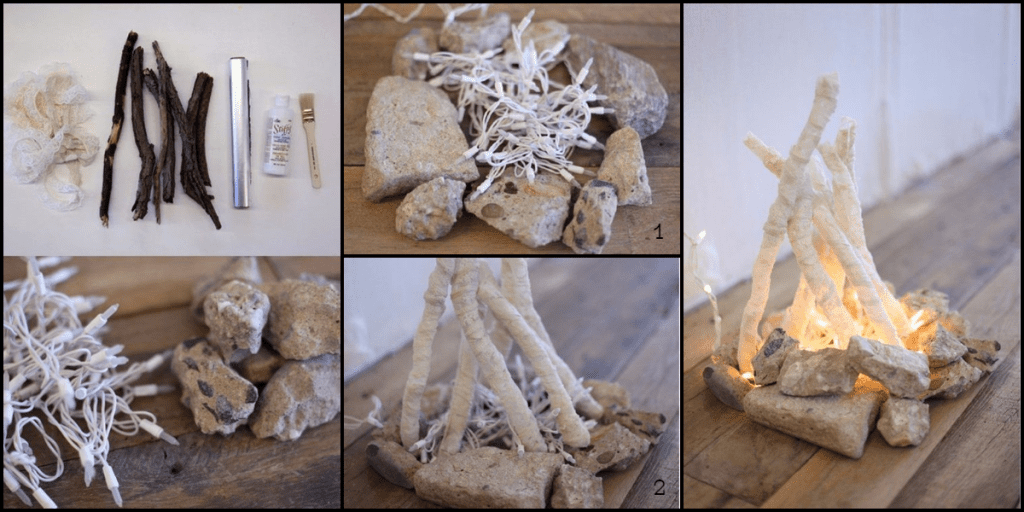 This flameless fire pit catches the eye with its simplicity and colorful appearance. You'll need lace strips, aluminum foil, tree branches, a paintbrush, and rocks to make your own. Wrap the components in aluminum foil, arrange them with the other materials, and enjoy the cozy ambiance created by your DIY fire pit.
25. Eye-catching Light Bulb Planter
Transform any space into a mini garden with this unique and budget-friendly project. This light bulb planter is not only beautiful but also easy to create. You'll need a transparent light bulb and some pliers to make your own.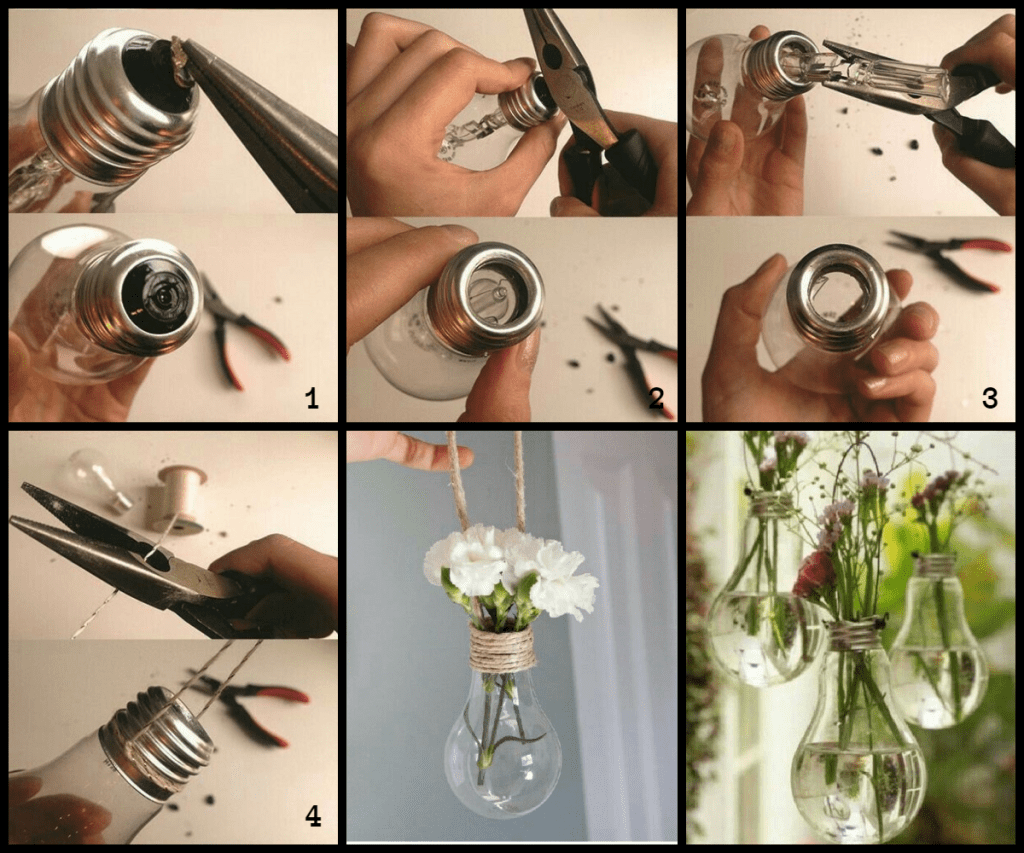 First, carefully remove the components inside the light bulb, creating a hollow space for your plant to thrive. After safely disposing of the internal parts, attach a string or twine to hang the planter from any desired surface. This innovative planter will add a touch of charm and greenery to your space.
26. Creative Tree Branch Coat Hanger
When you're short on hanging space at home, consider using a tree branch as a clever and artistic alternative to a conventional coat rack. This appealing piece of functional art is both practical and stylish.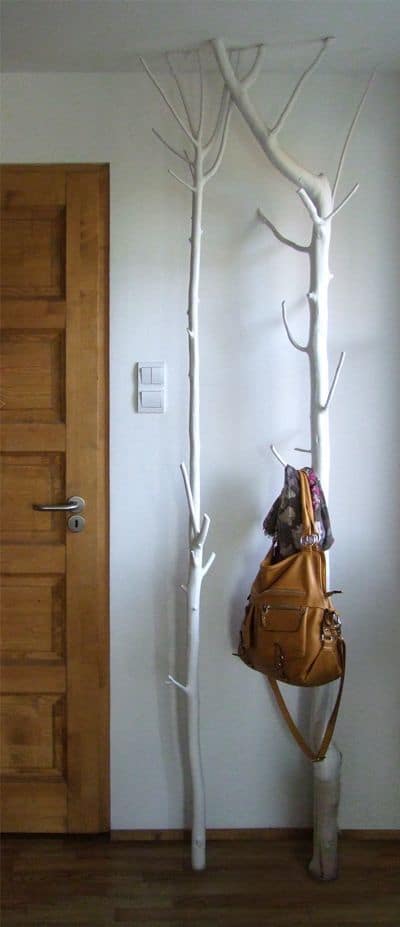 You'll need a fallen tree branch, paint, and basic carpentry skills to create your own tree coat hanger. Please consult a wood supplier to find a suitable unit, and then paint and prepare it to your liking. The finished product will be visually appealing and highly durable, adding a unique touch to your home.
27. Transforming a Lampshade with Artistry
Many household items only need a partial replacement if you're willing to invest some time and creativity. One great example is this transformed lampshade that can easily pass as a store-bought item, impressing your friends and family.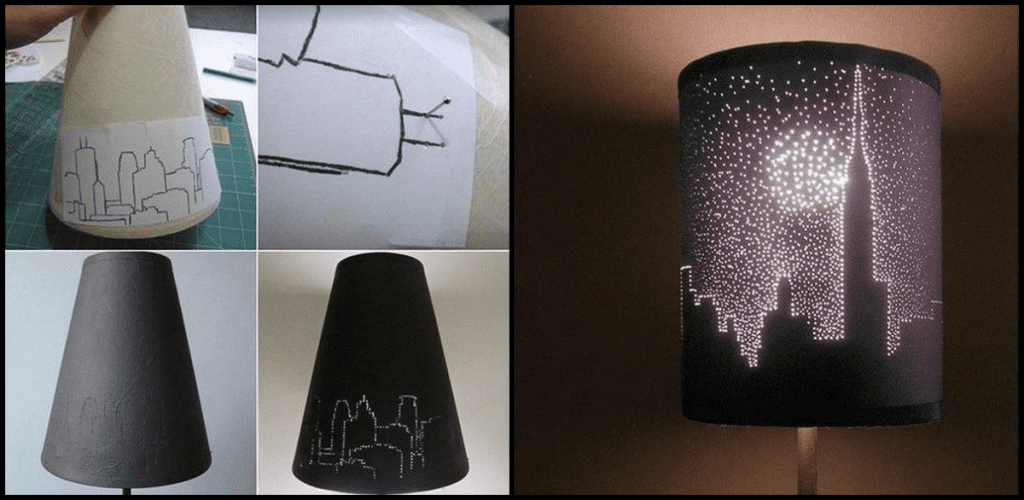 You'll need some drawing skills to achieve this look, as you'll have to create or download a city silhouette to apply to the lampshade. Once complete, the design truly comes to life when the lamp is turned on. The process costs far less than purchasing a new lampshade, making it a worthwhile DIY project.
28. Creating a Natural Pebble Shower Floor
A trip to the riverbank can now serve a decorative purpose. Gather colorful pebbles to create a stunning and natural pebble shower floor that brings an undeniable sense of nature into your bathroom. This project requires patience and meticulousness, as you'll need to arrange the pebbles individually.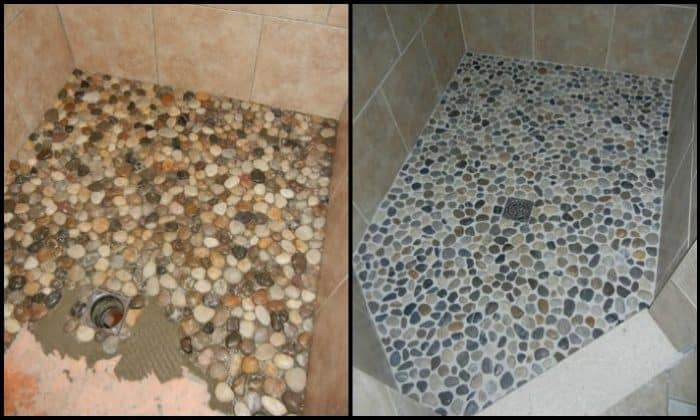 Additionally, an adhesive will be necessary to secure the stones in place. Some DIY enthusiasts may also consider color patterns during the arrangement process, adding an extra layer of artistic flair to the project.
29. Beautiful Framed Flower Letters
Framed flower letters are unique and visually appealing works of art. They make excellent wall decorations or thoughtful gifts for loved ones. The materials needed are simple and affordable, especially if you already have a suitable frame.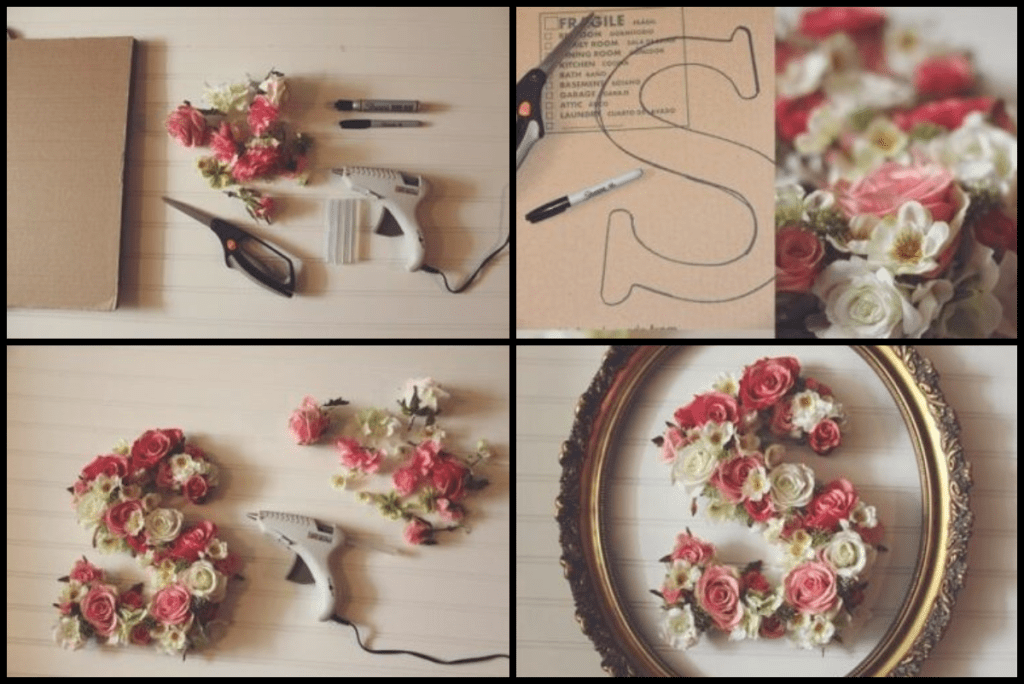 Famed for their delicate yet durable nature, flower letters require a piece of cardboard and a pen to trace the desired note. Once the outline is complete, glue the flowers onto the letter to create a stunning visual effect. This DIY project is both budget-friendly and sure to impress.
30. Crafting Monogram Letters with Ombre Yarn
Ombre yarn isn't just for making clothes; it can also create stunning monogram letters. These yarn ombre designs are not only delicate in appearance but also more resilient compared to the flower letters we discussed earlier.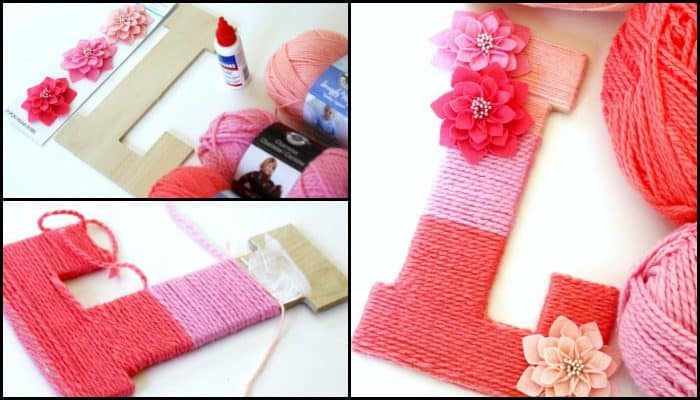 Easily framed or displayed elsewhere, these monogram letters offer versatility and longevity. If you wish to change the design, you can easily modify the colors and font, giving your space a fresh look whenever desired.
31. Adding a Touch of Sparkle with Glitter
This project challenges the saying, "not all that glitters is gold." With a generous application of glitter, you can create the illusion of gold-plated material in various DIY projects. Glitter can accentuate a factory-made product's design or give it a custom flair, breathing new life into old or secondhand items.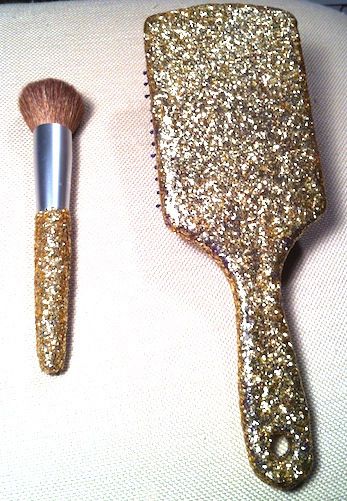 Investing in many glitters can lead to stunning transformations, adding a touch of luxury to your home or crafts. Whether refurbishing an item or creating something new, glitter can make a difference.
32 Constructing a Unique Hanging Bookshelf
This hanging bookshelf project showcases incredible creativity, particularly in the sculpted wood base. While beautiful, this project may be better for beginners due to its technicalities.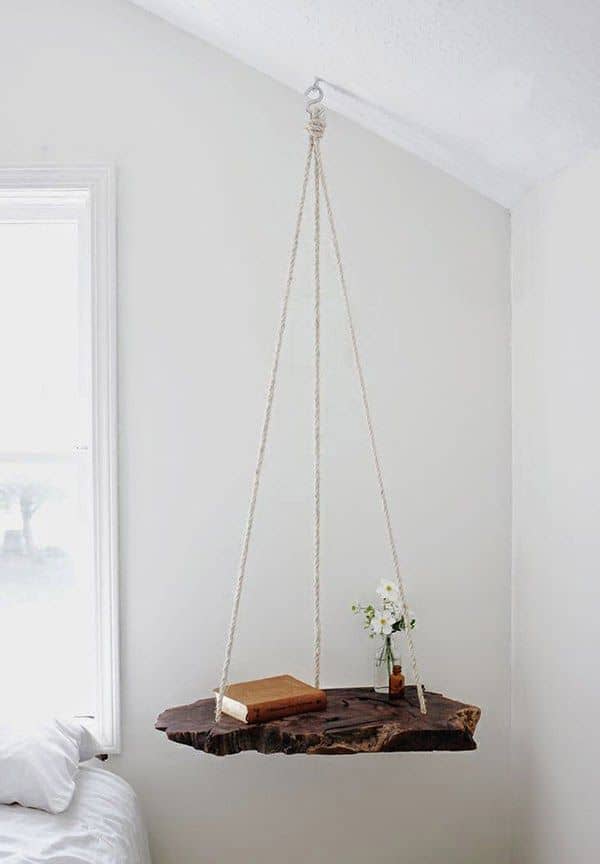 To create the base, the designer likely used wood shaping tools. Other necessary materials include ropes, anchors, nails, and basic carpentry skills. Ensure the yarn used is strong enough to support the weight of the bookshelf, preventing it from falling. This hanging bookshelf is a stunning and functional addition to any living space despite its complexity.
33. Crafting a Glitter Bowl
A glitter bowl is a unique and eye-catching creation that can add a touch of glamour to any space. While it may resemble a gold-plated bowl, it's a carefully crafted DIY masterpiece with glitter, patience, and precision.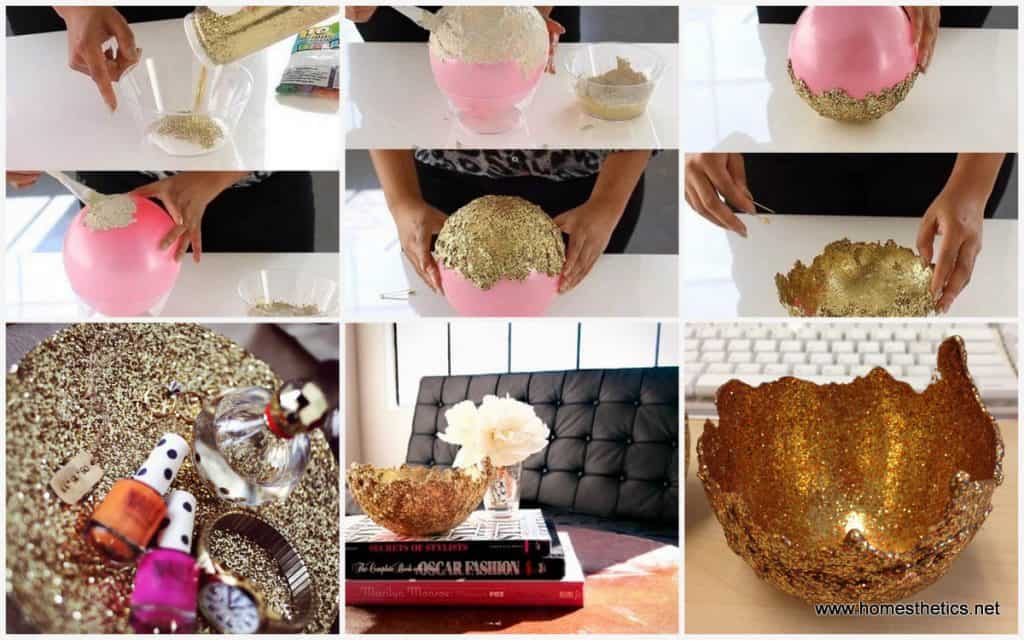 During the process, it's essential to be meticulous while painting the outer portion of the balloon to maintain the intended pattern. Any deviation from the design could compromise the project. Taking your time and paying close attention to detail will result in a stunning glitter bowl that can be a focal point in your home.
34. A Versatile Wooden Toilet Paper Rack
Incorporating trees and wood in interior design elements have been a recurring theme in many DIY projects. This wooden toilet paper rack is another example that has captured the interest of DIY enthusiasts.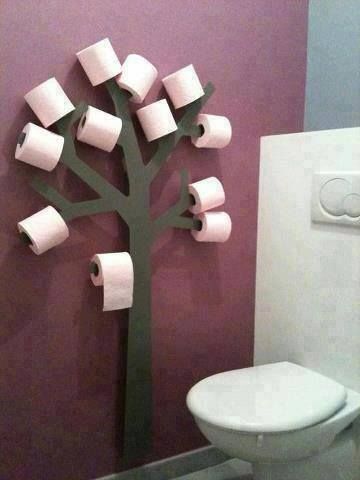 This rack can also serve multiple purposes as a makeshift hanger for underwear or other small clothing items in the bathroom. In addition, it helps organize toilet paper rolls and keeps them handy for future DIY projects. This simple, functional, and attractive wooden rack is a perfect addition to any bathroom.
35. Preserving Colorful Dreams and Ideas
Jars have numerous uses at home, from holding makeup brushes to planting flowers. But have you ever considered using a jar to store your dreams, ideas, and aspirations? You only need colorful notes and a pot to create a lasting memory bank.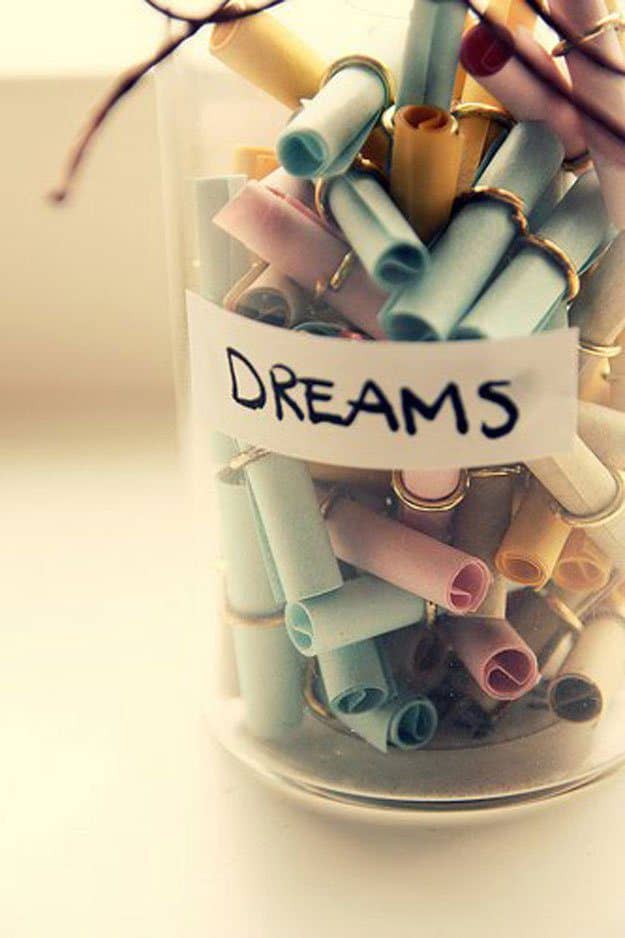 Whenever a new DIY idea or an exciting lesson comes to mind, write it on a colorful piece of paper and place it in the jar. Over time, you'll have a vibrant, budget-friendly journal that chronicles your daily activities, thoughts, and inspirations.
36 Create a Custom Zipper Pouch
Zipper pouches are functional and can be a unique expression of your personal style. You can create a custom zipper pouch from the comfort of your home by following a few simple steps.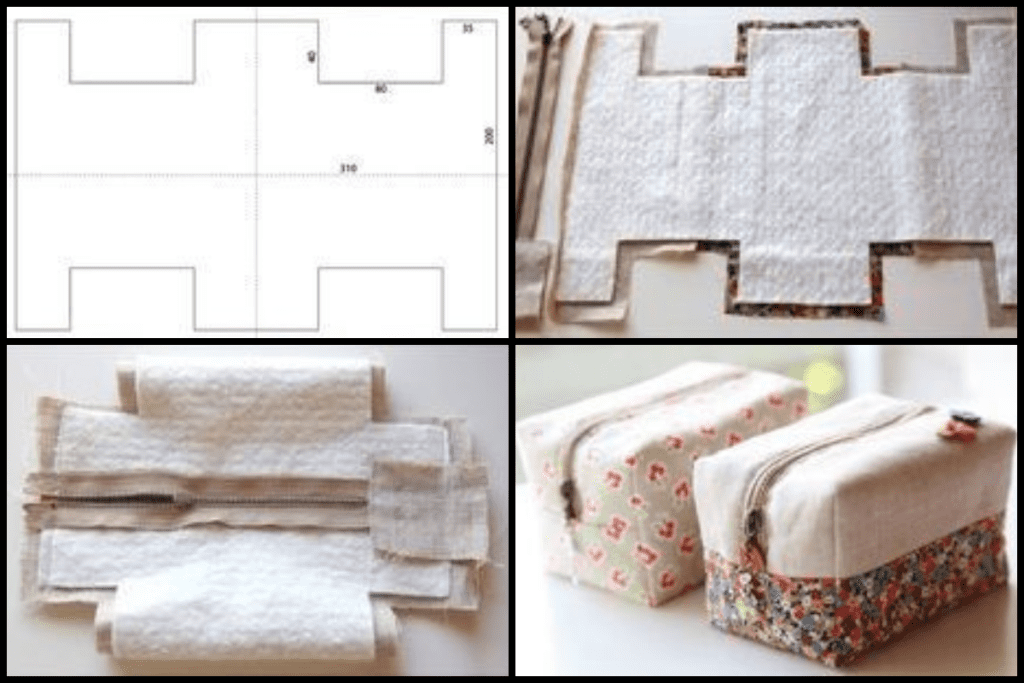 First, gather the necessary materials: drawing paper, pencils, sewing tools, zippers, and fabric. Take time to outline the dimensions of the pouch by creating a detailed sketch. Once you have a clear plan, it's time to start sewing. This DIY project allows you to create a bag that reflects your personality while serving a practical purpose.
37. Art with a Pinch of Salt
Salt has many uses, and here's an unconventional way to utilize it: creating art. Combining salt with paint brushes and various paint colors can result in stunning visual effects, like this fireworks display on paper.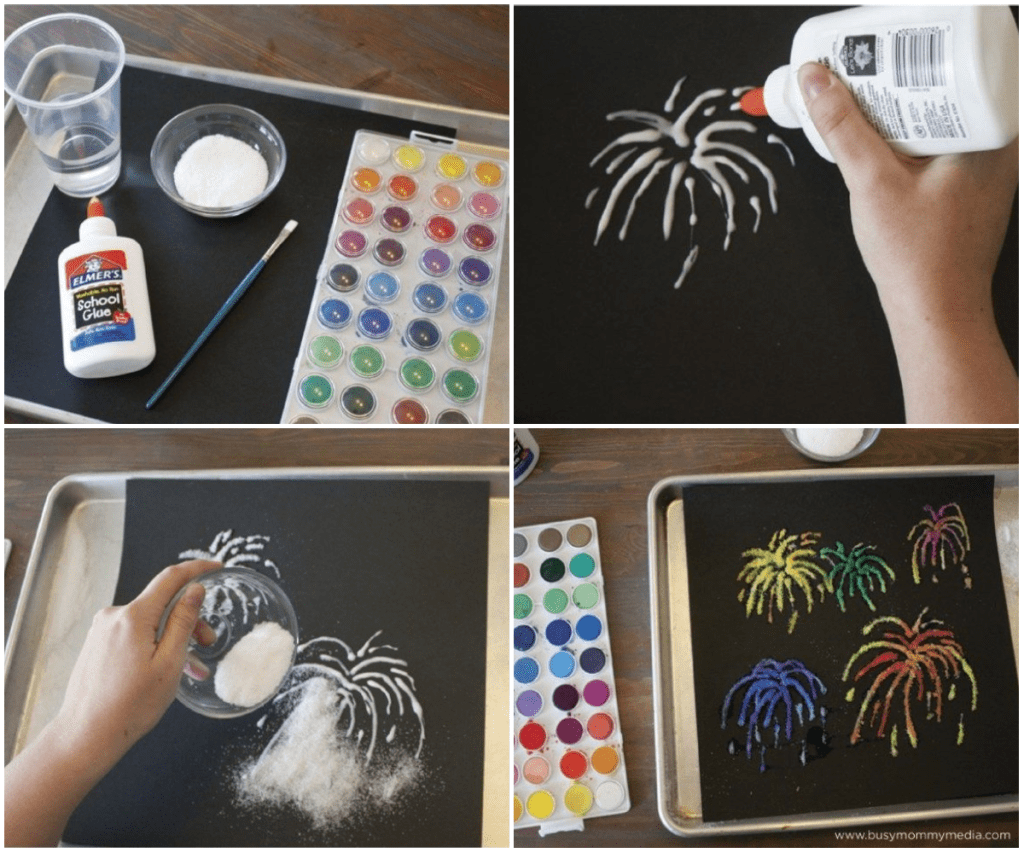 To create this artwork, start by pouring school glue onto the paper and filling the outline with salt. The final step is adding colors to the mix. This project is an excellent opportunity to involve your children and help them develop their creativity while having fun.
38. DIY Frosted Tumblers
These frosted tumblers are perfect as a gift idea and a stylish addition to your home decor. With the help of special tapes and paints, you can transform your existing tumblers instead of buying new ones, adding a fresh look to your collection.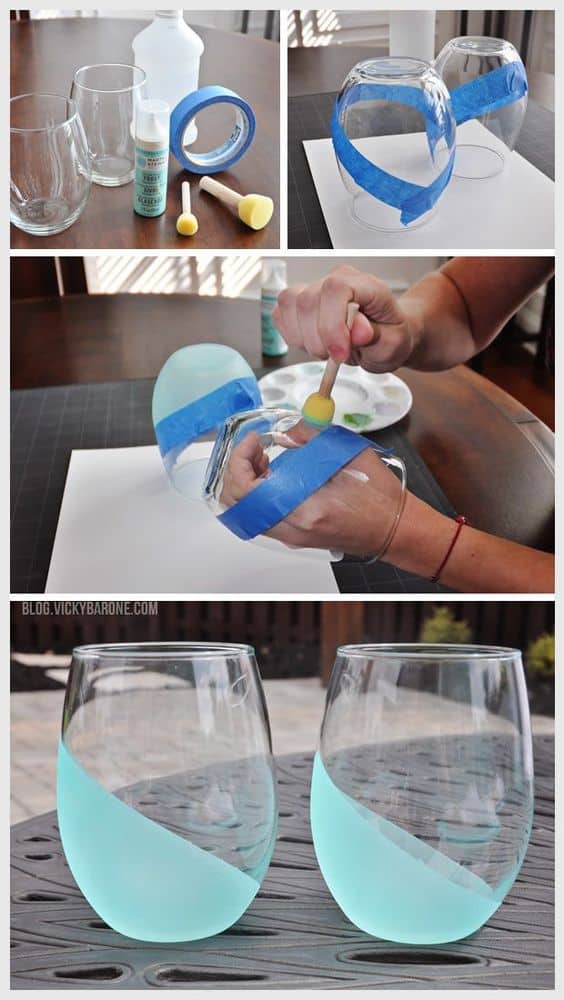 Begin by applying tape to the glass in your desired design, and you're halfway there. The remaining step is applying paint to the tumbler. Experiment with multiple color shades for a unique and eye-catching result. This DIY project is an affordable and creative way to give your glassware a personalized touch.
39. Versatile DIY Ladder Shelf
This simple and versatile ladder shelf DIY project offers a new perspective on ladders. Instead of just helping you reach high places, this repurposed ladder can be an attractive storage solution in your home.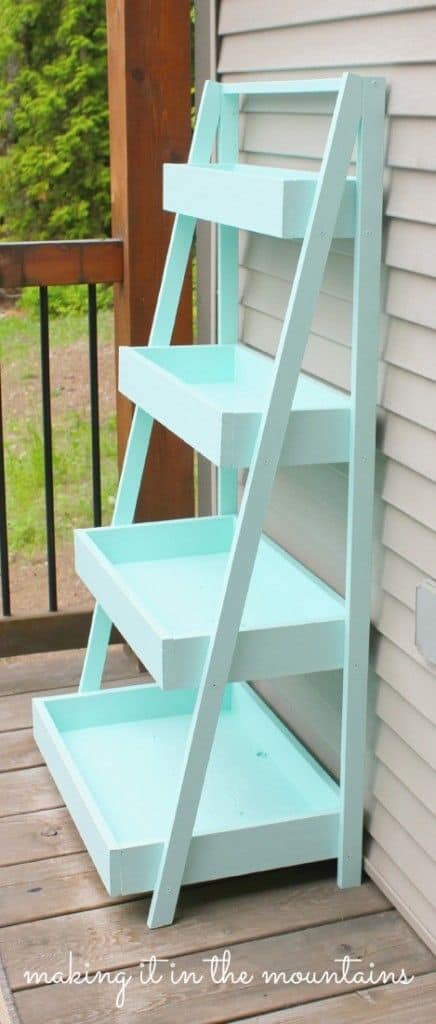 Feel free to customize the color to match your preferences, and enjoy the flexibility in choosing where to place this unique shelf. Whether in the bathroom for storing towels or the hallway for displaying photos, this ladder shelf will add a touch of charm and functionality to any space.
40. Transforming Windows into Artful Displays
Witness the fantastic transformation of an old window into a stunning display piece. Instead of discarding your worn-out windows, repurpose them into eye-catching works of art that showcase your creativity.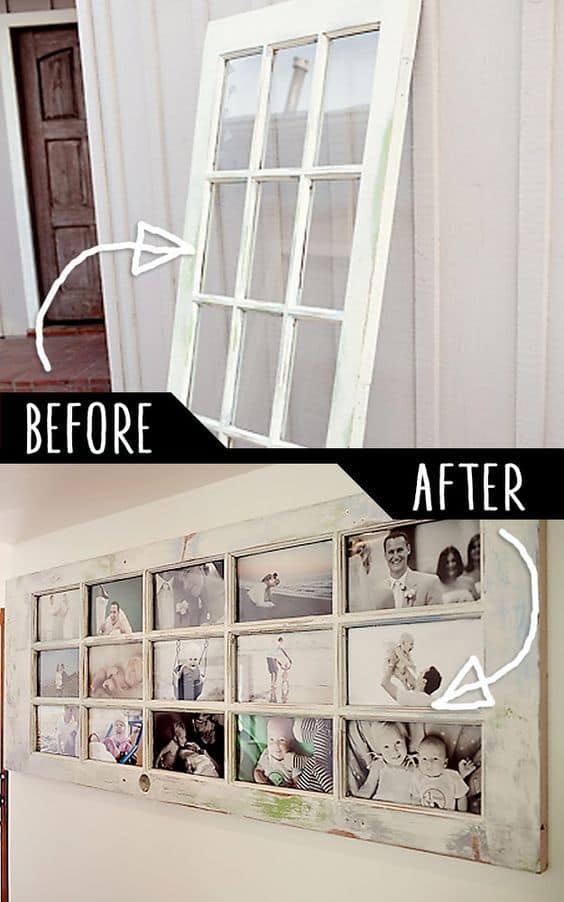 Windows often feature intricate designs, making them perfect candidates for upcycling projects. You can secure a repurposed window on your wall using the frames as picture holders, as demonstrated in this DIY. It's an environmentally-friendly way to give new life to an otherwise discarded item.
41. DIY Heart-Shaped Garland
Create a simple yet elegant wall decoration with a DIY heart-shaped garland. With various colors and shapes to choose from, each bouquet can be tailored to suit your style. With a bit of artistic flair, you can achieve a look that rivals store-bought versions.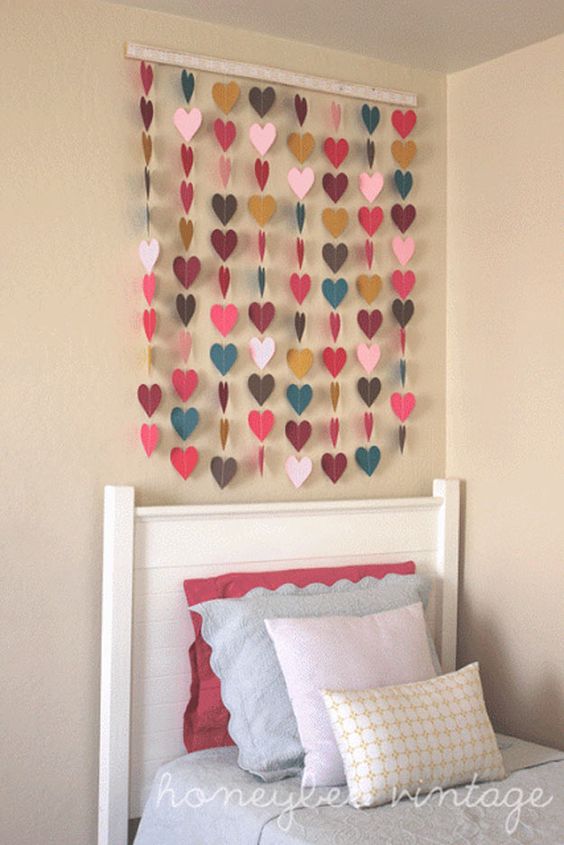 This papercraft project is affordable and quick to complete, making it a perfect addition to your home decor. You only need thick paper and scissors to create a beautiful, personalized garland. It's hard to believe that such a charming design isn't store-bought!
42. Stunning Outdoor Light Orb
Enhance your outdoor decor with this stunning light orb, perfect for creating a welcoming atmosphere. Exterior decoration is as essential as interior design, as it forms the initial impression for visitors and passersby. Good lighting is a simple yet effective way to elevate your outdoor space.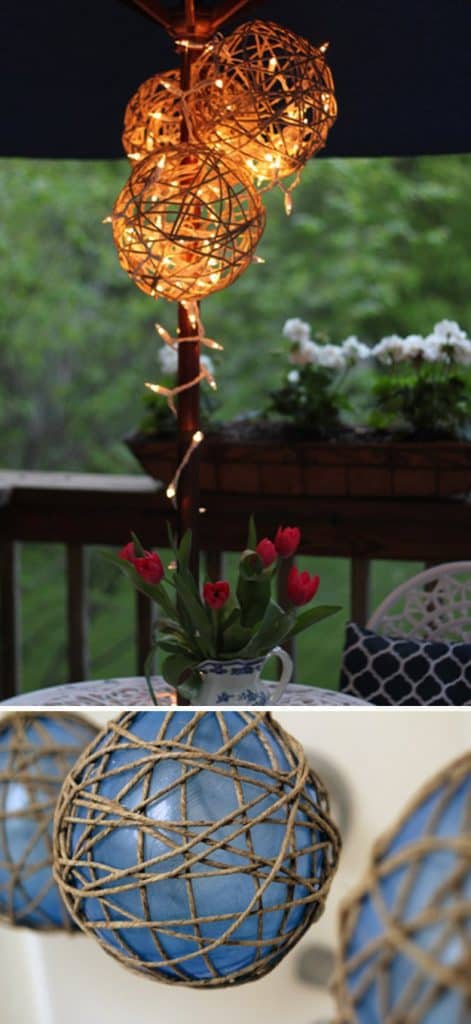 This beautiful light orb is an inventive use of embroidery hoops, ropes, glue, and a balloon. Though the materials are common, the result looks like a professionally crafted piece. Brighten your outdoor area with this eye-catching DIY project that will leave a lasting impression.
43. Mason Jar Makeup Organizer
Transform spare mason jars into a practical and stylish makeup organizer for your bathroom. This space-saving solution is perfect for those struggling with cluttered countertops. To create this organizer, you only need wooden boards, jars, and hoop mount brackets.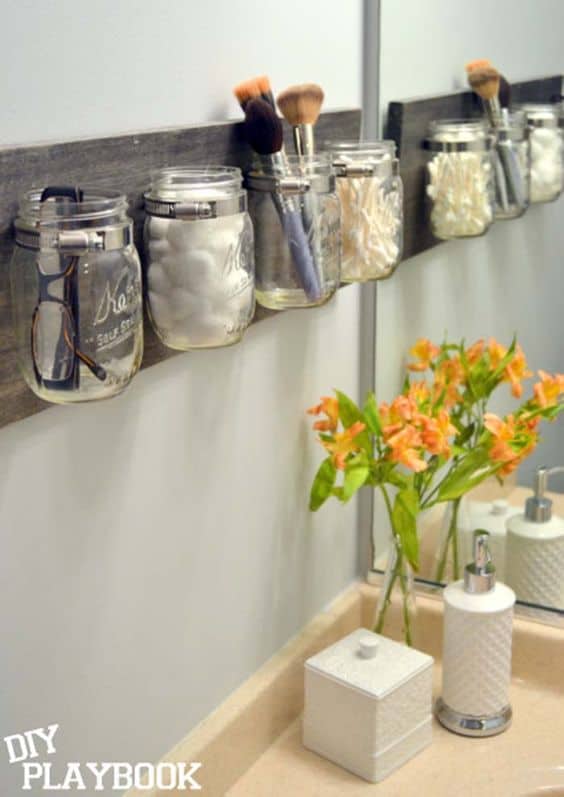 This versatile project isn't just limited to bathroom storage. It can also serve as a custom organizer in a home office or any other space that requires tidying up more minor items. Just mount it securely on a sturdy wall for optimal functionality and durability.
44. Chrysanthemum Mirror Art with Spoons
Discovers an ingenious way to repurpose disposable plastic spoons with this unique chrysanthemum mirror art project. At first glance, no one would guess that utensils play a significant role in creating this stunning piece.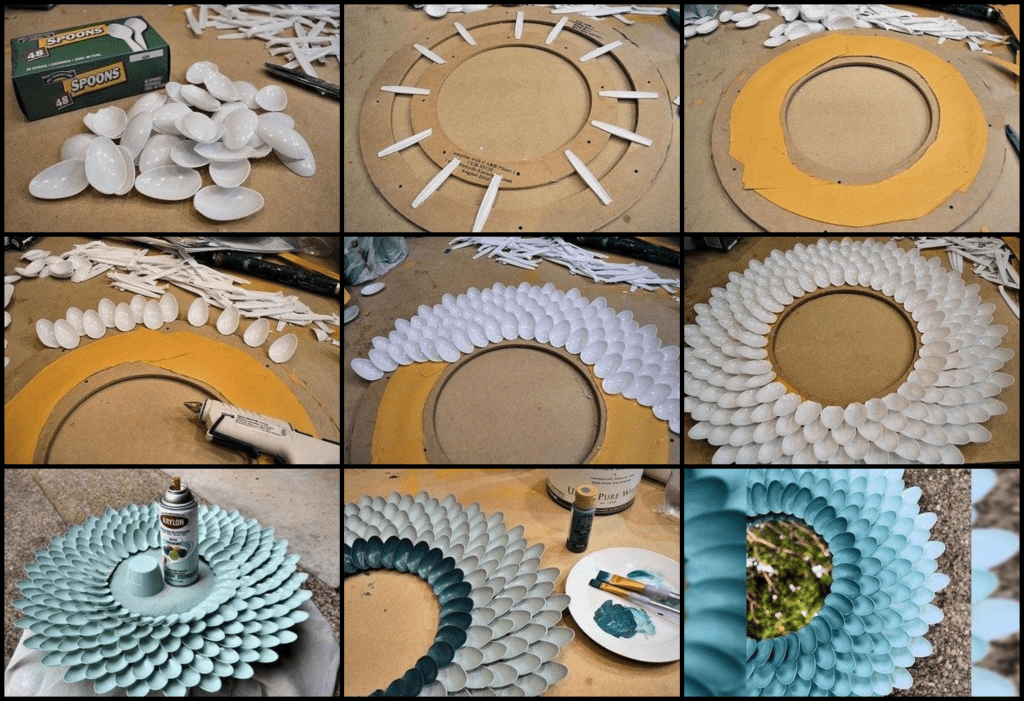 When arranged and layered correctly, spoons can form the perfect floral impression. With a gradient of paint colors, the final artwork resembles a giant, blooming chrysanthemum. This creative DIY project is an excellent way to upcycle plastic spoons while adding a touch of elegance to your home decor.
45. Captivating Twig Heart Wall Art
This beautiful heart-shaped wall art stands out for its use of natural materials and simple color pattern. The designer has transformed ordinary twigs into striking home decor that is both eco-friendly and visually appealing.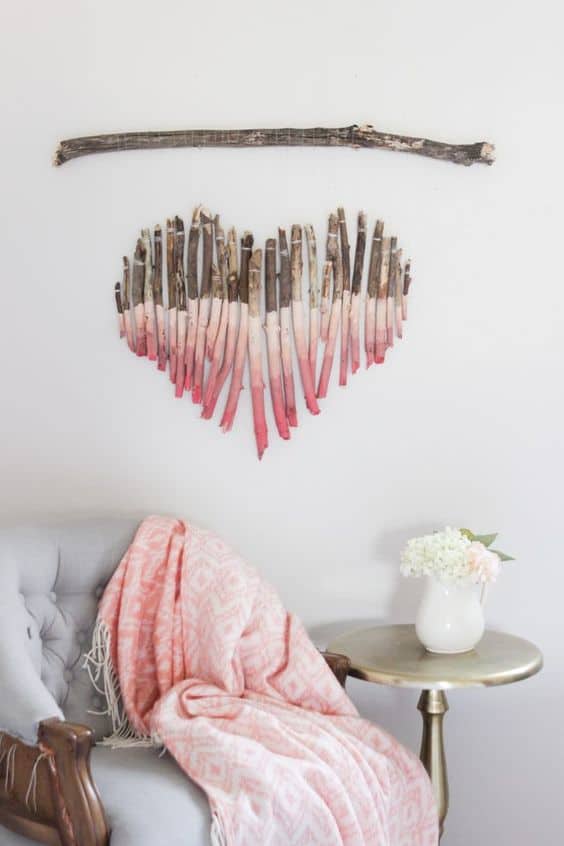 The stunning color gradient brings life to the twigs, creating an artwork that is both rustic and elegant. The designer likely used cutting tools to trim and arrange the twigs to achieve the desired shape. With endless possibilities in shapes and colors, this DIY project offers a unique way to express your creativity while decorating your home.
46. Multi-functional Outdoor Potting Bench
An outdoor potting bench can be a fantastic addition to your home, serving as a practical workspace, garbage enclosure, and storage area. This versatile project provides both functionality and aesthetic appeal to your outdoor space.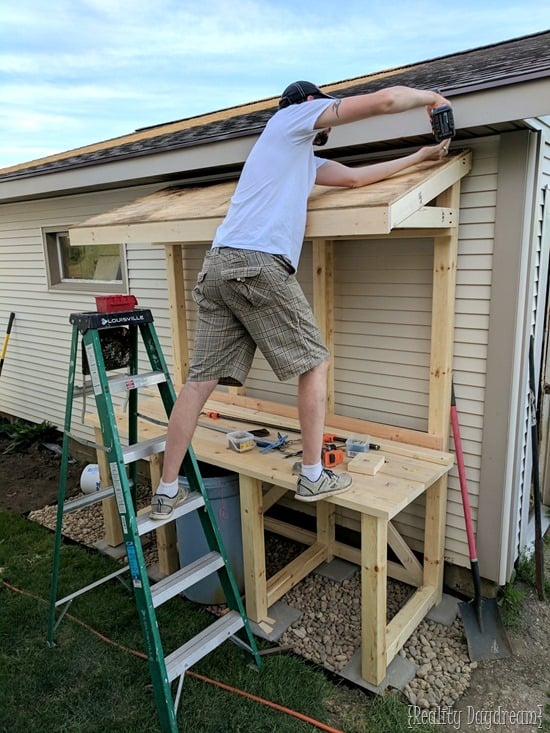 Begin by leveling the ground and creating holes for the legs of the bench. Once the stands are installed, add the top and ensure it is secure before proceeding to the roof. If you need additional storage, consider turning the bottom space into shelves. This DIY potting bench will make gardening and outdoor activities more enjoyable and efficient.
47. Charming DIY Crochet Lamp
Add a touch of charm to your home with this affordable DIY crochet lamp. You'll need a balloon, glue, and crocheted doilies you may already have. Start by inflating the balloon to the desired size. Next, glue the doilies and attach them to one side of the balloon, allowing them to dry for about two days.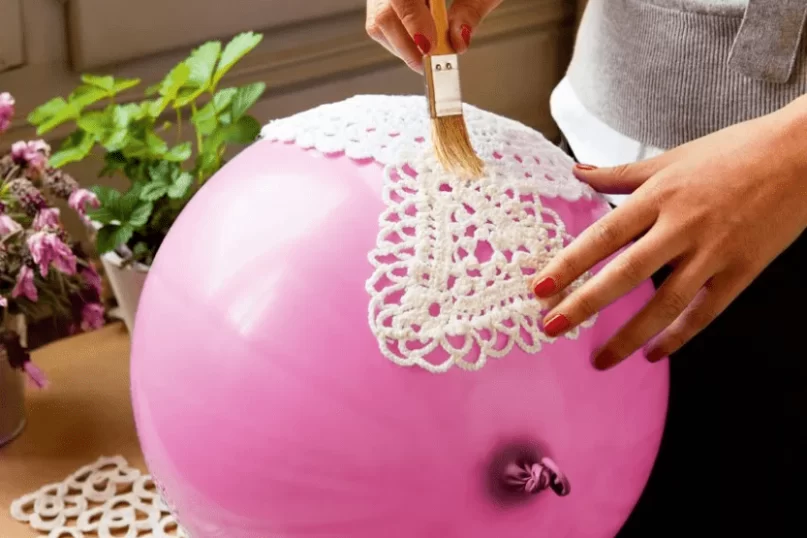 Then, apply the remaining doilies to the other half, ensuring you leave space for the bulb holder. Once everything is dry, prick the balloon and remove it before assembling your bulb. This unique, handmade lamp will bring warmth and character to any room.