While new interior design styles pop up every day, it's not always easy to find one that fits your style, isn't it? At one point, we tend to look for those trends that combine two or more to satisfy our needs, take Japandi for example. As the name suggests, this design trend is a hybrid between the modern Scandinavian and elegant Japanese styles. Who would have thought a combo of monochrome pallet plus deeper, richer tones could work so well? Well, that's Japandi for you.
In one way, these two supposedly contradicted style works so well because they have one goal in common: to emphasize the essence of simplicity. Furthermore, their big difference also becomes a strong point as they could complement each other in many ways. If the Scandinavian decoration falls in a neutral and muted tone, its Japanese factor puts the focus on the bold colors of each item. You can easily recognize this type of design once you see them. Now, are you interested in finding more details on the Japandi style? Read on below!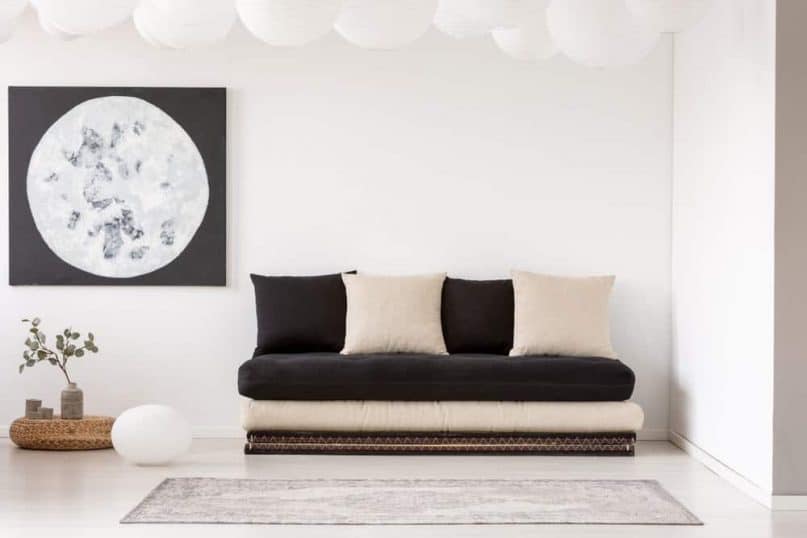 15. True minimalist.
While it's hard to archive the perfect minimalism style, there are still other ways that you could make your house seems just as minimalist as possible. As the type requires extreme spareness and simplicity, you don't need to spend too much or try too hard for your house to show off this lifestyle. This is quite similar to the Japandi style. One of the most critical parts of Japandi is to keep all things as their roots and keeping a timeless appearance for everything. These are reflected in some details, such as open floor plans or other clean lines.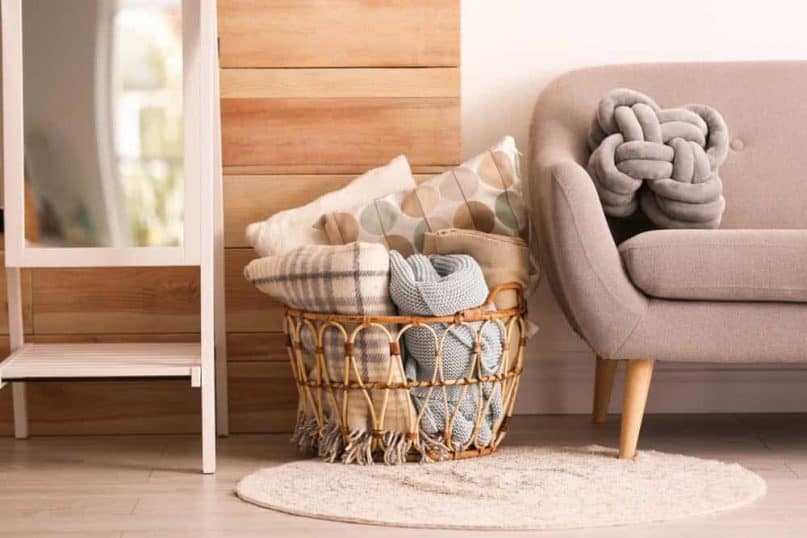 If you have a hoarder history with too many things that you can't simply get rid of, perhaps "faux minimalism" could be a wise choice. First, you will need to put as much stuff as possible into natural-tone bamboo containers like boxes and wicker baskets. Add some built-in and folding screens to keep any unwanted items from cluttering your room. By doing this, you can make your house seems clutter-free and retain the Japandi aesthetic without letting go of things that you want or need.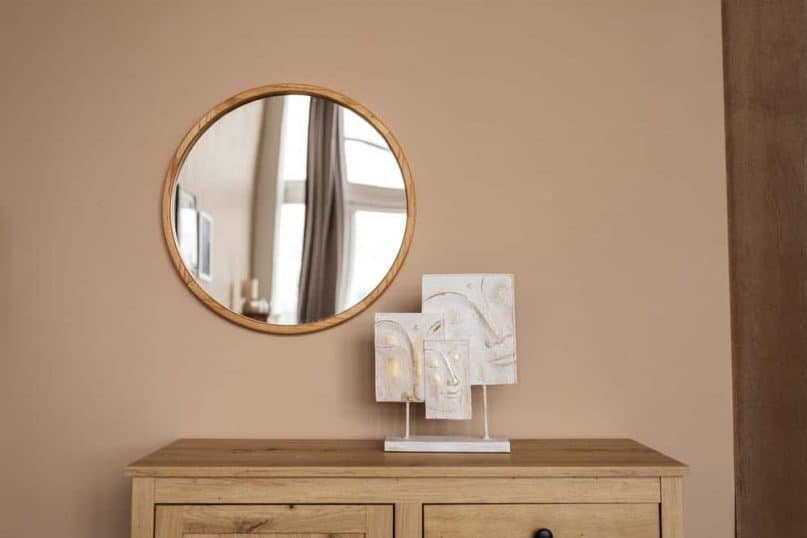 14. Keep it basic and clean.
While most minimalism raises the slogan 'less is more,' Japandi style could be quite different. If you are aiming for a Japandi simplicity, it means to keep the design as simple as possible. We're talking about sleek, clean lines, even edges in terms of furniture for decorations. Moreover, you can get creative with the lines; they could be vertical or horizontal, or a mix of them, as long as you are happy with it. On the other hand, the style aims at functionality, so try looking out for more flat, smooth surfaces that could stand out in your neutral-tone wall. One thing to remember is that most Japandi furniture should have similar heights and are placed lower than usual.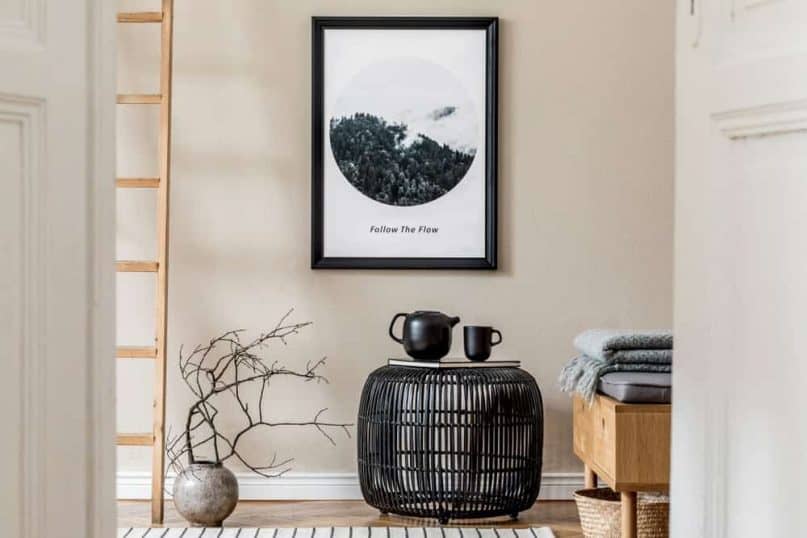 Specifically, the Japandi aesthetic puts humans at the center, not the style. So if you don't feel happy with some part of the design, we wouldn't recommend following it. Furthermore, just because someone said this item should fit perfectly with the decoration, it's your opinion in the end. Go with whatever you think will work and give your peace of mind. You will be the one living with a Japandi-style house, not them. When choosing a hybrid style, you can always pick the best of both worlds and leave out what you dislike.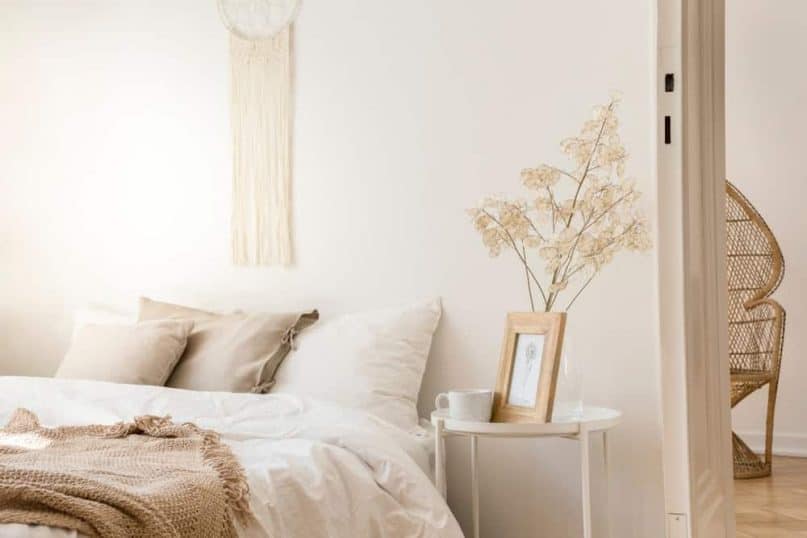 13. Get closer to Mother Nature
A big part of Japanese decor style is the appearance of natural materials in our living space, and so is Japandi. Most synthetics and industrial decorations also don't work with the rustic Scandinavian style, so it's easy to see why Japandi has made nature one of its core values. Similar to minimalism, this trend put more focus on the connection between humans and our surroundings, stressing the spiritual level. You can start with some simple materials like bamboo, wood, seashells, feathers or iron, leather, and marble.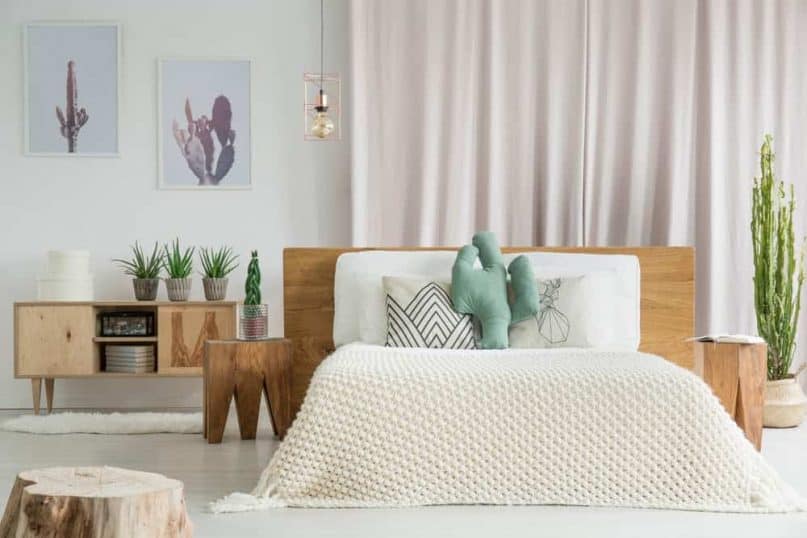 Natural materials mostly give off a soothing, elegant, and timeless vibe when combined in interior design. Moreover, they also go well with natural light to help create a calming, intimate atmosphere for your home, whether it's day or night. Pick those pieces that speak to you. Just avoid getting anything just because they could be made of specific material, as we listed above. Another important factor you need to remember is the sunlight. Let your house get as much light as possible; it is one of the most affordable and beautiful natural factors we have!
12. Clear and warm textures
When it comes to texture in a room, we need to also consider the design and texture, not just the fabric type. To give your room a cozy and warm vibe, make sure to pic the textures carefully. If you are still confused on this part, let's dive in for a better explanation. Simply put, putting a fuzzy blanket on a couch in your room doesn't mean you have complete the texture well. It includes many aspects and combinations between rough and smooth decorations. Moreover, this is a great way to draw attention to any part of your house.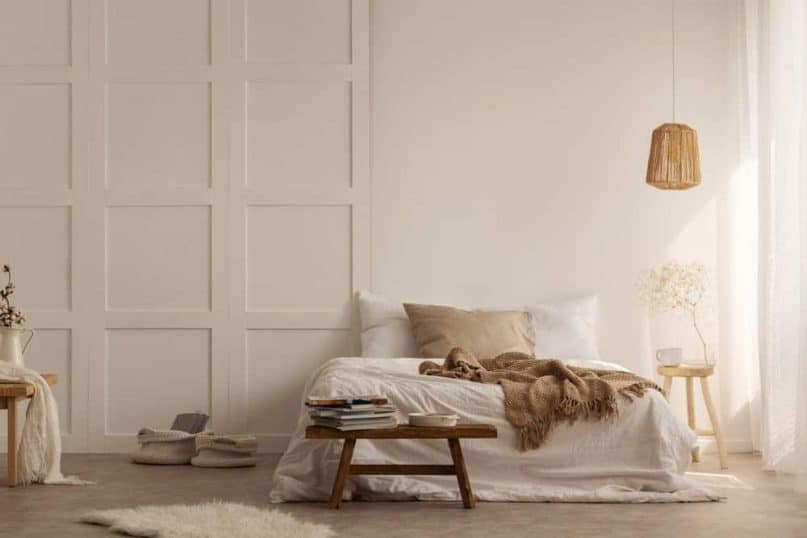 Layering various textures to create a rich interface is a good idea. Aside from fabric type or furniture finishes, you can consider lots of combinations to use to create texture. If you have a tasseled rug, would you be surprised to know that it can go well with a polished mantle? Beauty can come from such contrast like that. Furthermore, they help to add more levels to your room. You can go bigger and bolder, like choosing velvet sofas with neutral tone colors. The fabric alone would be enough as an eye-catcher.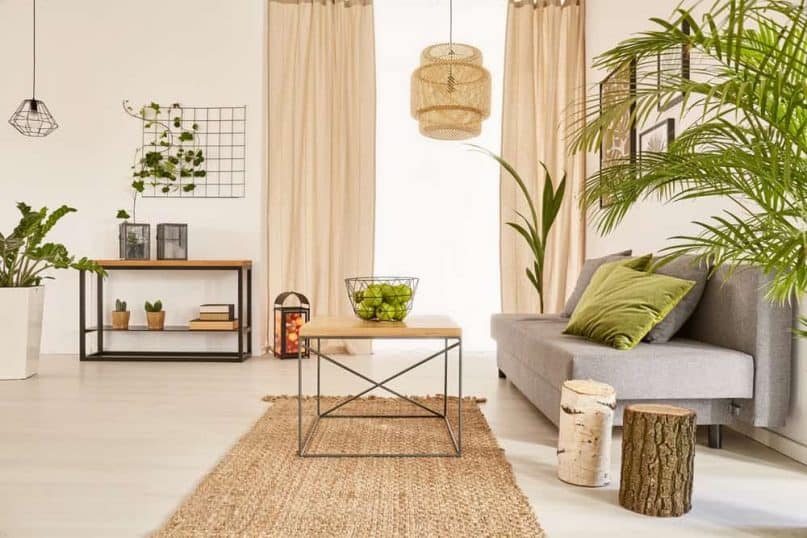 11. More plants!
You might think that having indoor plants would be adding another thing to your already full to-do list, don't you? However, they could bring in more benefits than you think. Firstly, there are many plant types that you could pick that require less care than usual. Some of the easiest ones to care for should be snake plants, pothos, aloe vera, and money trees. Just make sure you pick out those that could fit well with the texture of your home. Furthermore, their pots and vases should also go well with the theme.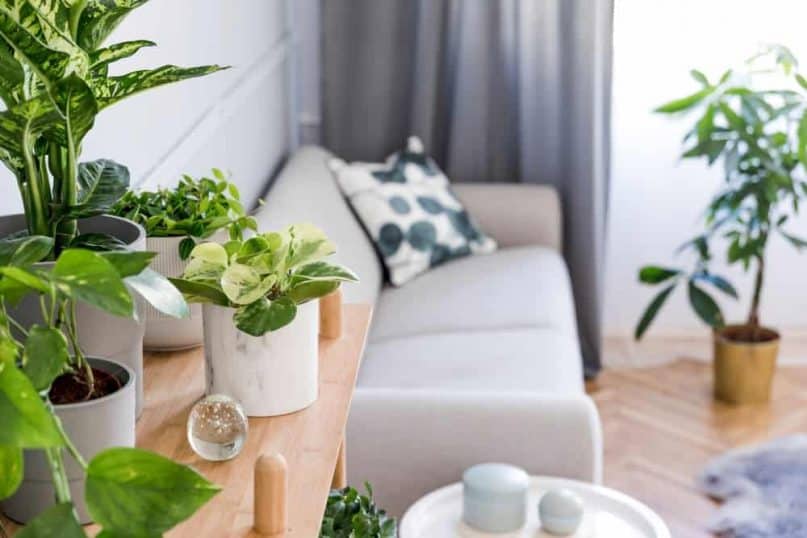 Furthermore, try to mix around with the plants' shapes and sizes. Smaller plants work well in areas where overcrowding isn't an issue, while larger ones will fit a space with fewer items. For the arrangement, the larger plants go in corners, while you can put the smaller plants as centerpieces or accessories on tables or shelves. One thing to remember is that do not overload your space. Make sure to divide them evenly so that each plant could receive the sunlight and care they need. In relation to Japandi, Ikebana (Japanese art of flower arranging) also encourages you to take time to care and arrange them.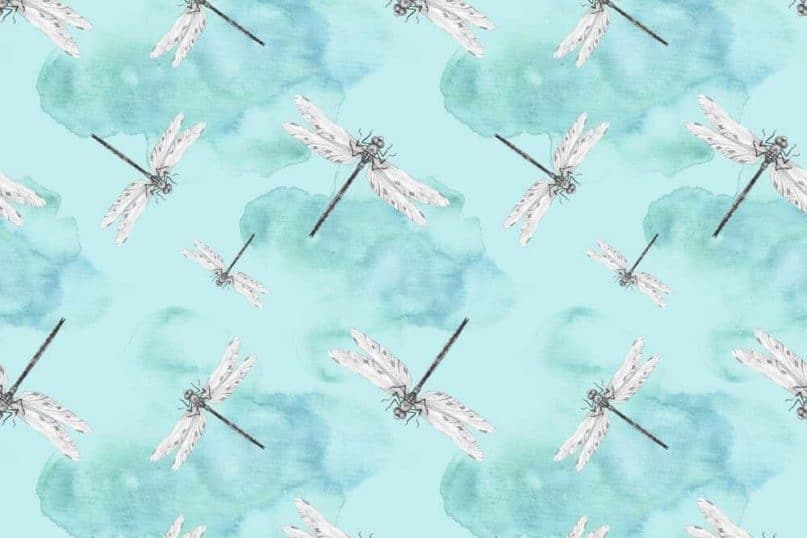 10. Mix geometric motifs
As Japandi style mainly focuses on "imperfect beauty," you can easily spot some unusual combination that you don't see in other trendy ones. The bold Japanese decor would go well with a playful Scandinavian patterns item. This combo particularly works well for living room decorations like cushions and curtains. However, make sure you don't overdo the pattern selections. We don't want to see too much decorative detail in one place. If you already pick some neutral furniture pieces, pair them with a fascinating Japandi wallpaper and it will give you a better result.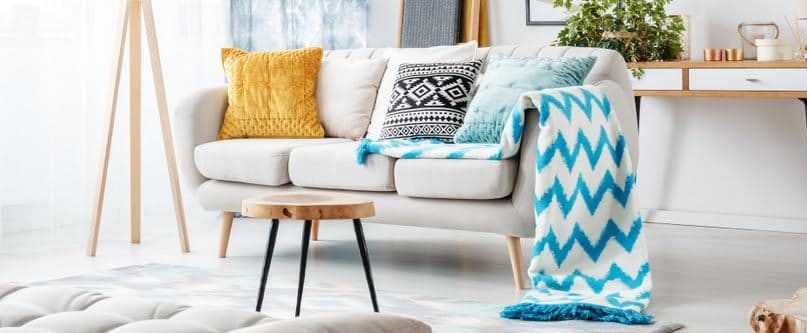 On the other hand, while we said go crazy with patterns, make sure they come with a similar vibe. Once you already got a decorated room, adding some items with some common thread will be much better. Consider up to three areas when picking them out. First, their color might match, or they seem to have a similar pattern, or simply the material is matching? You want to avoid having space with too many mismatches. Stay in line with the true Japandi spirit, less messy more matchy!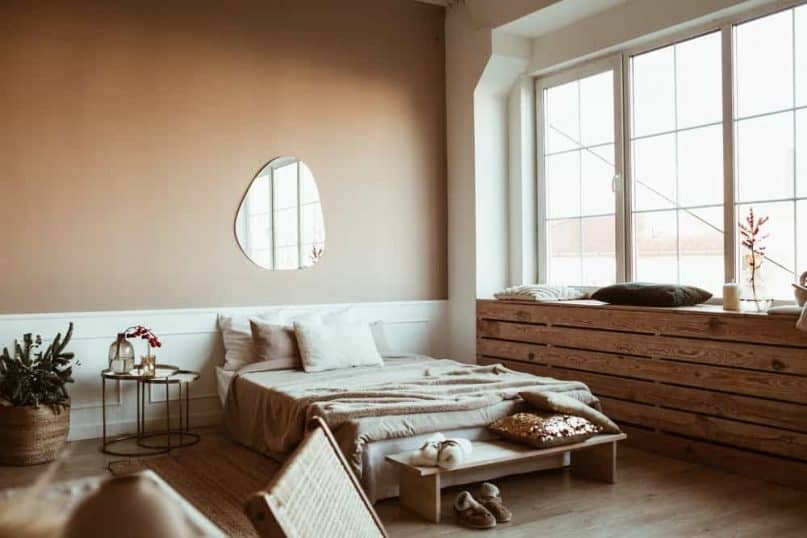 9. Combine neutral colors with a contrasting tone
Japandi colors are rather closely related to the Scandi palette than you think. Shades like beige, cream, oatmeal, tanned, and ice colors appeared in this trend a lot rather than the primarily white and bright colors. Furthermore, a mix of colors like pinks, blues, greens, greys would also work better than just muted ones. Coming from the Japanese design, darker accent colors are also more preferable. This kind of mixture will provide your house with a warmer look. To decorate the place, you can consider getting some art pieces. However, remember that Japanese and Scandinavian art have quite different types, so make sure to only add those that can fit the tones.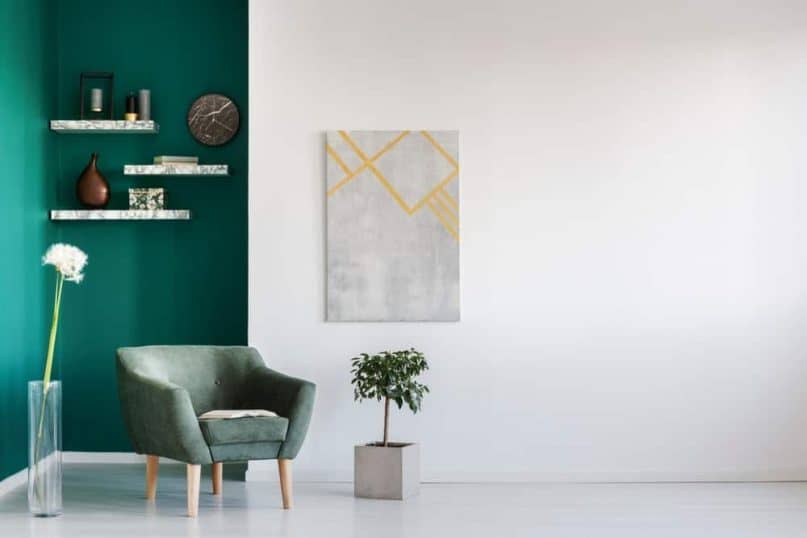 Bold colors are the main core of Japanese design as they often come with significant meaning. For example, red represents strength and passion. Most people usually wear red clothes to weddings, and you always see red dishes served at important events in the country. Meanwhile, gold means wealth and prominence, and blacks give off the meaning of mystery ad anger. As a result, make sure to pick out which color you want to have in your house. If you have a happy vibe, we would suggest dragonflies. They mean courage, happiness, and strength. Others you can use are typography, brushstrokes, and gradients. On the other hand, bright and airy are stable in Scandi design. As their winter is long and dark, they rely on the soft and vibrant color to keep their home alive.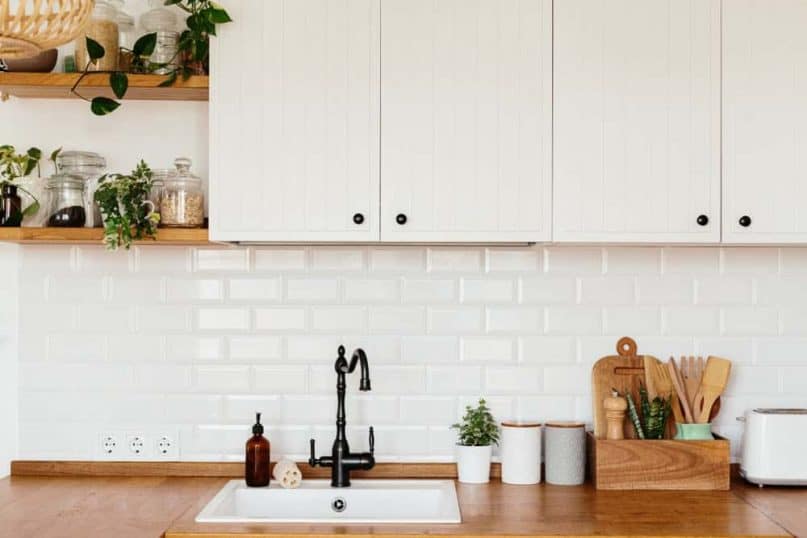 8. Go for the environmentally friendly materials
When it comes to choosing eco-friendly or sustainable materials, we might have to pick one out of the two at some point. However, the Japandi style now comes with both! There are now many designs that can satisfy your needs for a highly aesthetic decor that can fit the eco-friendly scale. With the rise of the Japandi trend, you can even find some items at your local store. No need to spend big bucks on the shipping fee!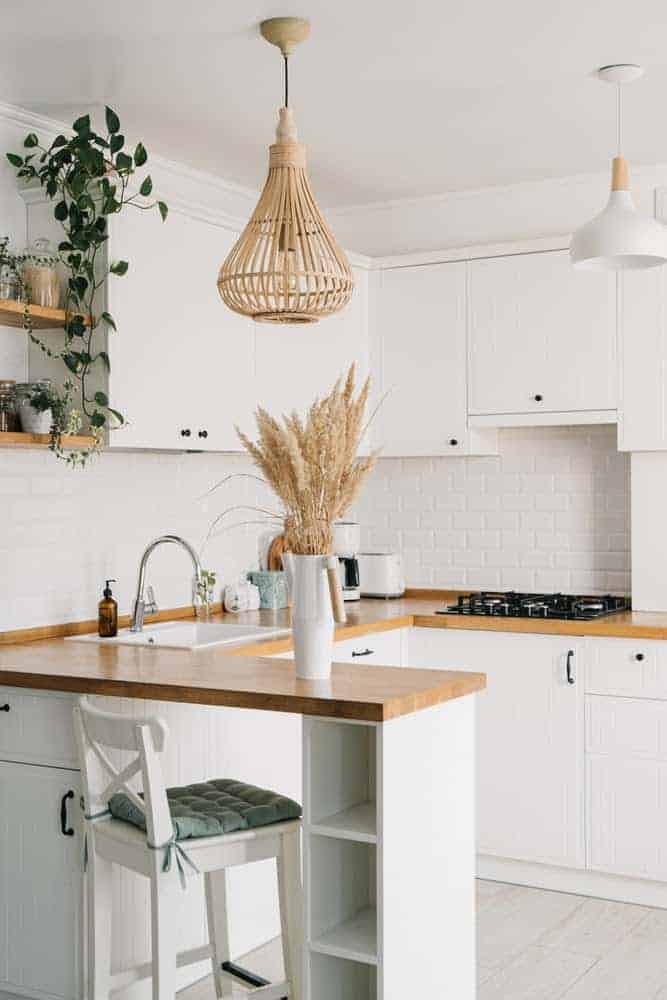 If you are still wondering what to do, we might have some suggestions. For the lighting, check to see if your light bulbs fall in these categories: CFL, LED, or halogens. Meanwhile, you can pick between bamboo or jute, they both work well with the Japandi aesthetic. On the other hand, if you prefer wood, search for those reclaimed items, rather than using new wood. Less new furniture, fewer new trees being cut down.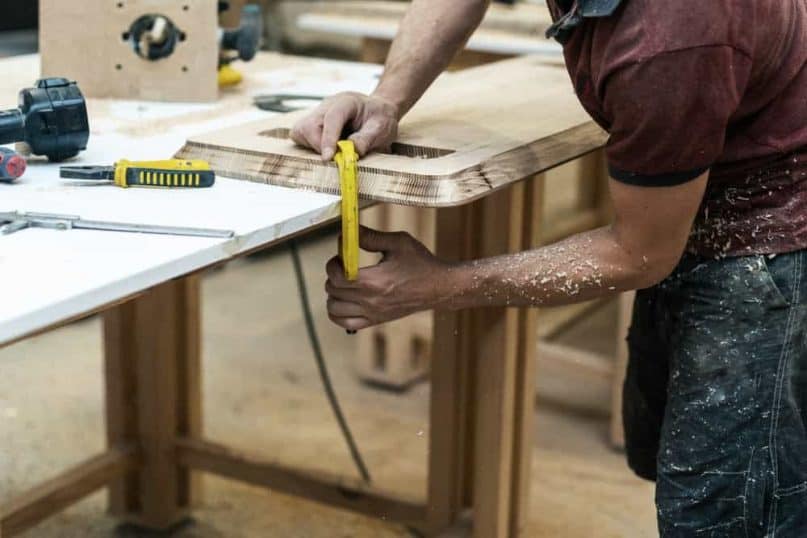 7. Invest in high-quality furniture if you can afford it!
While you can use the mass-produced furniture that is cheaper, get ready to spend more to follow the Japandi lifestyle. The fine craftsmanship of every Japandi product is also a big plus if you want to follow this style. The importance of functionality and aesthetics is emphasized in both Japanese and Scandinavian designs. There are some questions we need to raise when it comes to Japandi. Would these items be eco-friendly and sustainable? Where do they come from? Would they be multifunctional?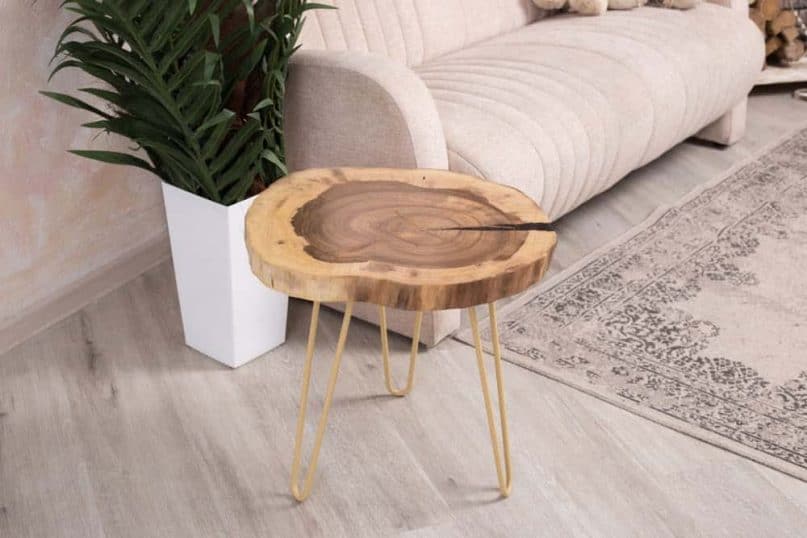 You might have heard of the term Wabi-sabi in one of our articles on Japanese decor before. The word links to the concepts of simple form executed through craftsmanship. In this case, each item, with flaws or not, is uniquely imperfect. We might find join in accepting these imperfections than trying to look for perfection. This kind of definition defeats the purpose of mass production. Instead, Japandi focus on the importance of roughness, and the appreciation of natural objects.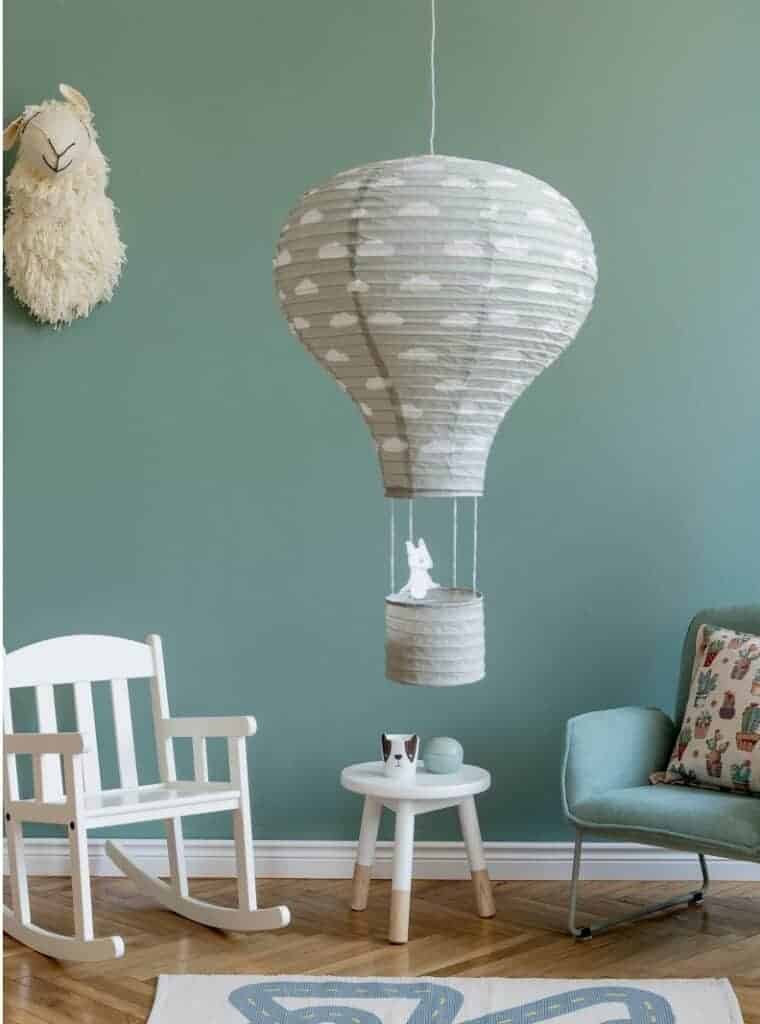 6. From ordinary to extraordinary
All statement pieces are made to be at the center of attention. For a Japandi-style room, we tend to pick neutral tones background. As a result, you would need a few stand-out items to catch people's eye. In this case, we are talking about juxtaposition. Get creative and add a few surprises around. Firstly, statement pieces don't need to be in bold color. You can pick any item that speaks to you, or they could fit a specific you were looking for.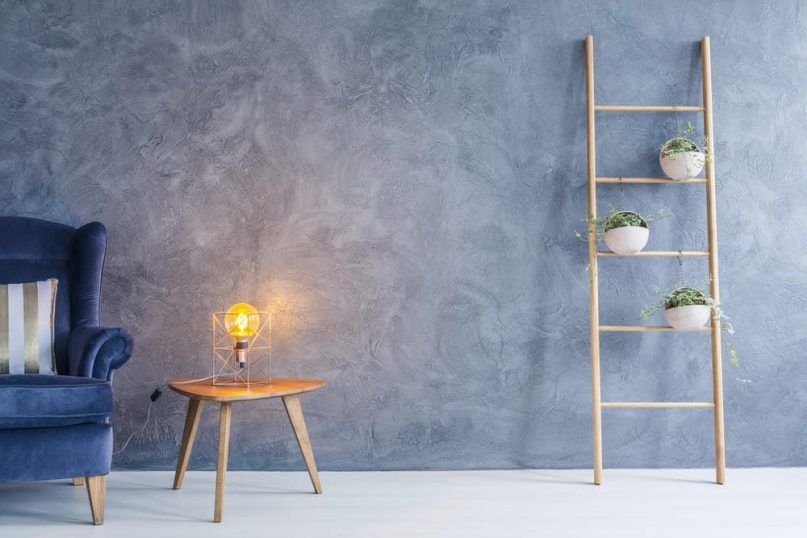 While you don't need to match them with the rest of the decors, don't let it stand out like a sore thumb. Try to blend them in with the three accent areas, we have mentioned it above. When you're done adding the sections, colors, and templates of the statement, step back and look at them at a wider view. You can also take a photo of everything to see the result.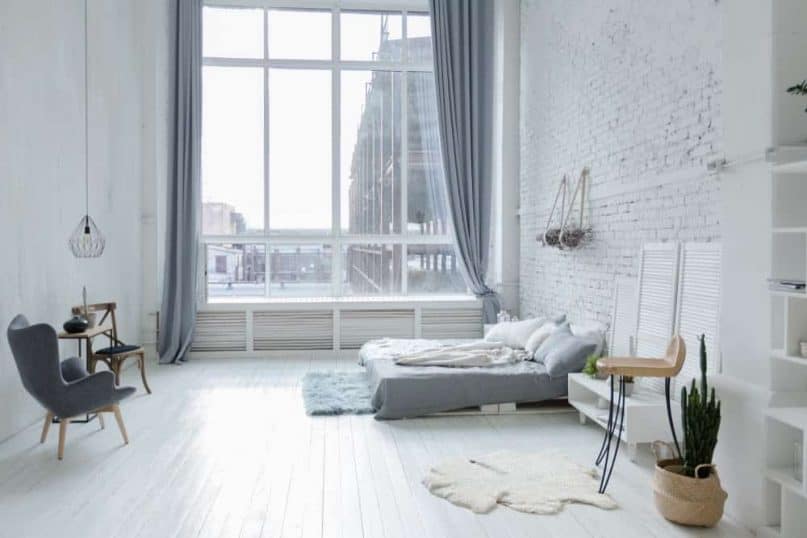 5. Low bed designs in Japandi style
Most Japanese household still retains the tradition of sleeping on tatami mats, which is straw mats made from rice. This mat is a popular choice due to their lightweight and breathable material. Moreover, these types of mats can fit any climate regulation. On the other hand, health experts believe that sleeping on tatami would benefit your spine, but others might argue that. As an evolution from tatami mats, the Japanese interior design always includes the type of beds that are very low to the round.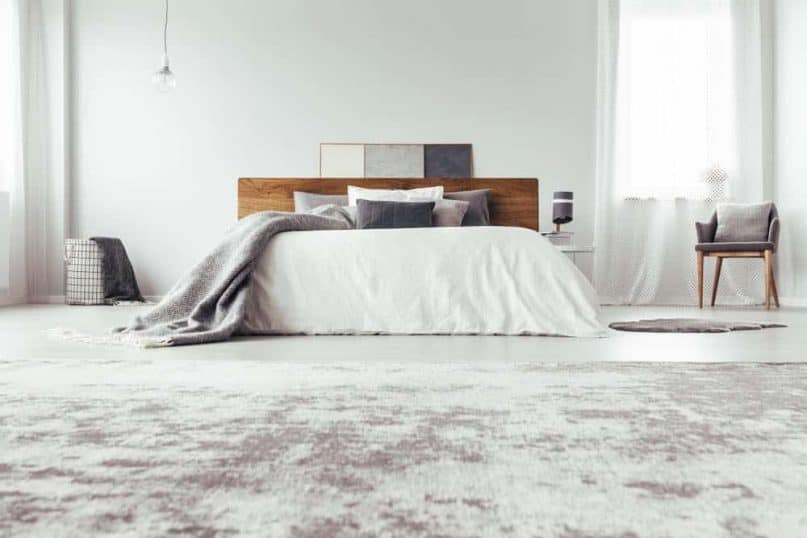 Furthermore, the beds also have a wooden platform surrounding them, giving them a similar vibe to the tatami mat. In Japandi style, it's always advisable to avoid metals frame. Wood should always be the top choice, or you can consider other eco-friendly materials. You could also make the bed with a mattress and low box spring, but make sure the comforter can hide it well.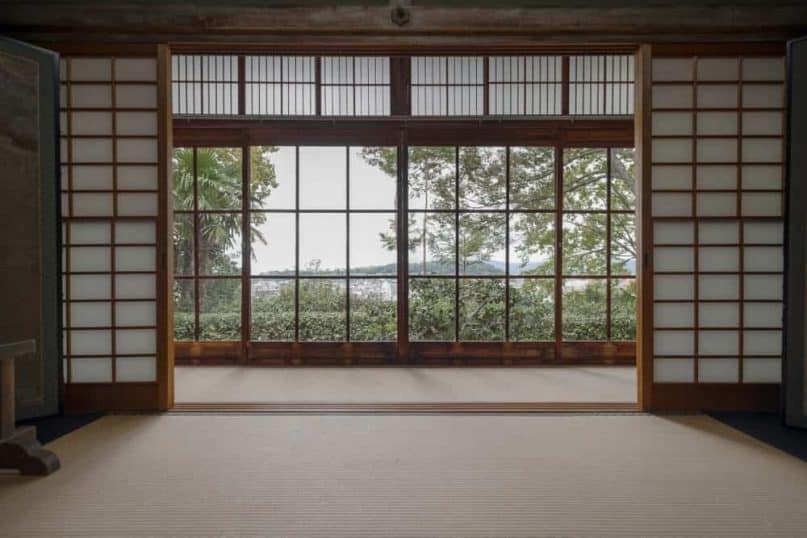 4. Shoji wall or panel
In many Japanese houses, you might have noticed those folding or sliding screens that act as dividers between rooms. They are called a Shoji wall or screen. Most of these screens are made of wood frames, then covered with paper for thin fabric. There is also another more ornate piece that could have artwork painted on them, like flowers or bamboo patterns. When they become more Westernized, most shoji screens are used as room dividers. However, their main purpose was to be incorporated tracks and slides.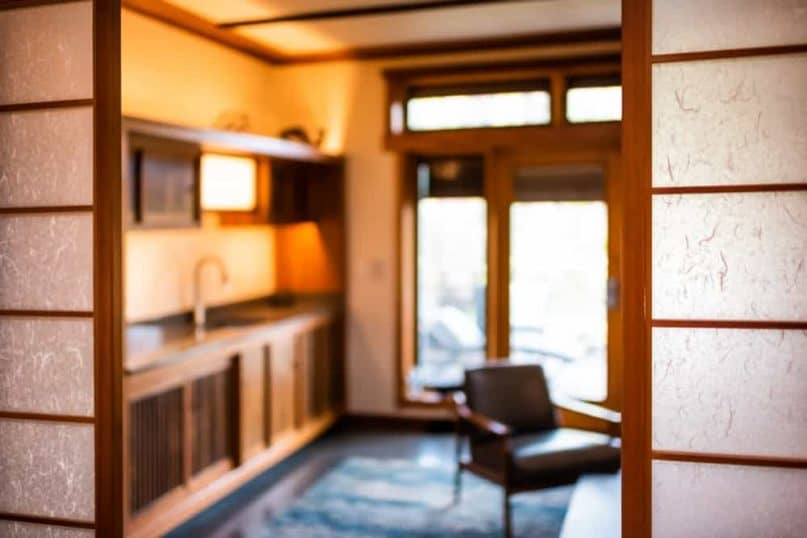 In many ways, the Shoji screen should perform similarly as a curtain. While they offer great privacy, they wouldn't block out most noise or light. As a result, people tend to behave more calmly and speak softly to avoid troubling their roommates or guests. If you are trying to adapt to the Japandi style, the Shoji screens should be a staple item in your house. You could get them online in any Japanese store.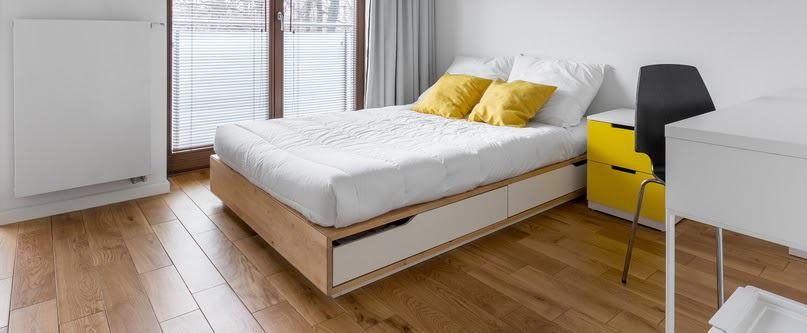 3. Multi-functionalism is a must!
A minimalistic mindset is good for the wallet and mind; most people would still need some space for their possessions. When it comes to living space, we all need some kind of storage. If you have watched any interior design show, you could see that finding the storage for everything could be quite a challenge. For the Japandi style, each item should serve more than one purpose, with storage being one of them.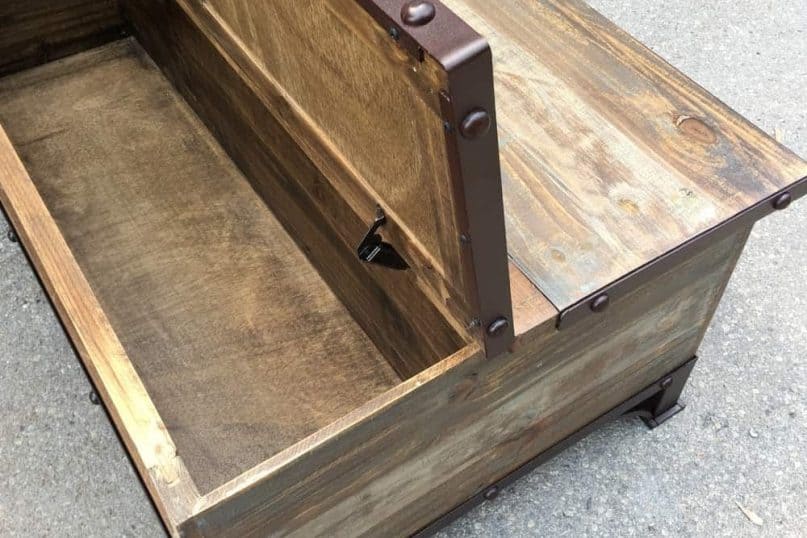 Multi-functionality plays a big role in Japandi as it is also related to other features, such as eco-friendliness and wabi-sabi. Pick things that come with clean lines and natural material to ensure it fits your current aesthetic! Furthermore, you can find many transformational furniture out there. Imagine having a bookshelf that can also act as a table or storage ottoman as a bench. How interesting!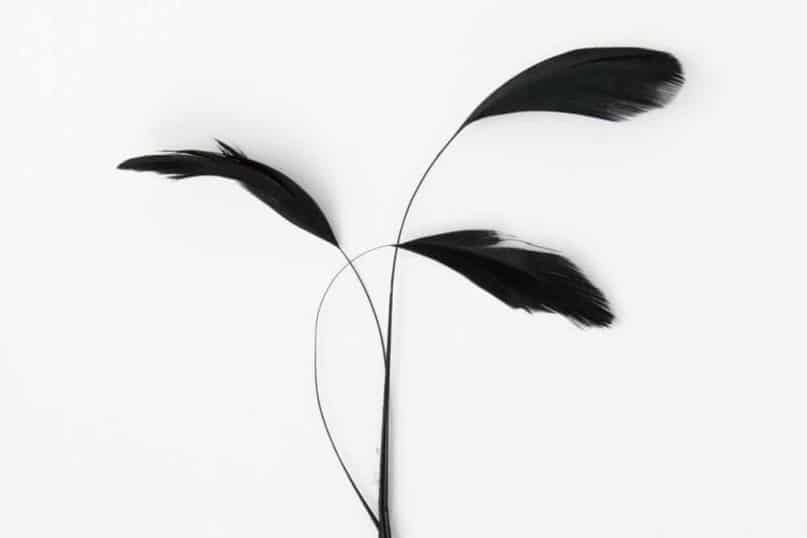 2. Pick the right art to display
The combination of Japanese and Scandinavian styles came from a long time ago. Over 150 years ago, Danish architects and artists sailed to Japan to search for new inspiration. From then, they started to incorporate these styles into their work. We could easily spot the Japanese influence in some of Scandi's open floor plans and their major fascination for minimalism. Both styles show high respect for all artisanal handiwork and local craftsmanship, putting their hybrid on so many levels.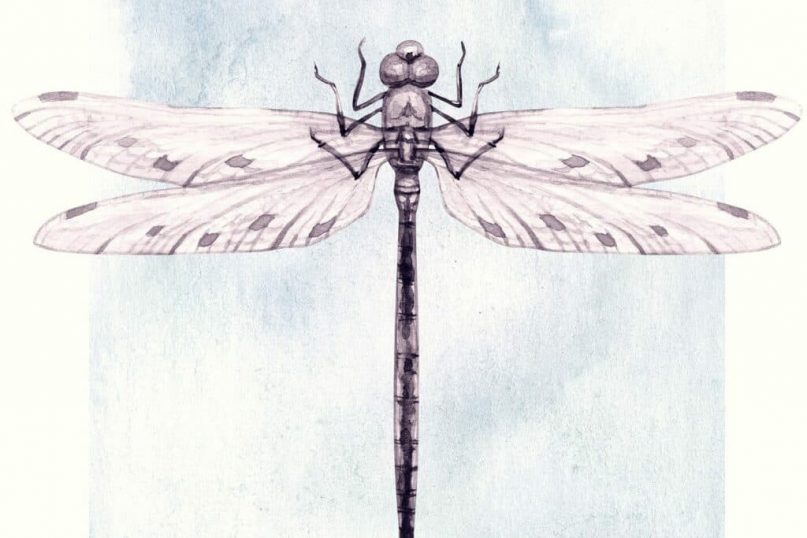 In most spaces, art can be the ultimate finishing touch. They could be the missing piece for your interior design project that you have spent a long time looking for. As discussed above, we are looking for valuable craftsmanship here. So you should look for them at the local art places instead of searching for a printed one that comes from mass production. One last thing: art doesn't mean painting. A wall tapestry, a sculpture, or a handmade pottery piece could do the work just fine.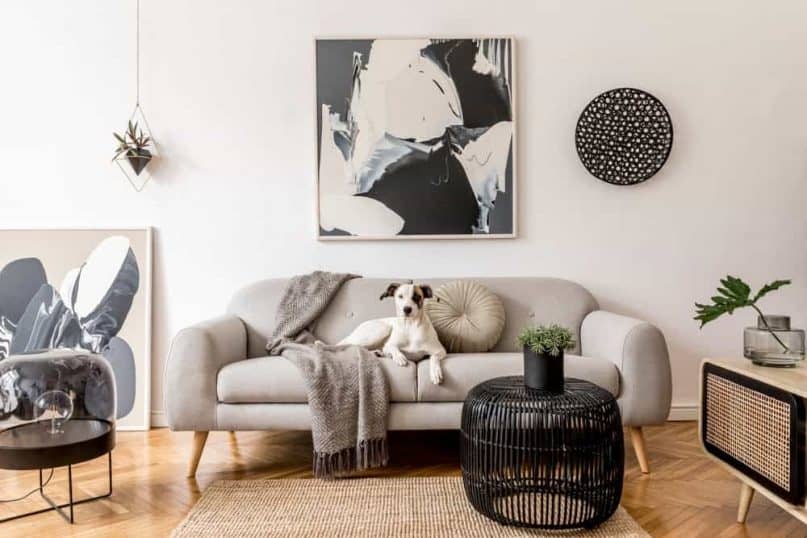 1. Japandi philosophies
Aside from the hygge (pronounced hoo-ga), let's talk a bit about the philosophies of the Japandi style. At the core, this living style should bring your happiness by making your home a sanctuary. Wile a magazine-look house might seem fancy at first, would you be happy living in one? Hygge should be a place for your family, friends, and mostly, yourself. Less clutter and more free space always mean more freedom.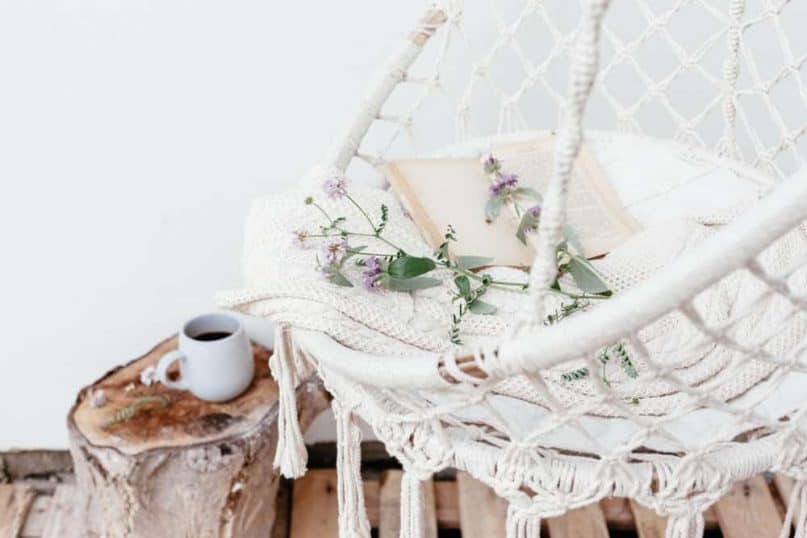 Decorate your house with your favorite items that could always put you in a happy state. You would want to step into a room and think, "I want to live here!" For the living rooms, stuff like comfy cushions and fluffy blankets will do the trick. Meanwhile, if you have the budget, go crazy with the bathroom. You could add in plush rugs, giant garden tubs, or perhaps rainfall showerheads and fluffy towels? Make your stress go away whenever you step in there.