Gone are the days when simplistic, single-color manicures satisfied our desires for polished and sophisticated nails. In today's world, nail artistry has evolved to become more elaborate, lifelike, and detailed, transforming nails into miniature canvasses that showcase the skills and inventiveness of talented nail technicians. While trends may fade, exceptional works of art will continue to captivate and impress.
Whether you're a professional nail artist or an avid enthusiast, we've curated a list of over 40 cutting-edge and awe-inspiring nail art designs to spark your imagination and motivate you to explore new aesthetic horizons. This collection is perfect for those whose nails could use a touch of TLC, as it offers a wealth of ideas to rejuvenate and revitalize your look. So, without further ado, let these magnificent nail art masterpieces ignite your creativity.
#1 A Pumpkin Spice-Inspired Nail Design
This nail art design instantly transports us to a cozy cafe, sipping on a warm pumpkin-spiced latte even though the autumn season has passed. It's fascinating how particular visual cues can evoke fond memories and feelings of nostalgia. Who says you can't indulge in pumpkin-themed art in August or February?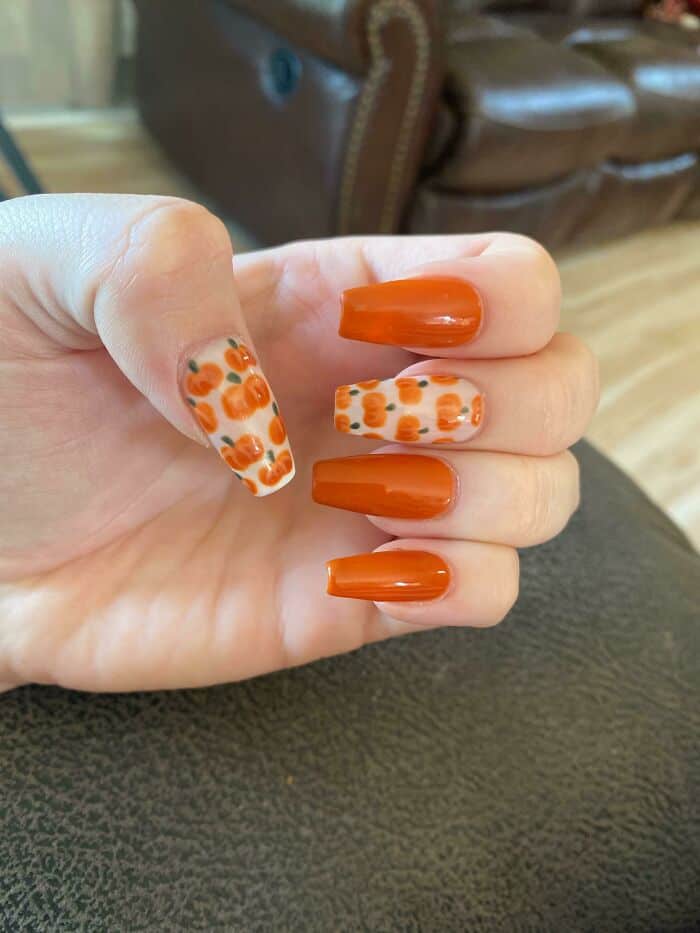 While the design may appear less intricate than other creations in this list, its simplicity and attention to detail make it an equally charming choice. This is an ideal design for those who prefer a minimalist approach with fewer colors and less complexity.
#2 A Nail Art Tribute to Racing
Nail polish originates in ancient China, dating back to 3,000 B.C. However, the ingredients used in those early formulations differed from today's products, containing beeswax, gelatin, egg whites, and vegetable dyes.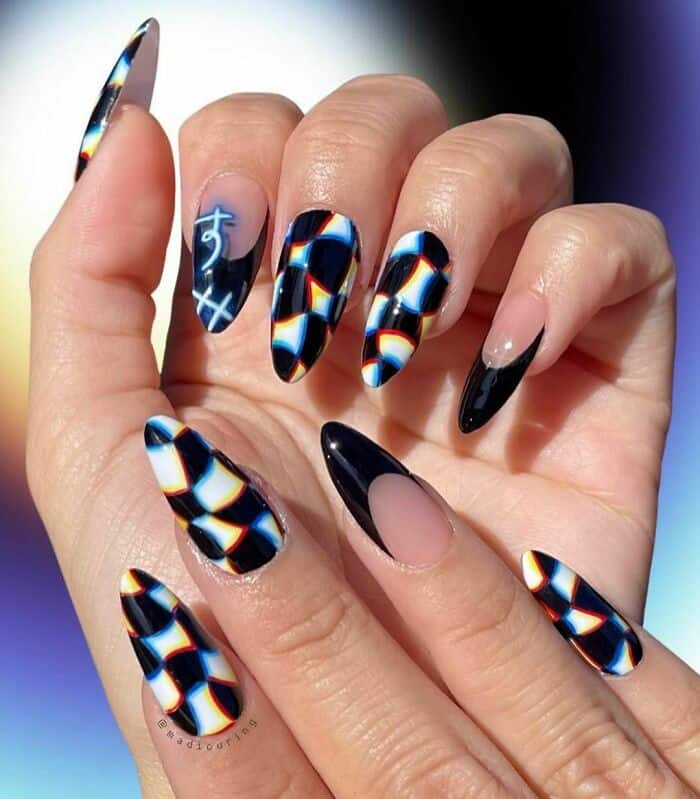 Inspired by the high-octane world of car racing, this contemporary nail art design might feature modern nail polish ingredients, but it retains an air of timeless elegance. The plan would be right at home in movies like the Fast and Furious franchise or Tokyo Drift. All that's missing is the appearance of Dominic Toretto and his racing family!
#3 A Striking Debut in Gel Polish Design
Nail art didn't become a mainstream fashion staple until the 2000s, with its popularity often attributed to features in women's magazines. Today, it's common to spot individuals confidently showcasing their vibrant and expressive nail art, with each design reflecting their style and character.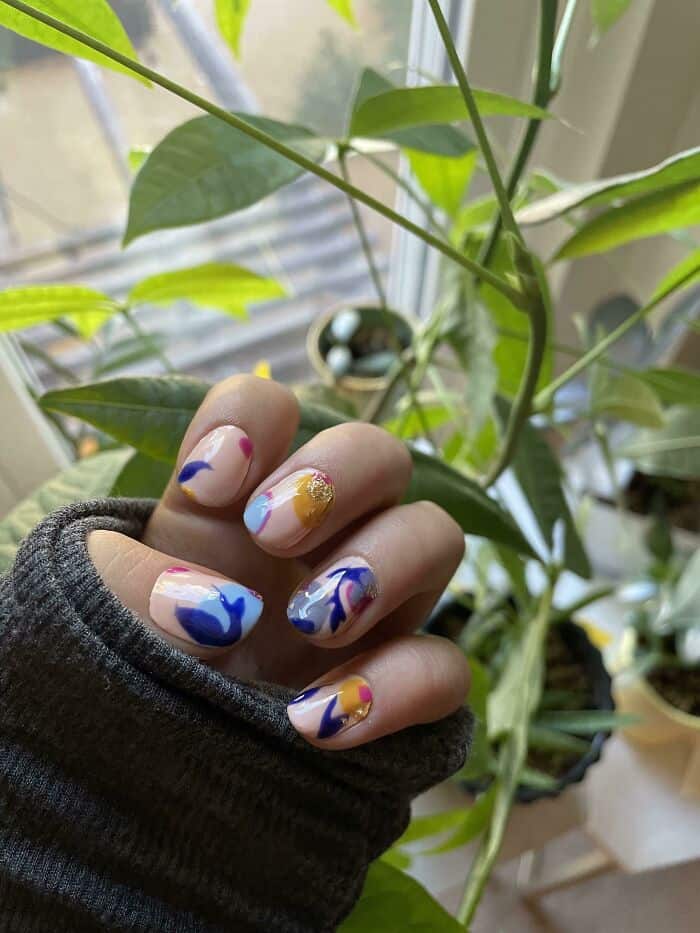 The image above captures the creator's first foray into nail art using gel polish, and it's clear that she has a natural talent for it. She truly hit the nail on the head with this stunning design! Embrace the opportunity to try something new, like nail art – you never know, you might just fall in love with it.
#4 Embracing the Entire Spectrum
When choosing a color for your nails, making a decision can sometimes be challenging. So why not opt for a myriad of colors instead? After all, there's no rule stating that you can't have fun with your nails and incorporate as many shades as you desire. The real challenge lies in fitting the colors onto such a small canvas.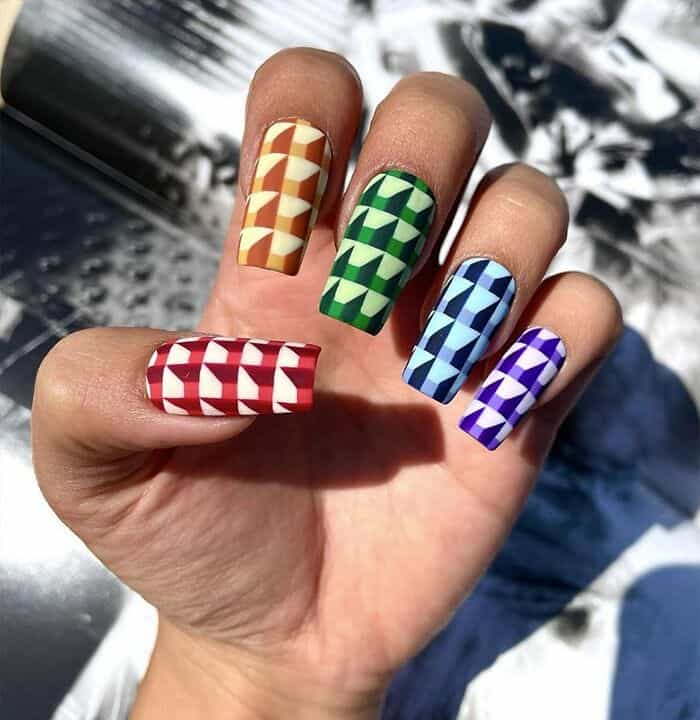 Take inspiration from the nail art design shown above, where each nail features a unique color and is adorned with geometric patterns for added flair. Our verdict? The nail technician behind this creation must be exceptionally skilled, and we would undoubtedly be eager to do their work on our nails.
#5 Embrace Your Inner Fashionista
This irresistibly cute pink nail art design is perfect for those who embrace their girlie side. If you find yourself channeling Regina George and wearing pink on Wednesdays, this is the ideal nail art to complement your style.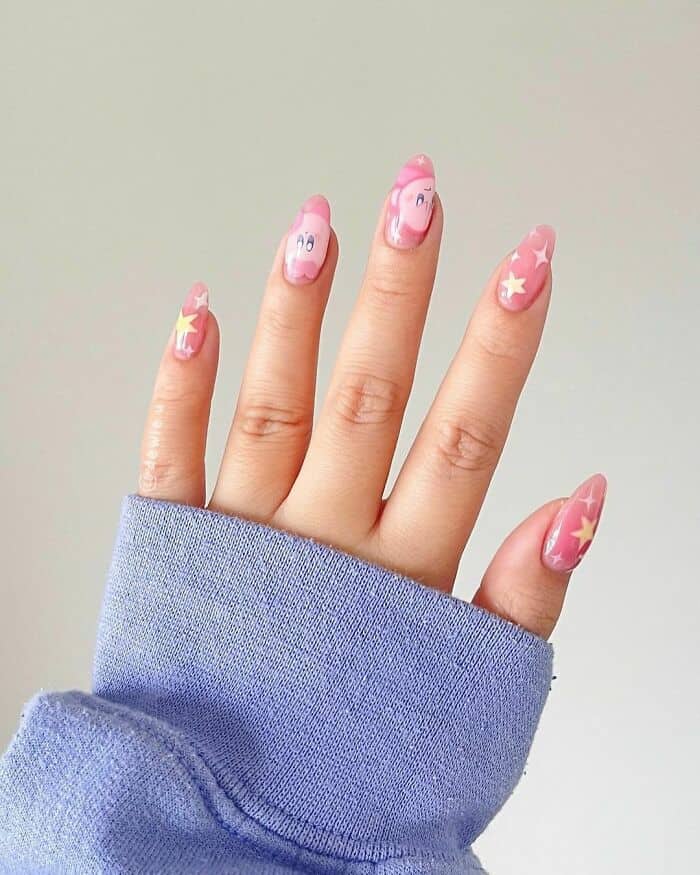 Even the most discerning fashionistas at school will be impressed by this design. However, it's important to remember that you should stay true to yourself and not seek approval or validation from others. If pink polish is your passion, wear it proudly and confidently.
#6 Elegant Sophistication: Nail Art for Special Occasions
When attending a cocktail event, wedding, or formal gathering, you must ensure that your nails are as elegant and polished as your attire. After all, you wouldn't want to be caught with plain nails on such a significant occasion.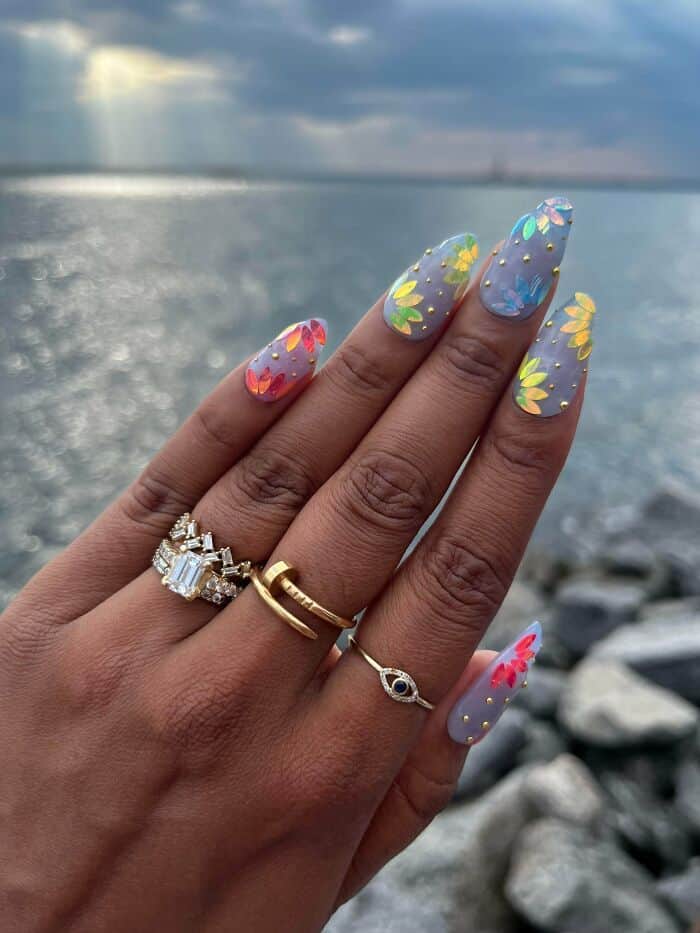 The woman featured above has undoubtedly mastered the art of looking fabulous. She matched her nails to her dress and chose a color-changing polish to elevate her look further. Remember that color-changing polish works best in warmer temperatures, as the heat prompts the transformation. So, choose your nail art wisely and make a statement at your next special event.
#7 Illuminate Your Look with Glow-in-the-Dark Nails
Take this as your cue to embrace the glow-in-the-dark nail trend. The creator of this striking design was thrilled with the outcome, and it's easy to see why – her nails look stunning, especially when illuminated at night.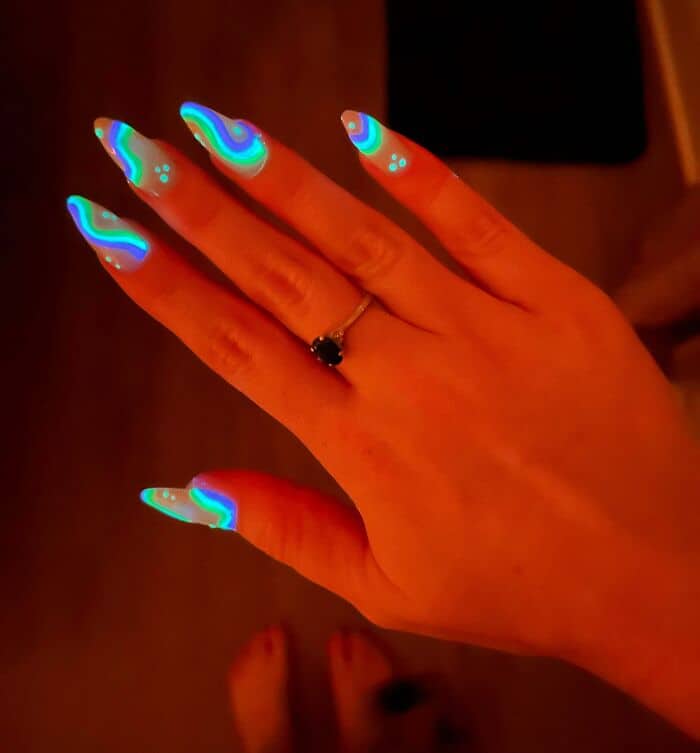 Achieved through freehand painting, this design required a significant investment of time and patience. However, the result speaks for itself, as we're sure these nails will garner plenty of compliments wherever she goes.
#8 The Power of a Talented Nail Technician
Having reliable and skilled people in your life is essential, including finding a talented nail technician. You never know when you might unexpectedly run into an ex or their new partner, so it's crucial to ensure your nails always look their best!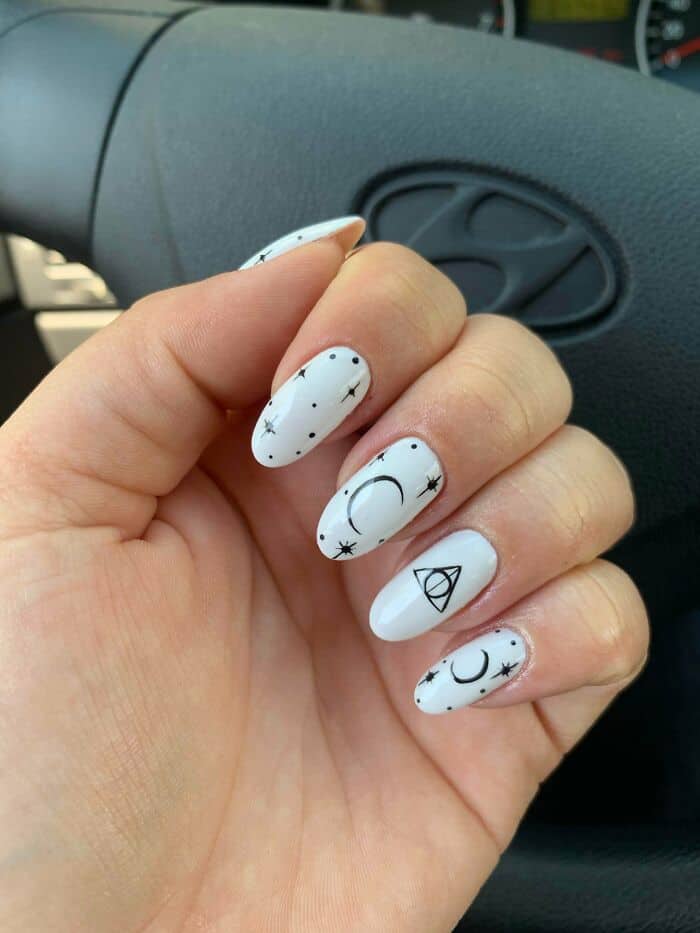 The woman featured above is fortunate to have found an incredible nail tech – just look at her mesmerizing nails! If we walked out of a salon with nails like these, we'd be beaming with joy all day. Although we must admit, it might be challenging to focus on anything else with such captivating nail art!
#9 Captivating Shades for Your Nails
Blue, often associated with freedom, sensitivity, inspiration, imagination, and intuition, holds a special place in many people's hearts. It also evokes images of the vast sky and the deep sea. What does the color blue represent for you, and is it among your favorite hues?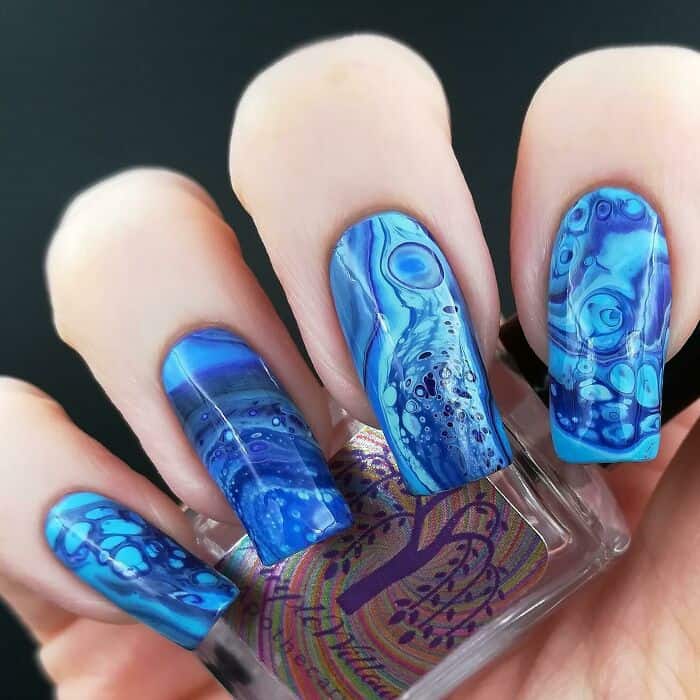 The individual showcased above clearly adores blue, as she requested her nail technician to paint her nails in a stunning array of blue shades. The result is an eye-catching design that beautifully showcases the versatility of this color. Would you consider trying a similar nail art design?
#10 Nail Art Worthy of Pinterest
Pinterest is renowned for its stylish and enchanting content, and this exquisite nail art undoubtedly deserves a place among its most inspiring posts. The creator mentioned that she has recently been stepping out of her comfort zone and experimenting with various colors and designs.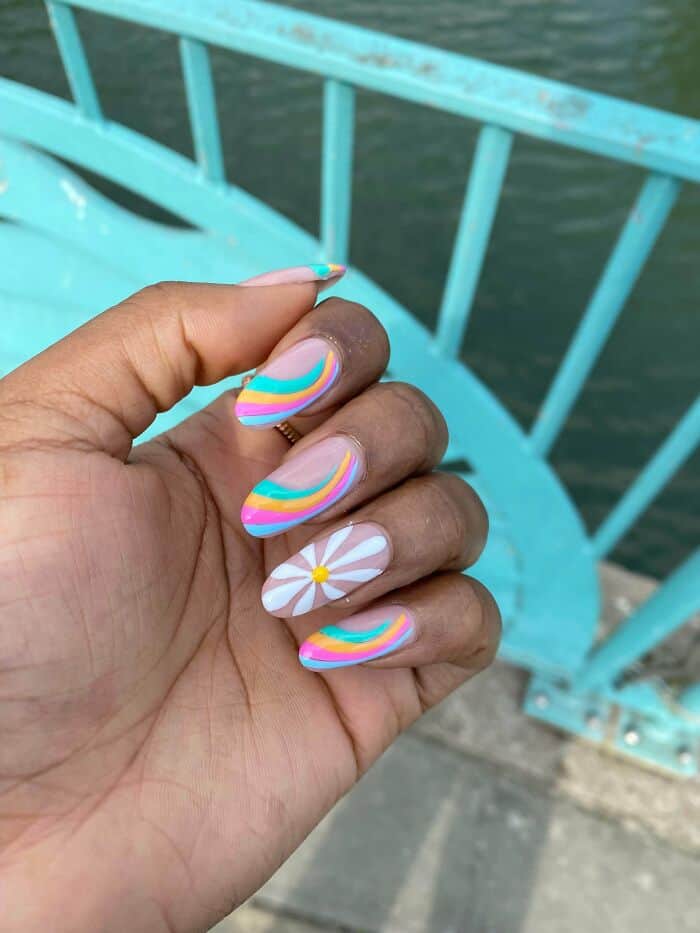 We applaud her adventurous spirit, and with results like this lovely pastel rainbow and floral design, we encourage her to continue her creative journey. This delightful nail art seems perfect for sun-soaked beach days and radiates an undeniable charm. Don't you agree?
#11 A Perfectly Coordinated Nail Design
Anyone who thinks matching nails to clothing is terrible has yet to see this breathtaking creation. We adore how the nail technician skillfully replicated the colors and intricate patterns from the kimono onto the nails, resulting in a harmonious and captivating design.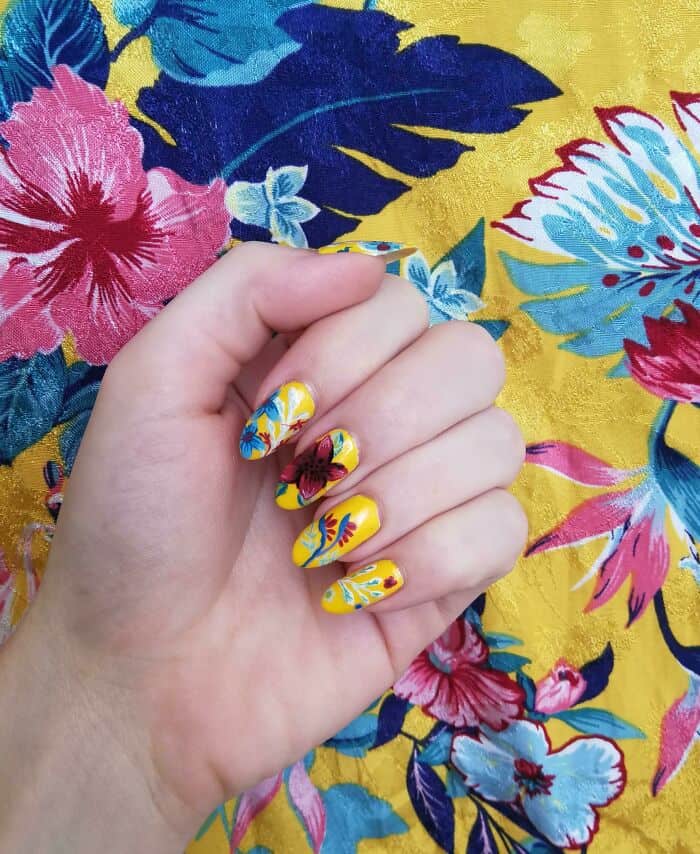 We imagine the client felt incredibly pleased and satisfied with her nail artist's work. In her shoes, we'd be overjoyed and would undoubtedly give the technician a generous tip before leaving the salon with a newfound spring in our step.
#12 Nails that Dazzle like the Milky Way
If we had to choose a single word to describe these nails, we'd be torn between "amazing," "breathtaking," and "wonderful." The intricacy and detail of this design are awe-inspiring. It's hard to imagine the time and effort it took to achieve this celestial masterpiece.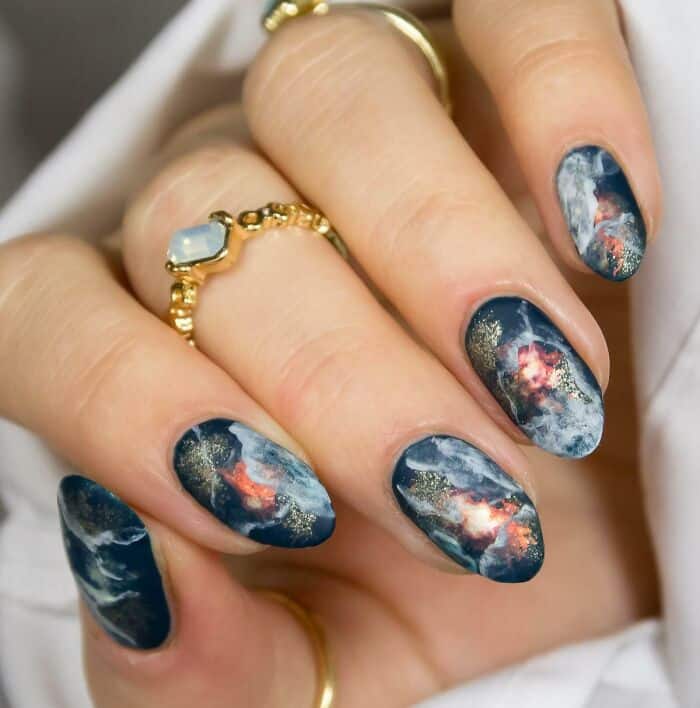 These nails appear like the Milky Way has been artfully painted on each fingertip – a remarkable accomplishment. We'd love to see Thanos try creating such an elaborate design, but we suspect he'd be disappointed. Now we're left with a wealth of nail art inspiration swirling in our minds!
#13 Celebrating the Beauty of Nature
Being confined indoors for extended periods can leave us yearning for the great outdoors and its many wonders. That must have been the inspiration behind this delightful ladybug nail art, as the creator sought to bring the charm of nature to her fingertips.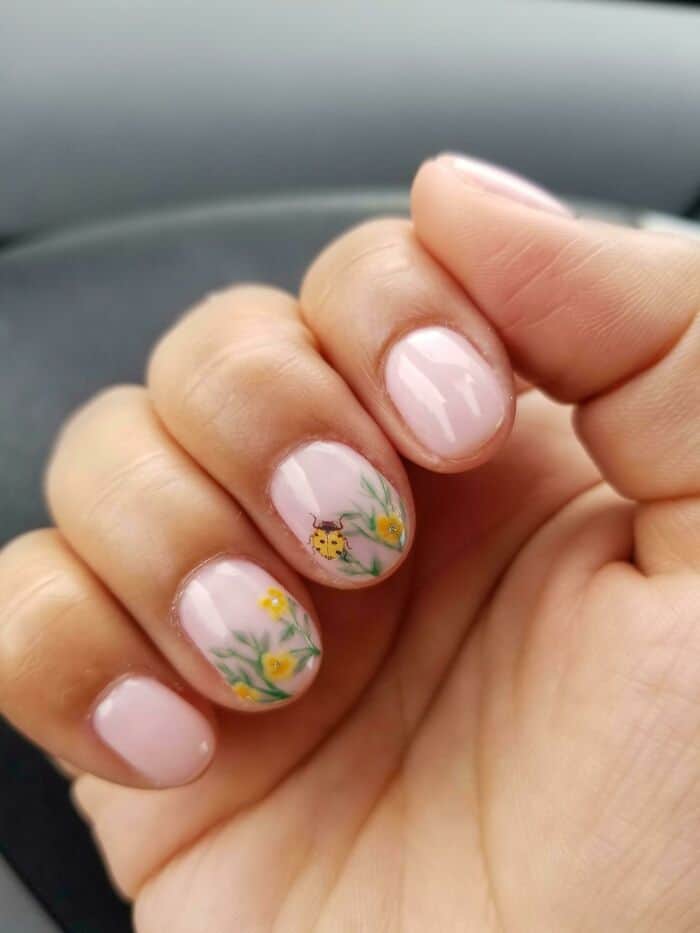 Achieving such a detailed design took considerable time and effort. However, as with many art forms, nail art becomes more manageable with practice and experience. Hats off to the talented artist behind this enchanting creation!
#14 Nail Art that Inspires a Beach Getaway
Gazing upon this stunning beach-themed nail art, we can't help but dream of slipping into our swimsuits and heading straight to the shore. With such inviting waves and vivid colors, who could resist the allure of a sun-soaked day at the beach?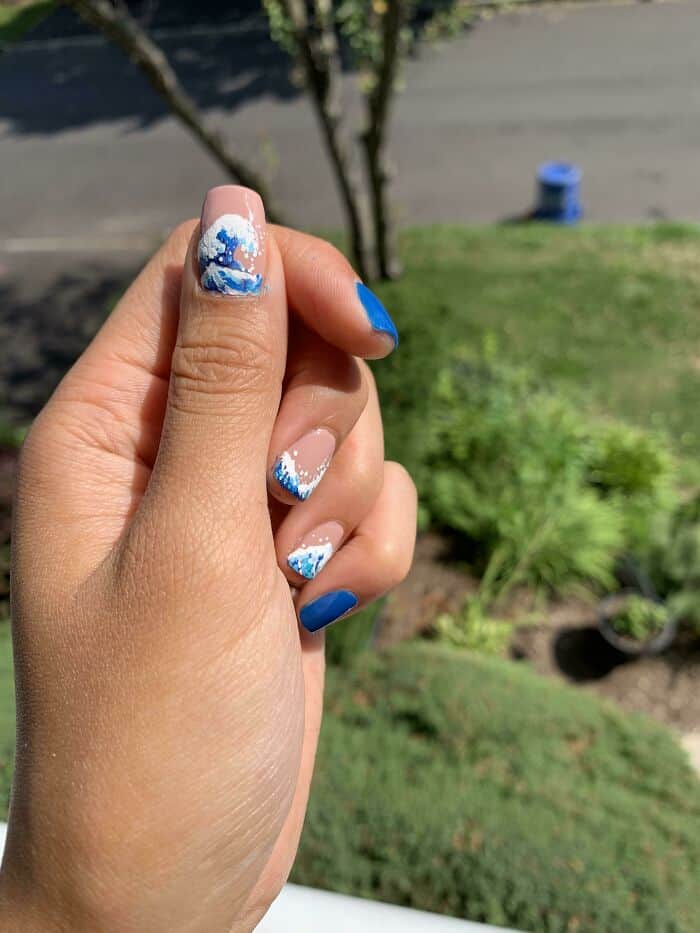 The intricate details of this design are truly remarkable, and those of us who are less artistically inclined would undoubtedly need help to recreate it. Thankfully, many skilled nail technicians are out there, ready to bring such mesmerizing masterpieces to life.
#15 Pink and Orange Delight
Regardless of the specific shades used in this nail design, we can't help but fall in love with it! These creative ideas inspire us to grow our nails longer and embrace bold color combinations. We're confident that any woman who sees this design will stop in her tracks to admire it.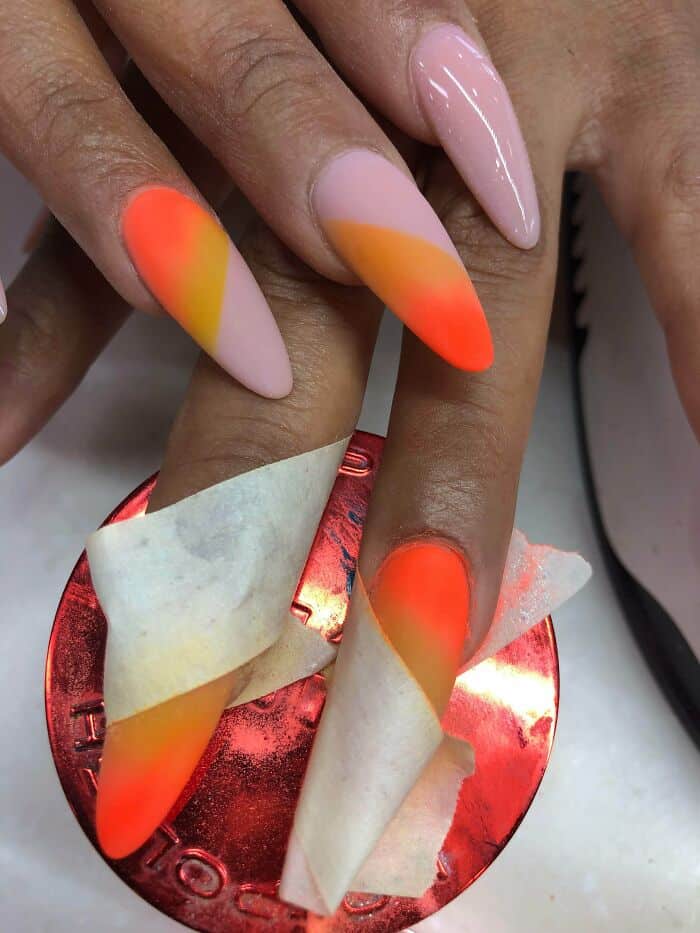 Unsurprisingly, many decide to save this image in the hopes of recreating this vibrant fusion of pink and orange. We once believed these colors clashed, but this design proves us wrong. Time to schedule an appointment with our nail technician!
#16 The Power of Nail Design
If these stunning nail art examples spark a desire to become a nail technician or artist, knowing the various opportunities available in this field is essential. Nail techs can work in diverse settings, allowing them to meet and interact with multiple people.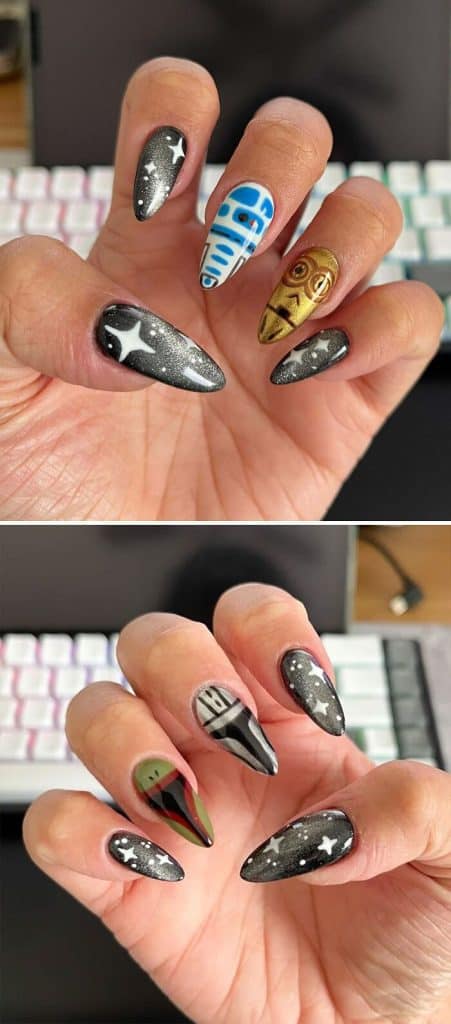 In most regions, aspiring nail technicians must be at least 16 years old and have a high school diploma. However, if you can create mesmerizing designs like the one pictured above, you will surely enjoy a successful and lucrative career in the nail art industry.
#17 Dazzling Nails for the Holiday Season
The holiday season demands a festive spirit, stylish attire, and fabulous nails to complete your look. No one wants to be remembered for dull nails at the annual office party—it's a faux pas you won't live down!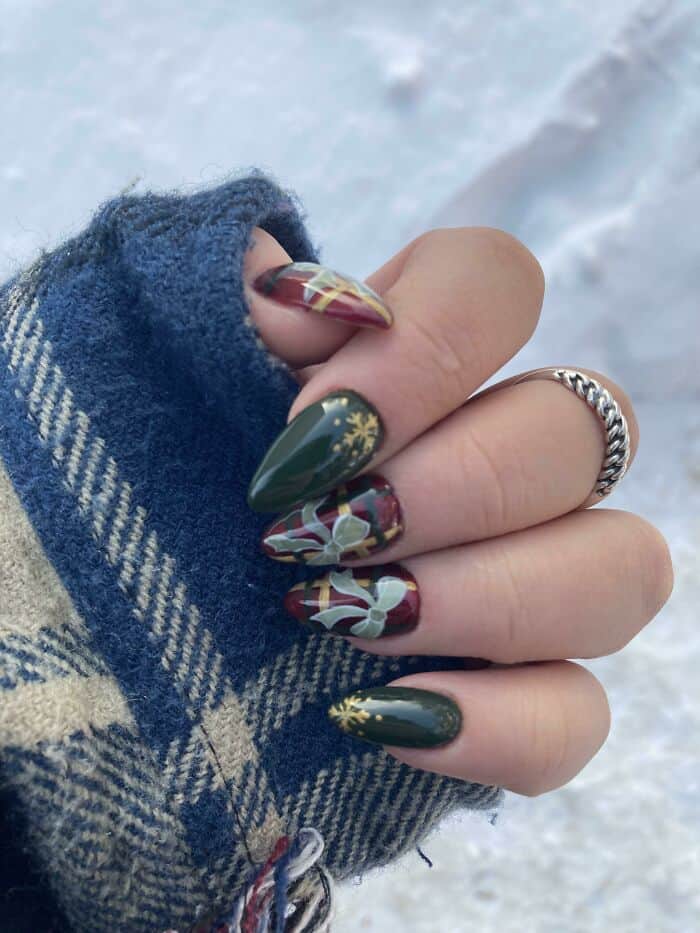 Sporting a nail design like this one, you'll undoubtedly be the talk of the party. And if you think this creation is already impressive, the artist accomplished this intricate design freehand without stickers! If only we were all blessed with such talent.
#18 Glow-in-the-Dark Nail Artistry
We can't help but give extra points to anything that glows in the dark. What's not to love about designs that come to life when the lights go out? Our appreciation extends to nail art, primarily when it features designs like this one.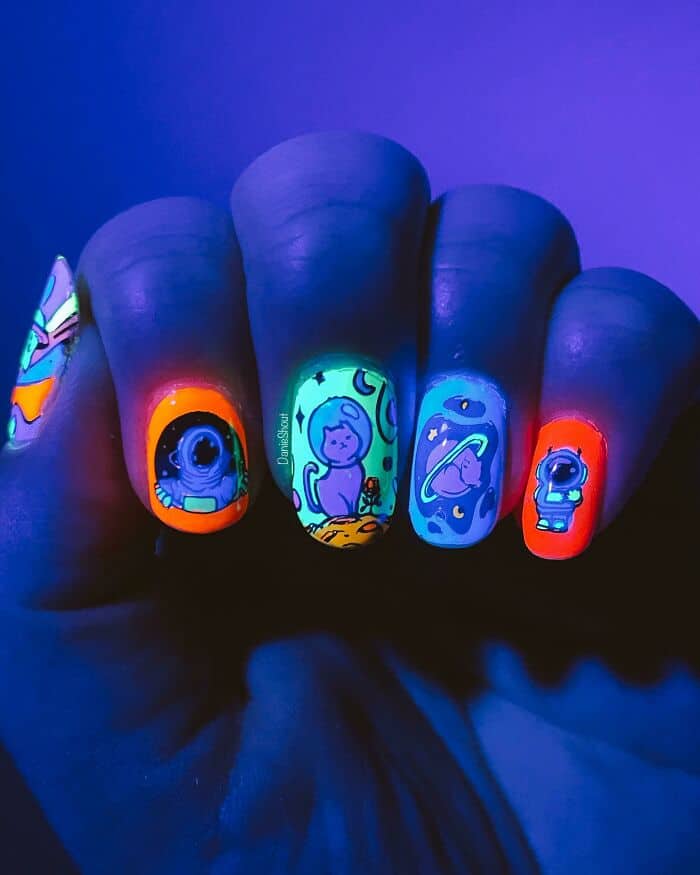 Take a moment to appreciate the glow-in-the-dark element, intricate pattern, and illustrations. Creating such detail on the limited surface of a nail is no small feat, but this artist certainly pulled it off with finesse.
#19 Snake-Inspired Nails
If you still need clarification about the incredible talents of the artists featured on this list, here's a design that might change your mind. Have you ever seen a snake x-ray painted on nails? We were amazed when we first saw this!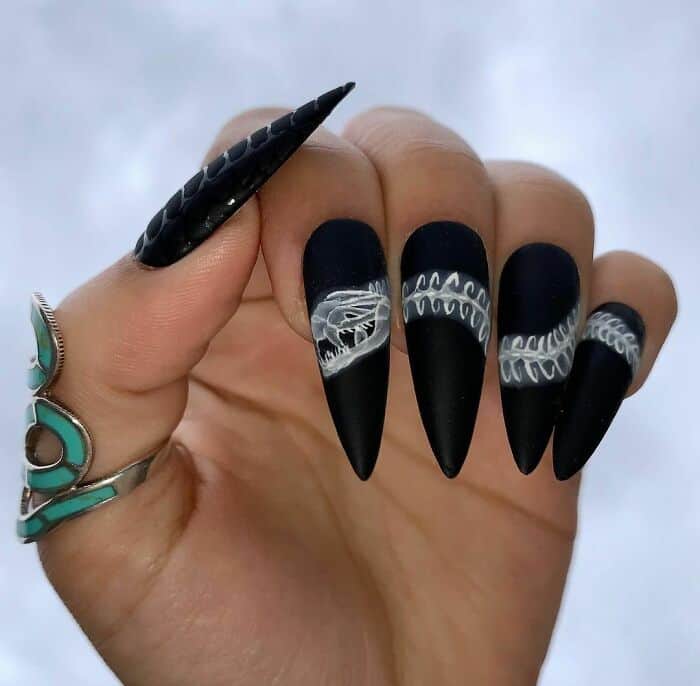 We can't help but praise this intricate design. Creating such art requires time, patience, and skill many don't possess. Luckily, talented nail technicians can bring these designs to life for us! If the artist behind this masterpiece continues on this path, they'll surely take the nail art world by storm.
#20 Nail Art Inspired by Beloved Characters
We adore cartoon characters, and Studio Ghibli's creations hold a special place in our hearts. Iconic characters like "Big Totoro," "No Face," "Nausicaa," and "Kiki" captivate us. If you have not seen these beautiful animations, we recommend checking them out.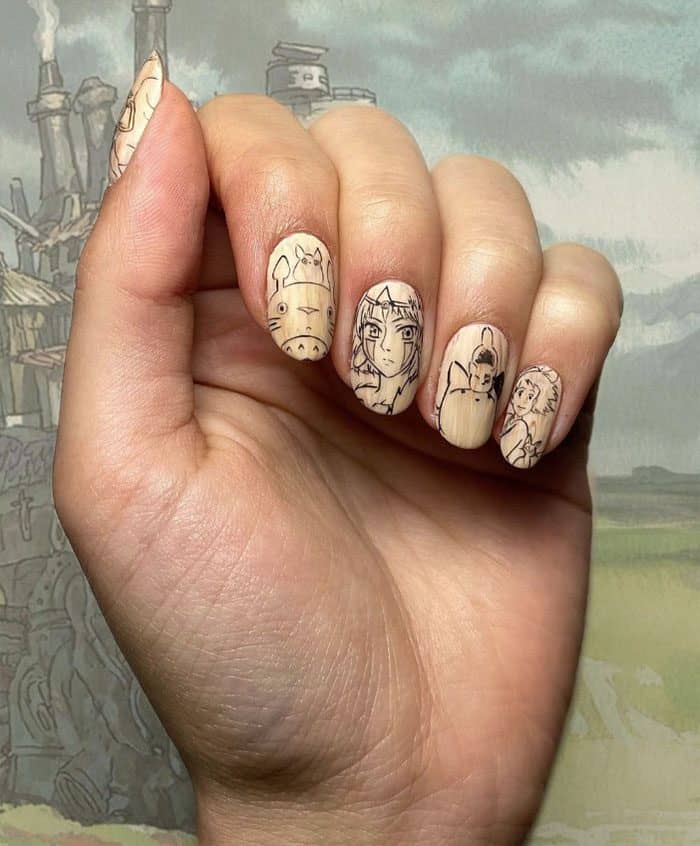 What sets this nail art apart is its unique fusion of beloved Studio Ghibli characters and a wooden-inspired style, which only adds to its charm. Excuse us while we rush to the nail salon to request this delightful design!
#21 Nail Art for Halloween Lovers
Though Halloween might have passed, this captivating design inspires us for this year's spooky festivities. Remarkably, this was the artist's first attempt at nail art, and we only wish every beginner's work looked this stunning.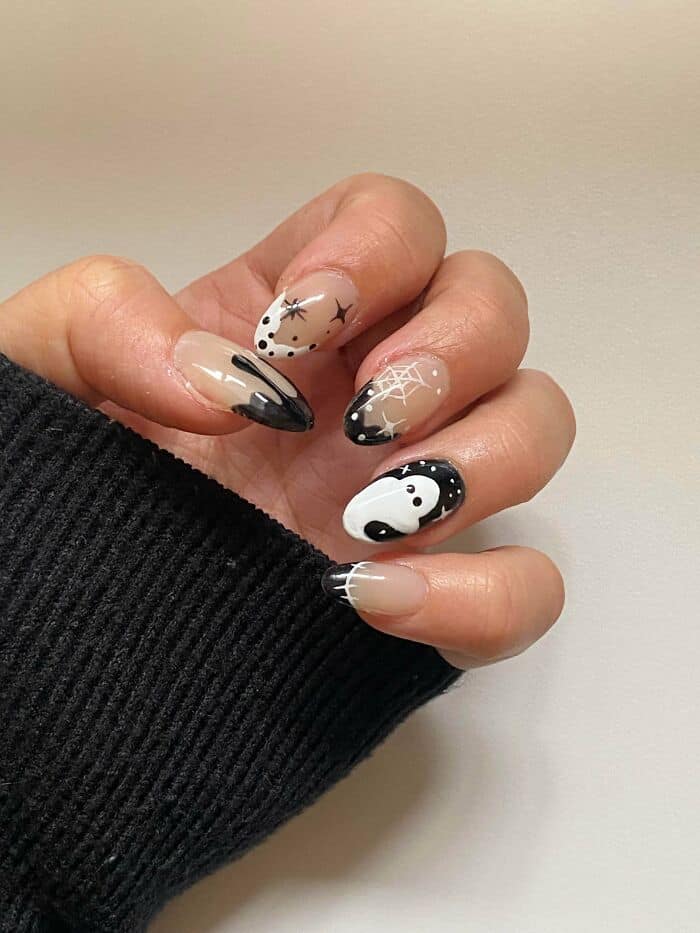 Had she not mentioned it, we would never have guessed this was a first-time effort. The exceptional result undoubtedly required hours of dedication. We're confident we're not alone in admiring her outstanding work.
#22 Mastering Lettering on Nails
Crafting delicate letters is a challenge even for skilled artists, so perfecting tiny typography requires plenty of practice. This talented nail artist has devoted time to mastering this intricate skill, and her progress is evident in the stunning outcome.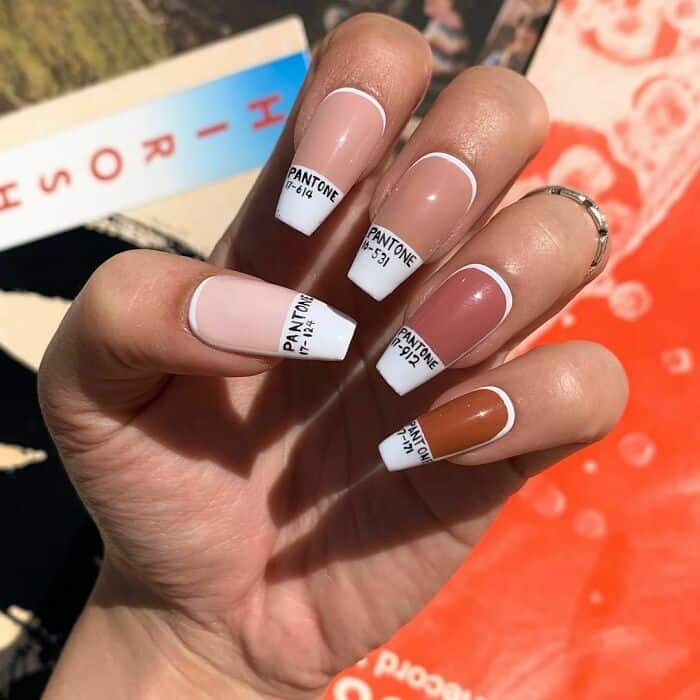 Despite her experience, she acknowledges that creating lettered nail art is still tricky. With continued dedication, she's bound to become a true nail art virtuoso, turning heads with her impressive designs. All we can do is offer our support and cheer her on!
#23 Nail Art for Plant Lovers
Plant enthusiasts everywhere are sure to adore this botanical-inspired nail art. While we may not be avid gardeners ourselves, we can't help but appreciate this stunning design. The artist aimed to capture the essence of the Pink Princess Philodendron on her nails.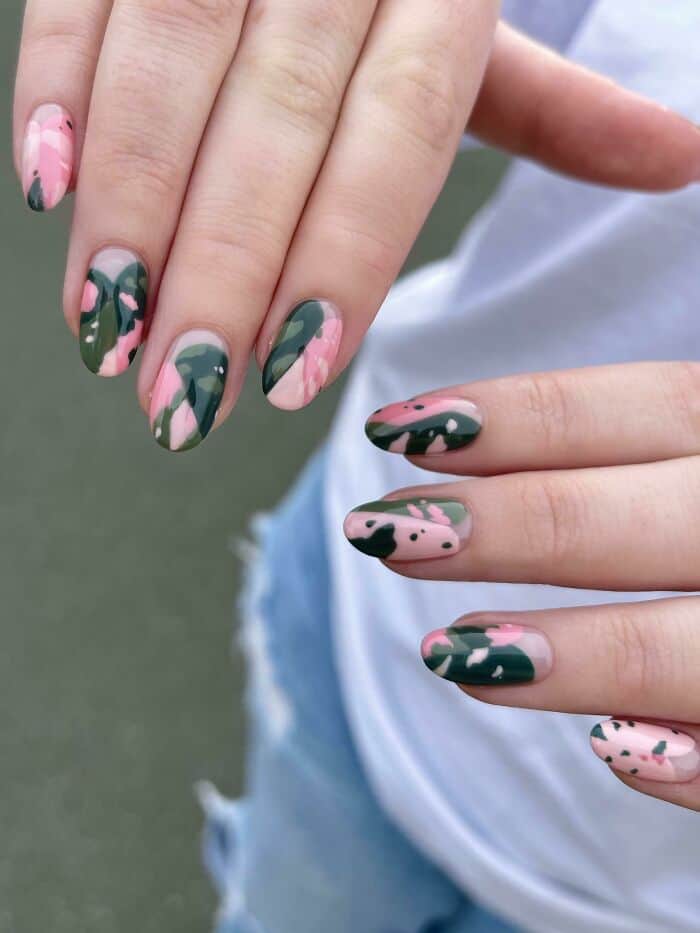 We admit we had to look up the plant to appreciate its charm. Though it may not boast vibrant blooms, its unique beauty is undeniable. This nail art has us considering adding a Pink Princess Philodendron to our home.
#24 Sailor Moon-Inspired Nails
Any '90s kid who enjoyed watching cartoons came across the Japanese animated series Sailor Moon. The show chronicled the adventures of a schoolgirl who transformed into the titular heroine to battle evil forces.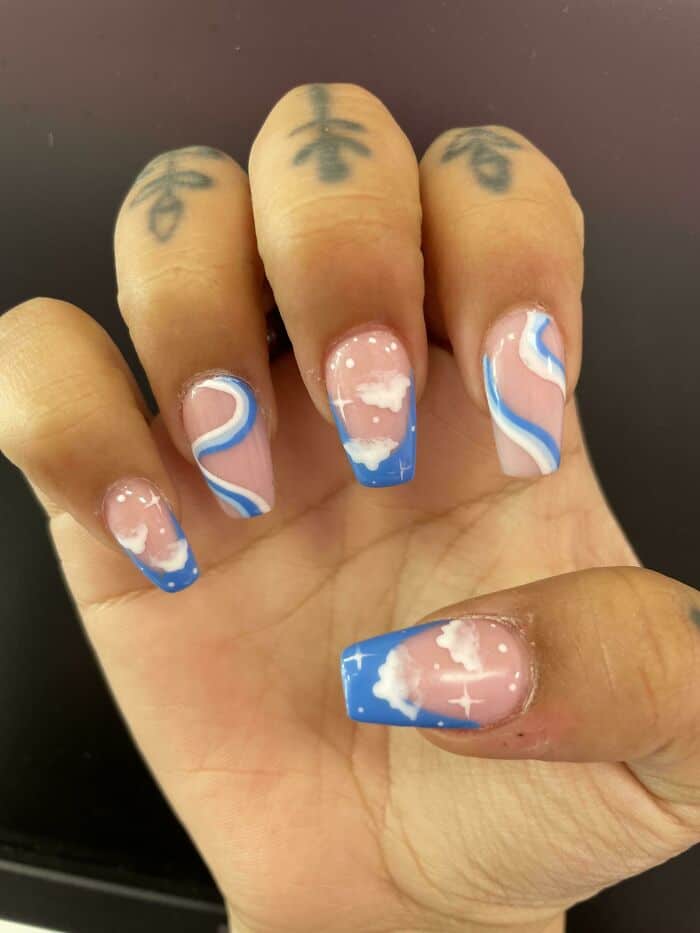 We bring this up because the color and design of the nails in the above photo evoke memories of the show and its beloved protagonist. Gazing at these nails, we're flooded with nostalgia for the cherished moments of our childhood.
#25 Nail Art with a Vintage Flair
We didn't reasonably expect this when we heard "vintage," but we're delighted by the result. Now, whenever someone mentions vintage, these lovely nails that resemble artistic masterpieces will be the first thing that comes to mind.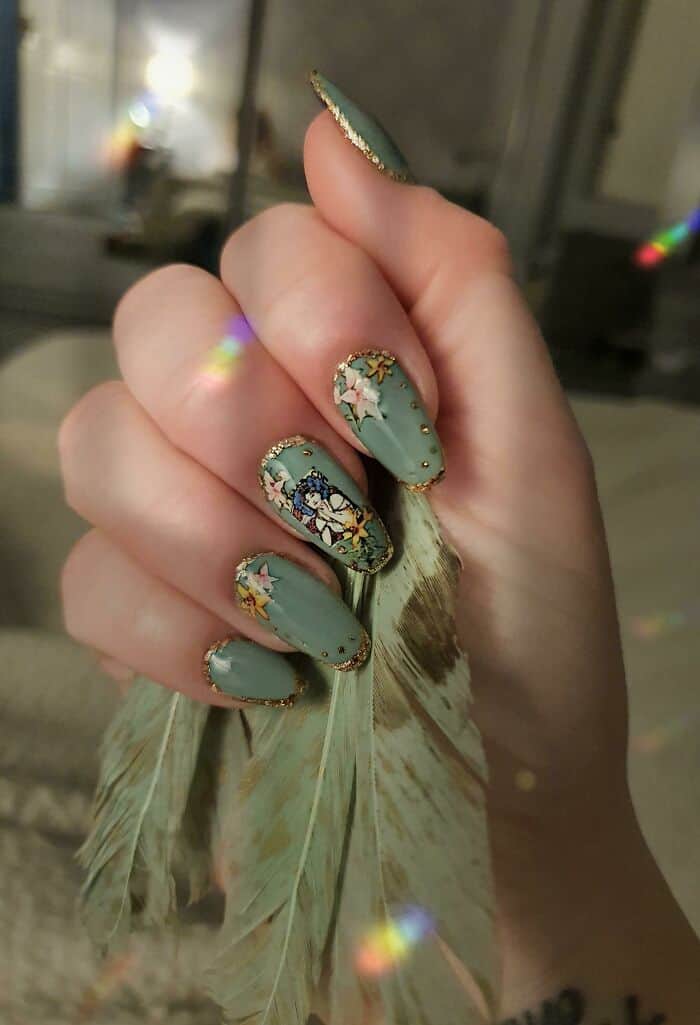 We never thought this shade of green would captivate us, but after seeing this design, it's quickly become a favorite. The most striking detail is the intricate miniature painting crafted by a truly skilled artist. What are your thoughts on this vintage-inspired look?
#26 Celebrating Iconic Artists
Salvador Dali, Vincent Van Gogh, Claude Monet, Pablo Picasso, and Leonardo Da Vinci are some of the most renowned artists in history. Their awe-inspiring works have captivated millions across the globe and have been exhibited in prestigious galleries worldwide.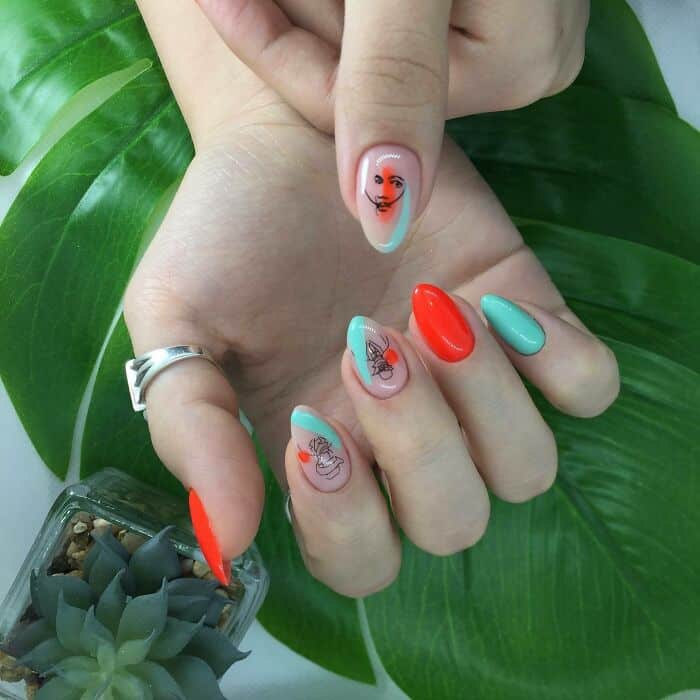 This individual must truly admire these artistic geniuses, as their work inspired her to create nail art in their honor. While it may be challenging to appreciate her tiny masterpieces from afar, a closer look reveals the extent of her talent and dedication to celebrating these iconic artists.
#27 A Nail Artist's Dedication
In the service industry, the primary goal is to satisfy clients. Despite the occasional challenging customer, professionals must strive to go above and beyond to cater to their needs.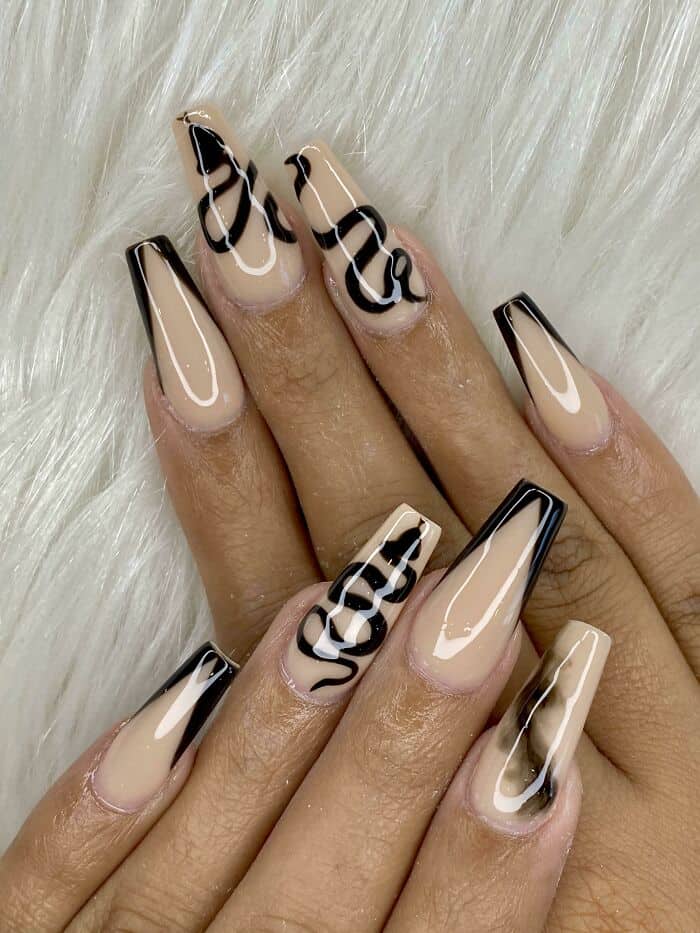 The O.P.'s client presented a sticker design concept, and the nail artist took it to the next level by skillfully recreating it freehand. The client's nails emerged looking polished and elegant, and it's fair to say that this exceptional outcome surpasses any sticker-based design.
#28 Embracing Nature's Charm
Butterflies have always captivated us with their delicate grace. Beyond their beauty, they play a vital role in pollinating the plants in our gardens and maintaining the balance of our ecosystem. They inspire awe and appreciation as one of nature's most enchanting creatures.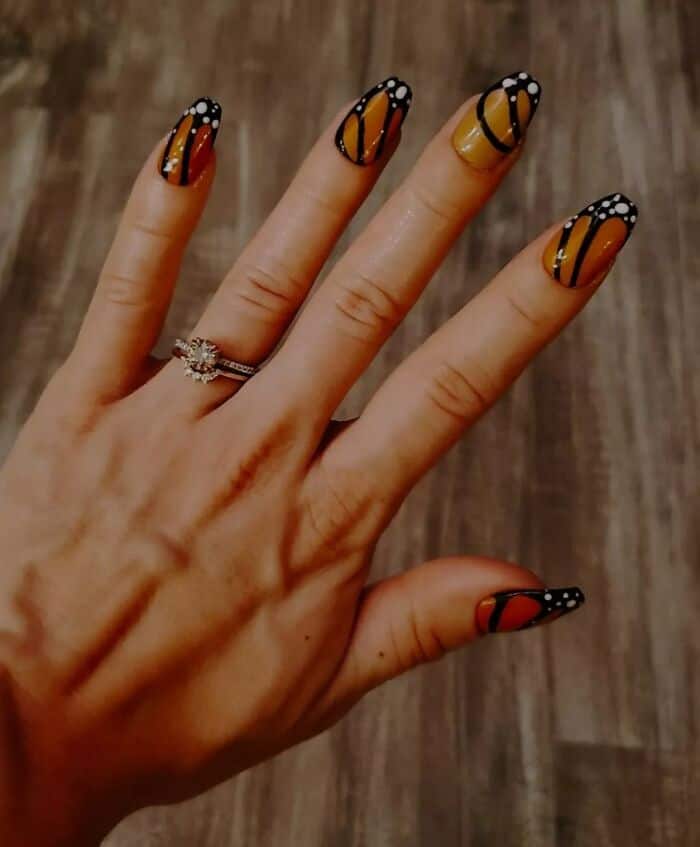 The O.P. shares this admiration, as butterflies inspired her to bring their charm to her nail art. The outcome is undeniably stunning, making her nails a true showstopper. This butterfly-themed design would be a perfect choice to complement the warm hues of autumn.
#29 Nailing the Perfect Wedding Look
Weddings are momentous occasions, signifying the commitment between two individuals and the beginning of a new and enchanting chapter in their lives. You'll want to look your absolute best as a guest at such an event.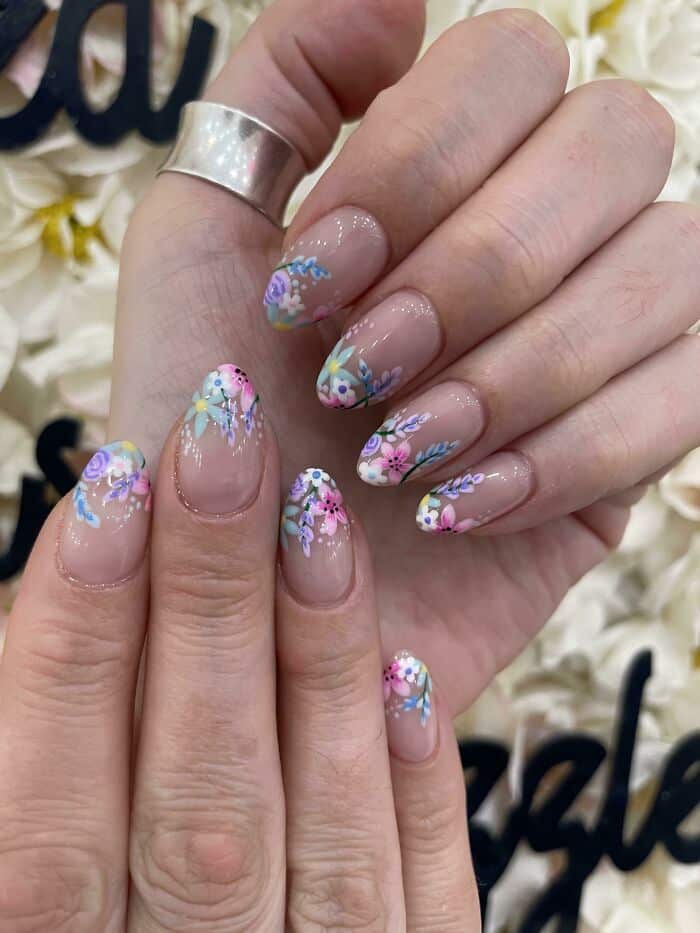 While someone other than you may be walking down the aisle, presenting a polished appearance is essential. This lady understood the importance of looking dazzling and turned to her trusted nail tech for a stunning wedding-ready nail design.
#30 Charming Nail Art for Short Nails
Short nails shouldn't mean missing out on the delightful world of nail art. Anyone who believes otherwise clearly has yet to see creations as charming as this. The adorable bee featured in the design looks so realistic that we expect it to take flight.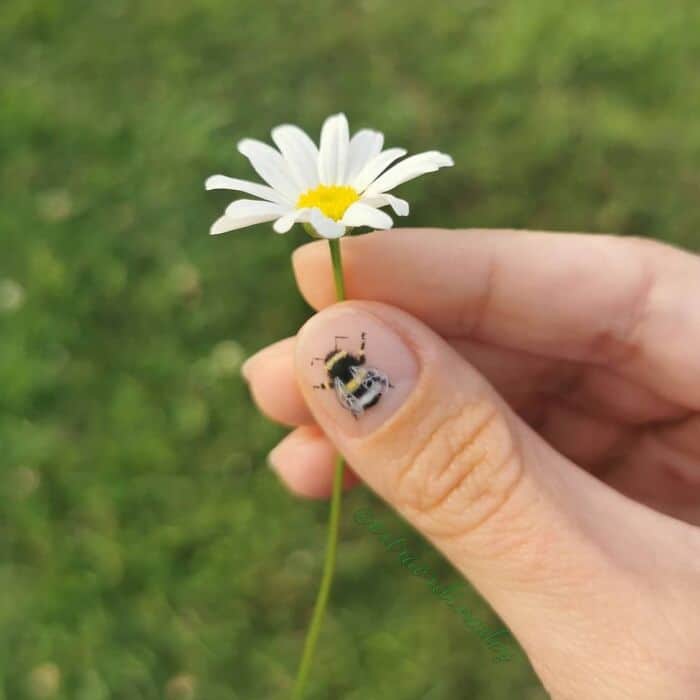 Though many of us may lack the talent to recreate such a delightful design, this lady inspired us for our next nail appointment. Embracing the practicality of shorter nails, we can still indulge in lovely nail art while maintaining the ability to work with our hands.
#31 Vibrant Nail Art for Warm Weather Days
Raise your hand if you think this nail design perfectly captures the essence of summer. The lively blend of oranges and greens evokes images of flourishing flowers and lush leaves, making us yearn for warm, sunny outdoor days.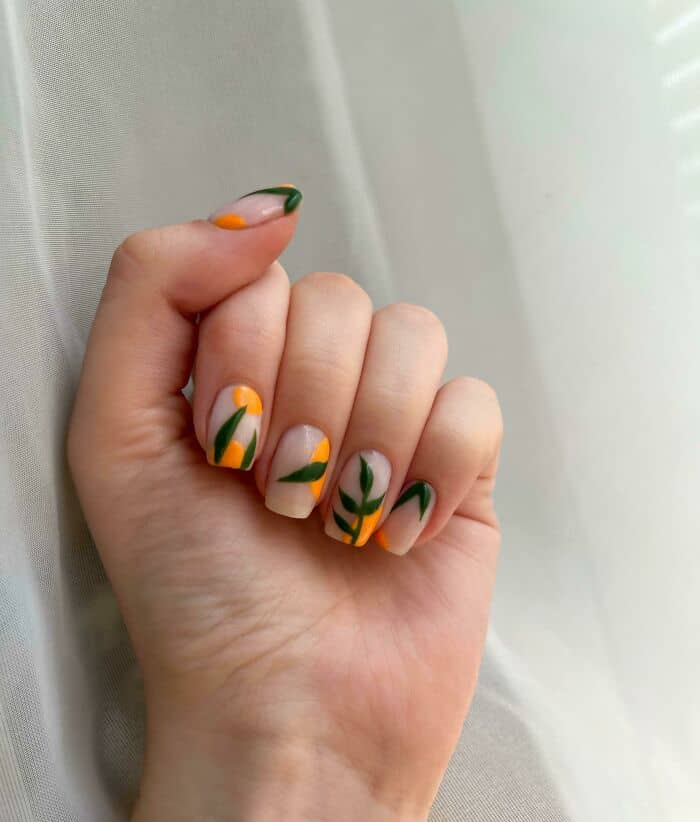 There's so much to adore about this creation – the color palette, the design, and the flawless execution. Some have remarked that the artwork reminds them of a sunset, highlighting how people can interpret art differently.
#32 Channeling Childhood
Memories through Nail Art When it comes to nail art, creativity should know no bounds. There's no one to dictate what can or cannot be done, so if embracing your inner child drives your artistic spirit, go for it!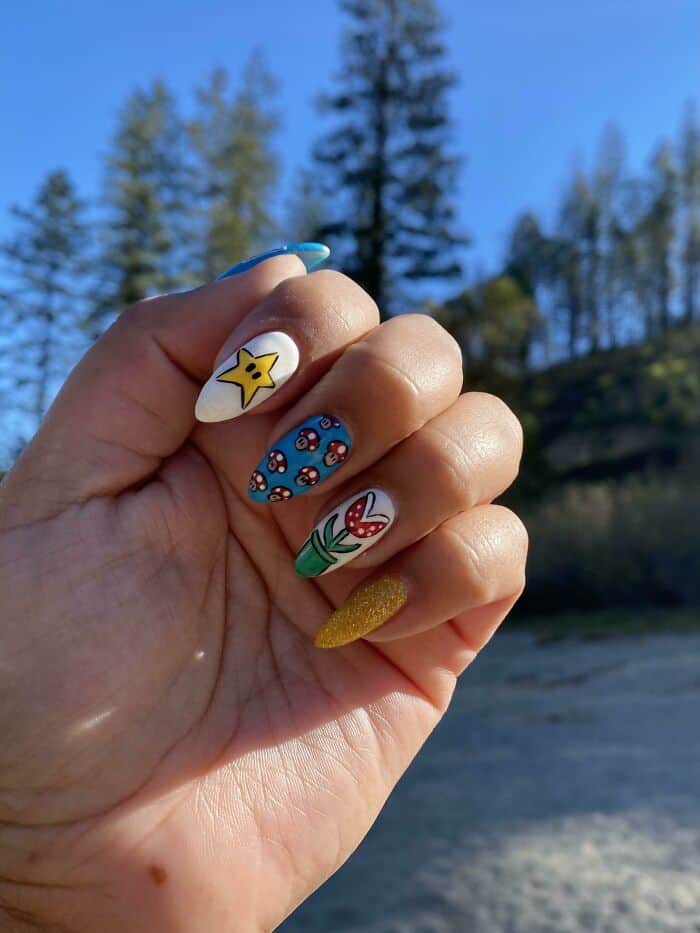 This talented nail tech must have been a huge fan of Super Mario during their childhood, as evidenced by the beautifully crafted design inspired by the iconic game. Much like the Sailor Moon nails we saw earlier, this delightful creation transports us back to simpler times when our days revolved around watching T.V., playing games, and completing homework.
#33 Elegant Nail Art for Sophisticated Tastes
For those who love the calming combination of blue and white, consider this elegant design for your next nail appointment. We're enamored by the colors and texture this creation offers. However, we acknowledge that the nails' length may only be ideal for some.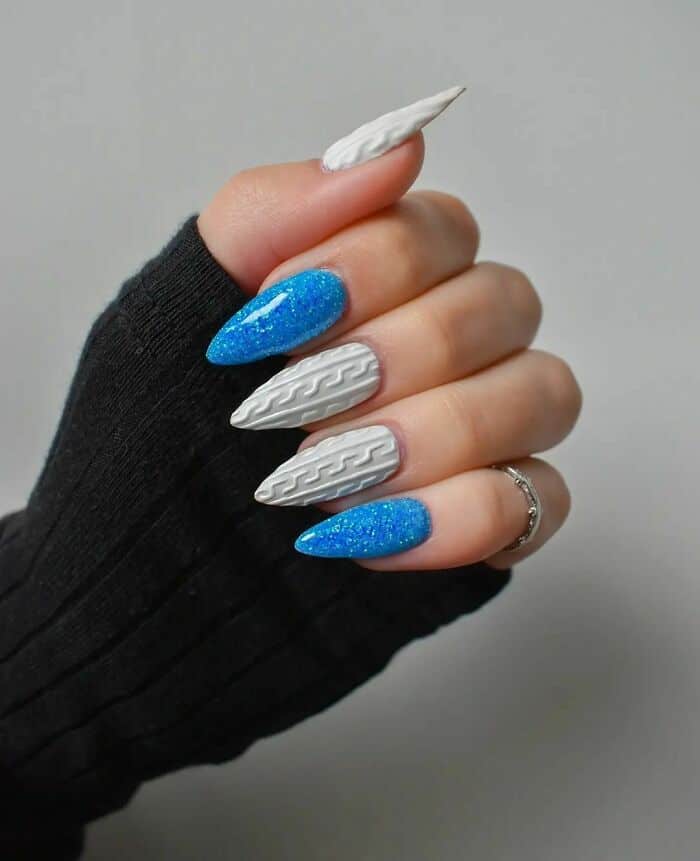 We understand that long nails may pose challenges, particularly for mothers caring for young children. But if you're truly captivated by this design, don't hesitate to indulge and flaunt these stunning nails.
#34 Disneyland-Inspired Nail Art for the Young at Heart
This enchanting design makes us yearn to visit the happiest place on Earth, where we can embrace our inner child without care. Created by a talented chef who loves to paint and has a fiancé who's a meticulous manicurist, this couple embodies artistic flair.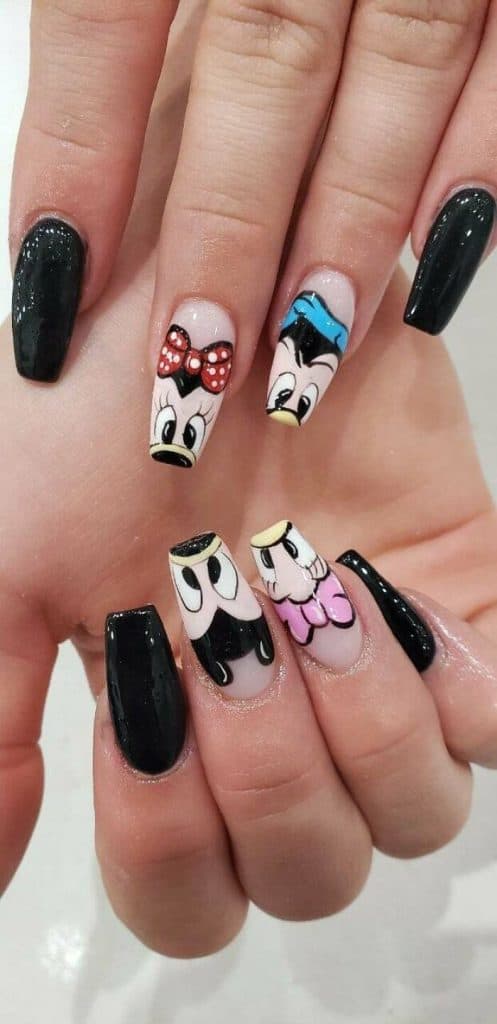 We wish this dynamic duo continued success in their future endeavors, confident they are destined for many joyful days filled with laughter, creativity, and uniquely beautiful art. Cheers to their bright and whimsical journey ahead!
#35 Making a Bold Statement with Social Media-Inspired Designs
In today's social media-driven world, people strive to look polished and picture-perfect for their Instagram feeds. This individual found inspiration in the gram and decided to replicate the design on her nails, resulting in a chic and bold look.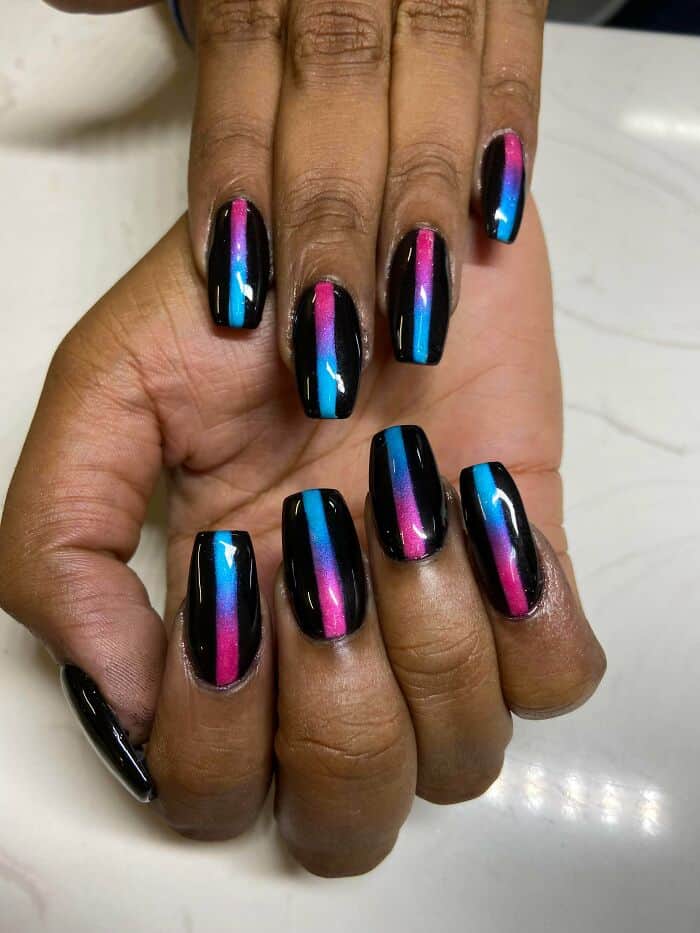 This nail art is a winner in our eyes, featuring a striking black base and a vibrant splash of color down the center. It's perfect for those who seek to make a bold statement and garner attention on social media platforms.
#36 A Trendy and Durable Manicure Technique
As non-experts in nail art, we sometimes encounter unfamiliar terms and techniques. One such example is the concept of 'dipping nails,' which involves dipping your fingertips into containers of pigmented powder to achieve a stunning manicure.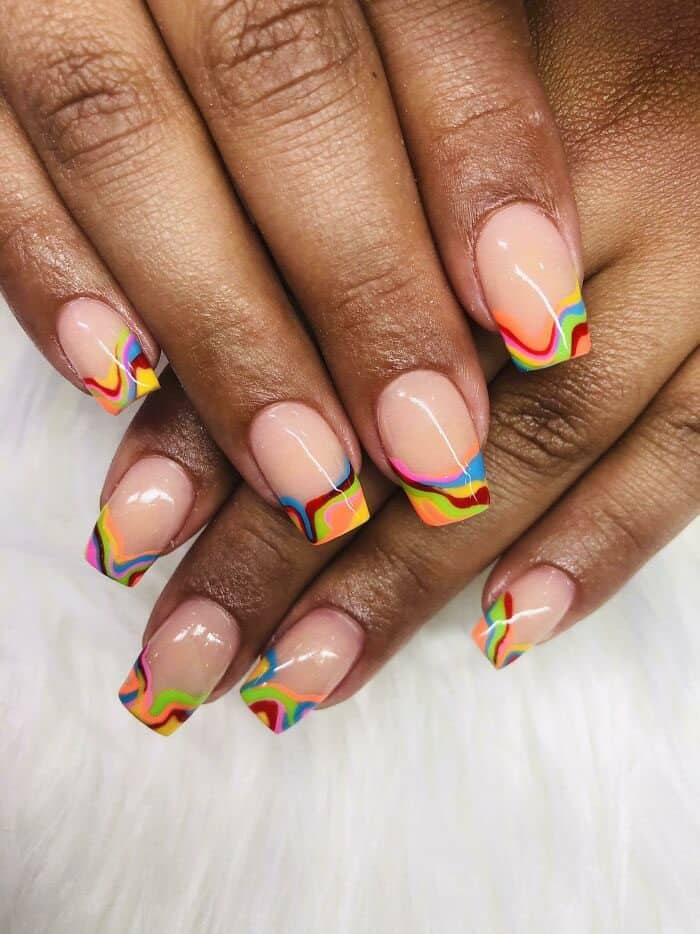 This innovative method combines a technological base and sealer products with vibrant powders to create a long-lasting, durable finish. We're eager to try this modern technique if the result is as fabulous as the nails showcased here. It's time to dip into the world of dip powder nails and elevate our manicure game to new heights!
#37 Get Creative and Have Fun with Nail Art
Nail art isn't just a way to earn a living; it's also a form of therapy and self-expression for many. With endless possibilities and techniques, it's an excellent way to earn money while indulging in your passion for art.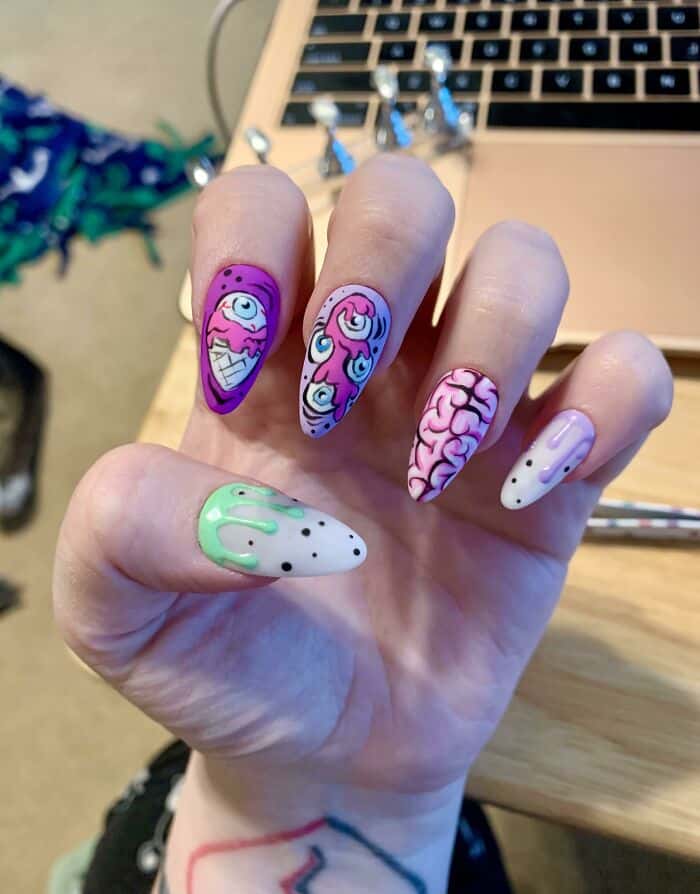 Gone are the days of plain and boring nails; with nail art, you can unleash your creativity and have some fun! Check out these super fun nail art designs that will make you feel lucky to have them on your nails. So why not get inspired and try some out for yourself?
#38 Nail Art Goes Wild with Wiggly Eyes
Who knew wiggly eyes could be a nail art accessory? This innovative nail design is perfect for those looking to add some quirkiness and fun to their next nail appointment. It's a perfect fit for any festive occasion or just to bring some extra humor to your daily routine.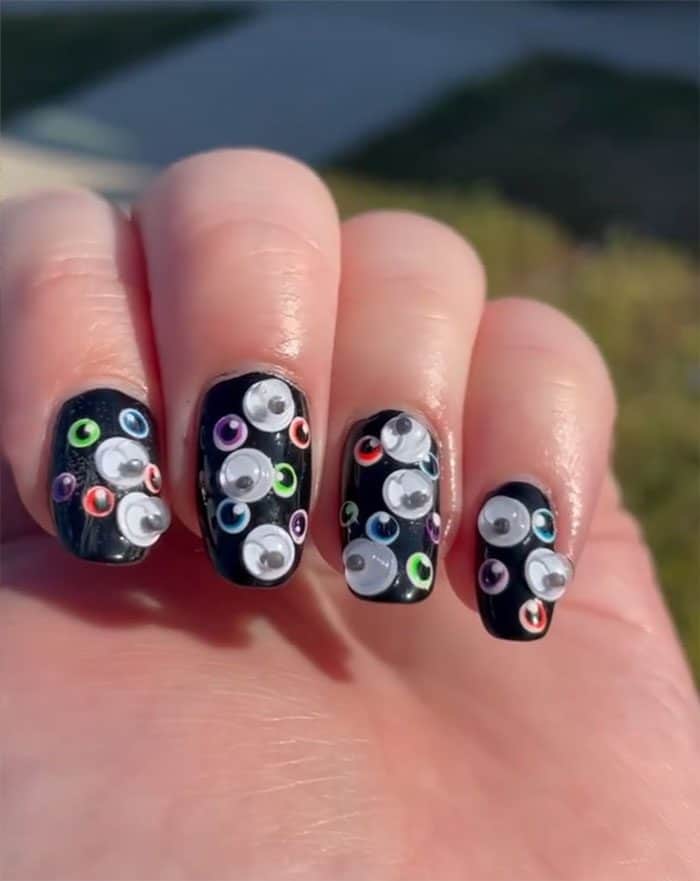 Originally designed for Halloween, these nails feature bold colors and playful designs. However, their unique style makes them versatile enough to be worn year-round. Don't be afraid to get creative and try out this bold and playful nail trend.
#39 A Testament to Persistence and Talent
As the saying goes, practice makes perfect, and this breathtaking nail art is a testament to the power of persistence and honing one's craft. We would gladly pay top dollar for such a stunning creation if only the talented artist lived closer!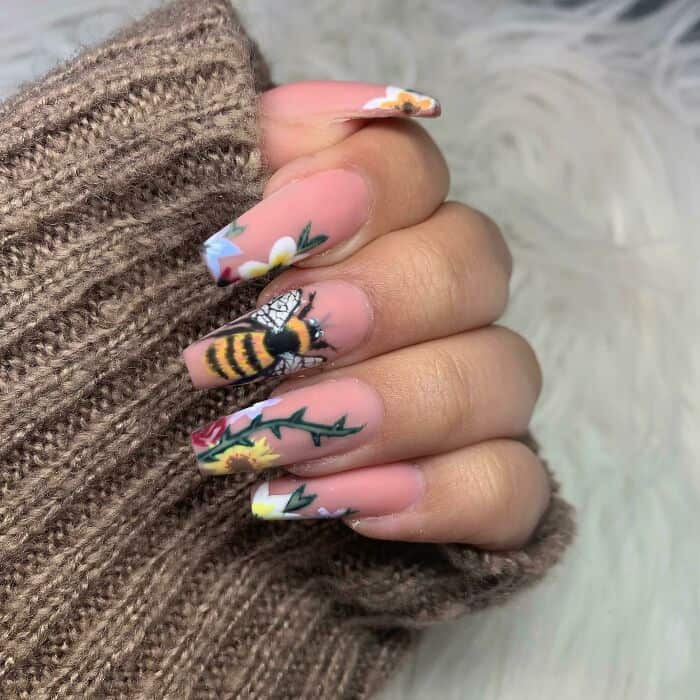 The charming bumblebee and vibrant colors showcase the artist's incredible skill, making us envious of her talent. After all, most of us can only manage stick figures, which certainly wouldn't look nearly as impressive on our nails.
#40 A Surefire Way to Impress
These beautiful nails were designed to leave a lasting impression, and with such an eye-catching lunar-inspired look, we're confident that anyone donning this design on a first date will secure a second one. The various phases of the moon are beautifully portrayed in this artistic masterpiece.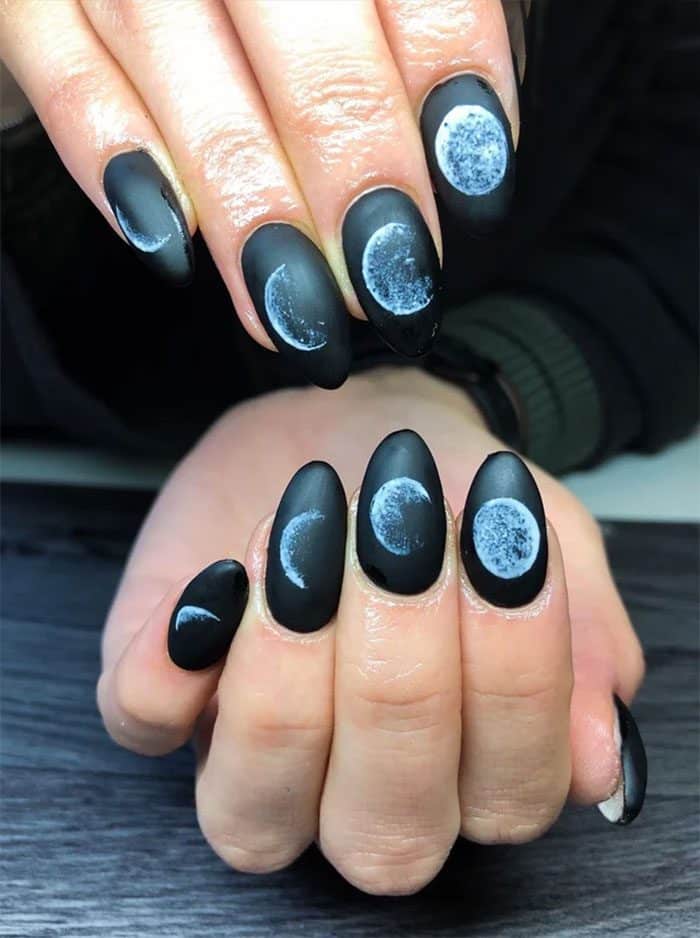 The artist employed an acrylic overlay with gel nail art, leaving people in awe of the stunning result online. We sincerely hope this talented individual opens her nail salon soon, as we're confident that clients will be lining up to have their nails transformed into works of art.
#41 A Nail Artist's Journey to Self-Confidence
This talented nail artist recently gathered the courage to share her work with the world after being hesitant due to fear of others' opinions. It's great that she finally decided to showcase her artistry, as her creations truly deserve admiration.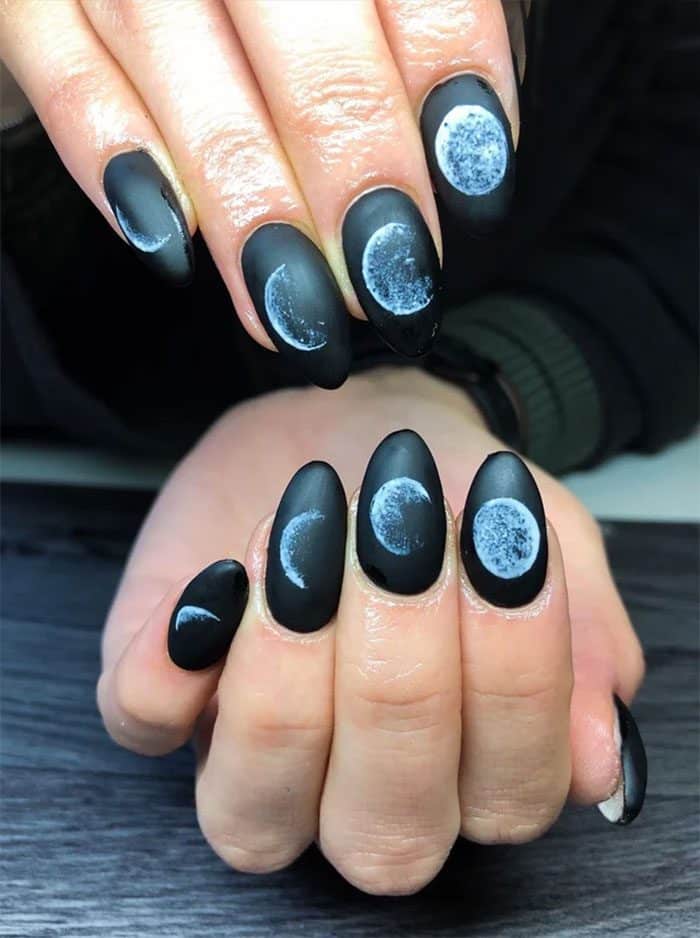 In addition to sharing her work, she offered advice for aspiring nail artists: steady hands and thinner, longer brushes are vital to achieve optimal precision. So, note these tips when you start assembling your nail art supplies.
#42 A Festive Nail Design
This delectable nail art instantly conjures up images of Christmas, a season brimming with candy canes, chocolates, and cookies. Although we may no longer be kids, it's nearly impossible to resist the allure of these sweet treats.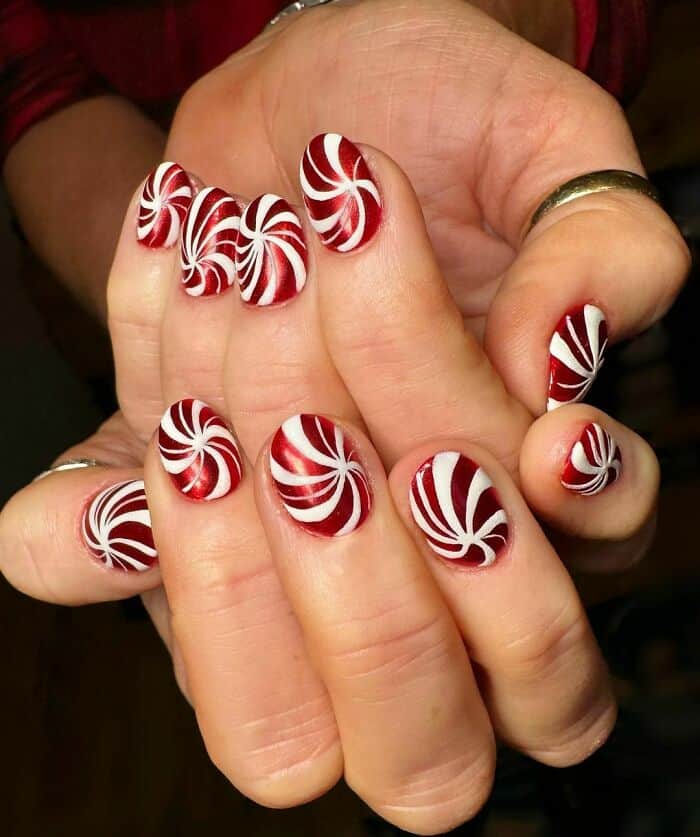 These nails look good enough to eat, and if you're interested in getting a similar design, you can find the nail technician's Instagram handle for more of her delicious creations. Unfortunately for us, she's based in London, but if you're nearby, you're in for a treat! So, go ahead and indulge yourself in some sugar-coated nail art.
#43 Bringing Cuteness to Your Nails
We have another delightful nail art design inspired by a beloved Japanese animated character – Gudetama! Created by Sanrio, Gudetama is an anthropomorphized egg yolk known for its laziness and sadness, but there's nothing sad about this design.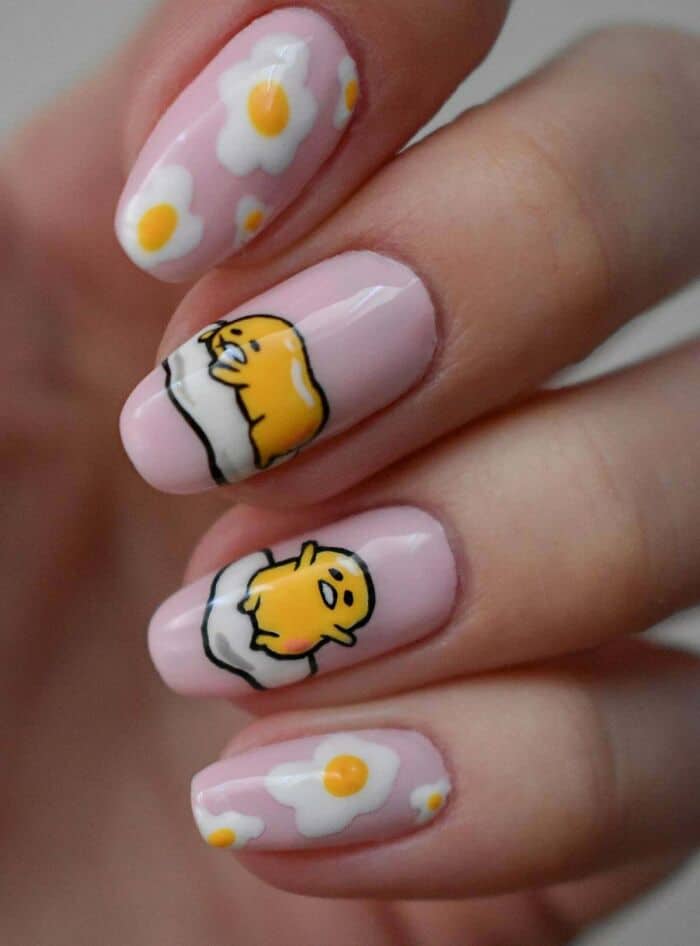 This adorable Gudetama nail art is guaranteed to bring a smile or even a chuckle at the sight of Gudetama's little booty. While some may consider cartoon characters childish, it's undeniable that they can inspire fantastic and whimsical nail art that appeals to people of all ages.
#44 Nails or Masterpiece? A Gorgeous Artistic Illusion
At first glance, you might mistake this for a painting, but it's an extraordinary nail art design. The creator hand-painted Apres Gel X natural square medium tips to achieve this stunning effect, and we're completely enamored with the result and its captivating colors.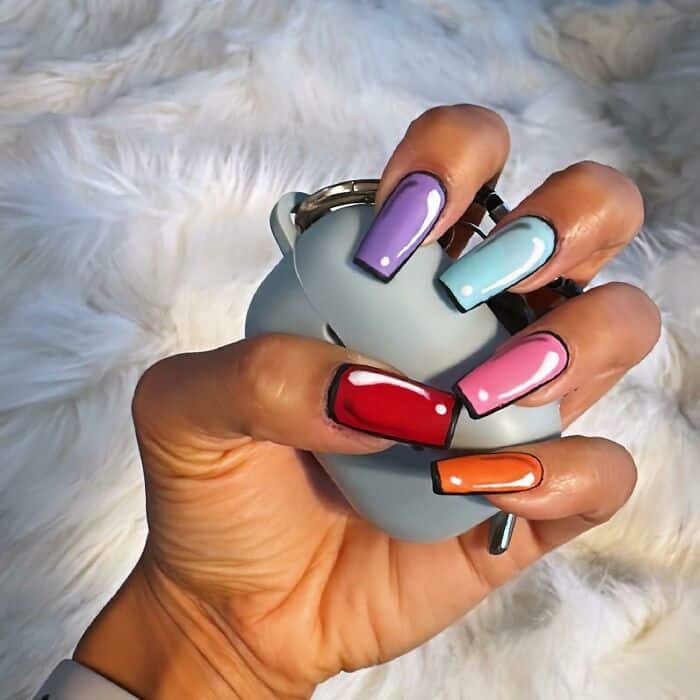 This unique and eye-catching design is not something you see daily, making it all the more worthy of admiration. For those wondering if it would work on shorter nails – fear not! The artist confirmed that this mesmerizing design looks just as fabulous on shorter nails, so there's no need to worry if you prefer a shorter length.
#45 Powerpuff Girls Nails: Sugar, Spice, and Everything Nice
Remember "Blossom," "Bubbles," and "Buttercup," the three kindergarten-aged superheroes that captivated our hearts in the late '90s? These iconic characters from the animated T.V. series "The Powerpuff Girls" fought evil villains and saved the day with their special powers. One of their notorious adversaries was the evil genius "Mojo Jojo." Fast forward to the present, and fans still have a special place in their hearts for the three superpowered girls made from sugar, spice, and everything excellent.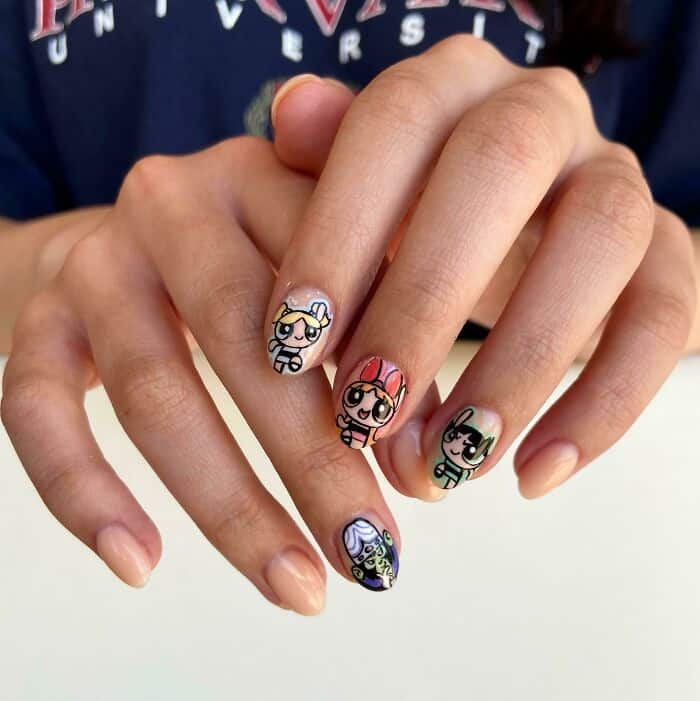 And for this particular nail artist, her love for the show inspired her nail art. The nail art is a tribute to the Powerpuff Girls, featuring the faces of Blossom, Bubbles, and Buttercup on each nail. The colors used are the signature colors of each character, and it's safe to say that these nails are adorable and perfect for anyone who loves the show. It's amazing how a cartoon from over two decades ago can still inspire such creativity and passion.