Fashion can be stylish and innovative, but nobody can deny that it often crosses over into the world of bizarre. Think of inflatable balloon pants, towel gowns, the baguette bag by Moschino, and potato sack pants. Designers want so badly to be innovative and acknowledged as geniuses that, at times, they fail to think about how their creations would look on regular people. And footwear is no exception. Over the years, we have seen weird footwear trends that made us raise our eyebrows and question the sanity of the people who designed them. Luckily for us, an Instagram account named "crimesagainstshoemanity" compiles some of the weirdest shoes ever, and we are glad to share them with you. Read on and squirm, laugh, and be disgusted simultaneously.
There's something fishy beneath my feet.
Suffice it to say that at first glance, you'd know that something fishy is going on here. When it comes to shoes, you want to be comfortable as much as possible. Who would want corns, calluses, and ingrown toenails start brewing on your feet? We reckon this design will not give you any of that, but you're guaranteed to receive strange looks. Who wouldn't look at you twice while wearing this abomination? It's downright weird and looks like it belongs in a lake.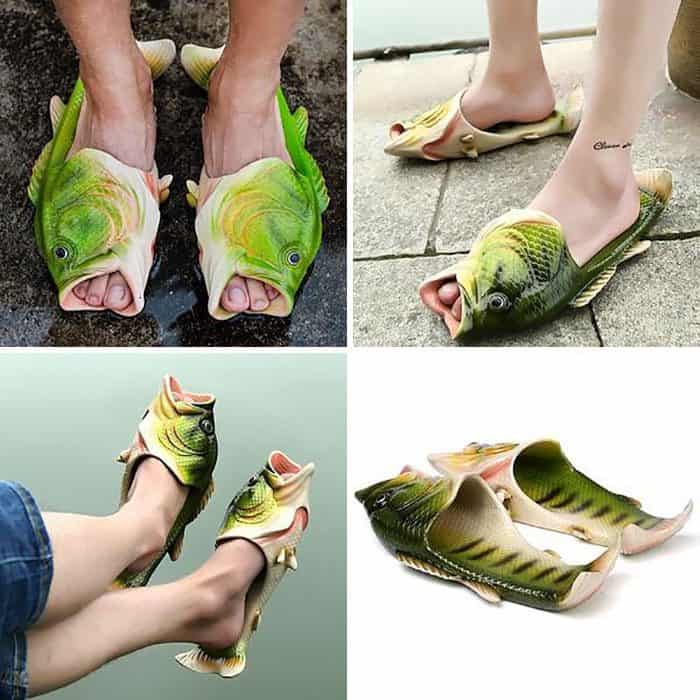 Camel toe
We've all heard of camel toe, as it's been discussed often and is something we don't want to get into right now. However, this is the type of fashion no-no that needs to be addressed right away. This is the camel toe that's actually on foot. If you want to share your Sunday school peers, you can wear this pair of shoes and prance around the church, so they'll think that the unholy one has been there. But we don't recommend wearing it to the office, social engagements, or school.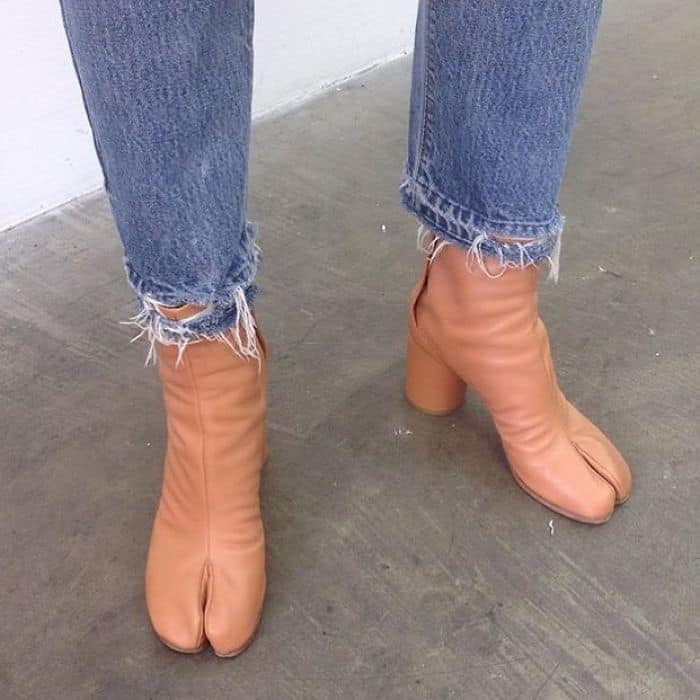 Are you coming or going?
This is a pair of shoes that can't seem to decide if it's coming or going. We can think of a few people for whom these shoes would be perfect, particularly those who can't make up their minds. This would make an excellent gift for them. And they would make for an ideal conversation piece, but we don't think it will do anyone any good to wear them on the streets. You'll confuse everyone you come across, and they will bump into you, trying to figure out where you are walking.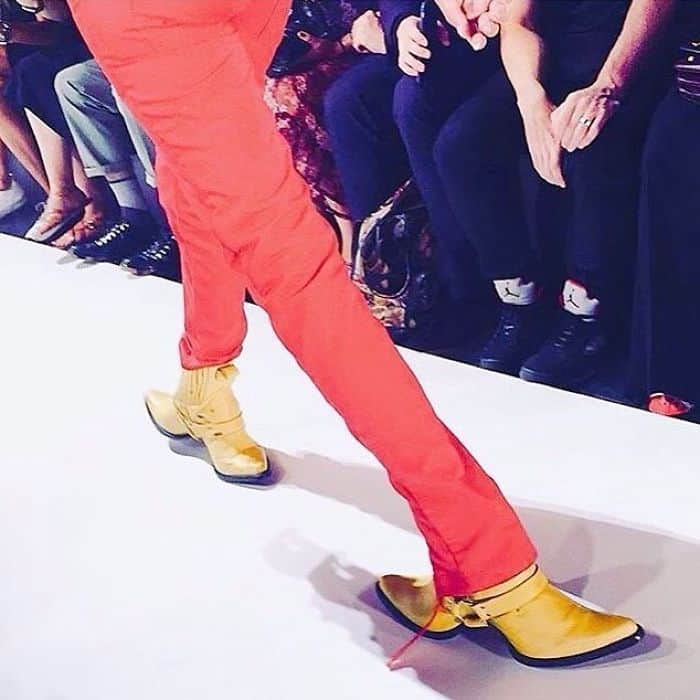 Is that grass on your feet?
Have you not washed your feet for so long that moss has started growing? How disgusting can anyone get? Fortunately, this isn't real moss. It's just shoes designed to look like moss and grass are growing on them. But that doesn't make them forgivable, though. We want to ask the designer what they were thinking. What gave them this silly idea that got them thinking that this would make a killing on the footwear market? We wouldn't be caught dead wearing this.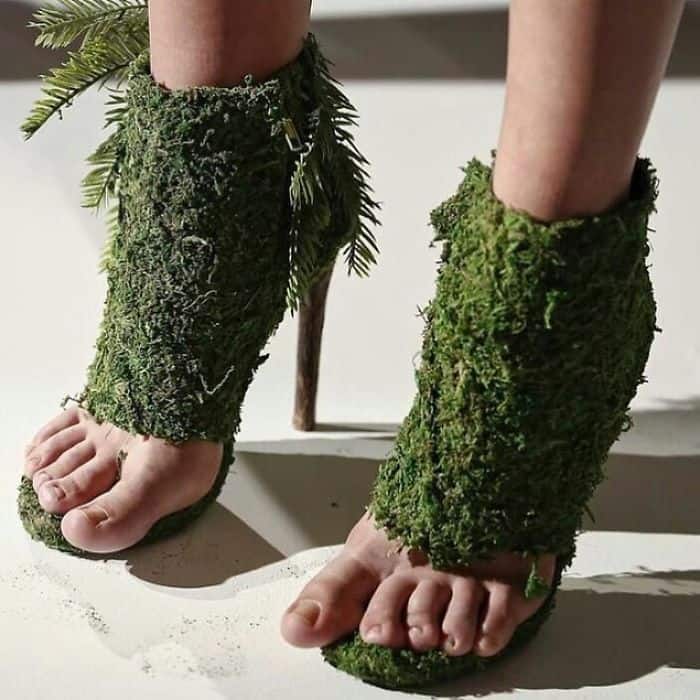 Spaghetti and meatballs shoes, why not?
We love spaghetti and meatballs, and we know we are correct in saying that only a few people can resist this meal. However, we would like them on our plates where we can eat, savor the meal, and fill our bellies. We don't want this meal getting anywhere near our shoes. Would you fancy wearing something like this? We don't. This atrocity isn't going anywhere near our feet because we don't want the whole town to think we've gone nuts.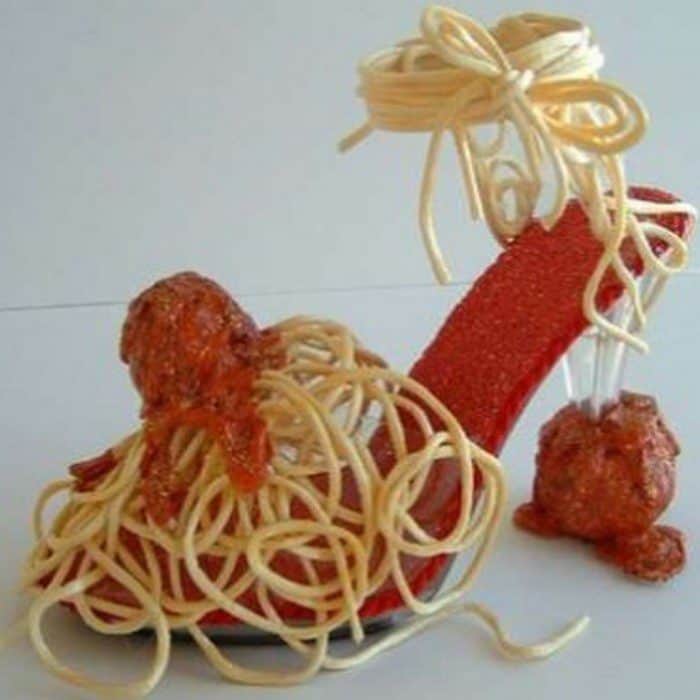 Let me help you with that bottle cap.
It can be challenging to open soda bottles at times, but if you're wearing this pair of shoes, you don't need to worry about not being to drink your soda one bit. Your footwear will take care of everything for you. This pair of heels, we have to admit, is useful. However, we don't think anyone wearing these would appreciate it if strangers kept approaching them for help to open soda bottles. They might just get fed up and hit you with the bottle instead.
Would you like to skate in glittery heels?
Do you find yourself wanting to wear glittery heels that catch people's attention and skate at the same time? Quite a dilemma, right? Now, you can do both by wearing this pair of shoes. You don't even have to compromise at all. Skate your way into the party and watch everyone notice you on your skater heels, especially if you're wearing this particular shade of red.