If we are talking about American architecture, Frank Lloyd Wright's name will definitely pop up. During his 70-year career, Wright has designed more than 1,000 structures and 532 completed works. His design philosophy focuses on organic architecture, believing that his compositions should always be in harmony with the environment. Wright is known for being a pioneer in the Prairie School architecture movement as well as the development of the Usonian home concept.
Frank Lloyd Wright has designed houses, hotels, schools, skyscrapers, churches, and more. He is well-known for creating every aspect of a home, including interior elements, furniture, and glass. Furthermore, the American Institute of Architects also named him "the greatest American architect of all time" in 1991. Frank Lloyd Wright has designed countless stunning architectures throughout the United States. Take a look at more about some of his most remarkable structures. The best part about these beautiful homes? You can visit them!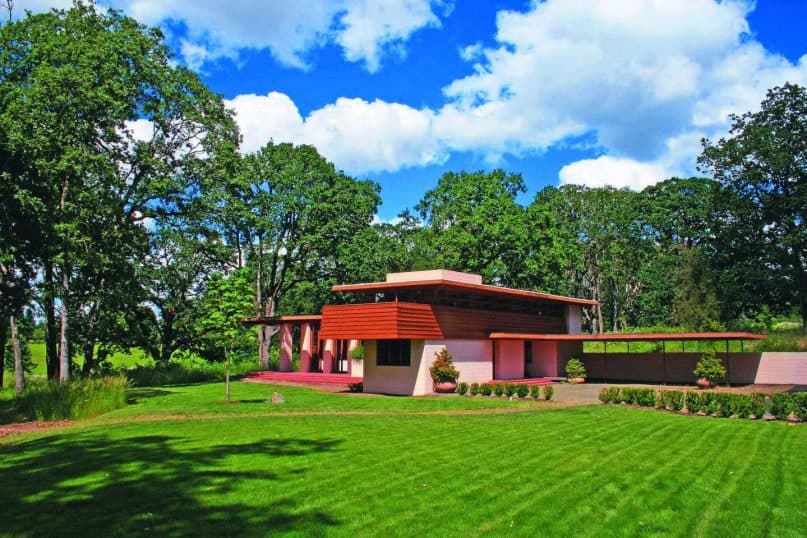 1. Gordon's house
Gordon House, mostly famous for being the only home in Oregon designed by Frank Lloyd Wright, was built in 1957 and finished in 1963, four years after his death. This house is the final arrangement in the Wright's Usonian series, which aims to provide good accommodation for the average working class in the country that has an annual income of $5,000.
The place is about 2,133 feet and features amazing 12-foot floor to ceiling windows and glass French doors in the living room. In the interior and exterior spaces, you can find Wright's signature horizontal designs connecting these two areas. The two bedrooms also have their own balcony. We can also spot Wright's traditional use of wood fretwork around the place. It entered the National Register of Historic Places in September 2004.