Being a lead actor in a TV show or movie can be challenging. It usually takes some major acting chops and charisma to pull it off. But some would say it takes even more skill to take a relatively minor role and make it your own. These actors made the most of their supporting roles and became fan favorites on the TV shows and movies they were in.
Sydney Sweeney as Eden – The Handmaid's Tale
Eden was brought in in season 2 and married off to Nick by the oppressive government of Gilead. A pious 15-year-old played by the baby-faced Sweeney, Eden got more attention from viewers and critics than the actor herself had anticipated. Was Eden a spy for Serena or the Eyes? We kept guessing all season, and the answer turned out to be shocking, heartbreaking, and a potential turning point for the show.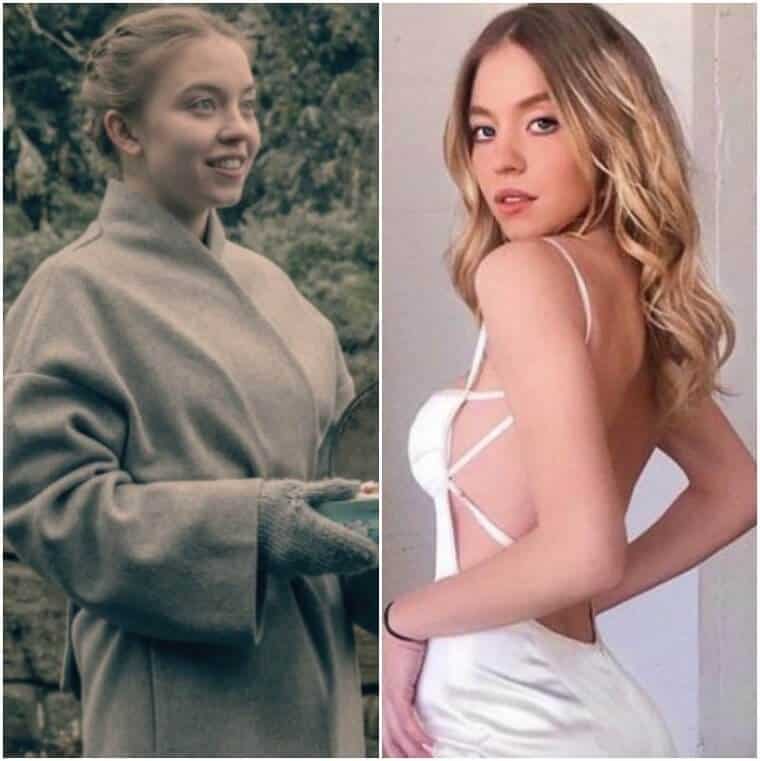 Alexandra Breckenridge as Moira – American Horror Story
Moira O'Hara in American Horror Story: Murder House was played by the iconic Frances Conroy, who went on to play the Angel of Death in Asylum and the unforgettable Myrtle Snow in Coven ("Balenciagaaa!"). As Moira occasionally took the form of her younger self, they needed a younger actor. Sharing a role with Conroy is a tall order – but Alexandra Breckenbridge's stunning red hair and stocking tops proved unforgettable.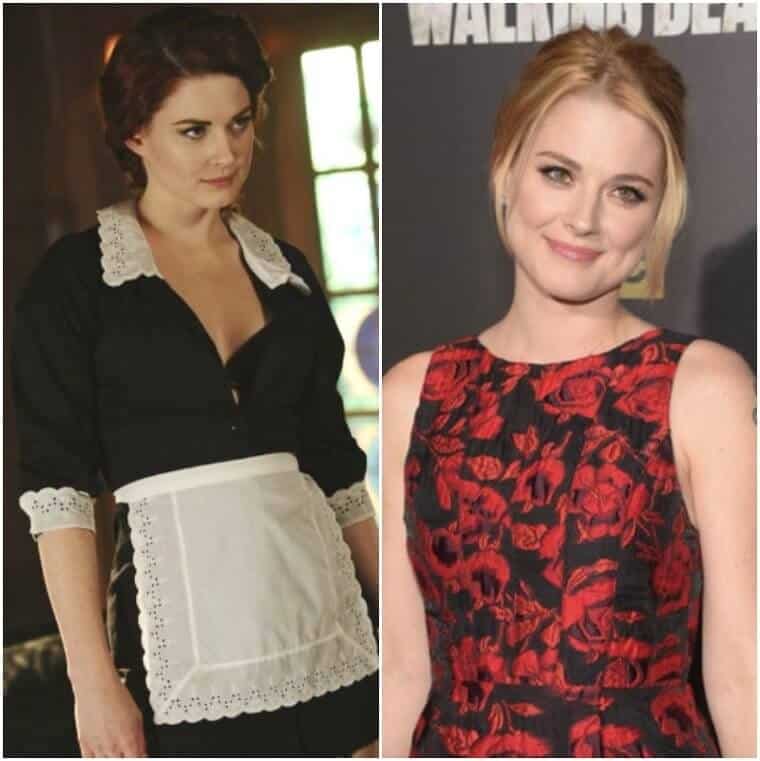 Alexandra Daddario as Lisa – True Detective
The first season of True Detective was criticized for its portrayal of women. Detective Rust Cohle's big notebook is given more agency than the female characters, who mainly move the plot by meeting an untimely end or trying to date the other detectives. Still, you have to admit they look good doing it – at least when it comes to Alexandra Daddario as Detective Hart's bit on the side, Lisa Tragnetti. She reportedly received marriage proposals from fans after her nude scene in episode 2.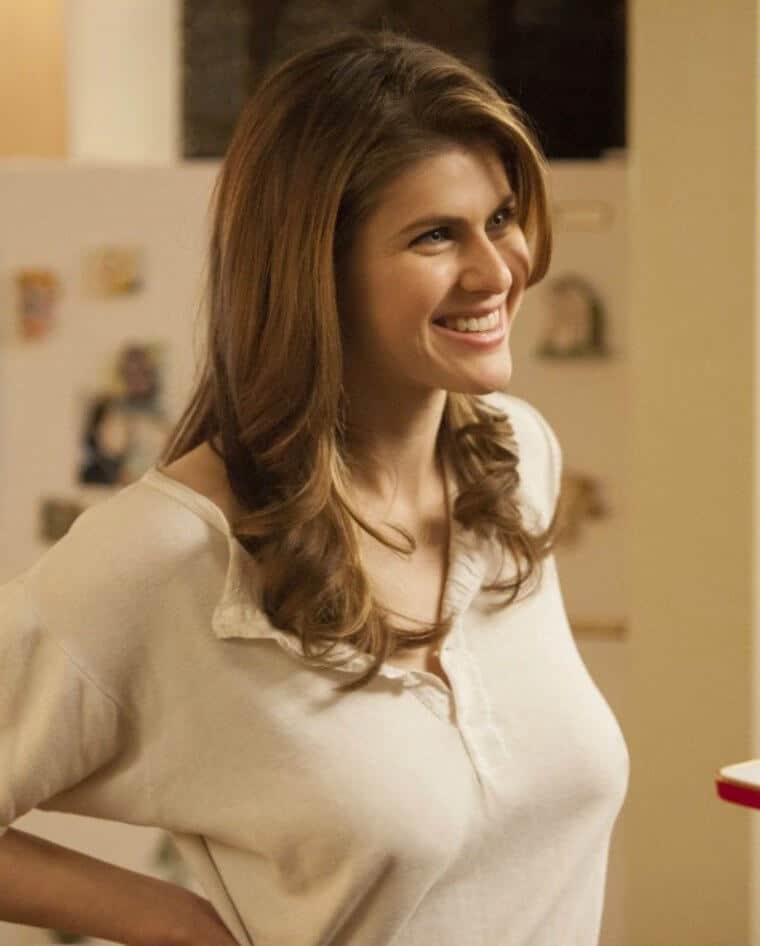 Rose Leslie as Ygritte – Game of Thrones
Game of Thrones left us with many memorable lines: "Winter is coming!"; "Hodor!"; "What do we say to the God of Death? Not today!"; "If you think this has a happy ending, you haven't been paying attention." Each is a winner, but perhaps no line has been quoted and seemed quite as much as, "You know nothing, Jon Snow," spoken by the flame-haired wildling Ygritte. Fresh from Downton Abbey, Rose Leslie made an impression not only on viewers but on Kit "Jon Snow" Harrington himself. The two of them got married in 2018.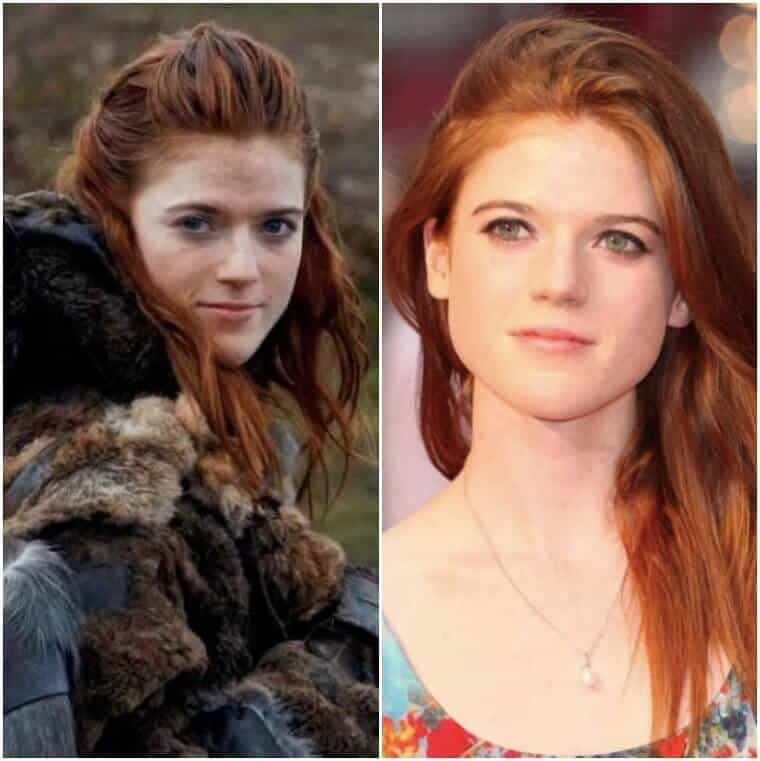 Reese Witherspoon as Jill – Friends
Now that Reese is a media mogul in her own right, it's hard not to see her appearance as an attempt to inject minor stardom into the saggy middle of season 6. But this was before Legally Blonde, before Sweet Home Alabama. We had no idea just how huge Reese Witherspoon was about to become. And what's more, Jill's character worked brilliantly. She takes all the mistakes Rachel made in the early seasons — expecting shopping to fix all her problems, staying tethered to Daddy's credit card, dating Ross — and makes them her own.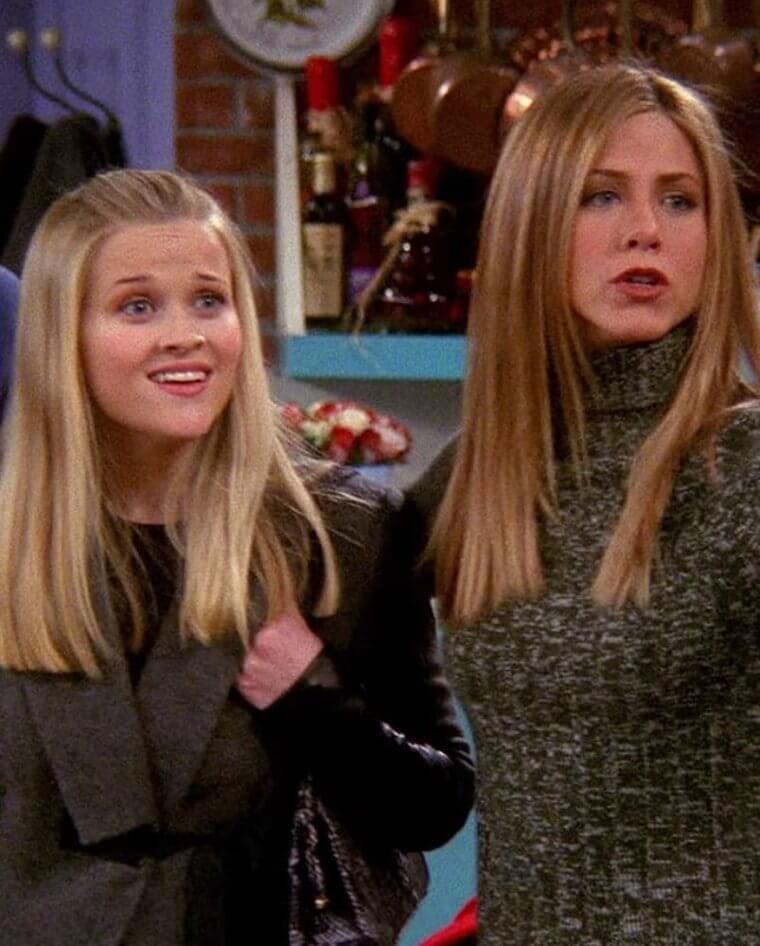 Norman Reedus as Daryl – The Walking Dead
The Daryl Dixon character didn't exist in The Walking Dead during its preparation phrase. When Norman Reedus auditioned to play Merle Dixon, the creators knew he wasn't suitable for the part, but they also knew they wanted him in the show. So they created the role of Daryl, especially for him — and the character quickly became such a fan favorite that he was upgraded to series regular after season 1. He eventually became the series's main protagonist following Andrew Lincoln's departure as Rick.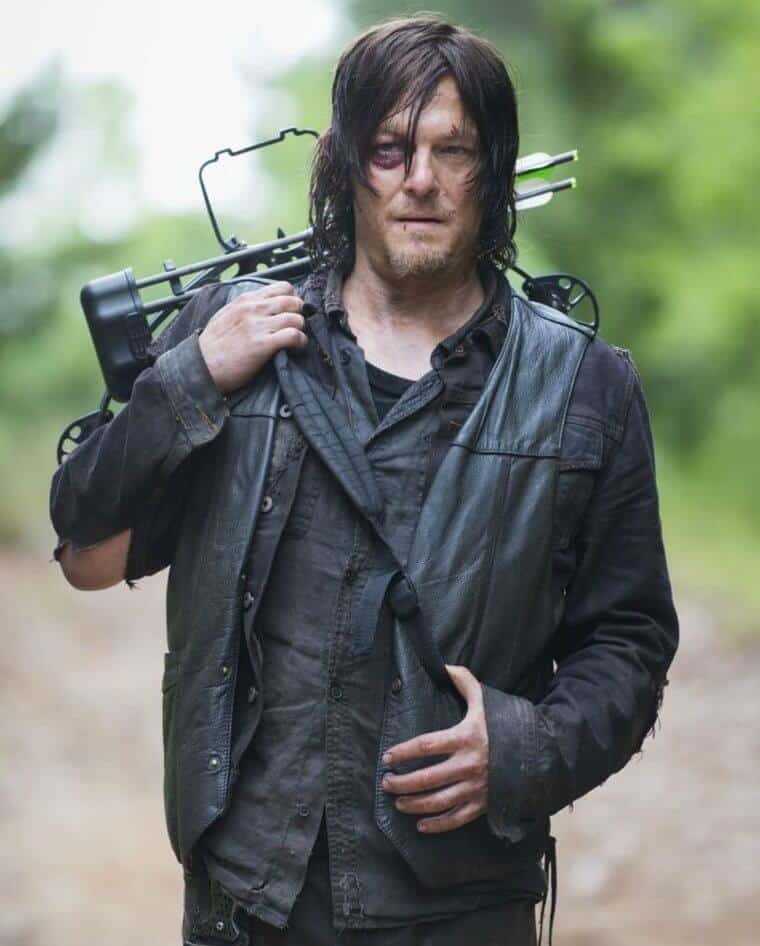 Charisma Carpenter as Cordelia – Buffy the Vampire Slayer
In the early episodes, Cordelia's role seemed set in stone: she was the well-dressed, popular girl who was mean to the nerds. By opting to be friends with Willow instead of her, Buffy showed viewers that she was turning her back on the high school life she could have had. But throughout the show's first three seasons, she transformed from an antagonist pitted against the Scooby gang to their ally — even doing a little vampire slaying herself — before she crossed over to Angel with David Boreanaz.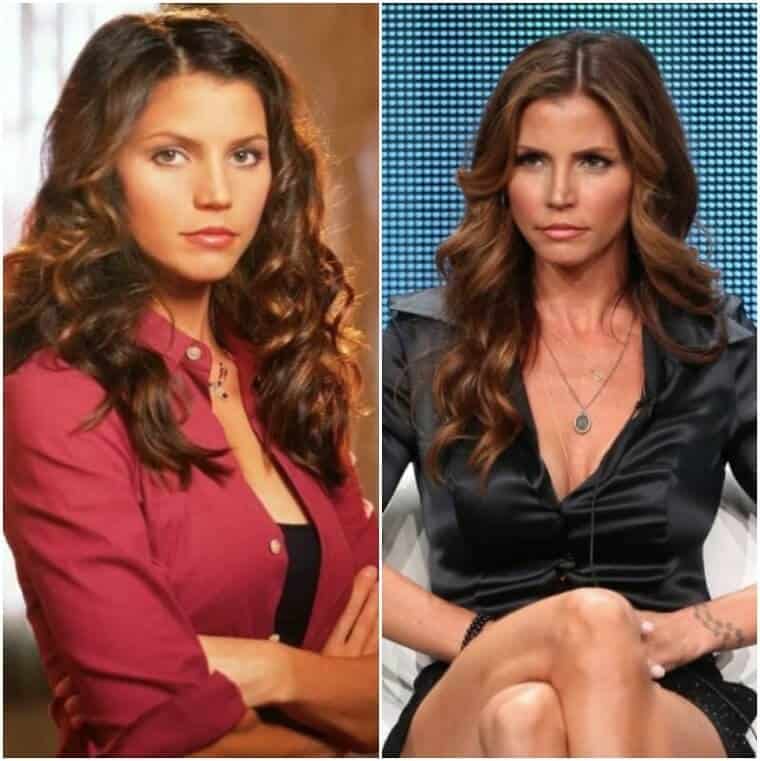 Krysten Ritter as Gia – Veronica Mars
Everyone has a favorite Krysten Ritter vehicle — Jessica Jones, Breaking Bad, Don't Trust the B**** in Apartment 23 — but Veronica Mars fans have loved her longer than anybody else. She took Gia Goodman (a ditzy, privileged character that could quickly have become just another rich girl trope) and made her such an integral part of the show that there was no question of her not returning for the fan-funded movie in 2014.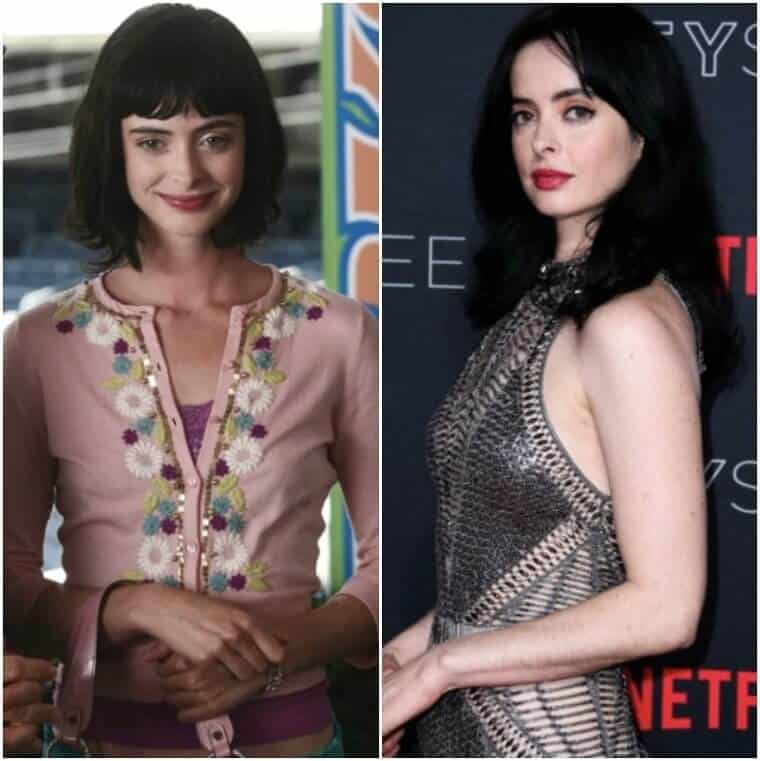 April Bowlby as Kandi – Two and A Half Men
Kandi is the classic example of a sitcom character working her way up from a single appearance to the main cast. April Bowlby appeared in season 3 of Two and A Half Men as a one-off bimbette with a different name: Kimber. Kimber had so little discernible personality that we're wondering if Kandi was a new character or just had a new name. Either way, Kandi was a main character in season 4, eventually becoming Alan's second wife and returning in season 10 for a surprise twist.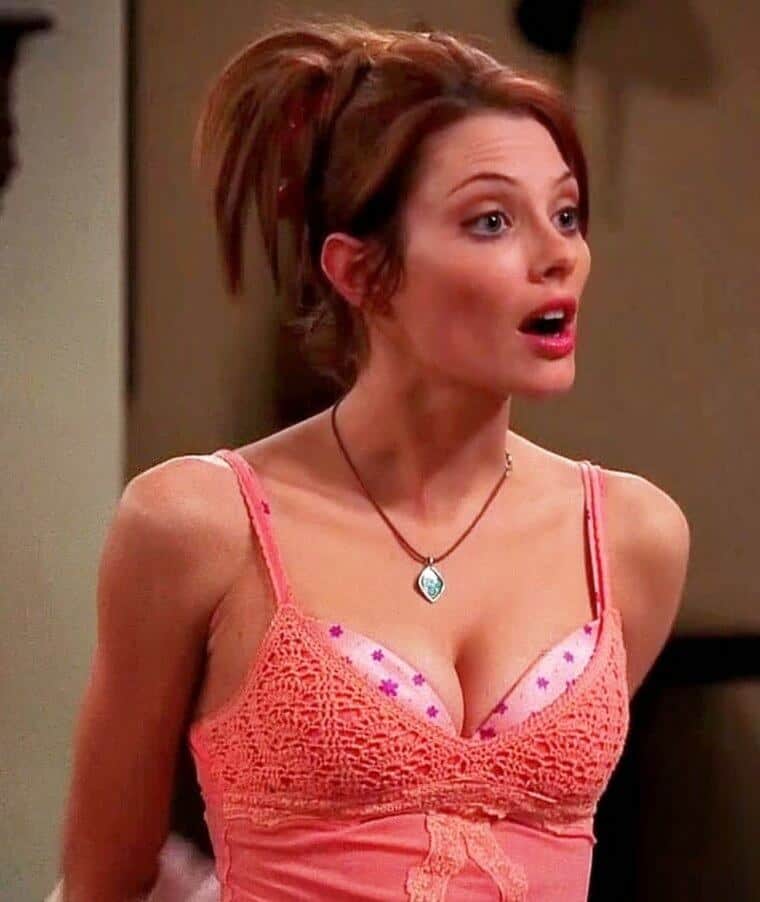 Despite what they might say during the press tour, only a few stars truly enjoy the movies they started in. Not every shoot was a dream come true, and not every castmate was perfect. While shooting a movie or a TV show usually doesn't affect them, these actors had no choice but to stay for some surprising reasons.
Keanu Reeves Starred in The Watcher Because His Signature Was Forged
In the early '90s, Keanu Reeves was playing street hockey with his friend Joe Charbanic when he made a verbal agreement to cameo in Charbanic's movie, hoping his name would help secure financing. Years later, post-The Matrix, Reeves was the world's biggest star, and the film, The Watcher, was made. To Reeves's annoyance, it was substantially rewritten to make his character the movie's center. Reeves also claimed a friend – presumably Charbanic – forged his signature on the contract. Since he couldn't prove it and didn't want to get sued, he just did the movie. After his one-year NDA expired, he spoke freely about how much he hated it.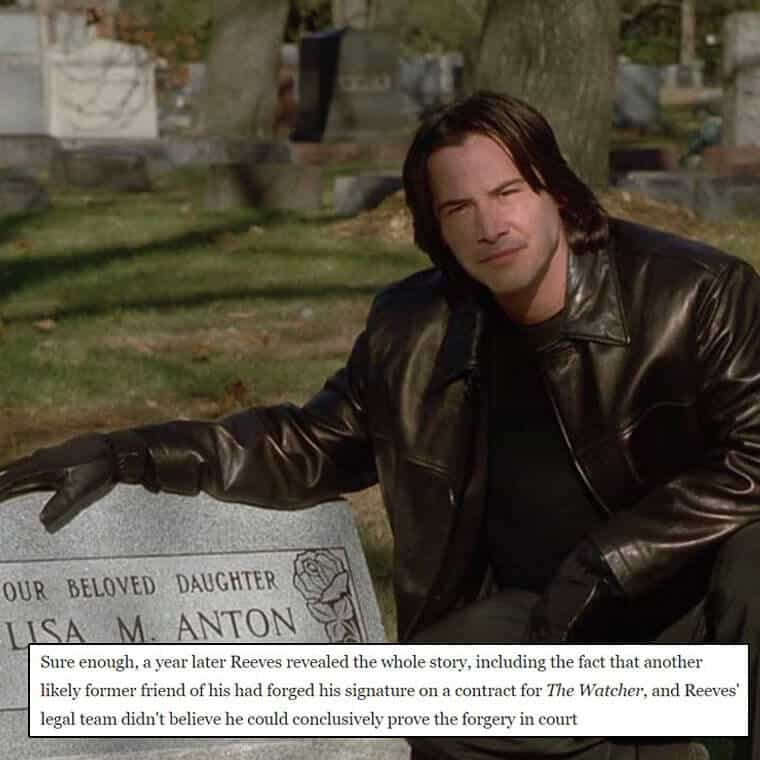 Ryan Reynolds Was 'Blackmailed' into Starring in X-Men Origins: Wolverine
Most fans will call out the X-Men Origins: Wolverine production team for what they have done to Wade Wilson. From giving him laser eyes and sword hands to sewing his mouth shut. Ryan Reynolds revealed that he was blackmailed into being in that stinker in the first place. The actor knew Origins' Deadpool was the "wrong version" and even told the studio as much. Unbothered, Fox told him, "Play Deadpool in this movie, or we'll get someone else to." Feeling "a little blackmailed" but not wanting to lose the role altogether, Reynolds suffered, so he could later shoot the two movies that got it right.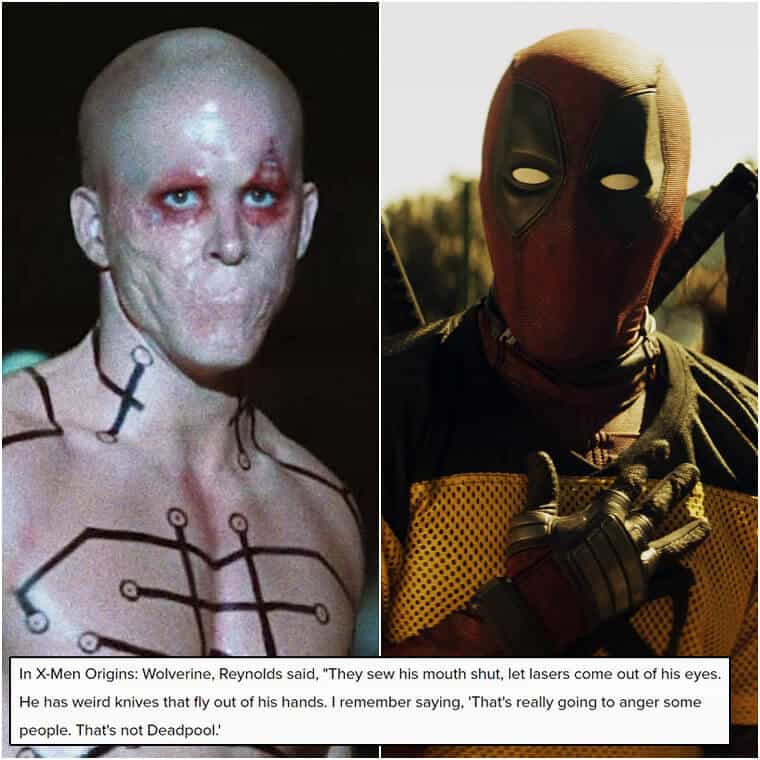 Whoopi Goldberg Was Sued into Starring in Theodore Rex
Not many people know that Whoopi Goldberg started in the 1995's buddy cop movie Theodore Rex. Goldberg plays futuristic tough-as-nails police detective Katie Coltraine, who gets paired with a bumbling human-sized Tyrannosaurus named Theodore Rex.
The original script had a white male lead, but the producers decided to go after Goldberg, then at the height of her '90s fame. She made a verbal commitment to start but later wanted to back out, probably realizing its awfulness. A lawsuit and countersuit ensued, and Goldberg eventually starred in the movie to avoid having to pay $20 million. It flopped, and Goldberg was nominated for a Worst Actress Razzie.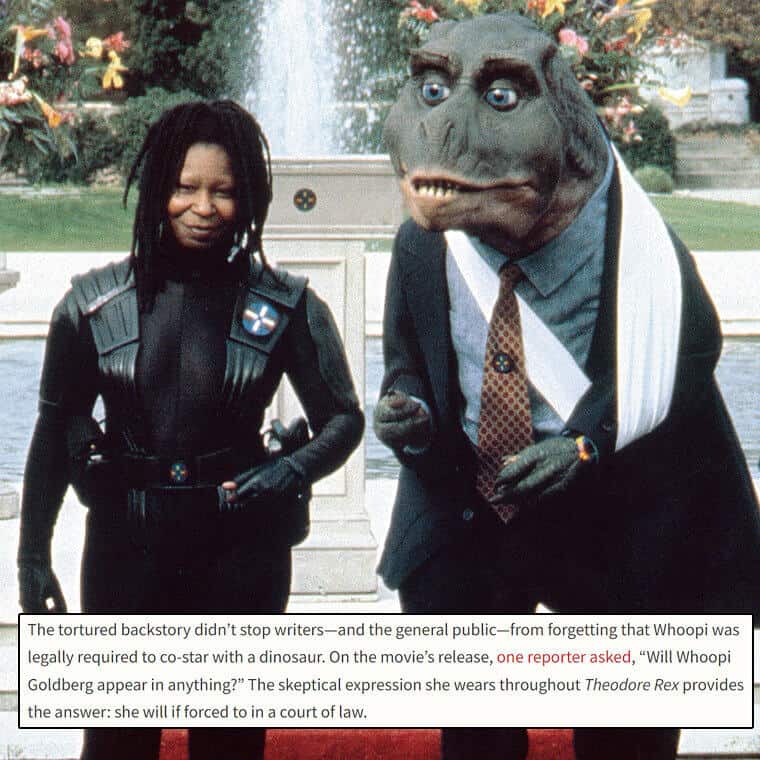 Mike Myers Starred in The Cat in the Hat Because He Flaked on Doing Another Movie
Remember Dieter, Mike Myers's German talk show host character from SNL? Sure, you don't. For whatever reason, Universal decided to give him a movie. When Myers himself couldn't write a script he was satisfied with, he was sued – by both Universal and production company Imagine Entertainment. To settle both lawsuits, Myers agreed to do another movie for them instead. That movie was The Cat in the Hat. Despite Myers's lifelong Dr. Seuss fandom, the film stank – and, apparently, so did his attitude. Co-star Amy Hill called him a "diva" and a "little hermit" and revealed he had a designated on-set chocolate holder.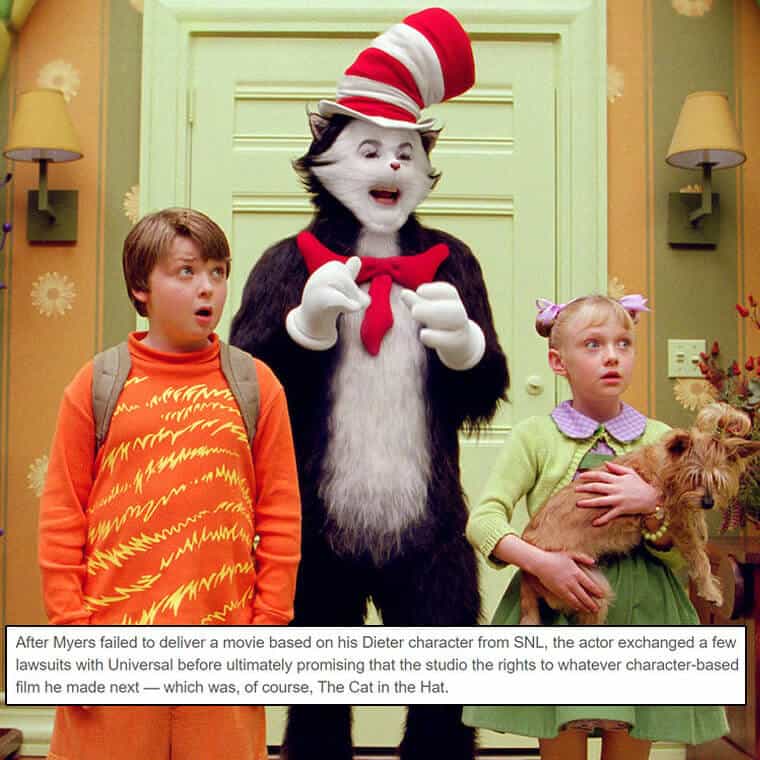 Natalie Portman Had to Star in Thor: The Dark World Despite Marvel Firing Her Director
Before Eternals, Marvel's lowest-rated movie was Thor: The Dark World. It wasn't awful – but as Chris Hemsworth put it, "meh." One person who saw it coming was original director Patty Jenkins. Slated to be the first woman to helm a superhero film, she was afraid the failure would be blamed on her, so she bailed just three months in. Natalie Portman, who played Jane Foster and pushed for Jenkins to get the role, was completely blindsided. Her contract, however, was ironclad, so she was forced to stay. The happy ending? Jenkins still became the first woman to direct a superhero movie – Wonder Woman.
Emily Blunt Wasn't Black Widow so that She Could Star in Gulliver's Travels
Scarlett Johansson finally got the sendoff she deserved in 2020's Black Widow movie, probably capping off the career of one of the MCU's most popular characters. Honestly, we can't imagine anyone else playing Natasha – which makes it much weirder to discover Marvel's first choice was Emily Blunt. She became a star after The Devil Wears Prada, but that movie's contract stipulated that she had to do another film for 20th Century Fox. That movie, the awful flop Gulliver's Travels, forced Blunt to bow out of playing Black Widow, something she still agonizes over today, calling it "a bit of a heartbreaker."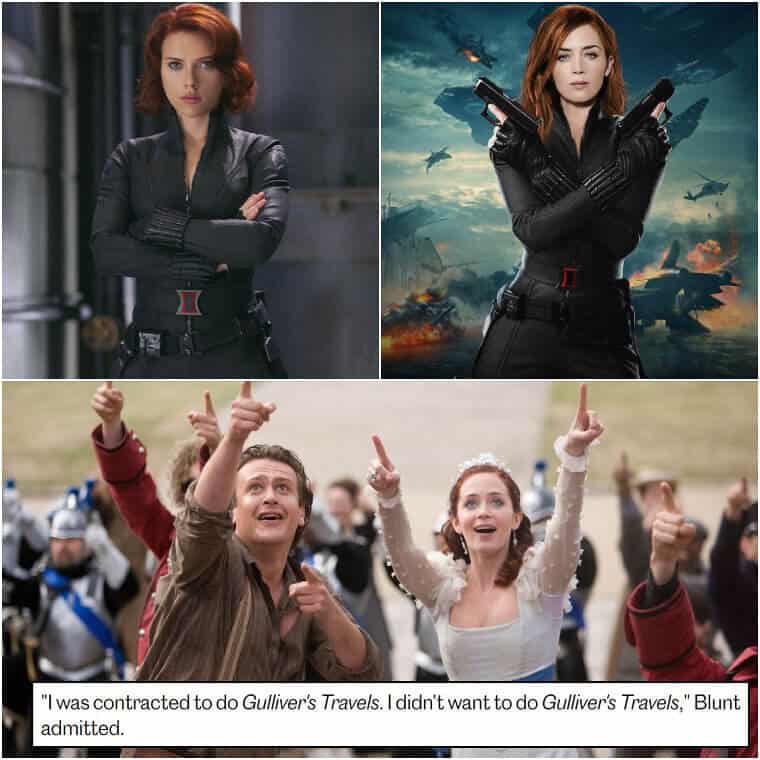 Alec Baldwin Knew After a Week He Wanted to Ditch Rock of Ages
Alec Baldwin's well-known for his comedy on shows like 30 Rock, but he should be equally famous for his sixth sense. In 2012, Baldwin joined Rock of Ages' A-lister ensemble cast, which included Tom Cruise. The jukebox musical was a Broadway smash, but a Hollywood flop – and Baldwin called it a week in. Oh God, what have I done? he recalled thinking. He asked to be replaced "if possible," but it didn't work. Baldwin, who played nightclub owner Dennis Dupree, said he wanted to do the movie to work with Cruise and director Adam Shankman. Still, it ended up being "horrible" and a "complete disaster."