Having a large wardrobe must be every fashion lover's dream, don't we? Many celebrities in American often post pictures from their wardrobes that filled with expensive designed clothes, bags, jewelry, and more… Today, we are bringing you with us on a tour to discover the most extravagant closets of famous stars you have ever seen! Perhaps they could inspire you to make one for your own in the future? Let's start!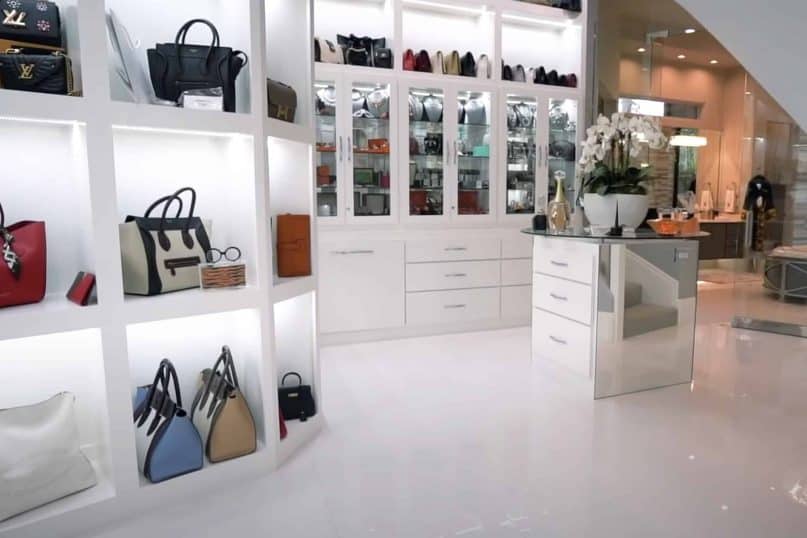 30. The biggest wardrobe in the world?
You might notice this wardrobe from the Gucci Mane video "Nonchalant." Belong to no other than Teresa Roemer, co-owner of a business in the Texas oil industry with her husband, their assets are worth over $ 20 million. They have hosted charity events at their homes every year, and her closet never fails to impress their guests. When moving into their new home, Teresa decided to create a wardrobe that she can host the event inside! The area is divided into three floors that are 3,000 square feet in total. It can accommodate up to 100 guests. Controlled elevator, champagne bar, and seating areas, you name it and they have it!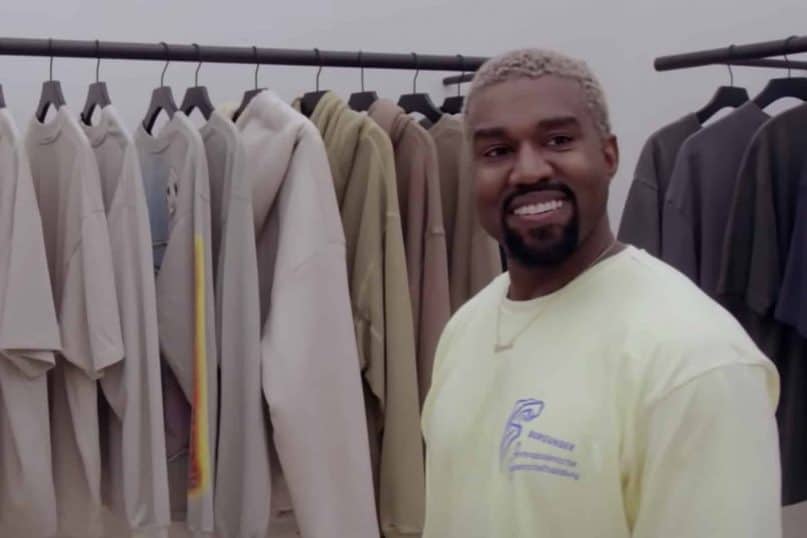 29. Wabi-Sabi Style for Kanye West's Closet
Rapper Kanye West has a great personality; Many may be surprised to learn that his entire house is decorated in the gentle Japanese "Wabi-Sabi" style. He launched his clothing line called Yeezy, with a full range of sweatshirts, t-shirts, and comfortable shoes. We see Kanye's bulky closet in his interview with David Letterman, which looks like a premium showroom for the Yeezy brand. But when you paid close attention, Kanye pulled back affectionate T-shirts featuring family members and other everyday items he wears every day. This is an excellent video if you've ever been curious to know more about Kanye's real personality instead of the character he portrays in public.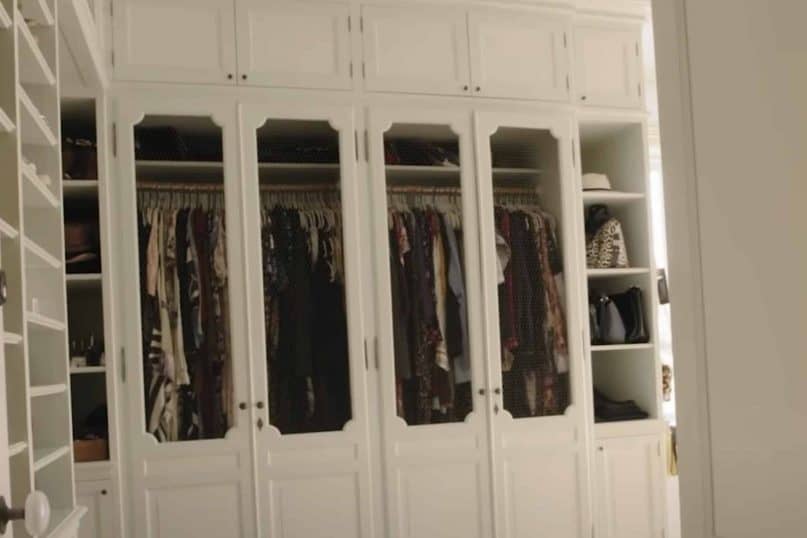 28. Vintage Luxury for Liv Tyler Closet
When she was 24 years old, Liv Tyler bought a brownstone house in New York, initially built-in 1861. After years of renovation, she was finally able to get her dream home. No wonder her wardrobe is enormous. But instead of having the open shelf that you would typically see in a Hollywood wardrobe, Liv has an in-wall European-style wardrobe, as well as vintage hand-painted wallpaper decorating the walls. "This is the first closet that I ever had as an adult… It was such fun building it, creating space, and doing whatever I wanted. If you'd like to see her full house tour with Architectural Digest, click here.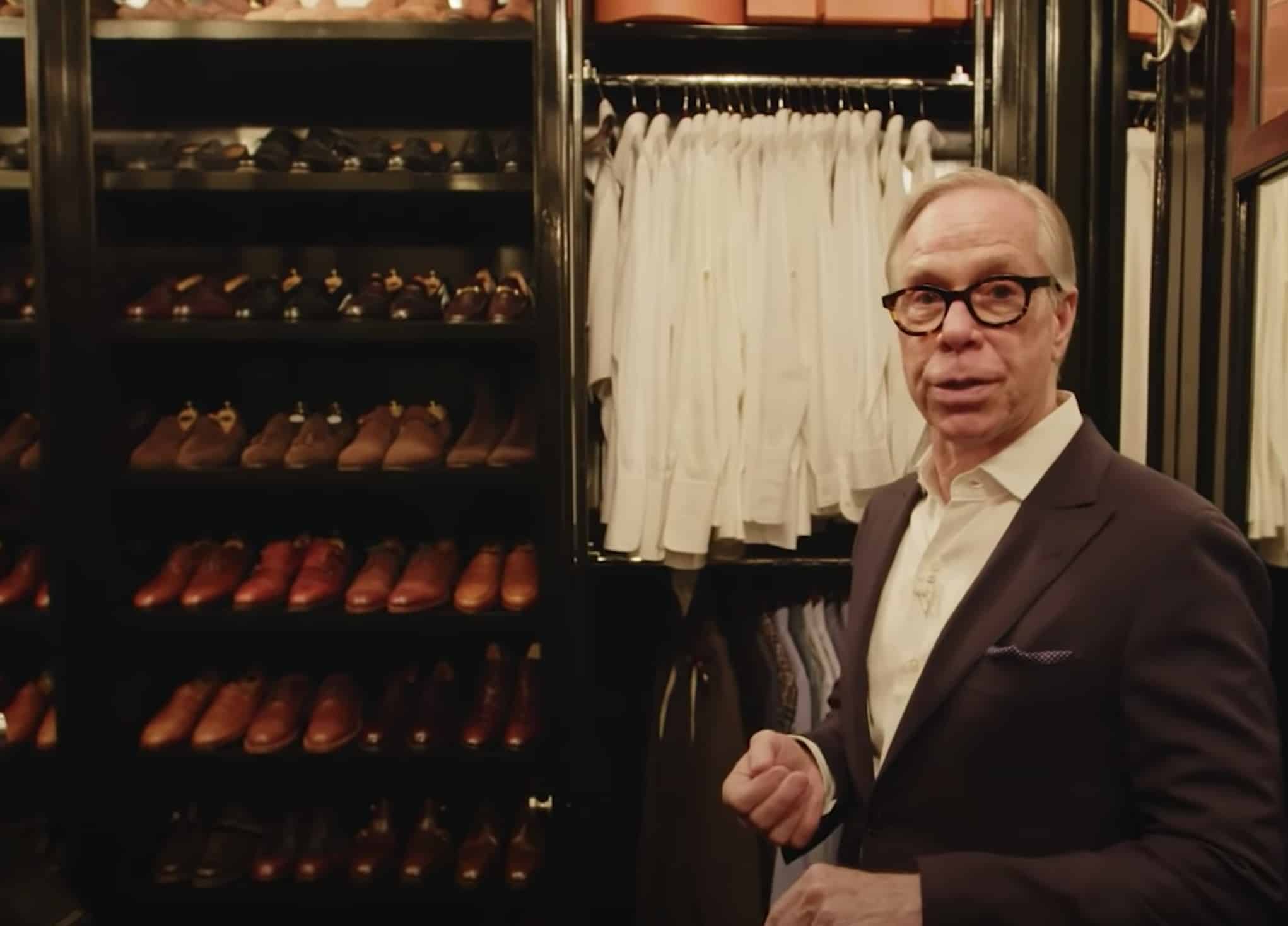 27. Tommy Hilfiger's Boutique-style Closet
With a net value of $ 450,000,000,000, Tommy Hilfiger has a loft apartment in the New York City Plaza Hotel. Every room in his house is beautiful, including a walk-in closet. During a tour with Architectural Digest, Tommy Hilfiger said that his goal was to create a wardrobe like a store. It felt like a high-end store where the walls had stacks of sweaters, shirts, and his "school uniform" jacket; all are perfectly designed. Of course, since he's a clothing designer, many of the clothes are from his brand. Even though the rest of us can't afford to live at the Plaza hotel, we still can design our wardrobe to feel like a store so we can go "shopping. " every day.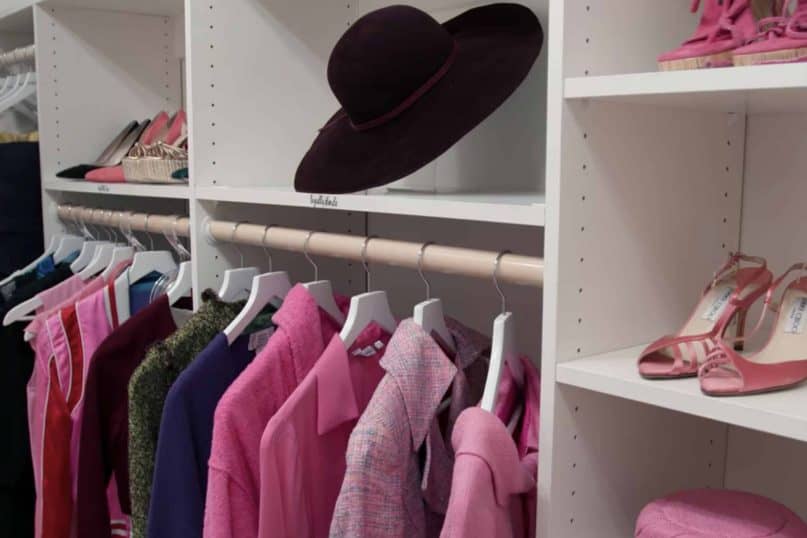 26. Reese Witherspoon and her Movie Memorabilia Space
We can see the renovation of Reese Witherspoon's side cabinet in the earliest episode of the original Netflix series, The Home Version. The aim is not to organize her everyday outfits, but preferably the ones and accessories she wears in some of her favorite movies. Leary Blonde fans will recognize some of the companies she wears on set. She also keeps all the dresses worn to events. Everything is labeled and organized, so Reese can go down memory lane whenever she feels like it. At Home Addict, we already have an article called How To Make Your House Look Like The Home Edit, so check out if you're trying to find advice on organizing your wardrobe.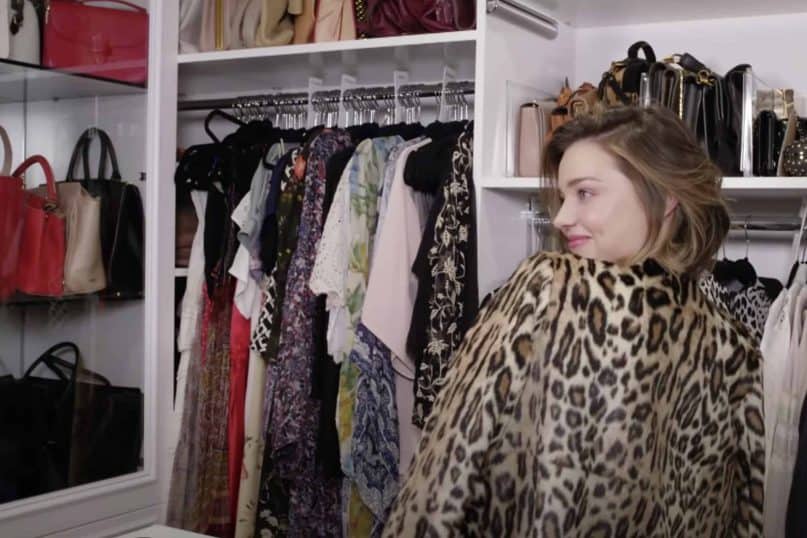 25. Miranda Kerr's wardrobe shows off her personality perfectly
Many of you may recognize Miranda Kerr as one of Victoria's Secret's Famous Angels. Most of us want a body like her, so it makes sense for her to make the most of her body by wearing beautiful clothes every day. She invites British Vogue into her wardrobe to talk about some of her couture products. "I like to invest in classical works or works that are a bit disruptive. Something unexpected. "Her home is in Malibu, and she explains that she wants to express herself more with fashion like in New York or London, but she feels California's style at ease roof is much more.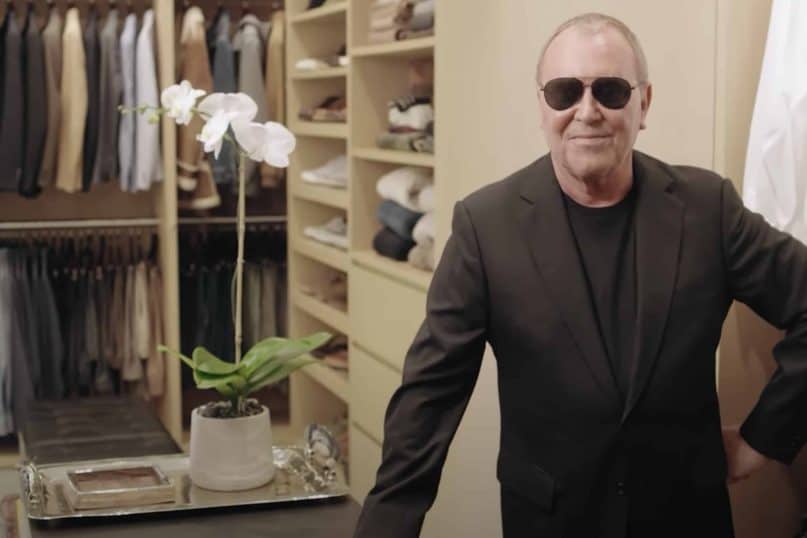 24. Michael Kors' All black wardrobe
Some would be shocked to hear that almost every day, Michael Kors wears the same suit. He likes to wear a black suit, a black T-shirt, pilot glasses, and that's it. Michael even has a drawer full of pilot glasses because they are all slightly different from the others. On the opposite side of the closet, his husband's clothes were more colorful. Looking at his wardrobe, it can be easily seen that your wardrobe doesn't always need a variety to look classy. Many fashion designers use this kind of "uniform" when it's too busy to figure out what to wear in the morning; if it looks like something you would use, consider having a capsule closet in your life.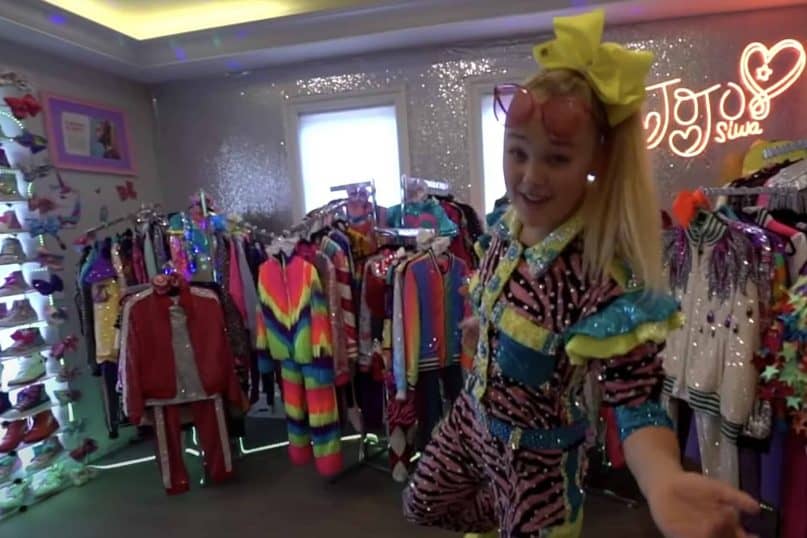 23. Jojo Siwa's Massive Closets
In case you've never heard of her before, Jojo Siwa is one of the most popular young dance and musical talents today. Just 17 years old, she is already worth $ 14 million. While locked, Jojo had to cancel her world tour. Instead of disappointing her young fans, she decided to film her concert in the backyard and broadcast it for free on YouTube. With all the time at hand, she completely rearranged her house to have two storage rooms. One is for her stage outfit, and the other for all of her merchandise. During her video tour, she said, "I think it's impossible to be unhappy when you're in this room." There's also a video of her merchandise department on her YouTube channel, which features personalized merchandise she sells in stores like Target and Walmart.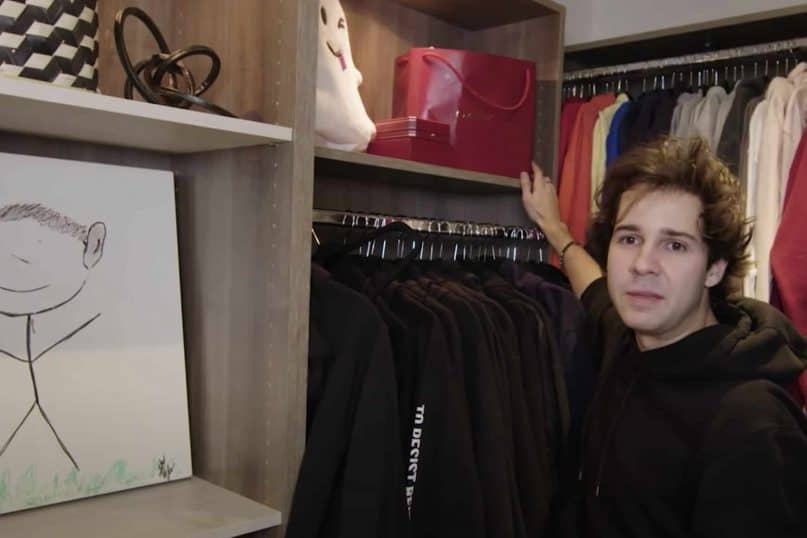 22. David Dobrik's wardrobe: lots of characters
The comic-book Youtuber David Dobrik has become extremely popular over the past few years, bringing in 18.5 million subscribers. Just 24 years old, he has an estimated net worth of about $ 7 million. When Architectural Digest visited him to tour the house, he showed the cameras inside his closet. While it may not be one of the giant wardrobes on this list, it has its sense of humor. He has some black Chipotle hats, which he claims he uses to trick people into thinking he works there. An entire shelf was dedicated to a horrible, deliberately stick figure picture given to him by his friend, and he also had a ghost Snapchat backpack on display. I think David's wardrobe is an excellent example of where you don't need a lot of space to create your own.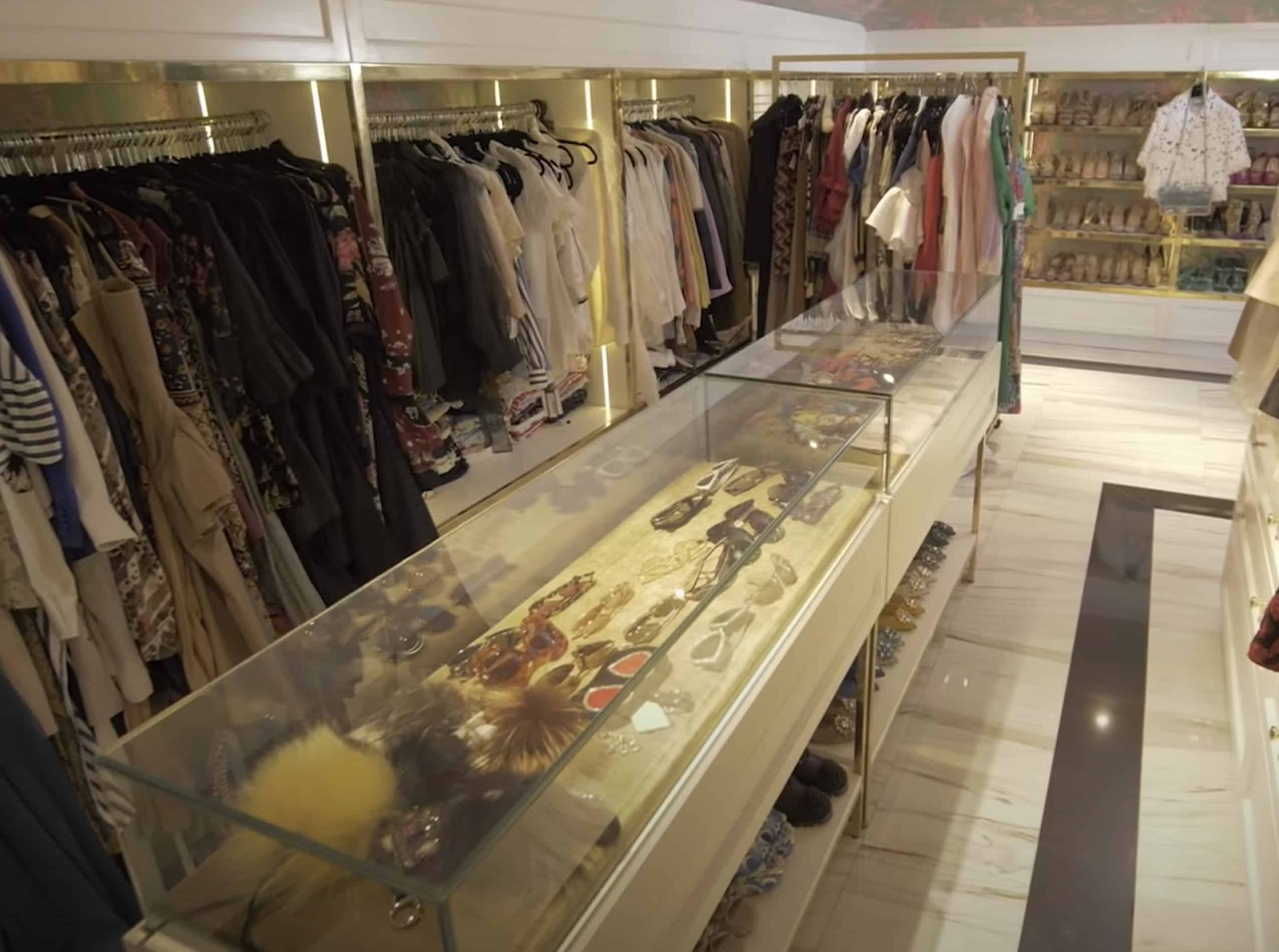 21. Heart Evangelista's couture wardrobe
Heart Evangelista is a famous Filipina actress and artist who inspired the Astrid character in Crazy Rich Asians. Before you reach her walk-in closet, there is a staircase with a pink velvet rug and a gold railing that leads you upstairs to look like a converted attic space. The room is filled with high-end dresses, shoes, and clothes worth millions of dollars. There is a long island in the middle of the room filled with accessories like sunglasses and jewelry. Hidden behind her clothes, she even has a lot of her stuffed toys from childhood. She plans to keep them for her future children. What I like about this wardrobe tour is that it makes my gears spin. Maybe someday, I might also be able to turn my attic into a closet.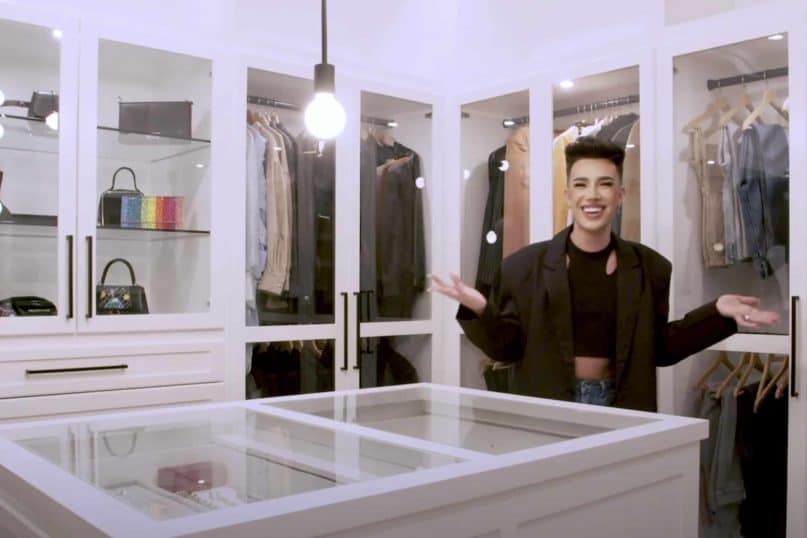 20. James Charles' wardrobes in his California home
James Charles is a highly successful YouTube beautician with 20 million subscribers and an estimated net worth of $ 12 million. His career as an online character has flourished over the past few years, and he also has his own YouTube Original Line and makeup line. In 2020, James buys his first home. His house was initially designed with two large "His & Hers" style wardrobes. Since he is still single, James decides to use both closets for different purposes. On one occasion, he got his gorgeous outfits from the product photoshoot and the love event outfits he wore on the red carpet. On the other hand, he has his everyday outfit like a hoodie, sneakers, and jeans. "This is my last dream as a fashion professional wanting to become a fashion expert.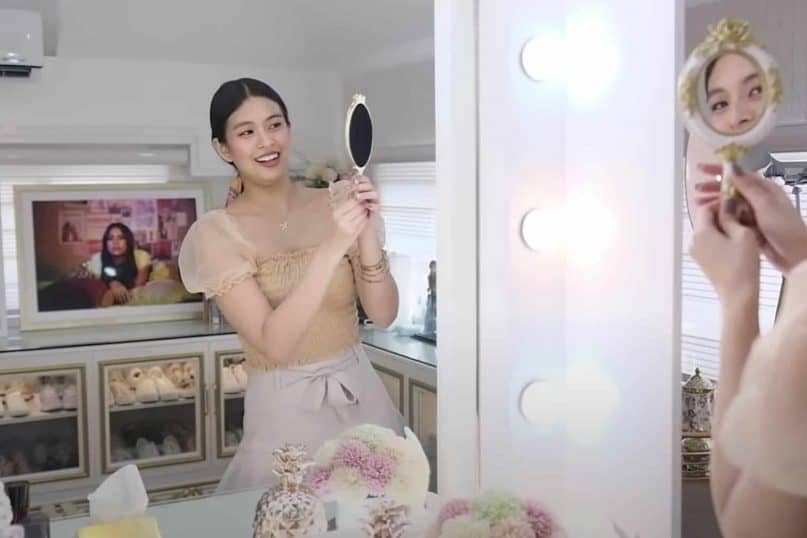 19. FGabbi Garcia has every girl's dream wardrobe
Gabbi Garcia is a famous Filipino model and actress with more than 1 million subscribers on YouTube. Her wardrobe is luxurious and looks like it is the size of an apartment. The furnishing looks like a channel fitting space with a beautiful sofa in its sitting area, a dining table, and a TV. Not only does she get dressed in the morning, but the wardrobe is like a glamorous room, which is very common in celebrity homes. This is a space for her and her friends to prepare for an event. The closet's far wall had shelves with glass doors for her shoes and purses, and there was a shoe room.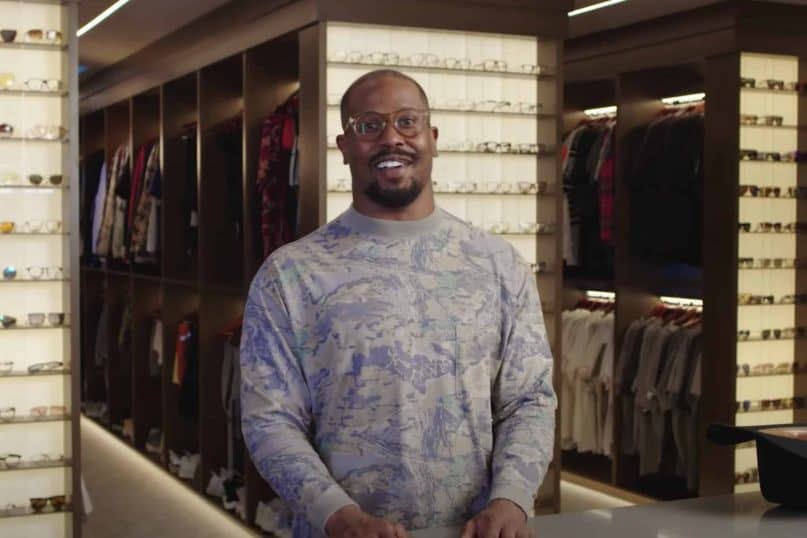 18. Von Miller's 2,000 Square Foot Closet
After developing an extensive clothing collection, professional soccer player Von Miller looked at his wardrobe options. At first, he considered renting a storage room to store his clothing collection but realized it was a better investment to build a complement to his existing home. The result is a 2,000 square foot wardrobe. The room is designed to look like a shop, with large shelves flanked by hats full of sunglasses. During GQ's tour, he admitted that although there are many choices, he often wears the same outfit repeatedly, simply because it is more comfortable. Search in the closet to create a new company that takes at least 45 minutes. He said, "I want to give a sense of retail … Only everything in this 'store' can suit me."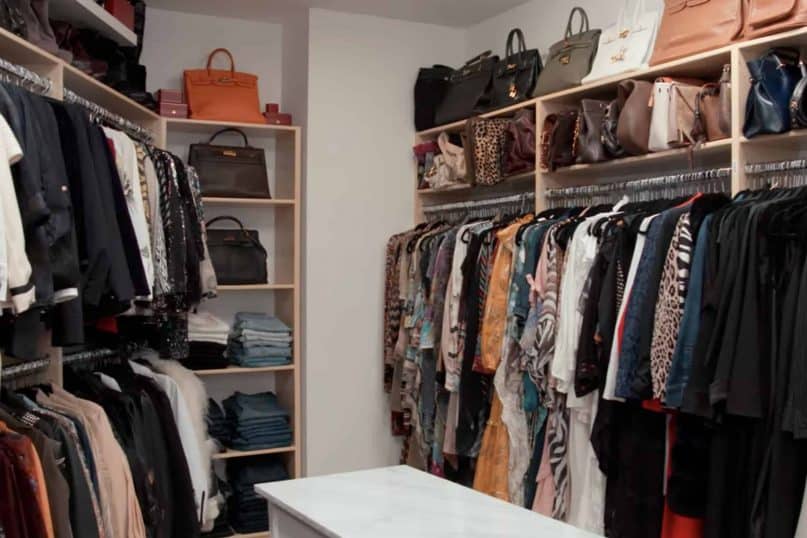 17. Rachel Zoe: Fashionista's Dream Come True
As a fashion designer and stylist, Rachel Zoe's whole life revolves around clothes. Although she may not be a well-known family name, Rachel Zoe has a net worth of $ 16 million. This proves that she is a knowledgeable and highly regarded businesswoman in the fashion world. Since she is continually accumulating more clothes, she has hired Clea and Joanna from The Home Edit many times whenever she needs to get enough of her wardrobe space. In episode 2 of The Home Edit on Netflix, we find that Zoe has a massive collection of Chanel clothes, purses, and accessories. The wardrobe is designed for viewing each item in Zoe's closet, so you can easily browse and browse the collection.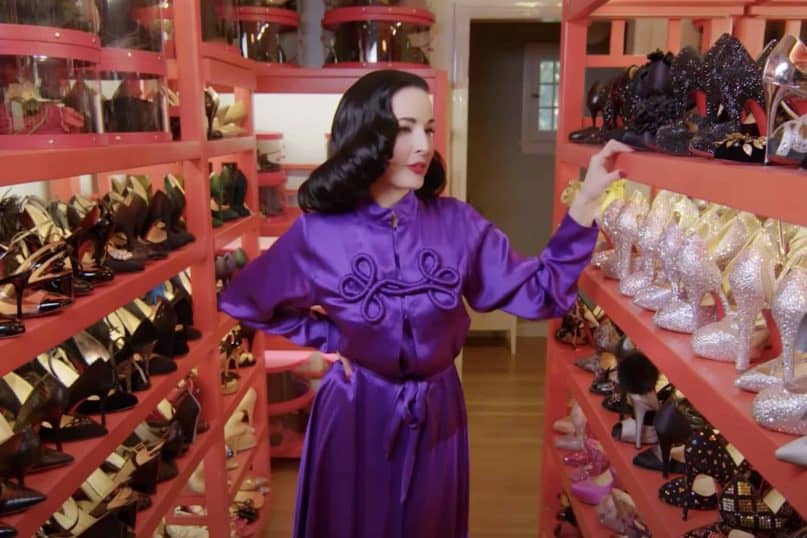 16. Dita Von Teese's shoe collection
Burlesque model and dancer Dita Von Teese have collected classical items for many years. During her home tour with Architectural Digest, she explained that she couldn't afford new designer jeans as a teenager. So she will go thrift shopping and go for classic style instead. Her on-stage style goes back to the child model era, and she has worn a lot of different outfits over the years. One of the best parts of her tour of the house is the shoe storage. It was filled with hot pink stilettos, many of which were custom-made for her stage outfit. The room also has hat boxes to hold her vintage coats and wall frames showcasing her brooch collection.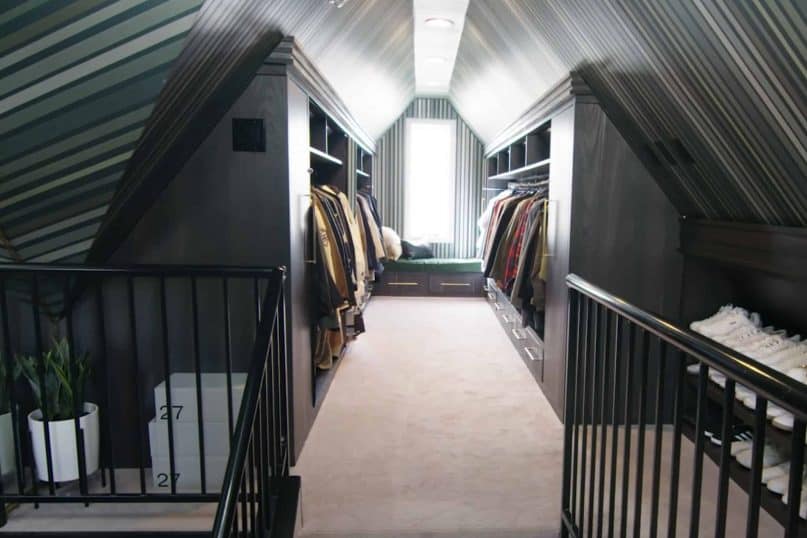 15. Tan France with His Converted Attic Wardrobe 
Queer Eye fans are going to know Tan France already. He's the Fab Five fashion guru, so it's no surprise that he's going to have a spacious walk-in wardrobe. In Salt Lake City, Utah, Tan lives with his husband. They renovated the entire attic and converted it into a closet. Although the clothes are vivid, vibrant, and full of personality, the colors are dark and masculine. You can see in the wardrobe that Tan is practicing what he preaches to his customers. Color-coordinated, arranged, and fabulous, the closet is. Tan France is turning his basement into a "proper" celebrity walk-in closet and glam space, even though this is better than most people's closets.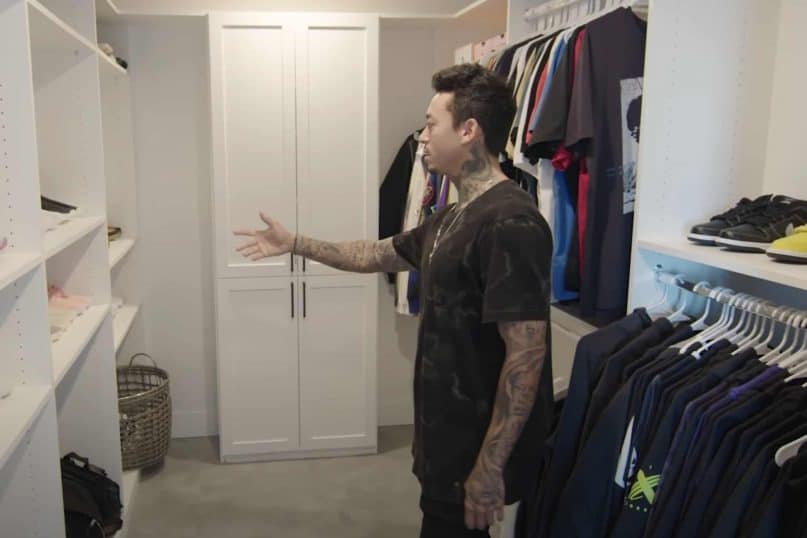 14. Nyjah Huston's Wall of Sneakers
A prodigy athlete, Nyjah Huston, has been a professional skateboarder since he was just nine years old. Nyjah now holds the record for winning the most skateboarding competition prize money in history with so many years under his belt. He bought a home in Laguna Beach, California, when he was 25. His closet for the area is a regular walk-in-closet, and he keeps it all organized. An entire wall full of sneakers, including his partnership with Nike, is unique about his wardrobe.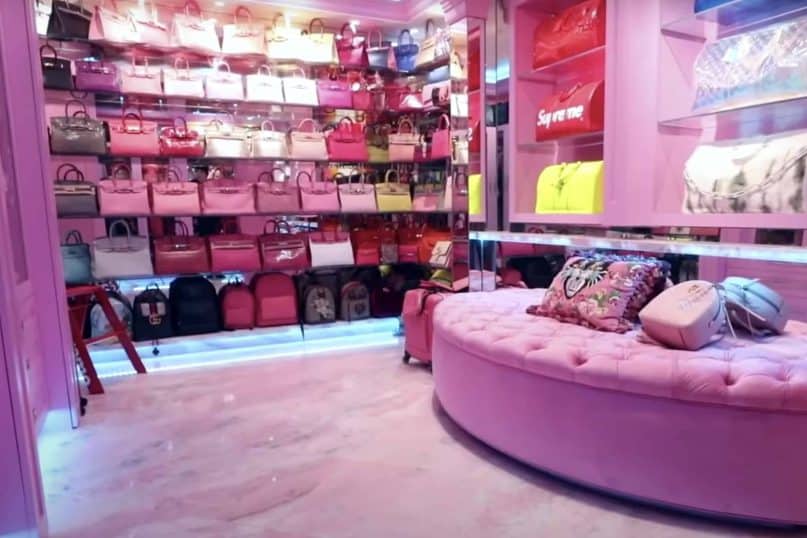 13. Jeffree Star's All-Pink Vault 
Jeffree Star's pink vault closet is one of the most famous closet tour videos on YouTube. If you have not heard of Jeffree Star, he is a former Jeffree Star Cosmetics singer, influencer, and CEO. His net worth exceeds 200 million dollars. Jeffree considers Birkin purses to be a worthwhile investment, and over the years, many of them appreciate it. So to secure those investments, he constructed an actual vault with a fingerprint and retina scan in his house. Know that this is not the wardrobe that he uses every day. For most people, the rest of his clothes are in a walk-in-closet connected to his bedroom. After filming this video, he moved to a new home and entirely removed the vault that had been customized into space.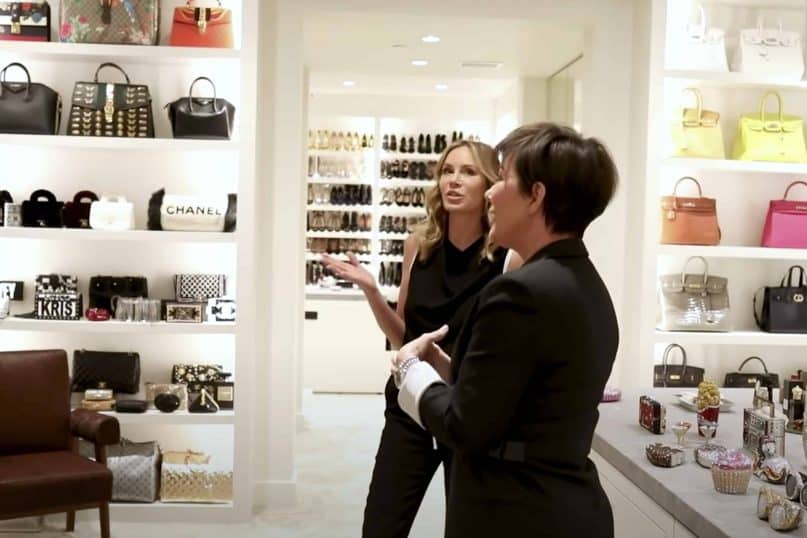 12. Kris Jenner's Luxury Wardrobe 
One of my favorite tours on the list is the Judith Leiber tour of Kris Jenner's closets. She has two large rooms in her closet after so many years of buying clothes and accessories. One is for purses, jewelry, and accessories, while the other is for shoes. Keeping Up With The Kardashians, Kris explained, is one reason she wants so many clothes. "Every day, we film a TV show, so you need a lot of choices." But even with all the fancy dress clothes in her wardrobe, she admits she goes for her sweatsuits instantly on her days off.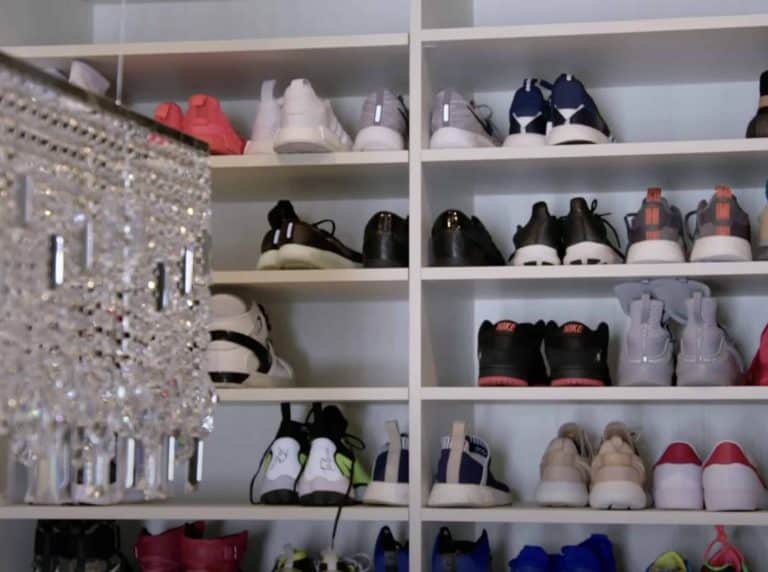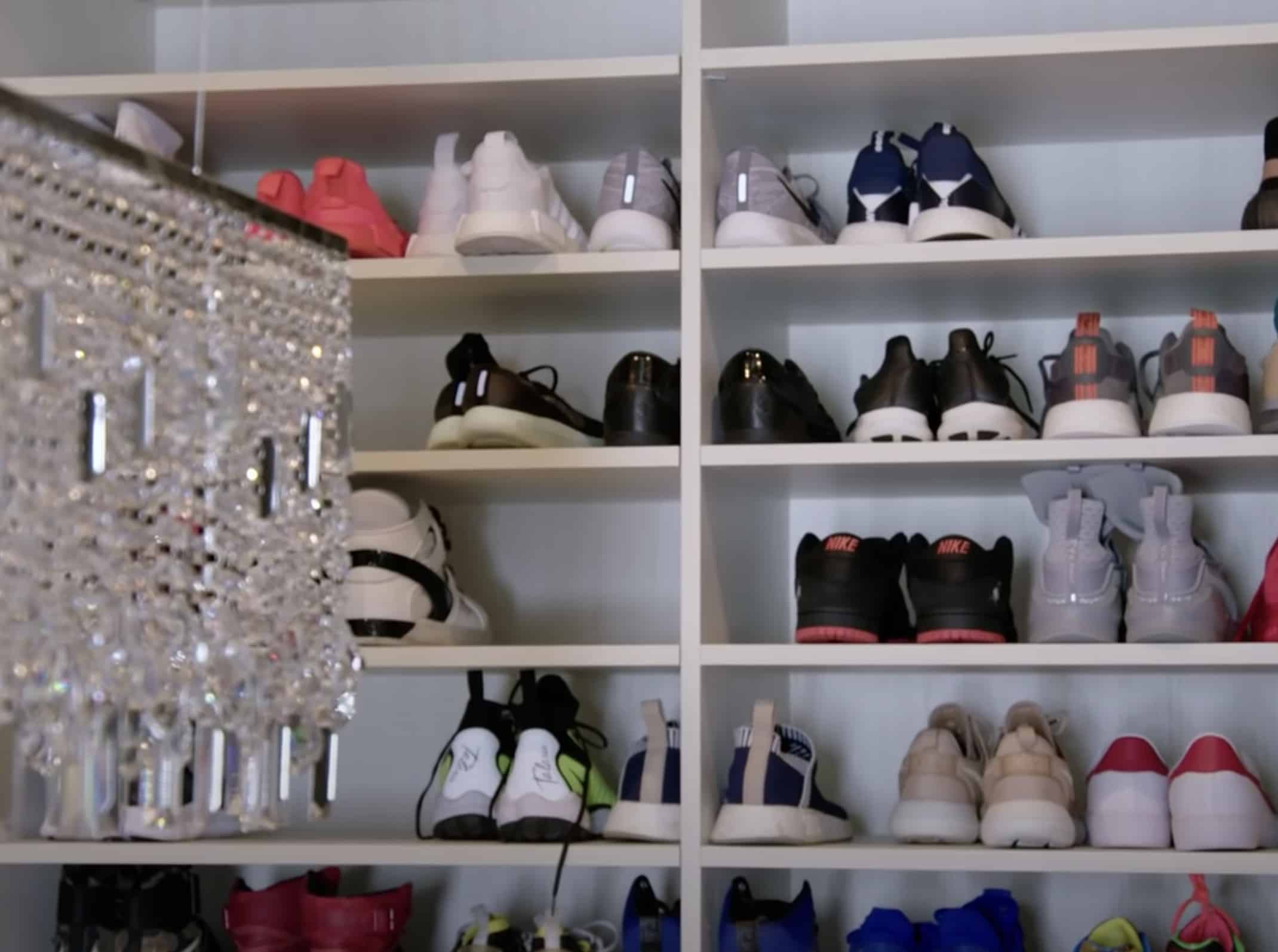 11. Zedd's Massive Closets
Zedd, the musical artist, has an enormous, ultra-modern home. His brother lives with him because he's still so young, and he hardly uses the kitchen for any cooking. His family reminds you in a lot of respects of any other young guy who hasn't worked out how to make his home cozy yet. The two "his and her" closets that he gets to hold for himself are, nevertheless, one of the most jaw-dropping parts of his house. For the Architectural Digest tour, he did not bother to clean up, but we could still understand how one wardrobe was full of clothing, while the other was nothing but shoes. This would be a perfect closet scenario for everyone.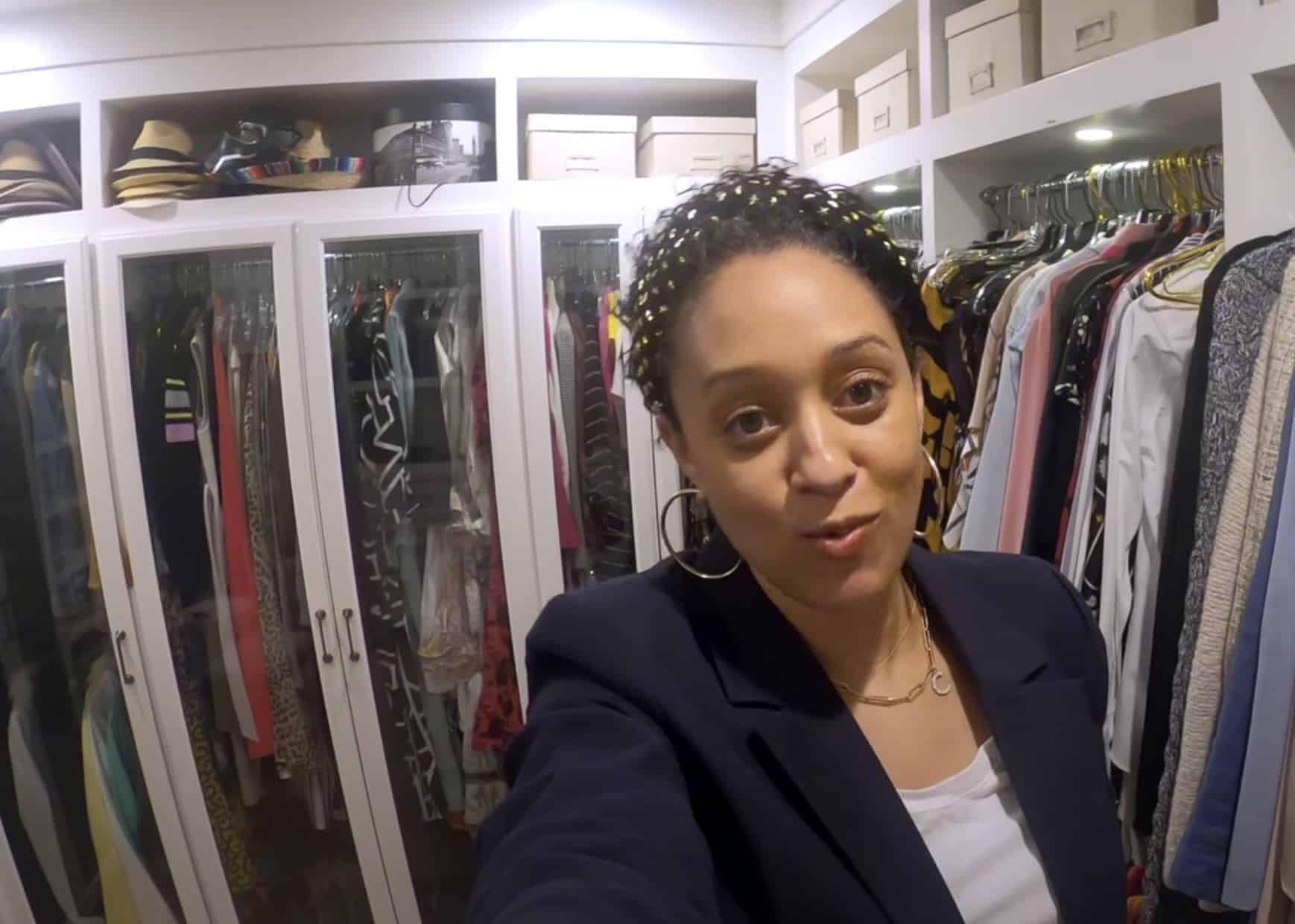 10. Tia Mowry's Closet: Hard Work Paid Off
Many of you might remember Tia Mowry from her role in the Sister, Sister television series. She went on to do many other television shows and movies as well. Nowadays, she enjoys filming Fast Fix for her YouTube channel called Tia Mowry. She takes her GoPro on a tripod in one of the episodes and gives her fans a tour of her walk-in closet. It has a floor-length mirror that is great for taking selfies with her. In the center of the bed, there is an adorable purple tufted ottoman to try stuff on. She goes through some of her favorite clothing items in the video. Tap here if you'd like to watch it. It's a lot of fun watching it.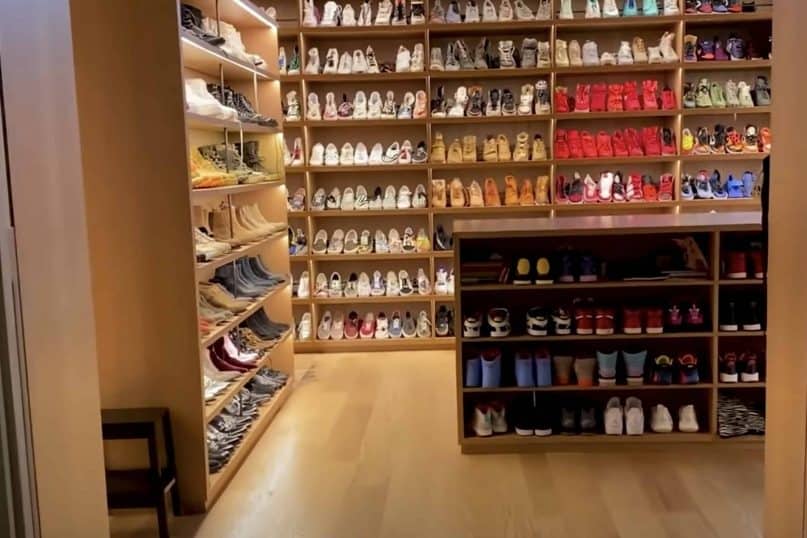 9. J Balvin's Shoe Closet: Every Sneaker Head's Dream
In July 2020, using only his cellphone, J Balvin toured his house for Architectural Digest. It's still easy to see how beautiful his Japanese influenced home is, even without the talented film crew. And the closet is one of the most mind-blowing things. When you first walk through the room, the walls are filled with sneakers. It seems like you are walking into a premium shop than someone's home because all shelves are built out of wood. He said during the tour that the house was built to be calm, quiet, and zen-like. He is trapped inside for months on end, and he feels that every penny was worth the effort.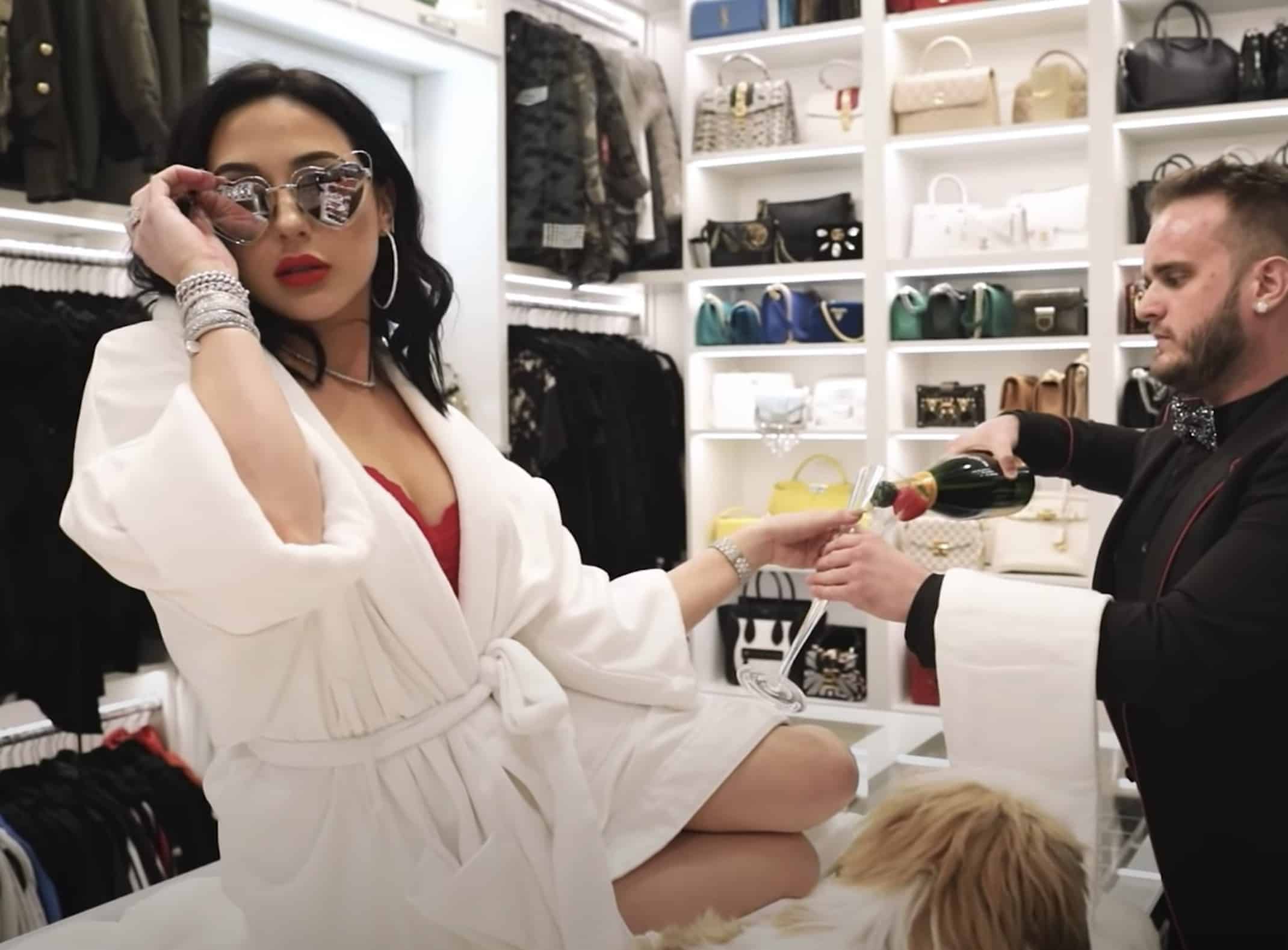 8. Jaclyn Hill's Luxury Closet Tour
Jaclyn Hill is an influencer in fashion and a makeup company CEO. Along with her dream wardrobe, it has given her enough fame and wealth to purchase a Florida house. She goes through stories about her shoes and outfits in the video. All is color-coordinated, which, despite the sheer volume of clothes, makes it easy to find items. She has a section of outfits already professionally designed for her is my favorite part of her wardrobe. Now when wearing the dress, she has a picture book of what she looks like. It is like getting your uniform set out for school the next day, just for the next two weeks. It is a fantastic idea, and it is something everyone should take away.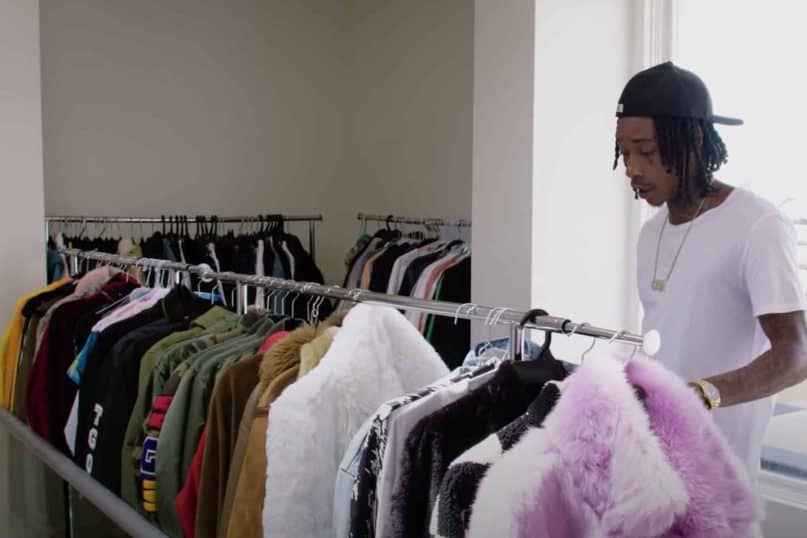 7. Wiz Khalifa 's Closet was An Upstairs Loft
The house of musician Wiz Khalifa is pretty much exactly what you want from a millionaire rapper. (In the living room, he also has a dab bar, and in the basement, a recording studio.) The vibe is relaxed and enjoyable. He has many memorabilia hanging on the walls around the house, such as his platinum records, pictures from past collections, and memories. And it is not shocking that he wanted to do the same thing in his house's upstairs loft. The wardrobe is full of his regular clothes in his apartment, but the attic has numerous clothes featured in music videos and album covers. He also has items for an upcoming clothing collection that he is designing. Browsing the clothing racks is like walking through a museum in Wiz Khalifa, and it is priceless. Click here to see the Architectural Digest tour.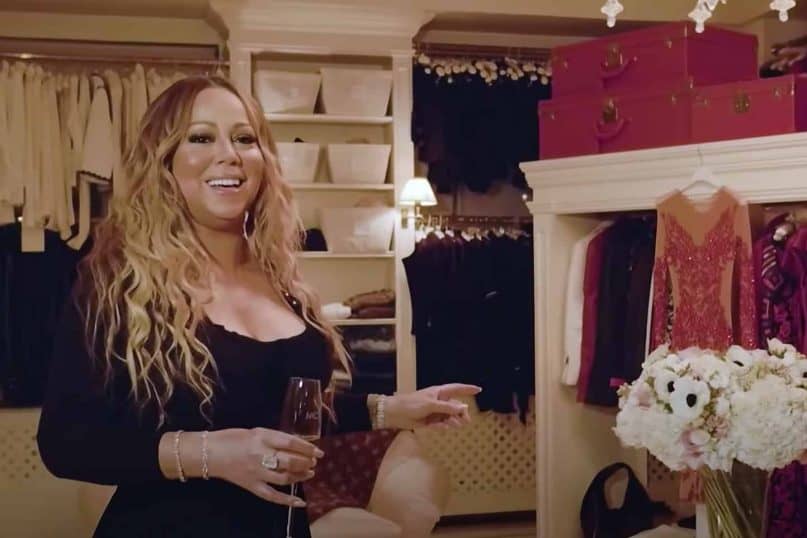 6. Mariah Carey's Closet Code: Glitz and Glam
Singer Mariah Carey turns out to be just as glamorous as you thought she would be. Dresses, heels, and purses fill her multi-room wardrobe. She's casually sipping champagne and making frequent references to Marilyn Monroe in her closet tour video with Vogue. Mariah Carey likes to relax by dressing around in lingerie instead of wearing a set of jeans or sweatpants. I am not casual, but I hope I may be?" she said. In reality, she has an entire room with nothing but luxurious lace lingerie bodices in her wardrobe. It was clear that Mariah wanted to be surrounded by better life things, which showed through her wardrobe.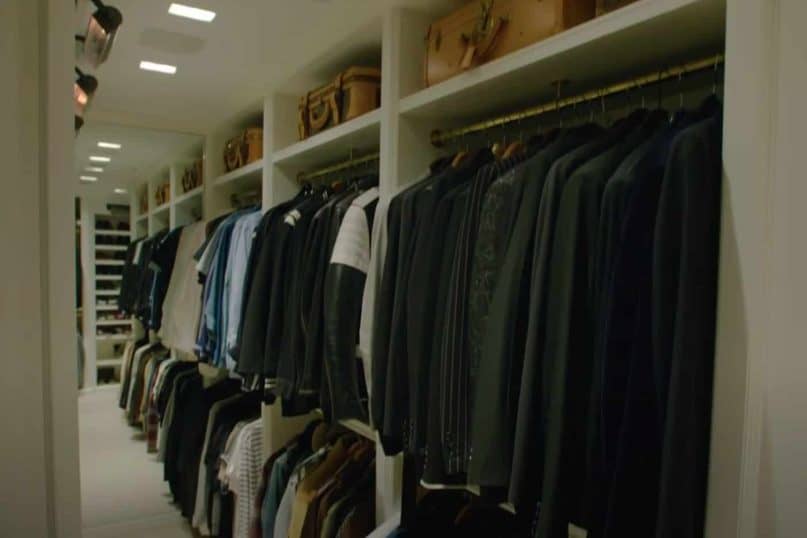 5. Nate Berkus and Jeremiah Brent's Dream Closets
Both Nate Berkus and Jeremiah Brent are interior designers who have given the industry a name for themselves. They also featured in several design shows, such as Nate & Jeremiah By Design and American Dream Builders. The couple owned many homes together: New York City, Los Angeles, and The Hamptons. So, their closets can look a little different depending on the tour you find on the Internet. The thing that they all have in common, though, is that they are well-organized. We see their newly refurbished townhouse in Manhattan in their newest Architectural Digest video tour. There wasn't a large enough closet in the original building, so they designed an enormous fitting space to suit their needs. There's plenty of room for the two of them to house their beautiful clothing collections, or his "investment portfolio," as Jeremiah calls it.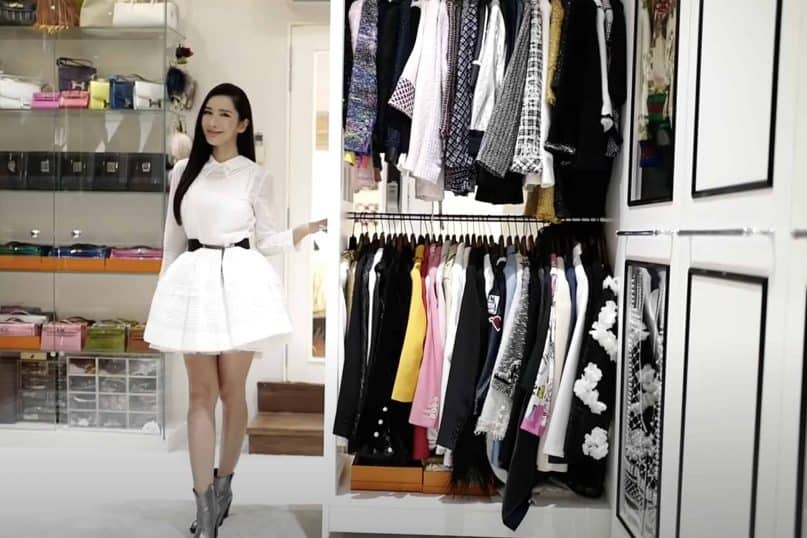 4. Jamie Chua: The Most Luxurious Closets in Singapore
As a stewardess working for Singapore Airlines, Jamie Chua started when she caught a wealthy Indonesian tycoon's attention. She is an Instagram, YouTuber, socialite, and businesswoman model today. Her closet is named "playground" by Jamie since it is her favorite place to be. She uses a fingerprint scanner to open the locked doors to access the wardrobe. Since she placed the outfit on the shelf hidden behind the wall door, her drawer system is cool. There is a glass window on each of the doors, so Jamie can see which type of clothing is in each section. They roll into the room when you pull the door out. This customized feature is an enormous space-saver. Of course, on transparent shelves and drawers, everything else is meticulously arranged. Check out her closet tour, and consider watching other videos on her YouTube channel if you want to see more.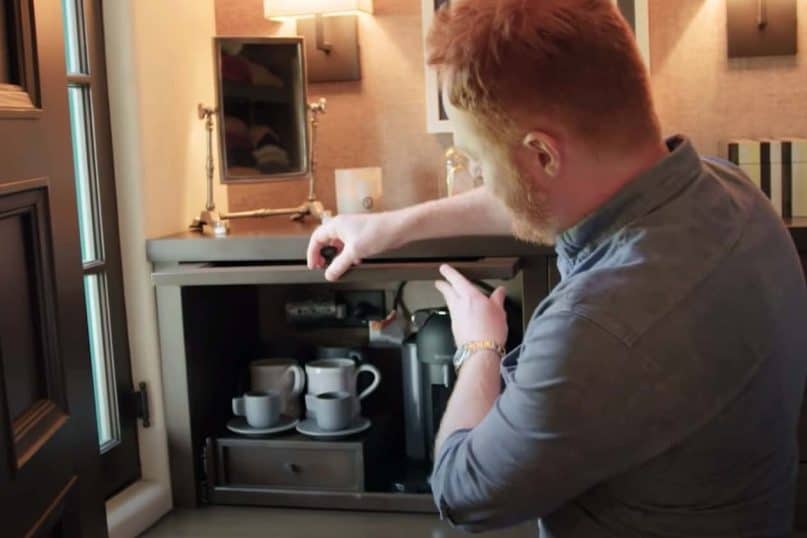 3. A Hidden Coffee Machine?
As the actor who's been on hits like Modern Family, most of you will remember Jesse Tyler Ferguson. Justin Mikita, his husband, is a filmmaker, bowtie designer, and The Thread Experiment's creative director. They have a dresser of drawers in their closet packed with bowties from their Tie The Knot brand. A little compartment that opens up to a Nespresso coffee machine is right next to their drawers! Jesse said It is just too much to go downstairs sometimes." This is a theme I see a lot in bedrooms and closets for celebrities. You could do the similar with a little Keurig or an electric tea kettle if you have an en-suite bathroom. Click here if you would like to see their full Architectural Digest tour.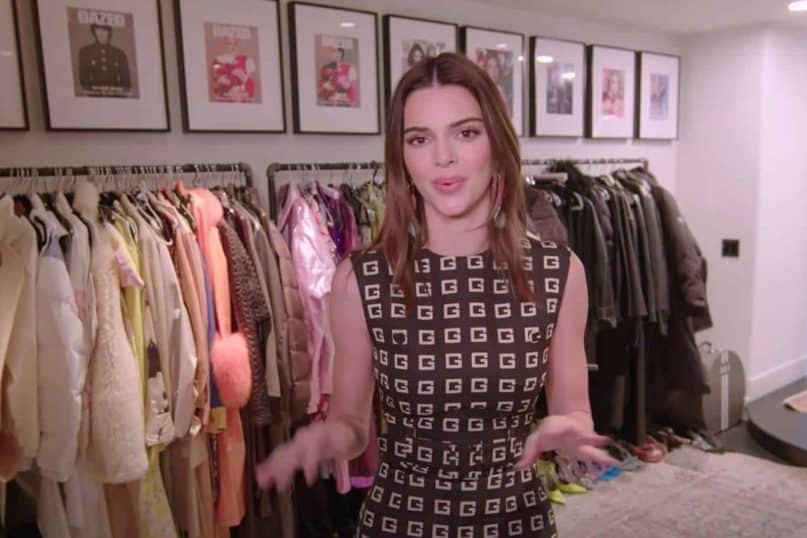 2. Kendall Jenner's Glam Room
Model and social expert Kendall Jenner has turned two of the bedrooms in her house into a fitting room and glamor room. She calls her fitting room "The Hannah Montana Room" because, for her photoshoots, it is where she gets to change herself. Kendall has industrial clothing racks lined up in a row, rather than built-in closet bars or shelving. Both her accessories and purses are on a built-in shelf. And there's a mirror for the dressing room at one end of the room. I love this idea because turning it back into a bedroom will be a lot easier to sell the house in the future. One of the best Architectural Digest tours is Kendall Jenner's house, so I highly recommend looking at it. And if you're motivated to decorate your home like this, check out this post on how to make your home look like Kendall Jenner's.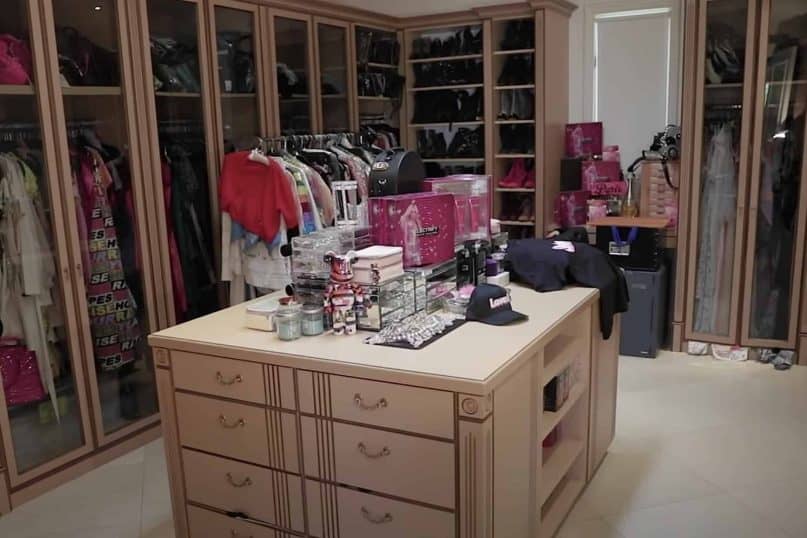 1. Paris Hilton's Closet: The Most Extravagant 
Since she was young, Paris Hilton has always shown off her lavish lifestyle as an heiress, socialite, businesswoman, and TV personality. But it should be no surprise that she's got a vast wardrobe. With Vogue, Allure, and more, she has done closet tours. Some of those might be outdated, though, and we never got to see the whole thing. In July 2020, on her own YouTube channel, Paris shared more of her wardrobe. All are made of light-colored wood, and behind the glass cabinets, she has her clothes covered. She stores all her accessories on the island in the middle. Some of the other tours of the Paris Hilton closet we saw in the past were a lot darker, full of mirrors, and looked more like the Mystery of Victoria. I love this new, fresh, clean closet that she shares online.