Weddings are one of the most memorable events in anyone's life, especially if you are one-half of the couple getting married. You want this day to be special, unique, and of course, just to your liking. When you decide to implement your decor as you've always dreamed, or maybe scroll too much online searching for 'cool' ideas, you run into some disasters, knowingly or unknowingly. The Facebook page "That's it I'm Wedding Shaming" is dedicated to sharing disasters caught at weddings, from the guests wearing something embarrassing to tacky decor. There's a bit of everything in this collection, and it might just serve as a guide on what not to do at your wedding in the future.
Don't Wear White To The Wedding
How is it that, after years and years of wedding celebrations, guests still think it's okay to wear white to a wedding? This has to be the number one rule when attending a wedding, yet people still choose to outshine the bride — or at least try to. This poor bride had the misfortune that her mother-in-law decided that she would wear white to the wedding. The bride had a genius idea and collaborated with the photographer to photoshop every photo they took by recoloring her dress to red.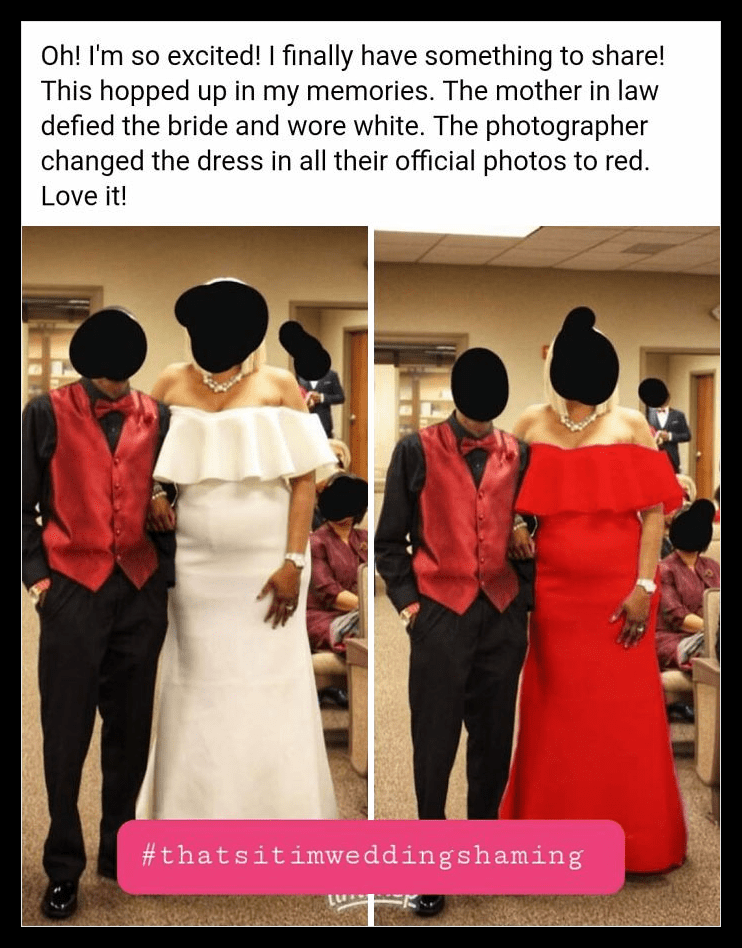 Cinderella Adaptation Gone Wrong
Clear shoes are only cute in fairy tales, precisely one to be exact, and that's it. They are super impractical and look weird. You can see how squished your feet are; they fog up very quickly. No one wants to see your awkward toes in these. This wedding attendee snapped a photo of someone wearing some clear shoes, hopefully not the bride. Her toes are not only smushed, but any nail polish she's wearing won't be visible much longer if her feet start sweating and fog up the glass.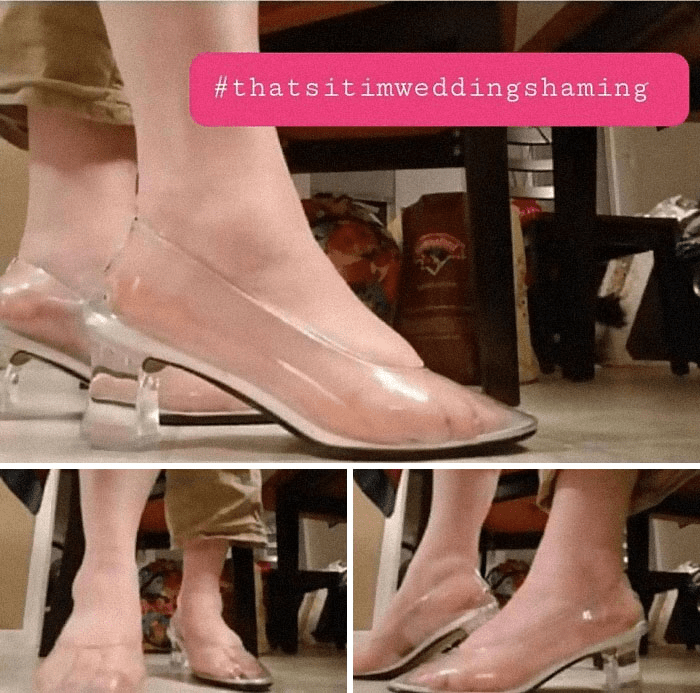 Runaway Bride And Groom Theme ?!
Some brides and grooms like a bit of a vintage touch at their wedding, and we understand that the old times may appeal to more of the older guests, and there is beauty in old things, but be careful with what you choose to add to the end of the aisle. This pair decided it was a splendid idea to add not one but two stacks of old suitcases right where they ought to stand and give their vows. Here's the problem with that — if either would like to leave, this is a literal way to grab a suitcase and run off.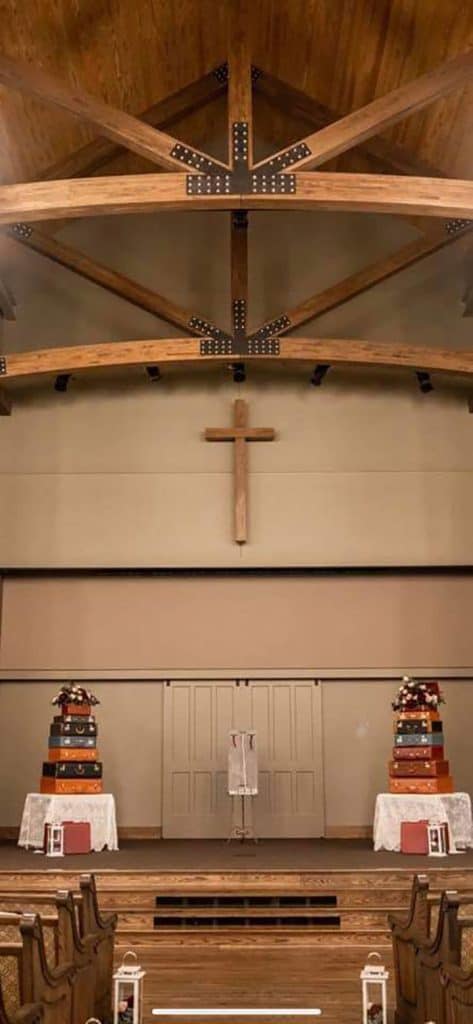 Never Too Much Flower
Wedding bouquets symbolize fertility and new beginnings, though this tradition has come a long way. That said, the older custom has inspired some new modern takes on the classic bouquet, and some of them are questionable at best. This bride has a literal double bouquet, and while it is not so unappealing at first, it seems like they're doubling up on the need for fertility or new beginnings. Maybe it's a loophole? Whatever the reason, it's overkilled.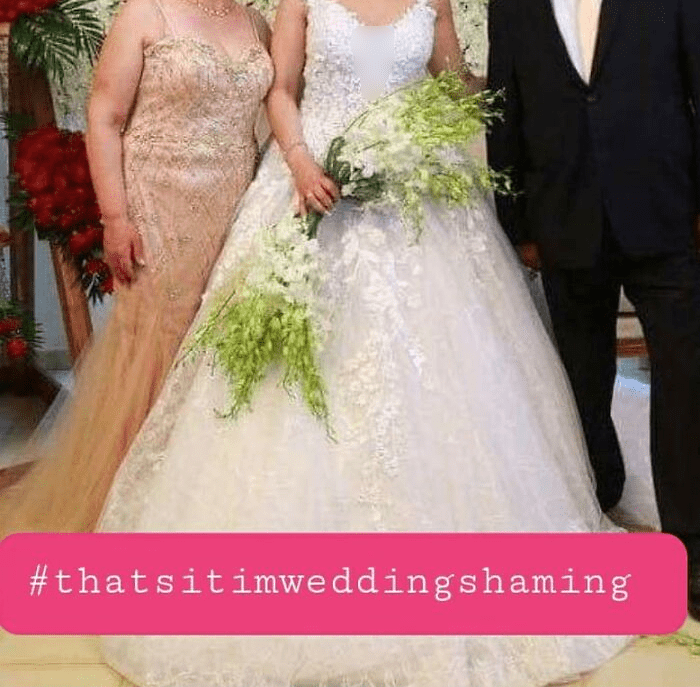 DIY Was Never Easy
We love it when brides take to DIYing some of their big day's decor and goodies to save them a few bucks, but you need to draw a line between saving money and creating some seriously tacky items. Maybe scroll the internet a bit more for ideas first? This bride-to-be posted to her social media, proudly showing the DIY candle holders. That's great for their budget, but it burns our eyes. It is exceptionally tacky and looks like they have dipped a candle holder in glue and rolled it in the clearance bin.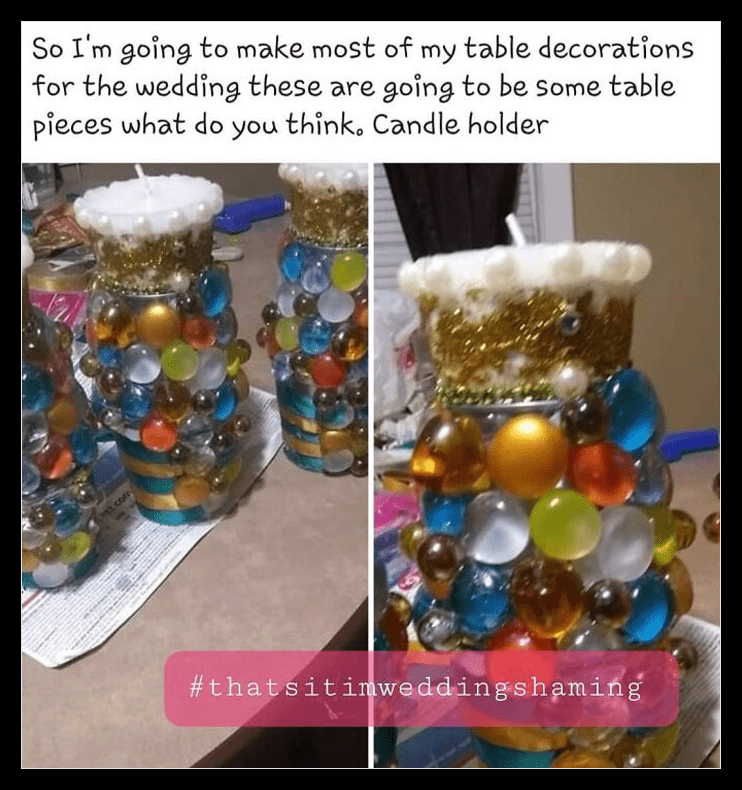 Wedding Cake Gone Wild
There has been a trend for cute and unique cake toppers, and this bride and groom wanted in on the fun. The cutest little pair of alligators are seen on the top of this cake; perhaps these hold some significance for the couple. But there's more to unravel here. There is a giant gummy snake in front of the cake, and we'd like to ask one question: why? It's odd and out of place on your wedding cake table. Leave it to the kiddy area, perhaps.